by Zillow
If you think about it, the idea of a "national" housing market is a little strange. Really, the national housing market is instead driven by the varying and highly localized conditions on the ground in the nation's hundreds of cities and metros. And right now, those markets are moving in sometimes wildly different directions.
During the housing bust and throughout the first few years of the recovery, home values in the majority of these local markets moved as a herd in the same direction – first down during the bust, then up during the recovery. But even as they all moved generally in the same direction, unique conditions on the ground often meant many markets were able to weather the storm a little better during the recession, with home values not falling as far or as steeply. And many other markets fared much worse, and are still trying to claw their way back.
In Denver, for example, home values grew 14.7 percent year-over-year in May, to a median value just under $300,000. Home values have never been as high there as they are right now. The San Jose metro median home value reached $883,200 in May, higher even than San Francisco's median of $746,600. Both Bay Area markets saw double-digit growth driven by low interest rates, low inventory and high job growth.
But even as some Western markets reach new heights, markets in Florida can't shake the lingering impacts of the recession. Median home values in the Tampa, Miami and Orlando metros all remained more than 30 percent below their pre-recession peaks in May. While home values continued to grow there, they have been growing more slowly each month since last summer. In all three markets, home values are growing at around half the pace they were a year ago.
Other markets exhibited notable dynamics of their own. In Kansas City, for example, median home values were essentially flat in May, rising two-tenths of a percent in the past year. But median rents were up more than 10 percent over the same period.
The market isn't back to normal, as low inventory, persistent negative equity and still-low mortgage interest rates continue to distort the market in various ways. But the fact that local markets are once again largely rising and falling on their own merits and continuing to find some kind of equilibrium based on real market fundamentals like household formation rates and job and wage growth is encouraging. A truly normal "national" housing market is one in which local conditions rule.
Home Value Growth Steady
The May 2015 Zillow Real Estate Market Report covers 514 metropolitan and micropolitan areas. In May, 64 percent (330 metros) of metros tracked experienced monthly gains in home values, while 346 metros (67.3 percent) experienced annual gains.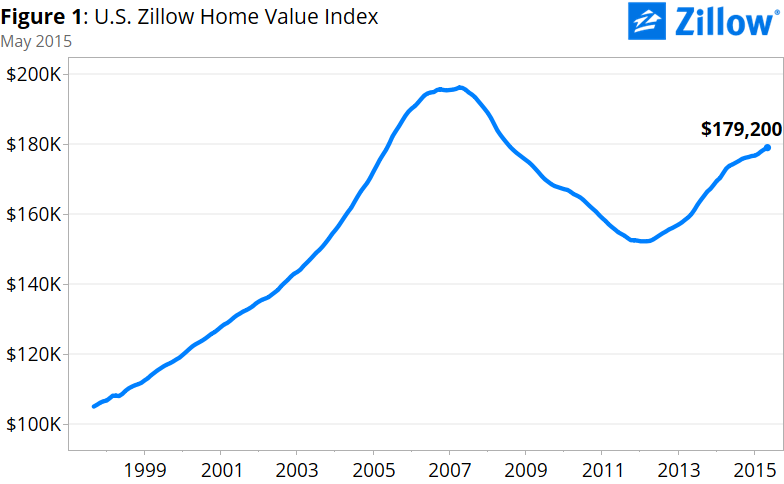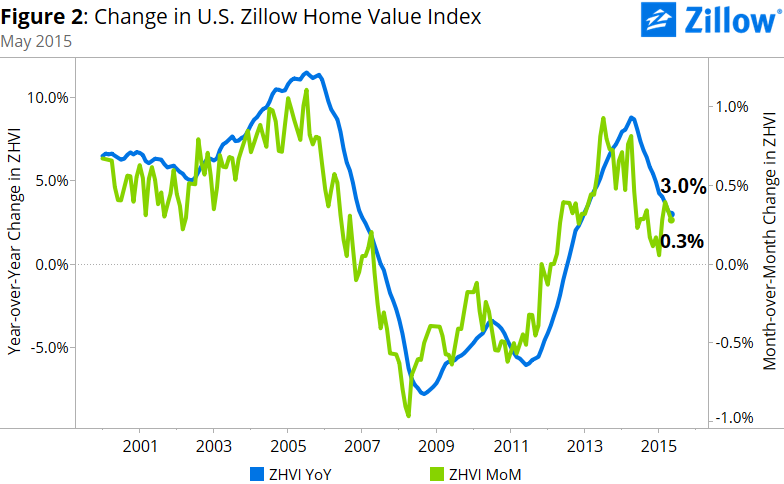 The median U.S. home value rose 0.3 percent from April and 3 percent from May 2014 to $179,200. National median home values remain 8.8 percent below their April 2007 peak of $196,400.
In May, the four fastest-growing markets among the nation's 35 largest all experienced double-digit annual home value appreciation (Denver, San Jose, Dallas-Fort Worth and San Francisco). In all four of these markets, home values have already surpassed their bubble-era peaks.
The most sluggish large markets in May were Boston (up 0.2 percent annually), New York (down 0.1 percent) and Baltimore (down 0.3 percent), all in the Northeast.
Rapidly Rising Rental Growth
Nationwide, rental growth surged past a 4 percent annual pace in May, up 4.3 percent to a median U.S. rent of $1,367 per month. Annual rental growth outpaced home value growth in 20 of the largest 35 metros covered by Zillow.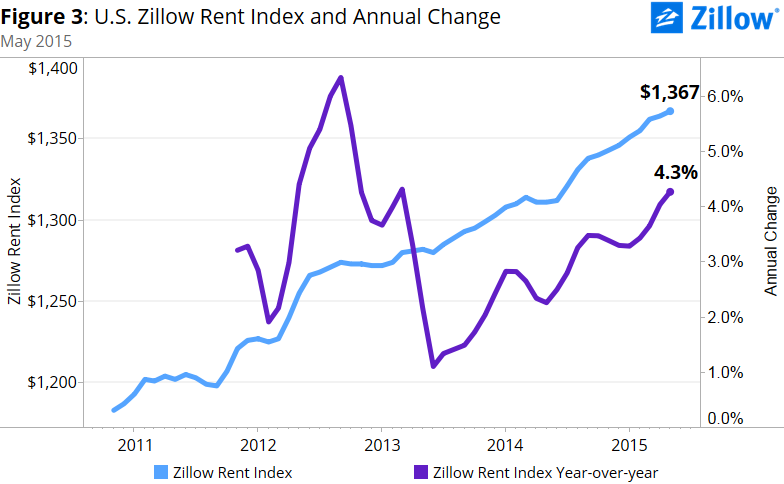 Of the 863 metropolitan and micropolitan areas covered by the ZRI, 649 (75.2 percent) experienced annual rent growth in May. The San Francisco metro experienced the highest annual rent appreciation among large markets, up 15 percent since May 2014. Other markets with double digit appreciation in rents were San Jose (13.2 percent) and Denver (12.6 percent).
Outlook
Over the next year, home value growth is expected to slow even further, to 2.2 percent annually, according to the Zillow Home Value Forecast. In 2014, home values rose 4.9 percent.
The country by-and-large rode the same big roller coaster through the housing bubble, bust, and recovery. May's report shows local markets diverging, with some chugging along, some stalled out and some continuing to accelerate amid rising prices and competition. This is a positive sign that the market is returning to full health.
In general, as mortgage rates begin to rise and incomes and household formation rates slowly increase, the baton is being passed in housing from a stimulus-driven market to one driven by fundamentals. This transition from housing recovery to a more normal market is a good thing long-term, but we can expect some bumps along the way. In the end, increasing household formation and stronger income growth should overcome the headwind of rising mortgage rates.