Written by Florica Mois, GEI Associate
In France, the center-left and – right seem to gravitate towards the same center, and so too do their dissimilarities, tending to converge on quasi-similar policies. While the French differentiate between the incumbent President Francois Hollande's economic agenda and that of the former President Nicolas Sarkozy (Figure 1,) the differentiation has gradually decreased over time.
As an illustration, one year after Pres. Hollande was elected, French opinion changed. Why? Moreover, does this have anything to do with the, supposedly, imminent French proclivity to vote for extremist parties (e.g. Front National?)
Figure 1: Survey question: Would you say that Francois Hollande's economical program is totally different or very similar to that of Nicolas Sarkozy?
| | | |
| --- | --- | --- |
| | November 2012 | March 2013 |
| Totally different | 65 | 59 |
| Totally similar | 35 | 40 |
A by-product of the French Revolution (1789,) the left and right political terms date back to 1791. The members of the Legislative Assembly (LA) sitting on the right side of the Assembly opposed change. Members of the LA sitting on the left wanted change – a word reiterated by Pres. Hollande during his presidential campaign. Now 40% of French thinking that Pres. Hollande's economical plans are similar to former Pres. Sarkozy is not to be spurned. It suggests, indeed, little change.
The reasons for this well near left-right mirror impression are numerous. The constraints Pres. Hollande faces, for example, former Pres. Sarkozy also faced; namely, deficits. Le Figaro, a French (rightist) newspaper, analyzed Pres. Hollande' economical agenda, sailing through Hollande's famous 60 commitments, (partly) replete with optimism. For example: reduce the deficit to 3% of the Gross Domestic Product (GDP) starting with the year of 2013. The weak French economical growth loomed large, and the impossibility of this commitment was clear for Hollande's government; they 'adjusted' their goals by postponing the 3% commitment to 2017. The last data of 2014 shows a 4% deficit of the GDP. Pres. Hollande has until 2017 to strengthen the job market to boost GDP growth. Or he could brazenly continuing optimistic commitments – like the one promising building 500,000 housings per year. This would be coming after 2014 had the lowest number of housings (300,000) built per year since 1997 (Le Figaro.)
Further, Hollande's government undertook policies against the spirit of its political, leftist party. Considered the bastion of the right, supply side policies are meant to encourage competition by focusing on deregulation, and to stimulate employment by decreasing, for example, welfare benefits. The tax credit for competitiveness and employment (in French: CICE,) originating from the Gallois Rapport, tampered with French' social benefits. Financed via taxes, the buying power of French consumers is being therefore vulnerable to slippage. Eventually, France's competitiveness decreased or stagnated (Figure 2) during Pres. Hollande's presidency– regardless of the CICE.
Figure 2: Extract from the World Economic Forum. Report of The Global Competitiveness Index (GCI)
| | | |
| --- | --- | --- |
| Country Economy | Global Rank (out of148) 2013-2014 | Global Rank (out of144) 2014-2015 |
| United States | 5 | 3 |
| Germany | 5 | 5 |
| The United Kingdom | 9 | 9 |
| France | 23 | 23 |
The CICE, however, gave birth to the Responsibility Pact, particularly beneficial to France. Why? One of the main Hollande's commitments was the creation of a 75% tax for people enjoying high incomes greater than a million euros. Controversial, this law struggled for approval, with the Constitutional Council itself being reluctant approving it. The full force of this 75% tax arrived this year (2015). It contributed an additional tax revenue of €420 million, which is relatively low. But the (bad) perception caused for investors was high. But ultimately the Responsibility Pact, not unlike the CICE, is also not perceived as having a Socialist flavor.
Two options presenting little dissimilarity mingle in one's mind, becoming one. Those disagreeing with option one (left/right) now don't find sympathy with option two (right/left.) In this circumstance, it is natural to bristle, and look for other options – outside the box. Which is a place where the likelihood for extremist options gain traction. That is to say, if the ideas related to the center-left and -right are not properly defended, they mutate to extremism within one's mind. Like people who are desperate for vital intakes of food would eat rotted food not properly preserved in jars or cans, the most likely to adhere to extremism are people hungry for changes, choosing something they wouldn't otherwise consider- therefore becoming extreme in their behavior/views.
Coincidently or not, the center-right was being freshly renamed the Republicans (on May 30, 2015.) Innocent? This name may not be vacant of any new sense as it may outpour other prospects. "The new name may speak to those tempted by the far right since the phrase "republican values" is often used as a byword for resisting the challenge of radical Islam."
Some pollsters forecast an untraditional battle for the 2017 presidential elections; i.e. not between the right and the left, but between the right and the far right. In any case, these forecasts indicate a failure for the left. The precedent departmental elections give ground to this line of thought (Figure 3.) The right gained votes in departments hitherto voting primarily left.
Figure 3: French election results by department (for 2011 and 2015)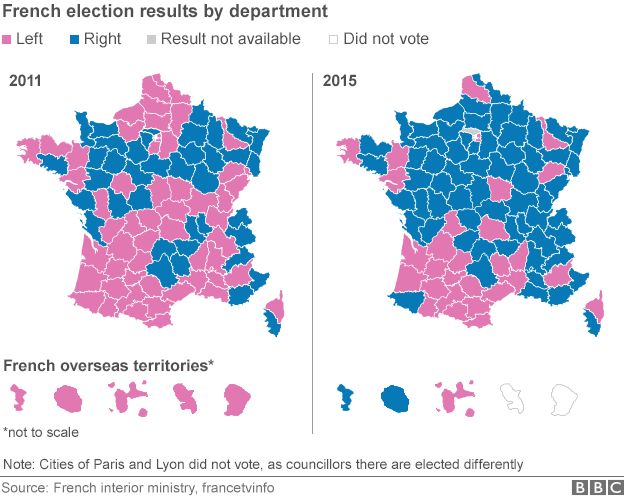 The unpopularity of the incumbent government – e.g. solely 22% of French are satisfied with the French President Francois Hollande – and problems related to Islam are preparing the ground for a veer to the right. That said, views about Islam are more favorable after the Charlie Hebdo peripeteia (Figure 4.)
Figure 4: French views of Muslims
The reason for this change is that there is a feeling of solidarity enhanced by the understanding that religious fundamentalists merely don't represent everyone. In other words, religious or ideological fundamentalists are recognized as the Achilles' heel of moderates. The Pew Research Center noted an analogical event in America. After the 2001 terrorist attacks Americans had favorable views about Muslims. Then, "in March 2002, just months after 9/11, 25% of Americans said Islam is more likely to encourage violence. In September 2014, fully half of Americans (50%) expressed this view."
In short, how the question is asked – are you favorable to Muslims or do you think Islam encourages violence – matters.