Written by Gary
Opening Market Commentary For 03-18-2014
Gary is off this morning (he will be back for his normal commentaries for the rest of the day), and the market open comes from our syndication partner Investing.com
U.S. stocks opened moderately higher on Tuesday, as market sentiment strengthened after a speech by Russian President Vladimir Putin, although the release of mixed U.S. economic reports limited gains.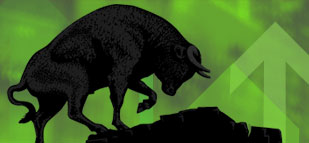 During early U.S. trade, the Dow Jones Industrial Average added 0.09%, the S&P 500 edged up 0.07%, while the Nasdaq Composite index rose 0.13%.
Market sentiment improved after President Putin said that Russia isn't seeking "a partition of Ukraine", signaling that Russia's moves in Ukraine would be limited. The speech came one day after the Russian president recognized the results of Sunday's referendum in Crimea, which saw a majority of voters chose to split from Ukraine. Meanwhile, data showed that the annual rate of inflation in the U.S. slowed to 1.1% in February from 1.6% in January. Analysts had expected the annual inflation rate to decline to 1.2%. Month-on-month, consumer prices rose 0.1% in February, in line with forecasts.
Separately, the Commerce Department reported that the number of building permits issued in the U.S. rose to a four-month high in February, rebounding after a sharp drop in January. The number of building permits issued last month jumped 7.7% to 1.018 million units following a 16.8% fall in in January, as a result of severe winter weather. However, U.S. housing starts fell 0.2% last month to hit a seasonally adjusted 907,000 units, disappointing expectations for an increase of 3.4% to 910,000 units.
European stocks turned higher on Tuesday, despite the release of weak of German economic sentiment data and as investors eyed a highly anticipated speech by Russian President Vladimir Putin. European stocks turn higher despite weak ZEW data; Dax up 0.62%European stocks erase earlier losses During European afternoon trade, the EURO STOXX 50 climbed 0.84%, France's CAC 40 jumped 0.90%, while Germany's DAX 30 gained 0.62%.
The ZEW Centre for Economic Research reported that its index of German economic sentiment fell to 46.6 this month from February's reading of 55.7. Analysts had expected the index to decline to 53.0. The report indicated that the economic upswing in Germany is not at risk. The assessment of current economic conditions improved to 51.3 this month from 50.0 in February.
Economic expectations for the euro area also deteriorated this month, the ZEW Centre said, dropping to 61.5 from 68.5 in February, compared to expectations for a decline to 67.3. Meanwhile, Vladimir Putin was set to address Russia's parliament later on Tuesday on making Crimea part of the Russian Federation, one day after signing a decree recognizing the region as a sovereign state.
To contact me with questions, comments or constructive criticism is always encouraged and appreciated:
Written by Gary