by Greg Guenthner, Daily Reckoning
You have a great shot at a brand new precious metals trade today.
It's not gold. It's not silver, either. And you can bet your sweet patootie it's not copper. No, there's only one metal worth buying right now…
I'm talking about palladium.
Palladium is the Rodney Dangerfield of precious metals – it just doesn't get any respect, I tell ya. Some even call it the "forgotten precious metal" since gold and silver always steal the spotlight.
Doesn't matter. Fact is palladium's setting up perfectly for a nice, fat trade right now. And we're pouncing on it today for what I expect to be double-digit gains…
In case you're new 'round here, we've made money on the palladium trade before. We traded it early last year for gains as it surprised everyone with a huge move higher. Now, we're ready to do it again.
I explained early last year:
"Palladium's story is simple yet powerful. It's useful (palladium is a key component in catalytic converters for the auto industry). And even more importantly, this forgotten metal has bucked the downtrend that's punished other metals since early last year…"
---
What is the Income Play Rich Investors Love? (Hint: It's Tax-Free)
---
Yes, palladium turned out to be the top-flying metal last year- while gold and silver were both grounded. But palladium started believing its own press and after a furious run in early 2014, it flew a little too close to the sun. Flames broke out in early September, and it was 20% off its highs by the time it crashed to earth. But for the past five months, palladium's been growing back its wings. And now it's flying high again…
That's where your new trade comes in. Palladium jetted off its lows and has just broken above key resistance, reaffirming its status as the highest-flying precious metal on the market…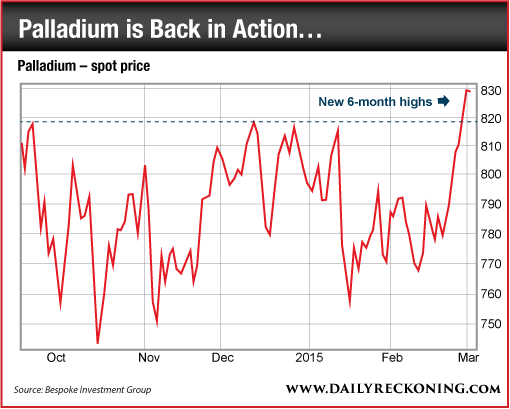 Just look at this bad boy streaking to 6-months highs. And it's got plenty of fuel in the tank for an extended run higher. That means now's the perfect time to get long here for a trade…
With gold stuck near $1,200 and silver falling from its January highs, palladium is proving again it's the only precious metal worth trading right now.
Palladium isn't as good as gold. It's better…