by Greg Guenthner, Daily Reckoning
Back in May, I told you to ditch your gold for greenbacks.
At the time, gold was sinking below $1,260 for the first time in months. The dollar looked like it was poised for a major breakout toward its 2013 highs. And virtually no investors were remotely interested in these developments…
Of course, a lack of publicity didn't stop the market forces that were already in play. Gold tripped another 5% and sank toward its lows. And the dollar exceeded all expectations, rocketing to levels not seen since 2010. I wrote on May 30th:

"Just a few weeks ago, many analysts were talking about a potential breakdown in the dollar.  But things aren't always as they first appear. Many times, the best trades are the ones you least expect."
But hang on just a minute…
Gold recently enjoyed its biggest three-day rally since June. And the dollar looks a little tired after its big move higher. That means it's time to flip this trade.
More on this idea in just a minute. First, let's check out the recent dollar rally. Here's what I was seeing in the dollar index back in May: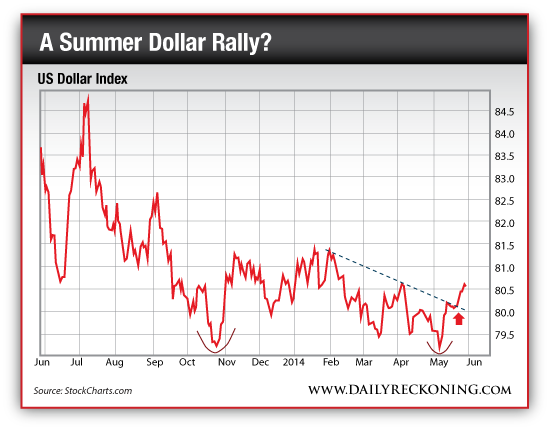 ---
What is the Income Play Rich Investors Love? (Hint: It's Tax-Free)
---
And here's how the move unfolded: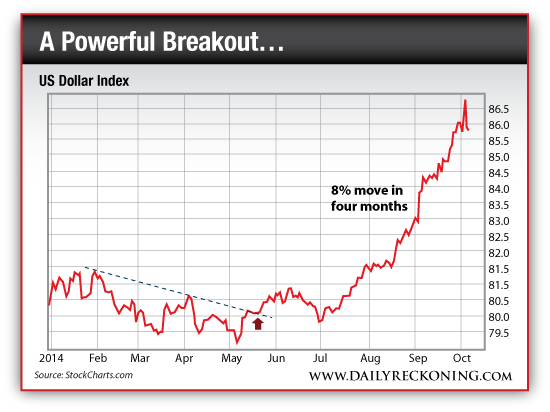 Trading gold for greenbacks was a stellar trade – and for now, it has run its course. The dollar will need to digest its parabolic move. And gold looks ripe for a quick comeback…
For the record, I think the dollar's initial move will stick. The dollar index could very well end up higher six to eight months from now – but the road could get volatile. Also, while gold remains in a bear market, snapback rallies like the one you're seeing right now can offer fantastic opportunities to score quick profits.