by Byron King, Daily Reckoning
I'm going to let you in on a market trend institutional investors will be kicking themselves for not knowing – I'm talking about the resurgence of silver.
After a 3-year bear run silver looks to be bottoming.
As a result, the price of the long-overlooked commodity could shortly be on its way to $30. Today I want to show you how to leverage this opportunity. As you'll see, silver can shield your wealth from the perfect storm of sectarian violence and bureaucratic incompetence. Now is the time to give this metal a look.
First, let me explain what got us here.
It's been a tough run for silver over the past 3 years. It all began with the fed's decision to interfere with the economy.
The market is still dealing with the effects of the Federal Reserve's monetary policy. Since 2008, we've seen a continued dose of money printing and interest rate fiddling – all of which leads to an artificial world for investors.
This artificial world has pulled the wool over the eyes of many investors. Folks are chasing Facebook and Twitter. They're chasing app makers and other momentum plays.
All the while, with money flowing out of safer hard assets, the price of silver took a hit.
Our in-house chart technician, Greg Guenthner, showed me a metric that unveils an unseen dimension of this trend.
"Moving average convergence divergence (MACD), the line below the price chart, shows the amount of trades happening at any given time in the silver market. A spike in trading – seen in September 2012 – triggered the precipitous drop in the price of silver."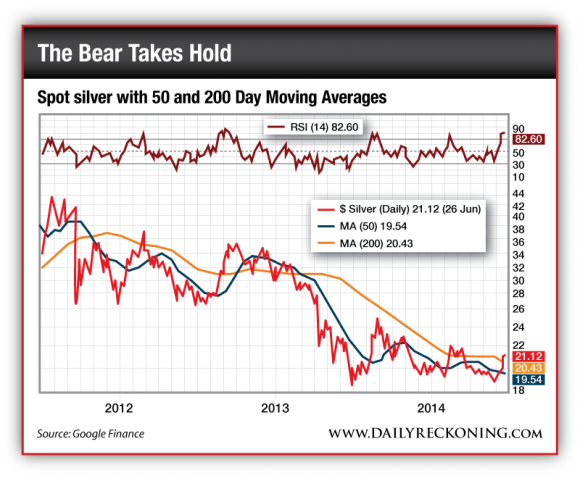 Silver prices plummeted as Wall St. investors, eager to gamble their money in riskier investments, moved into the frothy stock market, melting higher thanks to Fed stimulus. Well, the party is coming to a close…
As you know, the fed's economic Frankenstein is slowly being dismantled. QE is winding down and a rise in interest rates is on the horizon.
---
What is the Income Play Rich Investors Love? (Hint: It's Tax-Free)
---
Of course, you can't keep throwing money at a problem and expect it to work out in the long run.
Nor can the government expect to sustain a running tab of trillions of dollars of debt. The tab will likely be paid for in the form of a market correction.
Furthermore, the natural market forces will push inflation up to compensate for the fed's efforts to pin down artificially low rates. In many respects, inflation has always been lurking behind the scenes. And it may only get worse in the coming years. That's great news for silver holders.
How do we strengthen our defense against the known enemy of inflation? By developing a unique position in silver.
An ideal silver play not only hedges against the rising tide of inflation but also against the volatile trading habits of fickle institutional investors.

Wall Street investment bankers are subject to the whims of passing fads. They have the foresight of your average fruit fly, only concerned with the short term.
You are in it for the long haul. You have the foresight to see the gains years ahead.
First Majestic Silver Corp. (NYSE:AG) is one company to help realize the rewards of your foresight. I revealed it to my Oustanding Investment Insider readers last month. However, since I didn't add it to our portfolio as an official recommendation, I'd like to share it with you too.
First Majestic is a mid-cap mining company focused on silver production in Mexico. The company is pouring their efforts into increasing the efficiency of its existing mines.
This is far from the norm for mining companies.
Large-cap mining companies sink millions into exploring for potential mining sites. When searches net a measly return, almost inevitably because of the astronomical costs of exploration, their balance sheets are marred with red. You can imagine what this does to the mining companies' profitability.
First Majestic eschews this losing strategy in favor of one that is profitable.
You see, First Majestic concentrates on expanding production of its existing mines.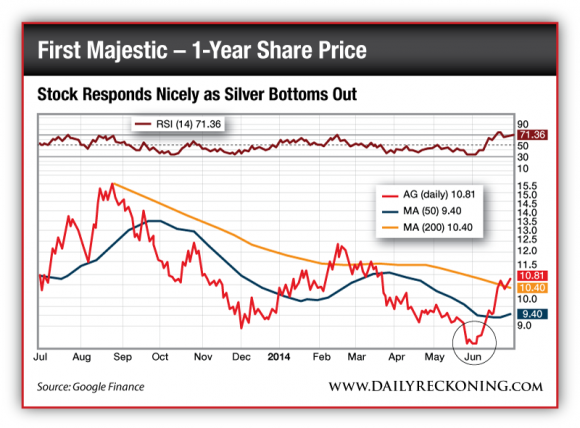 And the tactics are paying off. In the first quarter, silver output increased 33% over first quarter 2013. Just in time for the resurgence of silver.
Take solace in the strong correlation between this company's share price and the price of silver. The relationship sheds light on the disheartening 1-year chart seen above. Worry not. As silver rises, so does First Majestic. In fact, we're already seeing a solid turnaround in share price since June, as indicated by the circled area on chart. And this may just be the beginning.
Capitalize on the turning point in the price of silver by building a position with First Majestic.
All in all, I see circumstances are converging to make now the time to protect your wealth. You can hedge against the inherent risk of political fallibility, with silver.