by Greg Guenther, Daily Reckoning
---
Editor's note: Today gold dropped below $1,260 an ounce (intraday).
---
If the stock market's recent action is a little too crazy for your liking, maybe it's time for you to revisit gold and gold mining stocks.
Gold's going nowhere fast. In fact, it's boring me to death. Compared to the insane meltdowns in biotech and momentum stocks that have ripped traders to shreds over the past couple months, gold's just standing around in its slippers staring at the birds in the backyard.
That's a complete 180-degree turn from the action we saw from gold earlier this year…
Back in early March, gold had left $1,350 in the dust. Miners were breaking out to new year-to-date highs. Nothing interesting was happening with stocks. But precious metals looked primed for a move.
---
What is the Income Play Rich Investors Love? (Hint: It's Tax-Free)
---
This bullish-looking action led up to my worst call so far this year. I thought gold would make a push toward $1,400, and miners would be the best way to play it. So far, my buy signal on the Market Vectors Gold Miners ETF (NYSE:GDX) at $24 has led to nothing but chop. After a failed breakout at $27, this ETF has drifted lower for nearly two months.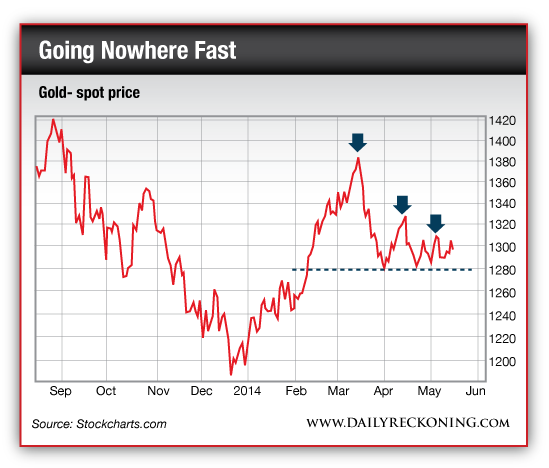 Every rally since gold's early March push has looked less impressive.

"Gold has been driven back from a key long term trendline at $1,310 this morning, ($1,315 last week) that it needs to break to have a chance at sustaining a rally," writes Lee Adler over at Wall Street Examiner.
Lee's looking for a weekly close above $1,334 before gold can get jiggy and make another go at $1,400. But it doesn't look like we're going to get there anytime soon. In fact, if gold slips below $1,280, I see the chance for a quick tumble back to its lows near $1,200.
The bottom line is I don't want anything to do with miners or the metal anymore. Gold's not cooperating for anyone who it teased into buying earlier this year. It's not reacting strongly to weakness in stocks. And for the past six weeks, the price action could put even the most over-caffeinated insomniac into a coma.