Money Morning Article of the Week
by Kyle Anderson, Money Morning
The Tesla Motors stock price dipped 1% the morning after Chief Executive Elon Musk unveiled a new suite of batteries designed to power homes and businesses.
Tesla Motors Inc. (Nasdaq: TSLA) stock quickly raced to $231.77 after the opening bell, but retreated to $224 by 11 a.m.
The new division of the company will be called "Tesla Energy." The devices that will be installed in homes are named "Powerwalls."
A 7-kilowatt-hour (kwh) wall-mounted version of the Powerwall will cost $3,000. A larger 10-kwh version will be sold for $3,500. This is far cheaper than existing traditional 7-kwh solar panel and battery packs, which can cost more than $10,000.
The units will be built using the same lithium-ion batteries that are used in Tesla cars.
Tesla will also sell much larger battery blocks for industrial use. Like Tesla's electric-vehicle technology, all the patents on the Powerwalls will be open-sourced.
The company said in a statement:
"Tesla is not just an automotive company, it's an energy innovation company. Tesla Energy is a critical step in this mission to enable zero emission power generation."
Tesla will be using its vehicle factory in California to build the units and plans to begin delivering them by summer.  Production will be moved to the $5 billion Tesla Gigafactory that is currently being built in Nevada when the factory is ready.  Musk expects to build additional gigafactories eventually.
Musk said at the event:
"We're talking about trying to change the fundamental energy infrastructure of the world. This is actually within the power of humanity to do. It is not impossible."
Tesla Energy marks a huge shift for the company, which has previously focused on electric vehicles exclusively.
It's the type of move that's had Money Morning experts extremely bullish on Tesla Motors stock price's long-term potential.
Make no mistake, TSLA stock is volatile. But Tesla is also one of the most innovative companies in the world. Here's the full story on why we're betting on a long-term rise in the Tesla Motors stock price…
The Long-Term Potential of the Tesla Motors Stock Price
We have to mention right away that Tesla stock is not for short-term investors, or investors with low risk tolerance. It is one of the most volatile stocks on the market, and is subject to wild price swings.
But for investors willing to take on some risk, Tesla Motors stock offers huge potential.
Money Morning Chief Investment Strategist Keith Fitz-Gerald said in March:
"I believe Tesla is one of the best long-term investments an investor can make at the moment."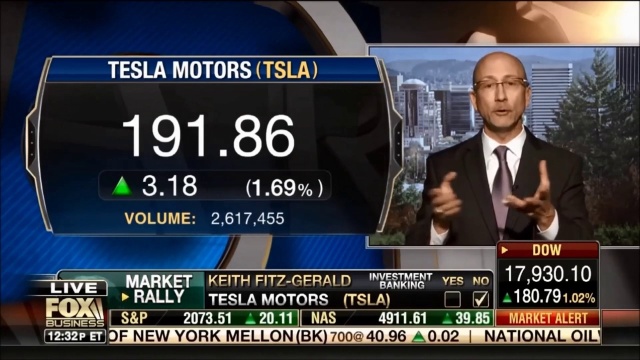 1:53 POWERED BY WISTIA
Fitz-Gerald said on FOX Business:
"Tesla is one of those companies that's great for an investor who wants to buy it and tuck it away. Tesla is not just about cars. It's about batteries. It's about breaking the mold. It's about changing sales channels."
Money Morning Global Energy Strategist Dr. Kent Moors has been touting the potential of Tesla's home batteries for months.
Moors said in February:
"In everyday use, the unit is expected to allow homeowners to store solar-generated power for use during high-cost periods, giving them the flexibility to use the conventional grid for cheaper, off-peak electricity."
Yesterday's announcement is a huge step for Tesla. But the completion of the Tesla Gigafactory will be an even bigger move for the company, and the Tesla Motors stock price.
The Gigafactory is expected to power more than 500,000 vehicles annually by 2020. That's more annual production than was produced globally in 2013.
Moors said:
"The Gigafactory is expected to have a dramatic effect on the energy storage market, helping to bring battery costs down by as much as half by 2020"
The Bottom Line: The Tesla Motors stock price is volatile today following the announcement of "Tesla Energy." But this is the exact type of announcement that makes TSLA stock one of the best long-term buys on the market. Tesla is much more than a car company. And the potential for these new home batteries is tremendous. The Tesla Motors stock price will remain volatile in 2015, but TSLA is a long-term "Buy."