Money Morning Article of the Week
by Diane Alter
General Electric Co. (NYSE:GE) stock was up more than 10% last Friday, after the company announced it will be selling most of its GE Capital assets, which total $500 billion.
In a world where bigger is often deemed better, the goliath multinational conglomerate is getting smaller. And Wall Street approves.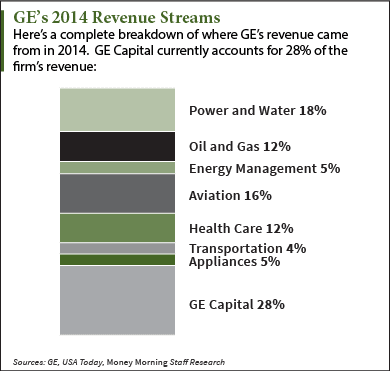 The news sent GE shares to a new 52-week high of $28.
The Fairfield, Conn.-based company will also shed nearly all of its real estate portfolio for $26.5 billion. Buyers here include Blackstone and Wells Fargo.
GE said it would bring back some $36 billion in cash currently overseas as well. Additionally, the GE board authorized an enormous $50 billion share repurchase program. The buyback is the second-biggest ever. Apple Inc.'s (Nasdaq: AAPL) $60 billion is tops.
Jeff Immelt, GE's chairman and chief executive, said in a statement:
"This is a major step in our strategy to focus GE around its competitive advantages. GE today is a premier industrial and technology company with businesses in essential infrastructure industries."
The move marks a pivotal moment for GE.
In fact, when Immelt tweeted the news around 6:30 a.m. Friday, the link he included was GE.com/pivot.

GE's unit sales, repatriated cash, share buyback, and dividends are expected to return some $90 billion to shareholders through 2018.
Over the last several years, it has trimmed its media, financial, and appliances units. Meanwhile, GE has been bulking up on its industrial manufacturing business. The goal is focus and simplicity.
The company's market cap is still a whopping $277.76 billion.
But today's GE Capital deal is the most significant. The arm nearly toppled the company during the depths of the 2008 financial crisis. Last year, the segment accounted for 42% of GE's earnings. By 2018, the unit is expected to make up just 10% of the company's earnings.
We alerted investors to the profit potential of GE stock last month, and the stock remains one of our favorite blue-chip stocks to buy and hold in 2015.
In fact, there are three major reasons why GE stock is more attractive following today's move…
Three Reasons Why GE Stock Remains a Top Pick for 2015
The first reason GE stock looks stronger today is the company's structure.
Before today, the firm was part industrial and part financial. The strange structure worked up until the financial crisis, when it caused GE to come under regulatory scrutiny as "too-big-to-fail."
Most important for investors is the simple fact that the market discounts financial earnings more ruthlessly than it does industrial earnings. That's due to the higher potential volatility of financials. Had GE not dumped billions into its financial arm under the guidance of bosses Jack Welch and Jeff Immelt, its multiple would most likely be significantly higher today.
Second, the disposal of the finance unit will provide a war chest for dividends and share buybacks. The board has already authorized up to $50 billion in buybacks – one of the largest programs on record.
Investors immediately licked their chops at the possibility, pushing the company's shares up over 8% in the first hour of trading this morning.
Finally, today's move will help GE snap up attractive industrial assets when they come on the market. In March 2014, the company spun off Synchrony Financial (NYSE: SYF). Shortly before that deal closed, GE paid $17 billion for the power and electrical grid businesses of France's Alstom SA. More deals like that could be in the company's immediate future.
And don't forget about GE's hefty dividend payments.
GE has paid out roughly $18.2 billion to investors via share buybacks and dividends during its storied history. Over the last 12 months, GE's dividend per share growth rate was 12.7%. During the past three years, it was 13.4%.
Right now, its yield is 3.34%.
The Bottom Line: General Electric's move to sell the GE Capital portion of its company is a big win for GE stock. Shares have already jumped 9%, but that could just be the start. GE stock is stronger today because of its improved structure, growing cash reserves, and ability to acquire industrial companies. It remains a long-term blue-chip stock to buy and hold.