by Greg Guenthner, Daily Reckoning
Hey, I see you sitting there at your computer like a wimp, with your pumpkin spice latte and lilac crème crepe. Put 'em away.
It's time to get to work…
Today you're hopping on a good ole fashioned steamroller for an honest day's pay. Your job is to turn every underperforming industry and market sector into pancakes…
So grab your lunch pail, put on a hard hat and get ready to roll, my man. It's time to flatten financials…utilities…and industrial stocks. They're dragging down the S&P 500 – and maybe your portfolio, too. What's left will be a few indestructible diamonds screaming "buy me!" These are the powerhouse stocks that'll supercharge your trading account over the next few months. And my favorite these days?
Biotech stocks.
Yeah, yeah, yeah-we've been on a heavy biotech diet lately. But with good reason. While every trader this side of Timbuktu got waylaid by the oil crash, guess which sector was as solid as granite? Biotechs, that's what.
Back in late October, just a little less than two weeks removed from the start of the epic fall comeback, I told you I was backing up the truck on biotech. A massive biotech breakout had arrived, with promises of wild profits. So far, it's delivered. And listen, they still have plenty of room to run…
---
What is the Income Play Rich Investors Love? (Hint: It's Tax-Free)
---
The main clue here is the strength it showed while the major averages consolidated. After the market bottomed out back in October, the S&P 500 recovered, but was as flat as a board until just recently. But biotech stocks kept packing on the muscle…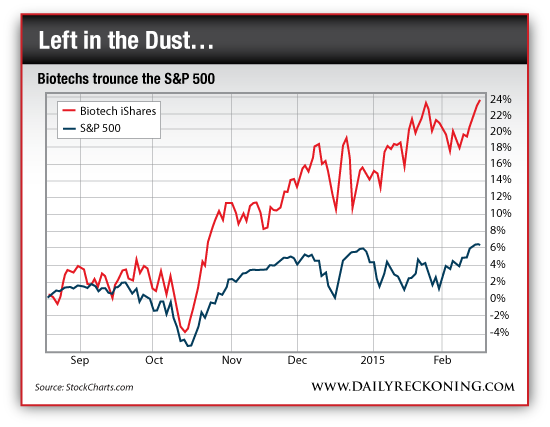 Over the past six months, the S&P is up a skinny 6%, while the Biotech iShares (NASDAQ:IBB) have bulked up 23%.
So I gotta ask you: Where would you rather put your money right now? The S&P… or biotechs? Unless you've got a room-temperature IQ, the answer's obvious. And listen, here's the best part about this trade…
You don't have to be that choosy when it comes to playing biotech right now. IBB is the big, safe sector giant. But there are individual biotech stocks with the potential to return eye-popping gains in just a few days or weeks-as long as you're not caught in an earnings snafu.
The rest is up to you…