Money Morning Article of the Week
by David Zeiler, Associate Editor, Money Morning
Money Morning's "unloved" pick of the week is fracking sand supplier U.S. Silica Holdings Inc. (NYSE: SLCA).
An unloved investment is one that's been beaten down – but is actually a great value. Investors then get an amazing entry point into a good long-term investment.
Money Morning Defense & Tech Specialist Michael Robinson first recommended U.S. Silica stock back in February. With SLCA stock down 38% from its 52-week high of $73.43 reached on Sept. 3, Robinson now considers the company "stupid cheap."
U.S. Silica Holdings Inc. (NYSE: SLCA): About the Company
U.S. Silica has its roots in two silica and sand mining companies founded in the late 1800s: The Ottawa Silica Company of Berkeley Springs, W.V., and the Pennsylvania Glass Sand Corporation of Lewistown, Pa. The two merged to form U.S. Silica and moved the company headquarters to Frederick, Md. U.S. Silica primarily produces sand and silica products used in shale oil and shale gas fracking. However, SLCA offers 250 products that also serve the glass, chemicals, foundry, and building products industries. U.S. Silica operates in 16 locations across the country and employs about 850 people. SLCA has a market cap of $2.42 billion. The chief executive officer is Bryan A. Shinn.
U.S. Silica Holdings Inc. (NYSE: SLCA): Why It's Unloved Right Now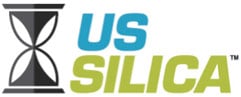 As a supplier to oil drilling companies, SLCA is sensitive to the price of oil. The price of oil nosedived from over $100 a barrel at the start of July to below $85 in October. Oil has continued to slide in November down to about $75.
When the fracking industry starts to have cash flow issues due to low oil prices, Wall Street worries they'll slow purchases from suppliers like U.S. Silica. So investors sold off SLCA stock.
On top of the fall in oil prices, two analysts cut their rating on SLCA stock in recent weeks. Simmons & Co. downgraded SLCA from overweight to neutral on Oct. 31. And Zacks Investment Research dropped U.S. Silica stock from outperform to neutral on Nov. 8.
But the SLCA sellers forgot something important…
U.S. Silica Holdings Inc. (NYSE: SLCA): Why It's a Stock to Buy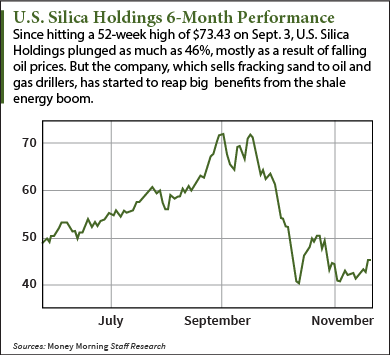 Robinson said:
"Investors recently dumped shares in a panic without realizing a compelling part of the story – it's not all about energy. U.S. Silica's specialty division, which accounts for 40% of sales, supplies such industries as housing, water filtration, and performance chemicals."
And while some analysts believe U.S. Silica's array of products is destined to become low-margin commodities, Robinson disagrees.
Robinson said:
"U.S. Silica has committed itself to constant innovation, making that a key to success. In 2012 it created a new 'technical director' post and constructed an advanced research lab."
What's more, Robinson says SLCA's supply chain and logistics operations are "second to none in the industry." That's critical, he says, "because these operations serve as the additional barriers to entry that keeps the company's rivals on the sidelines."
U.S. Silica is also getting ahead of rising demand from the fracking industry. It plans to open three new mines by 2016. That will double the company's capacity, Robinson said.

Federal Debt is a Ticking Time Bomb


0:33 POWERED BY WISTIA Watch the full presentation.
And the company posted impressive third-quarter earnings. Income almost doubled from $0.40 a share a year ago to $0.76., while revenue rose from $144.4 million to $241.3 million.
As for the main trigger of SLCA's recent sell-off, low oil prices – it can't last. Saudi Arabia has engineered the fall in oil prices, but it's a losing strategy. SLCA stock will get a nice pop when oil rebounds and the economics of fracking again become attractive.
Finally, Robinson pointed out that Forbes recently recognized U.S. Silica as America's Best Small Company. "That means more investors are going to start noticing our find soon," he said.
Investing in U.S. Silica Holdings Inc. (NYSE: SLCA)
Robinson has a simple method for picking a good entry point for a stock. He just takes a 10% discount off the 50-day moving average to arrive at what he calls the "Stupid Cheap Price." For U.S. Silica, the current 50-day moving average is $51.26. That makes the "Stupid Cheap Price" $46.13. And with SLCA stock trading at $44.78, it's a bargain indeed. The one-year price target is $66.15, a 43% increase from the current price. And U.S. Silica pays a 1.11% dividend.
This Energy Stock Is Up 455%: Once you start looking past the producers and refiners, you can find a range of companies profiting from the U.S. shale oil and gas boom. U.S. Silica is one of them. But we've found another stock that has more than quadrupled. And yes, this company still has plenty of room to run…