So we are now seeing the folly of untaxing property and replacing tax revenues with borrowing – paying tax-exempt interest to the nation's wealthiest bondholders. Cutting the property tax base thus finds its twin casualty in the wave of defaults on pension promises.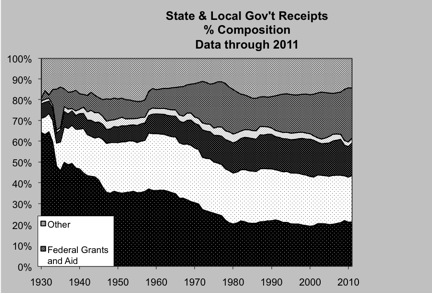 Real estate taxes have plunged from two-thirds of urban revenues in the 1920s to just one-sixth today for the United States as a whole. Federal grants-in-aid also are being cut back, and state aid to the cities is following suit. But instead of making housing more affordable, these tax cuts have "freed" rental value from the tax collector only to end up being paid to the banks.
Here too, California has led the way. In 1996 its voters approved Prop. 218, requiring any new tax, fee or property assessment to be approved by two-thirds of voters. (A few exemptions were made to keep local sew er and water systems viable.) This stratagem "starves the beast," with the "beast" being public infrastructure and social services. Police forces are being downsized and social programs are cut back. And as urban poverty increases, crime rates are rising, imposing an "invisible" cost of living.
The most important economic fact to recognize is thus that whatever the tax collector relinquishes tends to be capitalized into mortgage loans. And by leaving more rent available to be paid as interest, cutting property taxes obliges homebuyers to go deeper into debt. Lower property taxes thus mean higher housing prices – on credit, because a home or other real estate is worth whatever a bank will lend to new buyers. So by capitalizing the after-tax rental value into a flow of interest, bankers end up with the rent – and hence, with the property tax cuts.
That is what a free market means today – income created by public-sector investment, "freed" to be paid to banks as interest rather than to be recaptured by government.
Most urban revenue is a free lunch created by taxpayer-financed roads, schools, sewers and water systems. But neither real estate speculators nor their bankers believe that this investment by taxpayers should be recovered by taxing the increased site values created by providing these public services. Instead of making the public sector self-financing as it expands public services to create wealth, private owners are to get the benefit – while banks capitalize the gains into larger mortgage loans, which now account for 80% of bank credit.
The core of the bankers' "false consciousness" – the cover story with which Tea Party lobbyists are seeking to indoctrinate U.S. voters – is that taxes on land and financial assets punish the "job creators." Going on the offence, the beneficiaries of this public spending claim that they need to be pampered with tax preferences to invest and employ labor, while the 99% need to be kicked and prodded to work harder by being paid low wages. This false narrative ignores the fact our greatest growth periods are those in which U.S. individual and corporate tax rates have been highest. The same is true in most countries. What is stifling economic growth is the debt overhead – owed to the 1% – and tax cuts on free lunch wealth.
The public pension squeeze is part of the overall debt crisis
Republican Vice Presidential nominee Paul Ryan and Texas Governor Rick Perry have characterized Social Security as a Ponzi scheme. This is true in the obvious sense that retirees are supposed to be paid out of contributions to new entrants. That is how any pay-as-you-go system is supposed to work. The problem is not that the system needed to be pre-funded to provide the government with revenue to cut taxes on the 1%. The problem is that new contributions are drying up as the economy buckles under its expanding debt overhead.
Social Security can easily be paid. After the 2007 crash the Fed printed $13 trillion on its computers to give to bankers. It can do the same for Social Security – and for federal grants-in-aid to America's states and cities. It can pay state and local pension obligations in the same way it has paid Wall Street's 1%. The problem is that the Fed is only willing do what central banks were founded to do – finance government deficits – to give to the banks. The aim is to save bondholders and the banks' high-flying counterparties, not the 99%.
The problem is that the financial system itself is rotten. This has turned today's class war into a financial war, with the major tactic being to shape how voters perceive the problem. The trick is to make them think that cutting taxes will lower their living costs and make housing cheaper, rather than enabling banks to take what the tax collector used to take. That is the key perception that needs to be spread: cutting taxes leaves more "free lunch" income available for banks to lend against, loading the economy deeper into debt.
Here's why the present track can't possibly work. State and local pension funds are $3 trillion behind because they are only making 1% returns these days (the only safe return), not the 8+% that they were told to make in order to pay pensions by "capital" gains (that is, the bank-financed free lunch). The Fed is keeping interest rates low in an attempt to re-inflate real estate and other asset prices back to the happy decade of Bubblemeister Greenspan. If interest rates rise – by enough to enable California, Chicago and other localities to obtain enough interest to pay retirees what they promised – then banks will see the collateral for their mortgage loans fall.
So the Fed has locked the economy into low returns. Neither Democratic nor Republican politicians are willing to raise taxes on the finance, insurance and real estate (FIRE) sector. They vote in line with what their campaign contributors are paying for – to make Wall Street rich.
At issue is the old Who/Whom choice. Given the mathematical fact that debts that can't be paid, won't be, the question is who should get priority: the 1% or the 99%?
Debt-ridden austerity and downsizing government is being urged as if it is inevitable, not a policy choice to put bondholders and the 1% over the 99% – a reward for the lobbying money it has spent on buying politicians and misleading voters to believe that cutting property taxes and cutting taxes on the rich will help the economy.
But if America still lets the 1% write the laws – or what turns out to be the same thing these days, to contribute to the political campaigns of lawmakers – then the economy will get much poorer, quickly. The era of America growth will be over.
Something has to give: If bondholders won't be paid, states cannot pay labor's deferred wages in the form of pensions, and will have to cut back public services.
So it's time to default. Otherwise, Wall Street will turn us into Greece. That is the financial plan, to be sure. It is the strategy for today's financial war against society at large. In Latvia, I spoke to the lead central banker, who explained that wages in the public sector had fallen by 30 percent, helping push down private-sector wages nearly as far. Neoliberals call this "internal devaluation," and promise that it will make economies more competitive. The reality is that it will up the internal market and drive labor to leave.
Editor's note: Michael Hudson is the author most recently of The Bubble and Beyond (available on Amazon), which charts the financial and real estate pyramid at the root of the urban fiscal crisis. 

Related Articles
---
About the Author
Michael Hudson is President of The Institute for the Study of Long-Term Economic Trends (ISLET), a Wall Street Financial Analyst, Distinguished Research Professor of Economics at the University of Missouri, Kansas City and author of Super-Imperialism: The Economic Strategy of American Empire (1968 & 2003), Trade, Development and Foreign Debt (1992 & 2009) and of The Myth of Aid (1971).
ISLET engages in research regarding domestic and international finance, national income and balance-sheet accounting with regard to real estate, and the economic history of the ancient Near East.
Michael acts as an economic advisor to governments worldwide including Iceland, Latvia and China on finance and tax law. He gives presentations on various topics at conferences and meetings and can be booked here. Listen to some of his many radio interviews to hear his hyperspeed analysis of the geo-political machinations of global economics. Travel costs and a per diem are appreciated. Dr. Hudson writes at Michael Hudson.com.
---