by Zillow
At the end of 2014, Zillow predicted that by the end of 2015, annual growth in rents would outpace annual growth in home values. As it turns out, we were wrong – not because we no longer expect that to happen (we do), but because it could happen long before we thought.
As of the end of the first quarter, the Zillow Home Value Index (ZHVI) was up 3.9 percent year-over-year, barely ahead of the 3.7 percent annual pace of growth in the Zillow Rent Index over the same period. But while home values in the nation as a whole may still be growing more quickly than rents (barely), in many large metro areas, rental growth has surged ahead over the past year.
In 17 of the nation's 35 largest metro areas, annual ZRI growth exceeded annual ZHVI growth in March, up from 15 at the end of the 2014 and just two at the same time last year. Of those 17 where rents are growing more quickly than home values, the biggest differences are in San Francisco (ZRI up 14.8 percent year-over year, ZHVI up 9.6 percent year-over-year, for a 5.2 percentage point difference) Kansas City (ZRI: 8.6 percent; ZHVI 4 percent; 4.6 percentage point difference) and Pittsburgh (ZRI: 6.3 percent; ZHVI 2 percent; 4.3 percentage point difference).
Why does this matter? For a lot of reasons, with both positive and potentially negative ramifications for the housing market as a whole.
March represents the first month in two years in which annual home value growth was less than 4 percent For 24 months, homeowners have watched their homes appreciate at a pace well above historic norms – around 3 percent annually. As that growth comes back to earth, many may be tempted to list their home for sale (if they can), figuring they may have squeezed what juice they could out of it as home values rose throughout the recovery, and deciding to capitalize on those gains.
This, in turn, has real benefits for buyers. Buyers have been contending with low for-sale inventory, and stiff competition for those homes that are available. More homeowners deciding to sell now and in coming months will help ease these inventory restrictions, taking some of the pressure off buyers and resulting in a more balanced market.
Additionally, as home value growth slows, many buyers may feel less need to rush into the market before they may be ready to buy lest they get priced out. And finally, those current renters looking to enter the market – and there are upwards of 5 million of them that say they want to buy this year – will have an easier time saving for a down payment if they're not trying to hit such a rapidly moving target. Essentially, they can be (even slightly) more assured that the nest egg they've saved today for a home will still get them far enough when they're ready to buy tomorrow.
But about those renters…
Rising rents themselves are a double-edged sword for the purchase market. As current tenants see more and more of their income going to landlords that keep raising the rent, many are likely to opt for the relative stability of homeownership. And homeownership, in addition to offering stable payments over many years, is also an incredible bargain right now.
Current U.S. renters making the median national income can expect to pay about 30 percent of their income to afford the median U.S. rental property, up from about 25 percent historically. Buyers, on the other hand – thanks to very low mortgage interest rates and home values that, for most local markets, remain below their pre-recession peaks – should expect to pay only 15 percent of their income on a mortgage, down from about 22 percent historically.
Yes, as home value growth slows, a down payment saved today will go farther tomorrow, but in the face of rising rents, saving that down payment itself is increasingly difficult. And more money devoted to rent, on top of higher student loan burdens, could make it tough to qualify for a loan (although that, too, is getting easier). Finally, homes to buy remain scarce, and those homes being built are often focused at the high end, and not at current renters that are likely looking to buy more entry-level homes.
Home Value Growth Continues to Slow…
The median home value in the U.S. was $178,400 in March, according to the Zillow Home Value Index, up 0.8 percent from the fourth quarter of 2014. On an annual basis, home values were up 3.9 percent from March 2014. March 2015 was the first month in two years that home values grew at less than 4 percent annually. The annual appreciation rate in home values has fallen for the past 11 months. U.S. median home values stand roughly where they were in May 2005. Home values remain 9 percent below their April 2007 peak of $196,400. The 2015 Q1 Zillow Real Estate Market Report covers 507 metropolitan and micropolitan areas. In February, home values rose year-over-year in 381 out of 507 metros.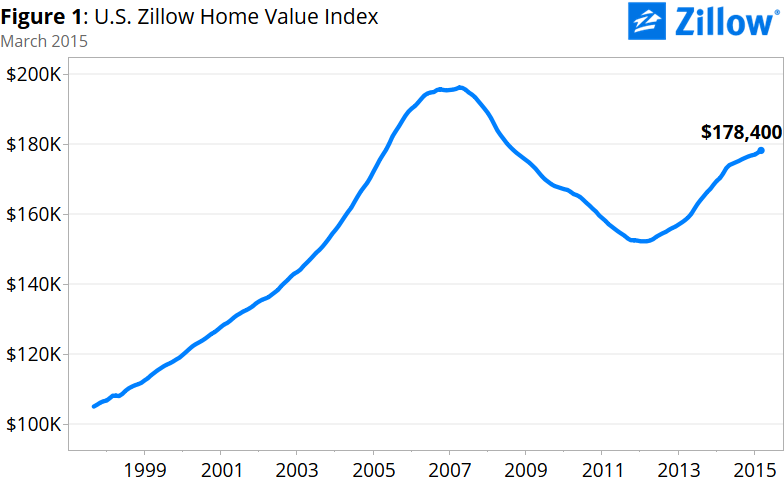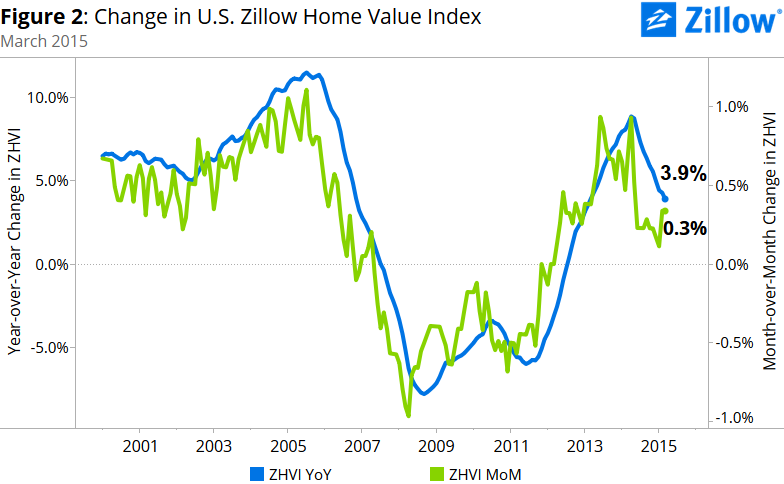 Out of the largest 35 metro areas, Denver continues to be the market where home values are growing the fastest, up 14.3 percent annually. Houston (12.6 percent), San Jose (12.1 percent), Miami (11.1 percent) and Dallas (10.6 percent) make up the rest of the top 5 metros in terms of annual home value appreciation. Home values in 22 of the 35 largest metros grew more quickly year-over-year than the U.S. as a whole.
…As Rents Continue to Grow Grow Grow

Of the 859 metropolitan and micropolitan areas covered by the Zillow Rent Index (ZRI), 601 (70 percent) experienced year-over-year rent increases in March. U.S. median rents rose 3.7 percent year-over-year in March, to a Zillow Rent Index of $1,362. Nationwide, rents have risen for the past 9 months compared to the month prior.
Among the 35 largest metro areas, annual rental appreciation in 17 exceeded 5 percent. The San Francisco metro experienced the highest annual rent appreciation among large markets, up almost 15 percent since March 2014. Other market with double digit appreciation in rents were San Jose (12.3 percent) and Denver (10.6 percent).
Outlook
Nationally, home values are projected to rise 2.6 percent through the first quarter of 2016. Of the 303 metro areas forecasted by Zillow, 50 are projected to grow in the next year by 5 percent or higher. Of the largest metro areas, all 35 are projected to see gains in home values over the next year with Denver, Dallas, Sacramento, Riverside, Seattle, Las Vegas, San Jose and San Francisco all expected to experience annual appreciation of 5 percent or higher.
For those renters that can save for a down payment (even a modest one), qualify for a loan and find a home to buy, buying looks mighty tempting – particularly as rents continue to surge. And as sales activity remains sluggish, this additional demand will be a welcome boon to the market. But those three steps – saving for a home, qualifying for a loan and finding a home – are not easy hurdles to overcome.
All of this paints a picture of a housing market still very much in transition. The market remains tilted toward sellers, though buyers are slowly gaining more of an edge. Renters are suffering, while homeowners and potential buyers are seeing real advantages.