Written by Sig Silber
Alphabet soup: El Nino, PDO+, AMO+, AO-, NAO-
What does it mean for weather in the U.S. Europe and elsewhere this winter? How might this impact the World Economy?
All in all, I would say the outlook is uncertain at best.
Perhaps the most interesting information in the NOAA Seasonal Update issued this past Thursday was the bold prediction that both the Arctic Oscillation (AO) and North Atlantic Oscillation (NAO) may this winter be negative. It is a bold prediction for two reasons: first it is daring to make any prediction on these oscillations and negative has been somewhat the unusual condition in recent decades.
What does this mean and what are the implications? Basically both the AO and the NAO relate to the differential between mid-latitude and high latitude atmospheric pressure. The NAO is a bit easier to define as there are two semi-permanent features: the Icelandic Low and the Azores High sometimes called the Bermuda High.
But still there are at least three different ways of measuring the NAO. I am not sure how and exactly where the AO is measured, but with both the AO and NAO, a positive index indicates the differential between the mid-latitude highs and the Arctic air pressure are larger than usual and a negative index means the opposite.
The following table is my interpretation of the impacts of the AO and NAO but one needs to understand that these are two atmospheric factors (and thus somewhat independent of sea surface temperatures SST but that is not totally clear) which interact with many other factors so please view the following table as potential tendencies rather than a hard and fast prediction tool and also a work in progress.
| | | | | |
| --- | --- | --- | --- | --- |
| Winter Impacts (Summer is different) | AO+ | AO- | NAO+ | NAO- |
| Mid Latitude Jet Stream | Stronger | Weaker | Stronger | Weaker |
| Weather Variability | Lower | Higher | Lower | Higher |
| Alaska, Scotland, Scandinavia | Wet | Dry | Wet and Warm | Dry and Cold |
| Greenland and Newfoundland | Warmer | Colder | | |
| U.S. East Coast | Warmer | Cold spells in the Midwest | | Cold spells as far south as Florida |
| Western United States and the Mediterranean | Dry | Wet | | Storms track further south |
| Southern Europe and North Africa | | | | Wet and Stormy |
Here is a NOAA graphic that I modified (made horizontal rather than vertical) to show the impact of the Arctic Oscillation. The North Atlantic Oscillation's impact is similar but further east. It is not clear if these are two separate patterns or two parts of the same pattern as they are not perfectly correlated but they do represent to a large extent the same situation.
With respect to the economic impact, without careful analysis I would nonetheless conclude that AO- and NAO- are negative factors for the U.S. and European economy. I may prepare a more detailed special report but it would be available only for premium subscribers.
I want to focus this report on the new Seasonal Outlook issued on October 16 in some detail but first let us take a look at the 8 – 14 day outlook that was issued today October 20.
I am only showing the "second week" namely the day 8 -14 outlook. The first week can be found in Part II of my report but 8 – 14 days covers most of the 6 – 14 day period and does not vary much from the first part of the outlook issued today.
Here is the 8 – 14 Day Temperature Outlook issued today which bridges both months.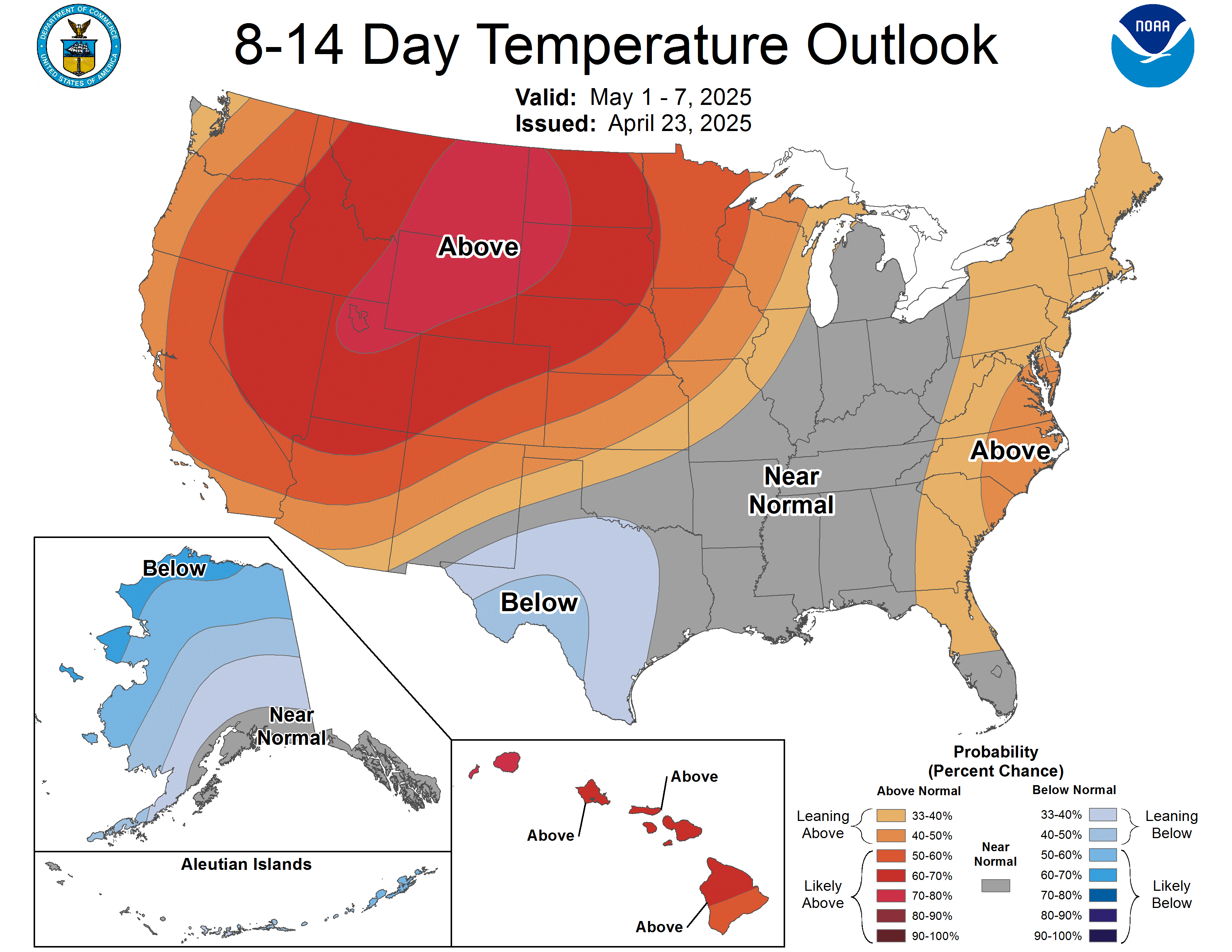 There is no resemblance between the 8 – 14 Day Outlook and either the October or November full month outlook. Of course a month forecast does not necessarily agree with a 9 day portion of a month but this does seem to be unusual.
And here is the 8 – 14 Day Precipitation Outlook issued today.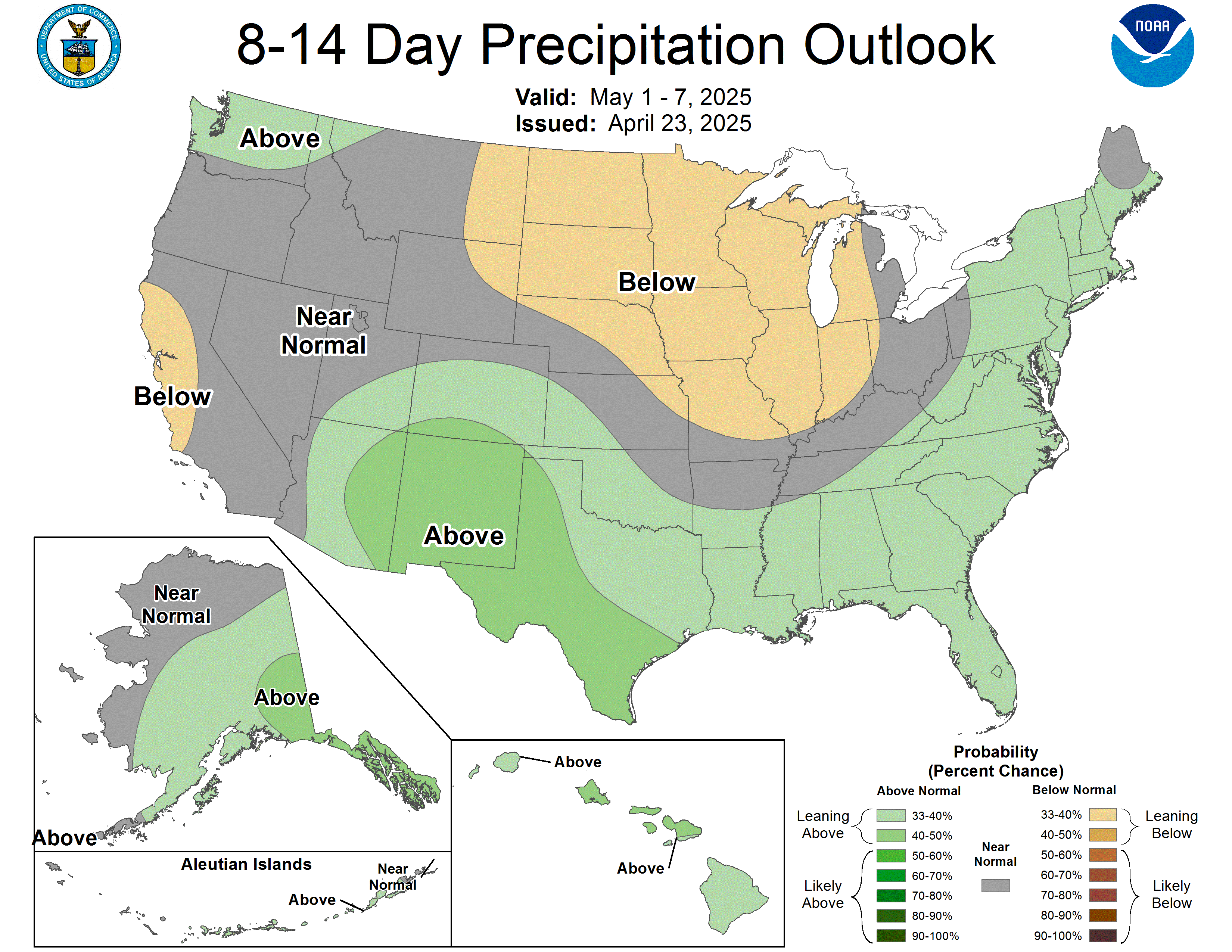 As with temperature, there is no resemblance between this end of October  precipitation outlook and either the October or November full month outlooks. And also notice it is a La Nina type outlook not an El Nino type outlook and it does not reflect a negative AO or NAO. So clearly the 8 – 14 Day Outlook is a short-term view and does not reflect the changes that NOAA sees coming this winter.
And from today's 6 – 14 Day NOAA discussion:
"6-10 DAY OUTLOOK FOR OCT 26 – 30 2014
ABOVE-NORMAL TEMPERATURES ARE FAVORED OVER MOST OF THE CONUS WITH UPPER-LEVEL HEIGHTS BEING NEAR TO ABOVE-NORMAL AND SURFACE HIGH PRESSURE ACROSS MUCH OF THE CONUS. NEAR NORMAL TEMPERATURES ARE LIKELY OVER THE PACIFIC NORTHWEST AND PORTIONS OF THE GREAT BASIN WITH NEAR-NORMAL 500-HPA HEIGHTS AND WESTERLY FLOW. LOW-LEVEL SOUTHWEST FLOW FAVORS ABOVE-NORMAL TEMPERATURES FOR WESTERN ALASKA WHILE HIGH PRESSURE CAN ALLOW FOR COLDER AIR TO FLOW INTO THE ALASKA PANHANDLE.
THE TROUGH NEAR THE PACIFIC NORTHWEST FAVORS ABOVE-MEDIAN PRECIPITATION FROM NORTHERN CALIFORNIA AND THE PACIFIC NORTHWEST TO THE NORTHERN GREAT PLAINS. BELOW-MEDIAN PRECIPITATION, DUE TO ANOMALOUS 500-HPA RIDGING AND SURFACE HIGH PRESSURE, IS FAVORED FROM THE SOUTHWEST TO THE GULF COAST, NORTHEASTWARD TO NEW ENGLAND. BELOW-NORMAL HEIGHTS AND A FEED OF TROPICAL MOISTURE FAVOR ABOVE-MEDIAN RAINFALL AMOUNTS OVER FLORIDA.

8-14 DAY OUTLOOK FOR OCT 28 – NOV 03, 2014

ABOVE-NORMAL TEMPERATURES ARE GENERALLY FAVORED FOR MUCH OF THE CONUS DUE TO PREDICTED ABOVE-NORMAL HEIGHTS AND SURFACE HIGH PRESSURE. THE GFS SUPERENSEMBLE AND THE 0Z ECMWF ENSEMBLE MEAN DO NOT INDICATE A SINGLE LOW-PRESSURE CENTER AT THE SURFACE IN THE 7-DAY MEAN SEA-LEVEL PRESSURE FIELD OVER THE CONUS, WHILE OTHER MODELS DEPICT A SMALL AREA OF LOWER PRESSURES OVER THE CENTRAL PLAINS. BELOW-NORMAL TEMPERATURES ARE FAVORED OVER THE PORTIONS OF THE ALASKA PANHANDLE PREDICTED TO BE UNDER EASTERLY FLOW, WHILE WESTERN ALASKA WILL LIKELY EXPERIENCE ABOVE-NORMAL TEMPERATURES.

ABOVE-MEDIAN PRECIPITATION IS FAVORED ACROSS WESTERN ALASKA DUE TO SOUTHWESTERLY FLOW AT THE SURFACE AND AN ACTIVE STORM TRACK ACROSS THE ALEUTIANS. THE TROUGH NEAR THE PACIFIC NORTHWEST FAVORS ABOVE-MEDIAN RAINS FROM THE PACIFIC NORTHWEST TO THE CENTRAL AND NORTHERN GREAT PLAINS. MODELS INDICATE A MOIST FLOW FROM THE SOUTH ACROSS THE GREAT PLAINS, CONSISTENT WITH A RIDGE OVER THE EASTERN CONUS. BELOW-MEDIAN PRECIPITATION AMOUNTS ARE LIKELY ACROSS THE SOUTHEAST AND SOUTHWEST, SUPPORTED BY THE PREDICTED ABOVE-NORMAL 500-HPA HEIGHTS OVER THOSE REGIONS"
Notice that with respect to temperature, the warmer than climatology area has expanded to cover almost all of the Lower 48. The precipitation outlook in the October 28 – November 3 period is very different from the recently issued full month outlook.

Now let us take a more detailed look at the "Analogs" which NOAA provides related to the 5 day period centered on 3 days ago and the 7 day period centered on 4 days ago. "Analog" means that the weather pattern then resembles the recent weather pattern and was used in some way to predict the 6 – 14 day Outlook.
What are they telling us today?
Analog

Centered

Day

ENSO

Phase

PDO
AMO
Other Comments
1953 October 9
Neutral
–
+
1953 October 11
Neutral
–
+
1954 October 19
La Nina
–
+
1963 October 11
El Nino
–
–
Modoki Type I
1979 October 24
Neutral (per NOAA)
+
–
Modoki Type II per NCAR
1984 October 6
La Nina
+
–
1984 October 8
La Nina
+
–
1990 October 27
El Nino
–
–
The analogs are providing a mixed picture but certainly not indicating El Nino conditions applied relative to the Analogs. Of course this can change quickly. The analogs suggest a later than usual Fall as early October rather than later October weather is being forecast for Days 8 – 14.
Let's now focus on the full month of November as per the Early Outlook issued October 16.
Here is the Early Temperature Outlook for the single month of November.
And here are excerpts from the NOAA Discussion.
"ANTICIPATED CONDITIONS IN THE MONTH OF NOVEMBER ARE EXPECTED REFLECT AT BEST WEAK EL NINO CONDITIONS. THE SST'S ALONG THE WEST COAST OF NORTH AMERICA ARE SUBSTANTIALLY ABOVE NORMAL, AND THIS, TOGETHER WITH THE EXPECTATION OF THE EMERGENCE OF WEAK EL NINO CONDITIONS DURING THE MONTH OF NOVEMBER, MAY INCREASE CHANCES OF EL NINO-LIKE ANOMALY PATTERNS IN THE TEMPERATURE AND PRECIPITATION OVER THE CONUS.

THE TEMPERATURE OUTLOOK FOR NOVEMBER, 2014 CALLS FOR ELEVATED CHANCES OF ABOVE-NORMAL TEMPERATURES THROUGHOUT MUCH OF THE WESTERN CONUS, THE NORTHERN ROCKY MOUNTAINS, THE NORTHERN GREAT PLAINS, MOST OF THE GREAT LAKES REGION, AND MUCH OF THE NORTHEASTERN CONUS AND PARTS OF THE SOUTHEAST. THE CHANCES OF ABOVE-NORMAL TEMPERATURES ARE ELEVATED THROUGHOUT THE ENTIRE STATE OF ALASKA. THERE IS A BROAD CONSENSUS AMONG CLIMATE MODELS RUN AS PART OF THE NMME FOR THIS FORECAST. THE CONFIDENCE FOR ABOVE NORMAL TEMPERATURES IS HIGHER IN COASTAL AREAS OF THE WEST AND COASTAL ALASKA DUE TO ABOVE NORMAL SSTS THROUGHOUT THE EASTERN PACIFIC, AND THE BERING SEA.
And here is the Early Precipitation Outlook for November issued on October 16.

And excerpts from the NOAA discussion.
"THE CHANCES FOR ABOVE-MEDIAN PRECIPITATION AMOUNTS ARE ENHANCED IN PARTS OF THE SOUTHERN ROCKIES, TEXAS, PARTS OF THE SOUTHERN GREAT PLAINS AND PARTS OF THE WESTERN GULF COAST. THIS SIGNAL IS STRONGLY FAVORED BY THE NMME, AND IS ALSO INDICATED IN EL NINO COMPOSITES. BELOW-MEDIAN PRECIPITATION AMOUNTS ARE FAVORED NEAR THE GREAT LAKES IN VIEW OF CONSISTENT SIGNALS FROM THE CFSV2. ABOVE-MEDIAN PRECIPITATION AMOUNTS ARE SLIGHTLY FAVORED FOR THE ALASKA PANHANDLE AND PARTS OF THE SOUTH COAST OF ALASKA DUE TO SUPPORT FROM THE CFSV2 AND IMME."
Now let us turn to the three month outlooks.
Here is the prior temperature outlook for Nov/Dec/Jan (2015)
And here is the newly issued outlook.
It looks very similar.
And here are some excerpts from the NOAA discussion:
"THE TEMPERATURE OUTLOOK FOR NOVEMBER-DECEMBER-JANUARY (NDJ) 2014-15 INDICATES ELEVATED PROBABILITIES OF ABOVE-NORMAL MEAN TEMPERATURES FOR ALASKA, THE FAR WEST, ALONG THE NORTHERN TIER OF THE CONTINENTAL U.S. EASTWARD TO INCLUDE PARTS OF THE NORTHEAST AND MID-ATLANTIC. BELOW-NORMAL MEAN TEMPERATURES ARE MOST LIKELY OVER AREAS FROM EASTERN NEW MEXICO TO THE WESTERN GULF COAST STATES."
Here is the prior Nov/Dec/Jan (2015) Precipitation Outlook
And here is the new one.
It is also very similar to the outlook issued last month.
Let us look at excerpts from the NOAA discussion.
"THE NDJ 2014-15 PRECIPITATION OUTLOOK INDICATES ENHANCED PROBABILITIES OF BELOW-MEDIAN PRECIPITATION FOR PARTS OF THE PACIFIC NORTHWEST, NORTHERN ROCKIES, GREAT LAKES AND OHIO VALLEY. INCREASED PROBABILITIES FOR ABOVE-MEDIAN PRECIPITATION AMOUNTS ARE FORECAST FROM SOUTHERN CALIFORNIA EASTWARD ACROSS THE SOUTHWEST, SOUTHERN PLAINS, AND ALONG THE GULF AND SOUTHERN ATLANTIC COASTS NORTHWARD TO INCLUDE THE EASTERN SEABOARD TO SOUTHERN NEW ENGLAND. THE PROBABILITIES FOR ABOVE-MEDIAN PRECIPITATION ARE ALSO ENHANCED OVER PARTS OF SOUTHERN ALASKA."
El Nino Update.
First let's see what NOAA had to say on October 16.
CURRENT ATMOSPHERIC AND OCEANIC CONDITIONS

ATMOSPHERIC AND OCEANIC CONDITIONS IN THE TROPICAL PACIFIC REMAIN MOST CONSISTENT WITH AN ENSO-NEUTRAL STATE, WHILE CONTINUING TO SHOW SOME INDICATORS FOR POTENTIAL DEVELOPMENT OF AN EL NINO. OBSERVATIONS DURING THE SECOND WEEK OF OCTOBER SHOW POSITIVE SST DEPARTURES ACROSS THE ENTIRE EQUATORIAL PACIFIC BASIN, WITH GREATER THAN +0.5C ANOMALIES IN THE EAST-CENTRAL PACIFIC AND FAR WESTERN PACIFIC. WITHIN THESE AREAS THERE ARE ANOMALIES GREATER THAN +1.0C. THE NINO3.4 REGION CONTINUES TO HOVER NEAR +0.4C WITH VALUES OF +0.5C FOR NINO4, +0.6C IN NINO3, AND +0.6C IN NINO1+2. SST ANOMALIES INCREASED IN THE EAST-CENTRAL PACIFIC DURING THE LAST MONTH. OCEAN SUBSURFACE TEMPERATURE ANOMALIES CONTINUE TO SHOW POSITIVE VALUES RANGING FROM +1.0C TO +3.0C FROM THE SURFACE TO A DEPTH OF ABOUT 125 METERS ACROSS THE EAST-CENTRAL PACIFIC. MOREOVER, POSITIVE ANOMALIES ARE ALSO EVIDENT AT A DEPTH FROM 100 – 200 METERS NEAR AND JUST WEST OF THE DATE LINE.

MONTHLY AVERAGED OLR ANOMALIES REMAIN MIXED ACROSS THE EQUATORIAL PACIFIC WITH THE GREATEST ANOMALIES AWAY FROM THE DATE LINE WITH TWO AREAS OFF OF THE EQUATOR SHOWING ENHANCED CONVECTION OVER THE FAR WESTERN PACIFIC. MONTHLY AVERAGED LOW- AND UPPER-LEVEL WINDS REMAIN NEAR AVERAGE, INDICATING THAT THE ATMOSPHERE CONTINUES TO STRUGGLE TO RESPOND OVER THE PACIFIC TO ABOVE AVERAGE SSTS. PERSISTENT, STRONGLY POSITIVE SST ANOMALIES WERE OBSERVED IN THE NORTH PACIFIC, ALONG THE PACIFIC COAST OF NORTH AMERICA, AND WESTWARD ACROSS THE SUBTROPICAL PACIFIC OCEAN. THIS SST PATTERN PROJECTS WEAKLY ONTO A POSITIVE PDO. POSITIVE SST ANOMALIES WERE ALSO OBSERVED ALONG THE ATLANTIC COAST. IN ADDITION, ANOMALOUS SNOW COVER EXTENT HAS ALSO INCREASED IN RECENT WEEKS ACROSS PORTIONS OF EURASIA AND IS BEING MONITORED.

PROGNOSTIC DISCUSSION OF SST FORECASTS

MOST STATISTICAL AND DYNAMICAL MODELS CONTINUE TO PREDICT THAT AN EL NINO EVENT WILL DEVELOP WITHIN AUTUMN AND PEAK (AS DEFINED BY NINO3.4 ANOMALIES) AS A WEAK EVENT DURING THE WINTER IN MANY FORECASTS AND ALSO ON AVERAGE. THE SPREAD REMAINS SOMEWHAT LARGE AS SOME TOOLS PREDICT CONTINUATION OF NINO3.4 ANOMALIES BELOW +0.5C WHILE SOME DYNAMICAL MODELS CONTINUE TO INDICATE A MODERATE EVENT WITH FORECAST ANOMALIES OF GREATER +1.0C. OVERALL THIS MONTH CONTINUES THE SLIGHT TREND SEEN OVER THE PAST FEW MONTHS OF DECREASING NINO3.4 POSITIVE ANOMALIES IN THE MODEL GUIDANCE. AN INTERESTING POINT THIS MONTH IS ALSO THAT THE DYNAMICAL MODELS PEAK ANY EL NINO EVENT LATER IN THE WINTER, WHICH WOULD BE SOMEWHAT UNUSUAL. WHILE FEW ENSO EVENTS HAVE DEVELOPED AT THIS TIME OF YEAR, IT IS NOT UNPRECEDENTED, AND CONSIDERED TOGETHER, MODEL FORECASTS AND CURRENT OBSERVATIONS CONTINUE TO SUPPORT THE CONSENSUS ENSO FORECAST INDICATING A 60-65% CHANCE OF EL NINO DEVELOPMENT IN LATE AUTUMN OR WINTER AND THE OFFICIAL TEMPERATURE AND PRECIPITATION OUTLOOKS CONTINUE TO CONSIDER EL NINO IMPACTS AT THIS TIME.

POSITIVE NORTH PACIFIC AND WESTERN ATLANTIC SST ANOMALIES ARE FORECAST TO PERSIST IN SEASONAL AVERAGES THROUGH THE BOREAL WINTER BY MANY DYNAMICAL MODELS INCLUDING THE NMME AND IMME, ALONG WITH THE FORECAST OF EL NINO DEVELOPMENT. THESE SUB-TROPICAL AND HIGHER LATITUDE SST ANOMALIES ARE ALSO CONSIDERED IN THE OUTLOOK AND LIKELY TO IMPACT THE CLIMATE OF NORTH AMERICA IN THE NEXT SEVERAL SEASONS."
Now let us look at the latest NOAA Hovmollers.
First Sea Surface Temperatures
Over to the left side of the graphic at 160E at the bottom you can see where there had been some warming surface water. It is now less impressive and appears to be becoming less of a factor and it is not yet moving east or is it? But clearly the waters off of Equdor are somewhat warm but not very.
And now the low-level wind anomalies.
We now have a westerly anomaly that can do something. The Southern Oscillation Index (SOI) cooperated for a week but has stopped cooperating or the level of cooperation appears to have been reduced. The daily readings from my source, the Queensland Australia Bureau of Meteorology, have been slow being updated so I do not have a reading for today available at the time that I am writing this report.
And then the third part of the equation (there are more than three but I focus on three): Kelvin Waves.
And here we do have a signal of warm water moving east but it does not have the intensity of the Kelvin Wave earlier this year. Notice looking up at earlier dates that some Kelvin Waves fizzle out but this one does not seem to be fizzling out but continues to progress east. It is important to remember that warm water at the surface is more prone to evaporate thus transferring heat from the ocean into the atmosphere. That is one reason why the El Nino phase of ENSO is generally short lived.
I believe that this Kelvin Wave is the only reason for continued optimism that we will have an El Nino this year but it will be late arriving it it arrives at all. At some point we would expect to see the upwelling phase showing on this graphic which indicates the reversal of the surface warming and probably the termination of this El Nino or its transformation into a Modoki i.e. a Central Pacific El Nino which behaves very differently in terms of weather impacts than a traditional/canonical El Nino. So far there is no sign of an upwelling wave but the possibility of a second downwelling wave is evident.
The westerly wind anomaly shown on one of the Hovmollers above is at 180W to 160W. The current Kelvin Wave is at 120 West. 180W to 160W is where there appears to be a possible second Kelvin Wave developing as discussed last week especially in the link that I provided to an analysis done by Bob Tisdale. I realize it is a little confusing as NOAA is not showing the same amount of the Pacific in the three Hovmollers so you have to pay attention to the longitude shown to line up the three variables that I am presenting.
I still do not see a traditional El Nino of any significant strength happening this winter. It appears to be a very complicated situation. There are many possibilities on the table in my opinion:
A short weak traditional El Nino which arrives late. (The NOAA projection)

A weak traditional El Nino arriving late but being reinforced and turning into a long lasting stronger tradtional El Nino (Not forecast by NOAA but not inconsistent either). This would be somewhat like the 1982/1983 Super El Nino.


A weak traditional El Nino that turns into a Modoki next year (The Japanese Forecast)

Nothing much at all at least until next summer (seems to be where the Australia model is headed)


Other variations of the above all related to warmer water further east than usual in the ENSO cycle but not necessarily translating into the usual El Nino that would normally be here now if it fit the usual mold.
Because this is running long, I have not included the long-term seasonal outlook and discussion here but it is available in Part II of this report which you get when you Click Here for the Econointersect Weather and Climate Page where you will find:
NOAA and other agency graphics (including international agencies) that auto update. So this includes both short term- and seasonal "updates". It will ALWAYS be up to date even if my commentary on the graphics is not. I update my commentary when it seems necessary and certainly every Monday but some of these graphics auto update every six hours. This section of the report has been reorganized to make it easier to follow.


Economic and other Impacts of major weather events. Not sure there is any other place to obtain this information consistently other than very specialized subscription services.

Information on Climate Cycles both those which are fairly short term i.e. less than a decade in duration and multi-decadal cycles.

Economic and other Impacts of those Climate Cycles which are referred to by the IPCC as Internal Variability as opposed to secular Climate Change which is always in the same direction. Again I am not sure if there is another source for this information where it is pulled together in one place as I have.

Information on Anthropogenic Global Warming science i.e. the secular change in our climate that overlays both short term weather and historical climate cycles as well as black swan events like volcanic eruptions. I prefer to call this Global Warming as it is the warming that triggers the other changes.

Economic and other Impacts of Global Warming. The IPCC AR5 WG2 attempts to describe and quantify these and I have some excerpts from their report. Over time I will go beyond their report.
For now this is all in one article which may be a little difficult to navigate but that will soon change and the information will be accessed easily by topic.