Econintersect Weather and Climate Forecast Update, 09 June 2014
Impact on Asian Economy.

Written by Sig Silber
Let's talk some more about the impacts of the El Nino which is probably coming.

Supposedly one is coming.  Of course that is a probability situation but at this point it is quite likely this El Nino has already at least partially arrived. What will the impacts be especially in Asia? 

This week we will review the forecasts from the Royal Netherlands Meteorological Institute and The Associated Chambers of  Commerce and Industry of India.
One set of graphics explaining the weather impacts can be found here. The Netherlands has been in the past an Asian Colonial Power so it makes sense to draw on their expertise in the area.
Let's start by looking at the impact of El Nino on precipitation patterns.
March – May
And here we see a tendency for a shift in precipitation towards the western part of the Pacific on the Equator with drier conditions north and south of the Equator.

June – August
And here we see a shift in the impacts towards the eastern Pacific with greater intensity.
Sept – Nov
Importantly the drought in the Western Pacific is now the most intense at this time of the year especially if it is impacting Australia which may be due to a different but related ocean cycle called the Indian Ocean Dipole (IOD) which is often associated with El Nino.

Dec – Feb
Drought in the Western Pacific but not as extreme. Tendency towards a wet winter in the southern tier of North America.
And now let us take a look at the impacts of El Nino on temperature patterns.

March – May
We begin to see increased temperatures in the Western Pacific

June – August
Things really heat up in India. and parts of South America. the Northern tier of the U.S. from the Rocky Mountains east are cooler than usual.

Sept – Nov
Even warmer in the Western Pacific

Dec – Feb
It is the peak impact of El Nino for the U.S. Australia also really gets affected at this point. Is this El Nino or the Indian Ocean Dipole which is related?
And Finally Tropical Cyclones
Notice the activity is shifted to the Eastern Pacific.

All things considered, the major impact appears to be to India. here is what the India-Briefing has to say and it is based on ASSOCHAM The Associated Chambers of Commerce and Industry of India.
"ASSOCHAM'S latest projections estimate a 5 percent deficit in rainfall associated with El Nino, which may cause a GDP loss of up to 1.75 percent (around U.S.$30 billion) in India.

According to ASSOCHAM, an increase in agriculture by one unit historically raises demand for industrial goods by 0.47 percent and services by 0.12 units. Because of this, India's GDP often falls 0.35 percent with every one percent deficiency in average rainfall.

In short, rising agricultural productivity increases demand for industrial products while a deficit in rainfall negatively impacts demand for services such as trade, transportation, banking and insurance.

With agricultural inputs critical to the production of various chemicals and pharmaceutical suppliers, consumer items and processed foods, manufacturers in India should anticipate slightly higher prices for supplies and agricultural commodities later this year.

The effect on low-income households is predicted to be the most severe side -effect, however, as food and vegetable oil prices become inflated. The average household in India spends roughly half of the yearly expenditure on food, and high food prices have the potential to inflict a strong 'hidden tax' on the poor, according to the ASSOCHAM Report."
This is especially important at this time as India has failed to reach a growth rate of 5 percent for a second year in a row which was reported here. The reduction of only five percent in precipitation is an issue as it seems that the India Meteorology Department might be a bit reluctant to overstate the impact of El Nino on India. Thus, if this is a strong El Nino, the impact on India could be more severe than estimated by ASSOCHAM. This is because 60 percent of agriculture in India is dry farming i.e. not based on irrigation and perhaps 30% of manufacturing is based on agricultural inputs. When agricultural output is reduced, in many cases the price goes up which may partially or totally keep the commercial but not subsistence farmer whole. But generally those who use the output as a raw material or for household usage are negatively impacted.
Clearly the concern is not limited to India as this article indicates. Basically they are talking about a crude form of deficit irrigation.
"Rice farmers can thus alternatively dry out and re-flood their field, reducing the water usage by up to 30% without affecting the yields. The IRRI also says that this technique helps the roots to get strengthened as they search for water deep in the soil and make them resilient to adverse weather conditions. According to an IRRI fact sheet published in February 2013, around 100,000 farmers in the Philippines have adopted AWD (alternative wetting and drying)."

We might even wonder what the Dutch think about how Climate Change might impact the ENSO Cycle and El Nino in particular and their analysis can be found here. The full technical paper can be found here. The short answer is significant impacts which tend to cancel each other out. This is basically an IPCC Fourth Assessment paper and the IPCC Fifth Assessment has a bit more to say on this subject particularly in terms of start times.

And of course others are weighing in on this probably developing or already developed El Nino. From Australia
"Tropical Pacific Ocean remains on track for El Niño in 2014

Issued on Tuesday 3 June 2014

The tropical Pacific Ocean remains on track for El Niño in 2014, with just over half of the climate models surveyed by the Bureau suggesting El Niño will become established by August. An El Niño ALERT remains in place, indicating at least a 70% chance of an El Niño developing in 2014.

Sea surface temperature (SST) anomalies in the tropical Pacific Ocean have increased steadily since February, and are now greater than +0.5 °C in the key NINO regions. However, above-average SSTs also extend into the western tropical Pacific, meaning strong west to east gradients in tropical Pacific SST anomalies are yet to become established. As a result, atmospheric indicators—such as the Southern Oscillation Index and trade winds—have only shown a weak response.

For Australia, El Niño is often associated with below-average rainfall over southern and eastern inland areas and above-normal daytime temperatures over southern parts of the continent. It is not uncommon to see some impacts prior to an event becoming fully established. May rainfall was below normal across parts of eastern Australia and maximum temperatures were above normal across much of the south and east.

The Indian Ocean Dipole (IOD) is currently neutral. Model outlooks suggest the IOD is most likely to remain neutral through winter, with two of the five models surveyed suggesting a positive IOD may develop during spring. Positive IOD events often coincide with El Niño and are typically associated with large parts of southern and central Australia experiencing lower rainfall than usual."
IRI (International Research Institute for Climate and Society at Columbia University) has gotten more optimistic. There is a reminder here that when computer models are involved, the forecasts can vary substantially from week to week. But the pattern is continued confidence that an El Nino is coming but much less agreement on its strength which makes a very big difference in the impacts.

During April through May the observed ENSO conditions moved from warm-neutral to the borderline of a weak El Niño condition. Most of the ENSO prediction models indicate a continued warming trend, with a transition to sustained El Niño conditions by the early northern summer.
There is a reminder here that computer model results can fluctuate significantly from run to run.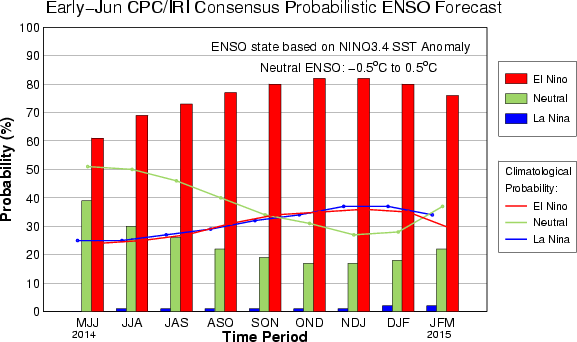 On balance, El Nino would appear to have greater potential for negative economic and environmental (wild fires) impacts than either La Nina or ENSO neutral when looked at on a worldwide basis. That is of course very significant right now in the low-growth environment of the World. It is also interesting however in terms of attempting to understand Climate Change.
The economies of many areas are geared to a fairly predictable range of precipitation and temperature. When conditions occur outside this range, the economy is usually negatively impacted to some extent. The ability to deal with conditions outside of the usual range is often possible with sufficient knowledge and investment. This creates opportunities in addition to hardships.
Finally, at this time of the year it is difficult to separate the impact of El Nino from the impact of monsoons in those areas which experience the seasonal change in wind direction characteristic of a monsoon. Last week, I reported on new research that was posted on the Albuquerque N.M. National Weather Service web site which clarifies the impact of El Nino on the North American Monsoon (NAM). I believe the Indian Monsoon may already be impacted by El Nino and is running late this year.
Click here for the latest data from NOAA (National Oceanic and Atmospheric Administration) and other sources on the Econintersect Weather and Climate page.