by Lee Adler, Wall Street Examiner
Today's report on first time unemployment claims was a nothing-burger. It was a worse report than usual for this week of the year, but the year to year change was right in line. Whether this week's poor showing versus the same week last year and the 10 year average is a canary in the coal mine, or just random noise, is too soon to know. Looking at the Federal withholding tax collections for last week, it looks like noise. Withholding remains extremely strong (as reported in the Wall Street Examiner Professional Edition).
After having been too pessimistic in recent weeks, the pundits finally adjusted their sights and got too optimistic. The headline seasonally adjusted number came in at 326,000 versus the conomists' consensus guess of 320. Not a bad guess.
The real number, that is, the actual number of claims which the 50 states reported to the Department of Labor was "289,535 in the week ending March 29, an increase of 15,463 from the previous week. There were 317,494 initial claims in the comparable week in 2013," as the DOL dutifully reported and the mainstream media ignored as always. The week to week change was 15,463, which was worse than the increase of +1300 in the comparable week last year, and worse than the 10 year average of +790 for that week. However, the year to year decline of -8.6% was right around the recent trend.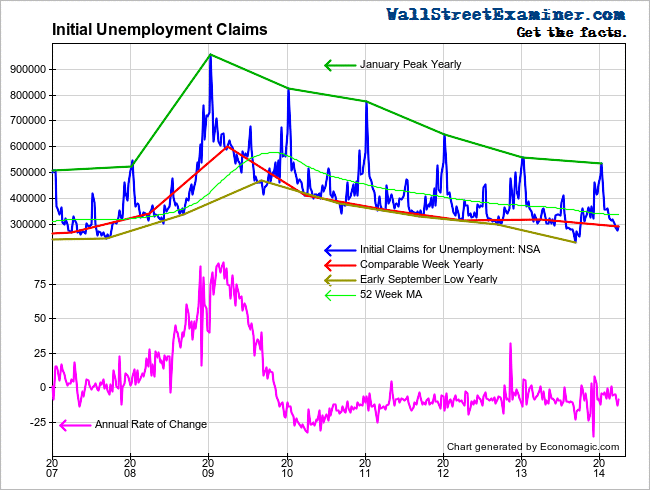 Initial Claims- Click to enlarge
When viewed on an inverse scale alongside stock prices, the nature of the asset bubble in stocks becomes clear. It marches on, following Fed's liquidity pumping, as it gets way ahead of the improvement in stock prices. It's getting along in age, due to fall down and break a hip one of these days. We're not there yet, however.