by Lee Adler, Wall Street Examiner
In spite of all the Fed's manipulations the growth rate of real, inflation adjusted retail sales has remained slow and steady as stock prices go into a runaway bubble. And that big "beat" the media reported today? It wasn't really so big.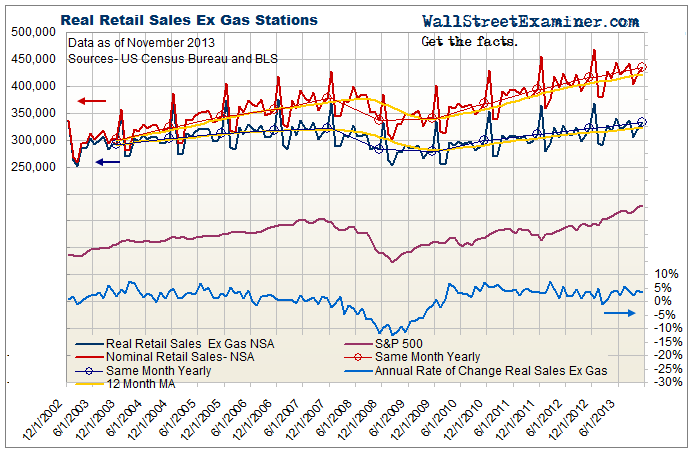 Retail Sales and Real Retail Sales Ex Gasoline – Click to enlarge
Stay up to date with the machinations of the Fed, Treasury, Primary Dealers and foreign central banks in the US market, along with regular updates of the US housing market, in the Fed Report in the Professional Edition, Money Liquidity, and Real Estate Package. Try it risk free for 30 days. Don't miss another day. Get the research and analysis you need to understand these critical forces. Be prepared. Stay ahead of the herd. Click this link and begin your risk free trial NOW! [I cover the technical side of the market in the Professional Edition Daily Market Updates.]
See Rick Santelli use one of my proprietary charts on CNBC to explain how the Fed impacts the stock market directly through its trades with the Primary Dealers. This is just one example of the dozens of proprietary charts that I build that will help you to clearly see and understand the market's trend, and when that trend is beginning to change.