>> Click Here for Historical Wall Post Listing <<
Econintersect: Every day our editors collect the most interesting things they find from around the internet and present a summary "reading list" which will include very brief summaries (and sometimes longer ones) of why each item has gotten our attention. Suggestions from readers for "reading list" items are gratefully reviewed, although sometimes space limits the number included.
This feature is published Monday, Wednesday, and Friday in the late afternoon New York time. For early morning review of headlines see "The Early Bird" published Monday through Friday in the early am at GEI News (membership not required for access to "The Early Bird".).
BECOME A GEI MEMBER - IT's FREE!
Most of this column ("What We Read Today") is available only to GEI members.
To become a GEI Member simply subscribe to our FREE daily newsletter.
Topics today include:​
Articles about events, conflicts and disease around the world
Global
The researchers suggest two possible theories to explain this new lineage. Either two separate groups of people crossed the land bridge into the Americas over 15,000 years ago, or one group crossed, and then split into two entirely independent populations. Closer genetic sequencing suggests the latter outcome is the most likely, but why and how this Ancient Beringian population remained so genetically isolated and distinct for so many subsequent years remains a mystery.
U.S.
The U.S. Navy begins the new year in crisis. By its own admission many of its ships and aircraft are in poor condition. Training is not where it should be, its ships can't maneuver properly around other ships, and Navy leaders for years have complained the service is overstretched, constantly struggling to meet requirements and falling short in any number of areas. It is by no means clear that new ideas and concepts are being implemented to counter ever-growing military rivals.
[The book is based on] "conversations that took place over a period of eighteen months with the president, with most members of his senior staff—some of whom talked to me dozens of times—and with many people who they in turn spoke to."
Clinton's 16th consecutive year topping the most admired women's poll showed her support dip this time from 12% to 9% of respondents. Former first lady Michelle Obama came in second with 7% of respondents, and the third place finisher at 4% support was Oprah Winfrey. The rest of the list included political figures, British royalty and Beyoncé Knowles. One percent of those surveyed named first lady Melania Trump their most admired woman, bringing her name into the top tier for the first time.
We have previously noted that polls have shown Trump would still beat Clinton in a head-to-head election (and here). While Trump is also facing declining polls, he is at the same level or even higher than Clinton. Clinton posted the lowest polling numbers yet with only 36% popularity and an unfavorable rating of 61%. Polls are showing Trump at 38 percent. While a new poll shows that half of people feel Trump should resign, it is clear that they want Clinton even less — the very same position held by many in the campaign.
EU
Iran
Russia
Pakistan
Nauert made clear the $255 million was still blocked. The new action targets payments of so-called Coalition Support Funds that the U.S. pays to Pakistan to reimburse it for its counterterrorism operations. Those funds are typically paid later in the year, and already require U.S. certification, so the effect of Thursday's announcement was unclear.

The move comes days after President Donald Trump's New Year's Day tweet that accused Pakistan of playing U.S. leaders for "fools," as well as a growing number of voices from the administration that have complained Pakistan is not doing enough to combat militants targeting U.S. personnel in neighboring Afghanistan.
Other Scientific, Health, Political, Economics, and Business Items of Note - plus Miscellanea
An essential aspect of the critique of the orthodox economics, concerns the fiscal and monetary policy implications that follow from a conception of money based upon a series of fictional stories about barter (Graeber 2011). This mythology includes Locke's use of gold to relieve the spoilage and prejudice constraints, Adam Smith's savage truckers and barterers, the Treasury View's loanable funds model of savings and investment, Milton Friedman's helicopter drops of cash, and the all too common meme that the federal budget should be managed as if it is a household budget1 . The result of this barter narrative is the continued restriction of our most powerful "social technology" (Ingham 2000). Commodity money economics places unnecessary limits on the sovereign currency issuer's ability to fully apply the policy space available to enhance the lives of its citizens.
"Different storage media have different lifespans," Kraus says. "In our project, we worked a lot with magnetic media like floppy disks and those only have a lifespan of, say, 10 to 14 years. Optical media like DVDs and CD-ROM, I believe have even less. It is going to be a problem across different storage media."

Lauren Young says some researchers see hope in one of the newest technologies: DNA storage. "Basically, researchers have found a way to store data onto DNA, which is a billion-year-old molecule that can store the essence of life," Young explains. "It's pretty incredible that they can do that. It's all synthetically made; it's not genomic DNA."

In this case, storage capacity is measured in petabytes; that is, millions of gigabytes. Science Magazine writes: "A single gram of DNA could, in principle, store every bit of datum ever recorded by humans in a container about the size and weight of a couple of pickup trucks."
Surging P/E ratios and plummeting saving rates are hallmarks of bull markets.

During 2017, the U.S. stock market has been blessed by both.

But this blessing could easily turn into a curse in 2018 as P/E ratios cannot forever increase and personal saving rates cannot forever decrease.

As 2017 draws to a close, the ratio between the two has again reached euphoric highs indicating troubles ahead in 2018 for the U.S. economy and the stock market.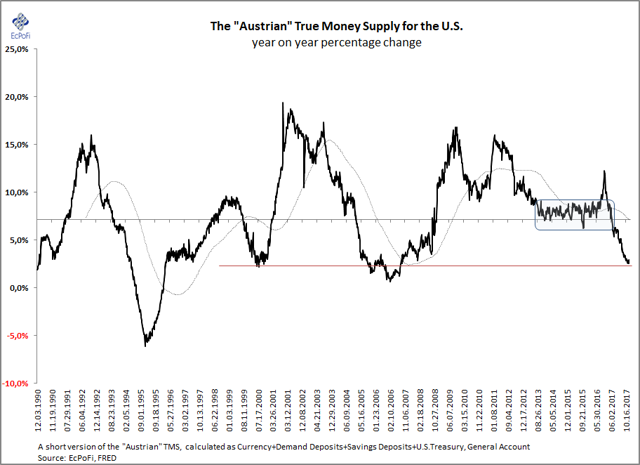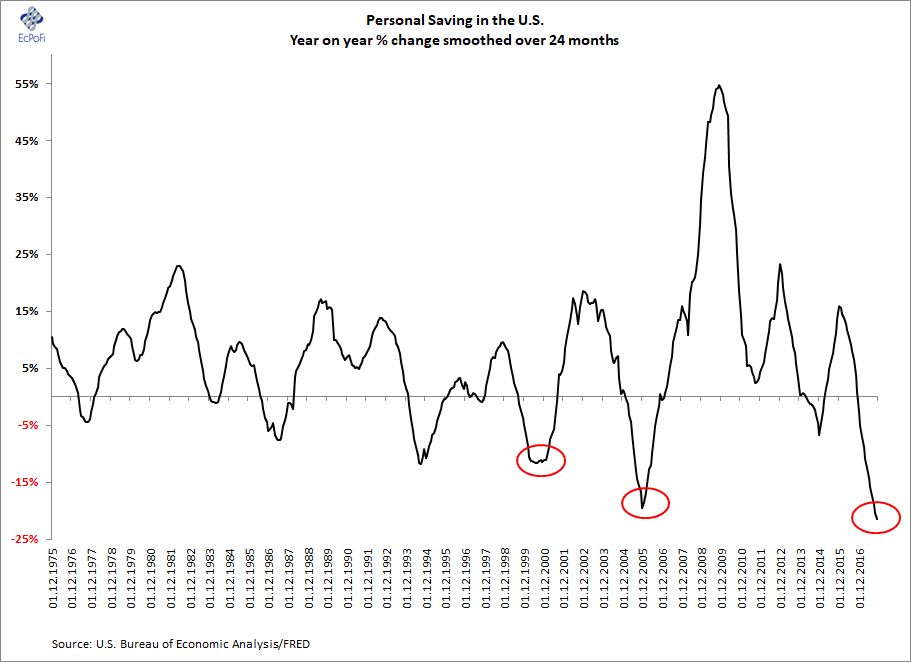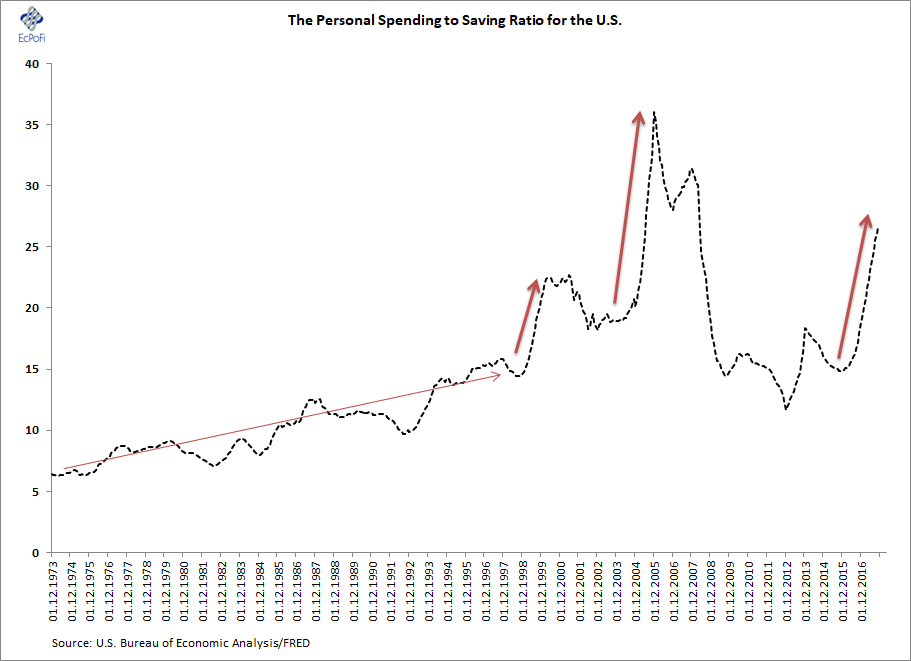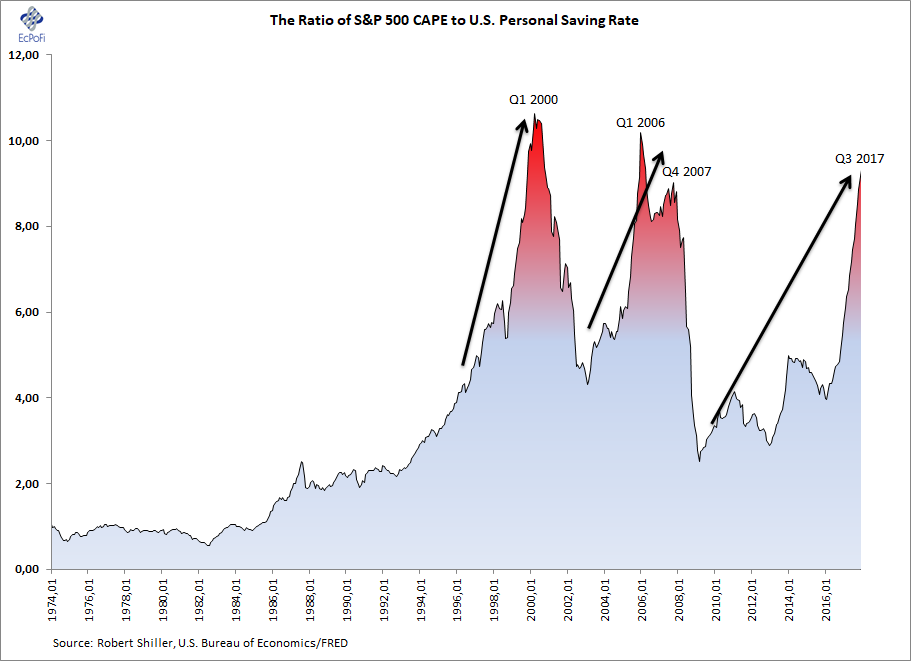 Make a Comment
Econintersect

wants your comments, data and opinion on the articles posted. As the internet is a "war zone" of trolls, hackers and spammers -

Econintersect

must balance its defences against ease of commenting. We have joined with Livefyre to manage our comment streams.

To comment, just click the "Sign In" button at the top-left corner of the comment box below. You can create a commenting account using your favorite social network such as Twitter, Facebook, Google+, LinkedIn or Open ID - or open a Livefyre account using your email address.
---
---
Econintersect Behind the Wall
---
---
---
---
---
| | |
| --- | --- |
| Print this page or create a PDF file of this page | |
---
The growing use of ad blocking software is creating a shortfall in covering our fixed expenses. Please consider a donation to Econintersect to allow continuing output of quality and balanced financial and economic news and analysis.
---
---
---
---
---
---
---
---