>> Click Here for Historical Wall Post Listing <<
Econintersect: Every day our editors collect the most interesting things they find from around the internet and present a summary "reading list" which will include very brief summaries (and sometimes longer ones) of why each item has gotten our attention. Suggestions from readers for "reading list" items are gratefully reviewed, although sometimes space limits the number included.
This feature is published every day late afternoon New York time. For early morning review of headlines see "The Early Bird" published every day in the early am at GEI News (membership not required for access to "The Early Bird".).
BECOME A GEI MEMBER - IT's FREE!
Every day most of this column ("What We Read Today") is available only to GEI members.
To become a GEI Member simply subscribe to our FREE daily newsletter.
The rest of this post is available only the GEI Members. Membership is FREE - click here
Topics today include:
Why is MMT so popular?

Amazon Is Testing Its Own Delivery Service to Rival FedEx and UPS

U.S. News Identifies the 8 Best Cars to Buy Now

The Partisan Divide on Political Values Grows Even Wider

Readings in the International Oil and Gas Agreements and the Economic Rent Concept: the Governance of Petroleum Resources

White House: Trump is the one 'keeping the world from chaos'

As ACA enrollment nears, administration keeps cutting federal support of the law

Trump administration cuts access to birth-control coverage under the Affordable Care Act

GOP a Step Closer to Tax Reform as House Passes Budget

House Speaker Paul Ryan, R-Wis., said Thursday on the House floor.

Graphic forwarded by Roger Erickson.

British PM May vows to stay as party plotters attempt to topple her

Catalonia referendum: Spain apologises to injured Catalans

Catalan parliament defies Madrid pressure, works on independence declaration

Saudi threatens nations who back Yemen probe

How One Man Helped Burn Down North Korea

For whom the bell tolls: cats kill more than a million Australian birds every day

And More
Articles about events, conflicts and disease around the world
Global
This paper explores different understandings of the concepts of rent and economic rent applied to the oil and gas industry in the light of different types of oil and gas contracts. This in turn will be an essential step to understanding how a mineral resources owner behaves, why he behaves in a certain way, and what does he target when charging his tenant for the use of his land and/or sea. In other words, it will help in understanding different forms of mineral resources governance, and hence explain how oil producing countries govern their oil and gas resources by using certain types of oil and gas agreements.

U.S.
For months, officials in Republican-controlled Iowa had sought federal permission to revitalize their ailing health-insurance marketplace. Then President Trump read about the request in a newspaper story and called the federal director weighing the application.

Trump's message in late August was clear, according to individuals who spoke on the condition of anonymity to discuss private conversations: Tell Iowa no.
The new regulation, issued by the Health and Human Services Department, allows a much broader group of employers and insurers to exempt themselves from covering contraceptives such as birth control pills on religious or moral grounds. The decision, anticipated from the Trump administration for months, is the latest twist in a seesawing legal and ideological fight that has surrounded this aspect of the 2010 health-care law nearly from the start.
GOP a Step Closer to Tax Reform as House Passes Budget (U.S. News & World Report) The House of Representatives on Thursday morning squeaked through a budget resolution that will ramp up defense spending and pave the way for a tax plan to be passed through reconciliation, thereby avoiding a potential Senate filibuster. By a vote of 219-206, the House approved the proposal, despite the dissension of 18 Republicans and all of the Democrats. The $1.1 trillion spending plan calls for more than $620 billion in defense spending and would, over the long haul, result in trillions of dollars in cuts to programs like Medicare and Medicaid. House Speaker Paul Ryan, R-Wis., said Thursday on the House floor:
"It eliminates endless, mindless spending and it maximizes Americans' tax dollars, And there is one more thing this budget does that is so important: it paves the way for historic tax reform. It unlocks the reconciliation process."
Synthetic repeal goes after ALL the big cahuanas: huge Medicaid cuts, pre-ex protections & the mandates. WITHOUT REPLACEMENTS.

CBO would score the synthetic repeal an absolute disaster.

The tools for synthetic repeal are:

- An Executive Order coming next week
- The budget/tax plan
- Sabotage of the ACA (not even denied)
Graphic forwarded by Roger Erickson. Econintersect has not verified the data. Roger says this is "why J&J Sixpack are pissed" :
UK
Spain
Catalonia referendum: Spain apologises to injured Catalans (BBC News) The Spanish government's representative in Catalonia has apologised to those injured during police efforts to stop Sunday's independence referendum. But Enric Millo blamed the Catalan government for holding an illegal vote. Meanwhile the government in Madrid has issued a decree making it easier for companies to move their headquarters away from Catalonia. A Catalan minister told the BBC his government would go ahead with an independence debate in parliament. See next article.
Catalan parliament defies Madrid pressure, works on independence declaration (Reuters) Catalan secessionists were working on Friday toward a unilateral declaration of independence from Spain that could be adopted next week in defiance of a court order and increased economic pressure from Madrid.
After Spain's Constitutional Court suspended a session of the Catalan regional parliament set for Monday, which had been expected to endorse an independence declaration, the parliament said the region's pro-independence leader Carles Puigdemont would address the assembly at 6 p.m. (1600 GMT) on Tuesday.
Saudi Arabia
Saudi threatens nations who back Yemen probe (Al-Monitor) Hat tip to Roger Erickson and @joshua_landis. Saudi Arabia has in a letter seen by AFP on a week ago Tuesday threated economic retaliation against countries that vote for a UN resolution setting up an international probe into violations in Yemen.
The United Nations rights chief Zeid Ra'ad Al Hussein has repeatedly lobbied the Human Rights Council to create an independent investigation of alleged atrocities in Yemen, where a Saudi-led coalition has been bombing Huthi rebels since March 2015. But the kingdom, accused of bombarding civilian targets like markets and hospitals, has so far succeeded in blocking an international probe.
North Korea
How One Man Helped Burn Down North Korea (Politico) Hat tip to Roger Erickson. The story of one of the most effective and brutal spymasters in U.S. history, and the beginning of an infamous love affair with napalm. It all starts in 1946.
Australia
It is difficult to put a million-plus daily bird deaths in context without a reliable estimate of the total number of birds in Australia. But our coarse assessment from many published estimates of local bird density suggests that there are about 11 billion land birds in Australia, suggesting that cats kill about 3-4% of Australia's birds each year.
Other Scientific, Health, Political, Economics, and Business Items of Note - plus Miscellanea
Why is MMT so popular? (mainly macro) This is a good discussion by a non-MMT (Modern Monetary Theory) economist, Simon Wren-Lewis. Here is a snippet:
Now we can see why MMT is so popular. Austerity is about governments pretending the Consensus Assignment still works when it does not, because interest rates are at their lower bound. We are in an MMT world, where we should be using fiscal policy and not worrying about the deficit, but policymakers don't understand that. I think most mainstream macroeconomists do understand this, but we are not often heard. The ground was therefore ripe for MMT.
Online retailer would deliver from other merchants' warehouses

Trial program underway on West Coast before national expansion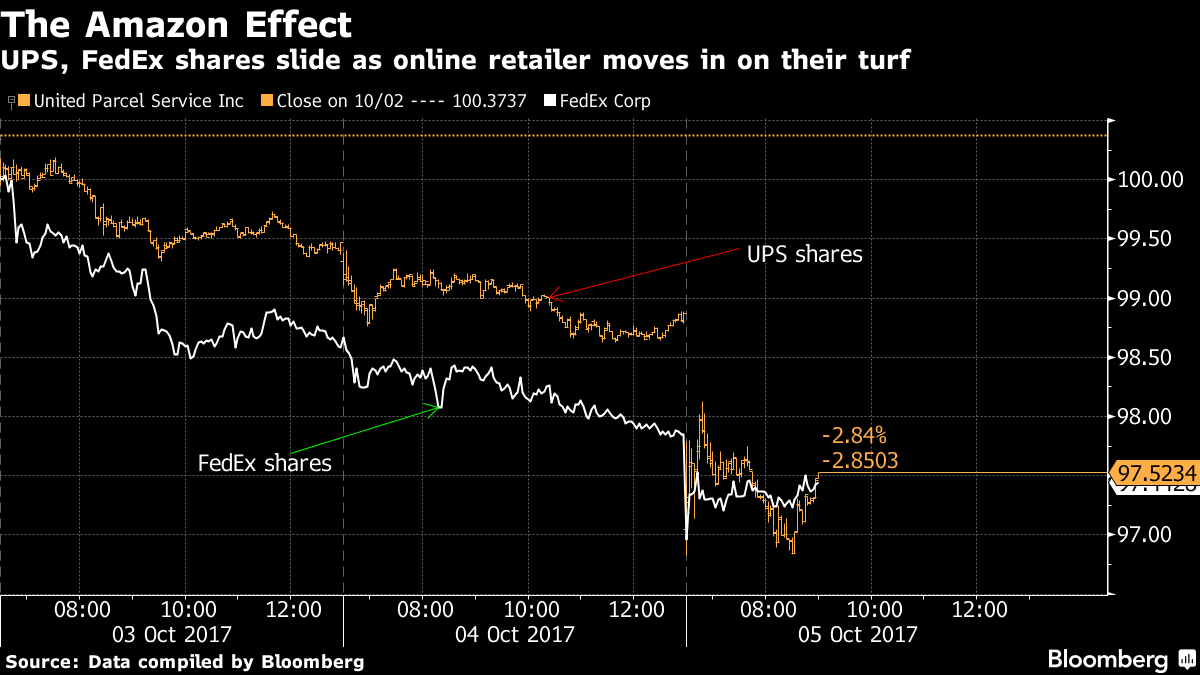 The Partisan Divide on Political Values Grows Even Wider (Pew Research Center) The divisions between Republicans and Democrats on fundamental political values – on government, race, immigration, national security, environmental protection and other areas – reached record levels during Barack Obama's presidency. In Donald Trump's first year as president, these gaps have grown even larger. And the magnitude of these differences dwarfs other divisions in society, along such lines as gender, race and ethnicity, religious observance or education.
Make a Comment
Econintersect

wants your comments, data and opinion on the articles posted. As the internet is a "war zone" of trolls, hackers and spammers -

Econintersect

must balance its defences against ease of commenting. We have joined with Livefyre to manage our comment streams.

To comment, just click the "Sign In" button at the top-left corner of the comment box below. You can create a commenting account using your favorite social network such as Twitter, Facebook, Google+, LinkedIn or Open ID - or open a Livefyre account using your email address.
---
---
Econintersect Behind the Wall
---
---
---
---
---
| | |
| --- | --- |
| Print this page or create a PDF file of this page | |
---
The growing use of ad blocking software is creating a shortfall in covering our fixed expenses. Please consider a donation to Econintersect to allow continuing output of quality and balanced financial and economic news and analysis.
---
---
---
---
---
---
---
---