>> Click Here for Historical Wall Post Listing <<
Econintersect: Every day our editors collect the most interesting things they find from around the internet and present a summary "reading list" which will include very brief summaries (and sometimes longer ones) of why each item has gotten our attention. Suggestions from readers for "reading list" items are gratefully reviewed, although sometimes space limits the number included.
This feature is published every day late afternoon New York time. For early morning review of headlines see "The Early Bird" published every day in the early am at GEI News (membership not required for access to "The Early Bird".).
BECOME A GEI MEMBER - IT's FREE!
Every day most of this column ("What We Read Today") is available only to GEI members.
To become a GEI Member simply subscribe to our FREE daily newsletter.
The rest of this post is available only the GEI Members. Membership is FREE - click here
---
Special notice: Due to staff travel there will be no 'What We Read Today' coulmns from Friday 25 August through Monday 28 August.
---
Topics today include:
Articles about events, conflicts and disease around the world
Global
China's "Belt and Road" initiative aims to create physical and digital connections between more than 60 countries

China wants to export its overcapacity

But some are worried that the project could create a problem for China's banking sector — which would be a problem for the world
Concerns over whether One Belt, One Road will be a success in the long run from CNBC.
U.S.
"I don't think a government shutdown is necessary and I don't think most people want to see a government shutdown, ourselves included."
Chief Judge Robert Morin ruled that DreamHost, an LA-based web-hosting company, must turn over data about visitors to the website disruptj20.org, which is a home to political activists who organized protests at the time of Donald Trump's inauguration as U.S. president in January, many of whom have since morphed into the controversial "antifa" movement.
The combination of export decline and broader economic growth meant that, for the first time since 2009, average export intensity—the share of regional GDP generated by exports—dipped below 10 percent in large metro areas.
EU
For the debts of European countries to be sustainable, their governments will have to run large primary budget surpluses. But there are both political and economic reasons to question whether this is possible. The evidence presented in this column is not optimistic about Europe's crisis countries. Whereas large primary surpluses for extended periods of time did occur in the past, they were always associated with exceptional circumstances.
UK
Mexico
The United States and Mexico have shared their current international border for nearly 170 years. Today they cooperate at multiple levels on issues that affect the border region, although you would not know it from the divisive rhetoric that we hear in both countries. President Trump's focus on building a border wall threatens to undermine many binational initiatives, as well as our shared natural environment.
Other Scientific, Health, Political, Economics, and Business Items of Note - plus Miscellanea
A blockchain can be used to store any kind of data, and the kind of data a blockchain stores, gives it its value. Bitcoin's blockchain stores the records of financial transactions, therefore, making it analogous to a currency like dollars or pounds. Bitcoins serve no additional purpose than what dollars serve. Ethereum is different.

Ethereum isn't just a cryptocurrency to be traded; its real value lies in its purpose. Ethereum's purpose is to allow the owner to use the distributed world computer that several thousand nodes are powering.

Of course, because every tiny statement has to be executed by every node in the network, the decentralized, distributed computer becomes slow and expensive. But slow compared to what? The faster but centrally controlled servers.

To enjoy the lower costs of using a centralized computer, we give them the power to control us. If the central computer (server) goes down or gets hacked, it takes down with it all the clients attached to it. A decentralized computer will only go down if every single node goes down, making it a computer that will always be available. Wherever there's internet, there's Ethereum.
Akerlof and Shiller contend that the idea that free markets work perfectly, and the idea that big government is the cause of so many of our problems, are part of a story that is actually misleading people into adjusting their behaviour in order to fit the plot. They thus believe storytelling is a "new variable" for economics, since "the mental frames that underlie people's decisions" are shaped by the stories they tell themselves.
Darkness, fraud and a rigged wealth transfer system currently constitute the business model of Wall Street. Until critical structural reforms are made to Wall Street, all that the Trump followers have is a meaningless slogan on a red hat growing tattered and dusty with age.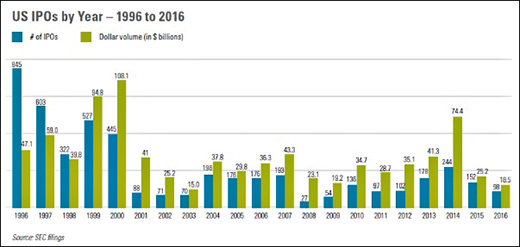 Make a Comment
Econintersect

wants your comments, data and opinion on the articles posted. As the internet is a "war zone" of trolls, hackers and spammers -

Econintersect

must balance its defences against ease of commenting. We have joined with Livefyre to manage our comment streams.

To comment, just click the "Sign In" button at the top-left corner of the comment box below. You can create a commenting account using your favorite social network such as Twitter, Facebook, Google+, LinkedIn or Open ID - or open a Livefyre account using your email address.
---
---
Econintersect Behind the Wall
---
---
---
---
---
| | |
| --- | --- |
| Print this page or create a PDF file of this page | |
---
The growing use of ad blocking software is creating a shortfall in covering our fixed expenses. Please consider a donation to Econintersect to allow continuing output of quality and balanced financial and economic news and analysis.
---
---
---
---
---
---
---
---