>> Click Here for Historical Wall Post Listing <<
Econintersect: Every day our editors collect the most interesting things they find from around the internet and present a summary "reading list" which will include very brief summaries (and sometimes longer ones) of why each item has gotten our attention. Suggestions from readers for "reading list" items are gratefully reviewed, although sometimes space limits the number included.
This feature is published every day late afternoon New York time. For early morning review of headlines see "The Early Bird" published every day in the early am at GEI News (membership not required for access to "The Early Bird".).
BECOME A GEI MEMBER - IT's FREE!
Every day most of this column ("What We Read Today") is available only to GEI members.
To become a GEI Member simply subscribe to our FREE daily newsletter.
The rest of this post is available only the GEI Members. Membership is FREE - click here
Topics today include:
Articles about events, conflicts and disease around the world
Global
Monday
U.S.
The president was expected to make a decision on the strategy before his first NATO meeting in May. When that didn't happen, Defense Secretary James Mattis promised Congress a decision would be made by mid-July.

But the final call wasn't made until Friday, when Trump convened a high-profile meeting of his national security team at Camp David.
The reasoning: The department is reviewing all its grants and projects over $100,000 due to the changing budget situation.

The original request for the study came from the state of West Virginia in 2015.
Ever since Donald Trump won in November, Democrats and the media have been obsessed over the question of whether Russia colluded with the Trump campaign. But the real story behind Trump isn't about Russia. It's about Wall Street, and it's about one billionaire in particular, whose political mercenaries pushed Donald Trump into the White House.
When presented with a verbatim quote from President Trump on Tuesday ("You had a group on one side that was bad, and you had a group on the other side that was also very violent"), more disagree (53%) than agree (43%).
Republicans agreed, 87%-11%. Democrats disagreed, 83%-15%. Independents disagreed, 59%-39%.
Far more blame "the far right groups" for Charlottesville (46%) than "the counter-protesters" (9%), but a remarkable 40% concur with Trump's assertion that both were equally responsible.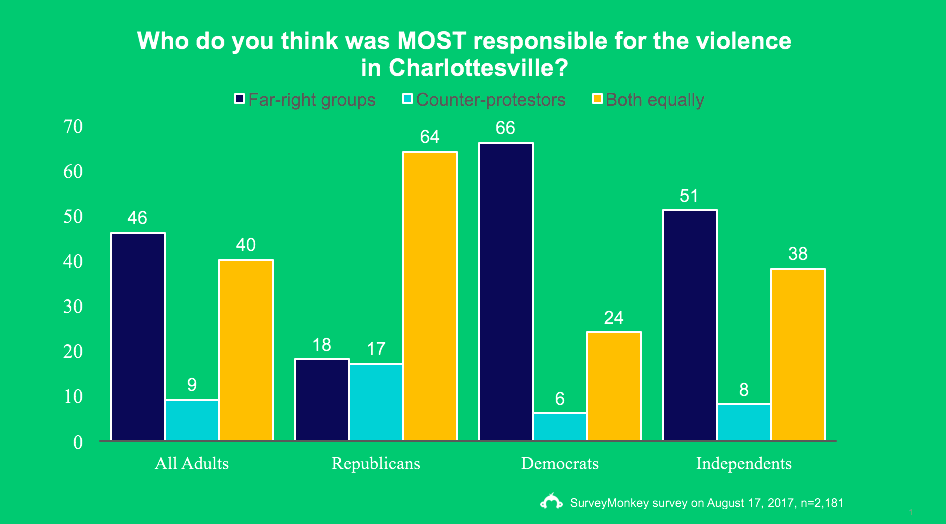 EU
Yet, from 1933-1938, thanks to Schacht, the economy recovered spectacularly (Figure 1).2Schacht's objective to jumpstart the moribund economy required money. But money was not available, since savings were inexistent and production was so restricted that savings would not accumulate (Schacht 1967). Neither could money be printed, since lending to the government would have put the Reichsbank at risk of losing control of monetary policy.

Schacht then contrived a brilliant unconventional monetary solution. For payments, state contractors and suppliers received bills of exchange issued by a company called 'MEFO'.3 The MEFO-bills were state guaranteed, they could circulate in the economy and could be discounted by their holders at the Reichsbank in exchange for cash.

Schacht believed that the duty of the central bank was to make available to the economy as much money as necessary to facilitate output production. The issuance of bills of exchange was instrumental to this end – as each bill stood against the sale of newly produced goods, and each issue of money was based on the exchange of the new goods, central bank money issuance against bills could not be inflationary. Indeed, the employees of MEFO checked that every MEFO-bill issued was tied to a quantity of newly produced goods, and only bills issued against the sales of these goods were granted. This way, the circulation of money and the circulation of goods remained in equilibrium.4
UK
Germany
At first sight, it is difficult to explain why the macroeconomic debate and macroeconomic policy in Germany differ considerably from other countries, despite the same academic textbooks and models being used as elsewhere. This column explains how a specific paradigm of macroeconomics, developed by Walter Eucken and diametrically opposed to Keynesian economics, is behind the German formal theoretical apparatus. The success of German macroeconomic policy can be attributed to the openness of the German economy, which allows it to benefit from macroeconomic policies pursued in other major countries.
Spain
Iraq
Other Scientific, Health, Political, Economics, and Business Items of Note - plus Miscellanea
It is impossible to say exactly how close the Business Plot — also called the White House Coup and Wall Street Putsch — came to overthrowing the president. Nearly all we know about the plot is the result of an investigation conducted by the House McCormack-Dickstein Committee in November, 1934. Its chief whistleblower was one Major General Smedley Butler, a respected and tenured military leader with a talent for rallying support to his side.
President Lyndon B. Johnson, who had already pushed through the Civil Rights Act and the Voting Rights Act, ignored the report and rejected the Kerner Commission's recommendations.[4] In April 1968, one month after the release of the Kerner report, rioting broke out in more than 100 cities following the assassination of civil rights leader Martin Luther King, Jr. [5]

To mark the thirtieth anniversary of the Kerner Report, the Eisenhower Foundation sponsored two complementary reports, The Millennium Breach and Locked in the Poorhouse. The Millennium Breach, co-authored by former Senator and Commission member Fred R. Harris, found the racial divide had grown in the subsequent years with inner city unemployment at crisis levels.[6]

The Millennium Breach found that most of the decade that followed the Kerner Report, America made progress on the principal fronts the report dealt with: race, poverty, and inner cities. Then progress stopped and in some ways reversed by a series of economic shocks and trends and the government's action and inaction.
Harris reported, "Today, thirty years after the Kerner Report, there is more poverty in America, it is deeper, blacker and browner than before, and it is more concentrated in the cities, which have become America's poorhouses."[6]
Make a Comment
Econintersect

wants your comments, data and opinion on the articles posted. As the internet is a "war zone" of trolls, hackers and spammers -

Econintersect

must balance its defences against ease of commenting. We have joined with Livefyre to manage our comment streams.

To comment, just click the "Sign In" button at the top-left corner of the comment box below. You can create a commenting account using your favorite social network such as Twitter, Facebook, Google+, LinkedIn or Open ID - or open a Livefyre account using your email address.
---
---
Econintersect Behind the Wall
---
---
---
---
---
| | |
| --- | --- |
| Print this page or create a PDF file of this page | |
---
The growing use of ad blocking software is creating a shortfall in covering our fixed expenses. Please consider a donation to Econintersect to allow continuing output of quality and balanced financial and economic news and analysis.
---
---
---
---
---
---
---
---