>> Click Here for Historical Wall Post Listing <<
Econintersect: Every day our editors collect the most interesting things they find from around the internet and present a summary "reading list" which will include very brief summaries (and sometimes longer ones) of why each item has gotten our attention. Suggestions from readers for "reading list" items are gratefully reviewed, although sometimes space limits the number included.
This feature is published every day late afternoon New York time. For early morning review of headlines see "The Early Bird" published every day in the early am at GEI News (membership not required for access to "The Early Bird".).
BECOME A GEI MEMBER - IT's FREE!
Every day most of this column ("What We Read Today") is available only to GEI members.
To become a GEI Member simply subscribe to our FREE daily newsletter.
The rest of this post is available only the GEI Members. Membership is FREE - click here
---
Special notice: Due to staff travel there will be no 'What We Read Today' columns Tuesday 08 August and Wednesday 09 August. There will also be no 'Early Bird Headlines' either of those days as well.
---
Articles about events, conflicts and disease around the world
Global
One of the more striking developments of 2016 was the emergence of a "post-fact" world, in which virtually all authoritative information sources are challenged by contrary facts of dubious quality and provenance. In a world without gatekeepers, there is no reason to think that good information will win out over bad.
This paper reviews various issues linked to the rise of inequality observed particularly in developed countries over the last quarter century. Various data on the time profile of inequality are examined, which do not always fit the common view that inequality is everywhere trending upwards. Overall, changes in inequality appear to be very country-specific. The same conclusion obtains when examining the causes of these changes. There is little doubt that common forces affected the distribution of income in most countries, but idiosyncratic factors have amplified their effects in some cases and offset them in others. Country-specificity also holds with regard to policies aimed at correcting inequality, even though globalisation imposes constraints on some key redistribution tools such as taxation and the regulation of financial markets. International coordination and, in particular, more transparency in cross-border financial operations are needed if governments are to recover some autonomy in these matters.
U.S.
Trump kicked off his 200th day in office from Bedminster, where he'll be for the next two weeks, with a string of nine tweets defending his work ethic against allegations he spends too much time vacationing, touting his popularity on the right, calling the Russia investigation a "hoax" and attacking the "fake news" media.

The messages came after a weekend in which the White House reacted angrily to a report in The New York Times about a shadow campaign Republicans are forming in case the president does not run for reelection in 2020.
Over the years 1948-1952, the US devoted the equivalent of $800 billion in today's dollars to the reconstruction of western Europe. But whereas the Marshall Plan is widely regarded as the largest and most effective foreign-aid program in history, it is less widely appreciated for being the most successful example of an "America First" foreign policy.
A special prosecutor's mission is to find something. That's how an Arkansas land deal led to a blue dress led to perjury. Now it's happening to an old Atlantic City casino magnate.
UK
Germany
Turkey
But U.S. backing for the Kurdish YPG fighters in Syria has infuriated Turkey, which views their growing battlefield strength as a security threat due to a decades-old insurgency by the Kurdish PKK within in its borders.

There have been regular exchanges of rocket and artillery fire in recent weeks between Turkish forces and YPG fighters who control part of Syria's northwestern border.
Iran
Philippines
Duterte's often profanity-laden tirades against the United States has become his trademark during his year-old presidency, but he appeared happy to meet Tillerson, who was in Manila to attend a regional security meeting dominated by North Korea's missile tests, and maritime squabbles.
Other Scientific, Health, Political, Economics, and Business Items of Note - plus Miscellanea
As we enter 2017, globalization has become a dirty word. Many see it as a conspiracy by elites to enrich themselves at the expense of everyone else. According to its critics, globalization leads to an inexorable increase in income and wealth inequality: the rich get richer, and everyone else gets nothing.

While there is a kernel of truth in this view, it gets more wrong than right. And getting it wrong has consequences: at a minimum, scapegoating; more worryingly, bad policies that are likely to make our real problems worse.

The first thing we need to understand when we think about globalization is that it has benefited an enormous number of people who are not part of the global elite. Despite continuing population growth, the number of people who are poor worldwide has fallen by more than a billion in the last 30 years. The beneficiaries include the no-longer poor in, among other countries, India, China, Vietnam, Thailand, Malaysia, South Korea, and Mexico. In the rich world, all income groups benefit, because goods – from smartphones to clothing to children's toys – are cheaper. Policies aimed at reversing globalization will lead only to a decrease in real income as goods become more expensive.

The call to rein in globalization reflects a belief that it has eliminated jobs in the West, sending them East and South. But the biggest threat to traditional jobs is not Chinese or Mexican; it is a robot. That is why manufacturing output in the US continues to rise, even as manufacturing employment falls.
Inflation has been trending downward in recent months with a particularly low 1.63% CPI reading for June, suggesting this trend of lower inflation could continue.

The FED appears committed to its tightening trajectory and bond rates seem to have the necessary catalysts to continue their rise, with the 10 year trading at 2.27%.

The dollar has been tremendously oversold in recent weeks, but had a strong rebound following July's employment data, coinciding with crucial support at 92-92.50 level.

The technical image concerning GLD appears to be deteriorating somewhat and a shift towards downward momentum may be occurring.

Rising interest rates, higher bond yields, dollar strengthening, deteriorating technicals, coupled with a low inflationary environment are suggesting a negative short-term atmosphere for GLD/gold prices.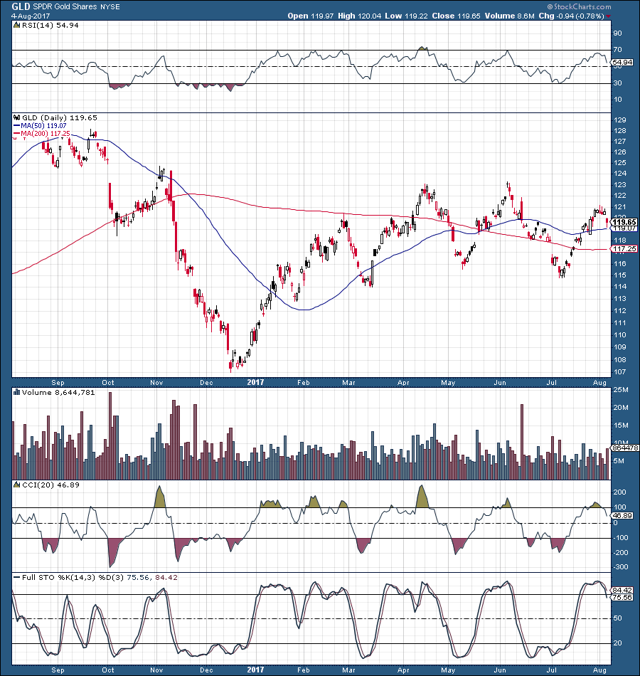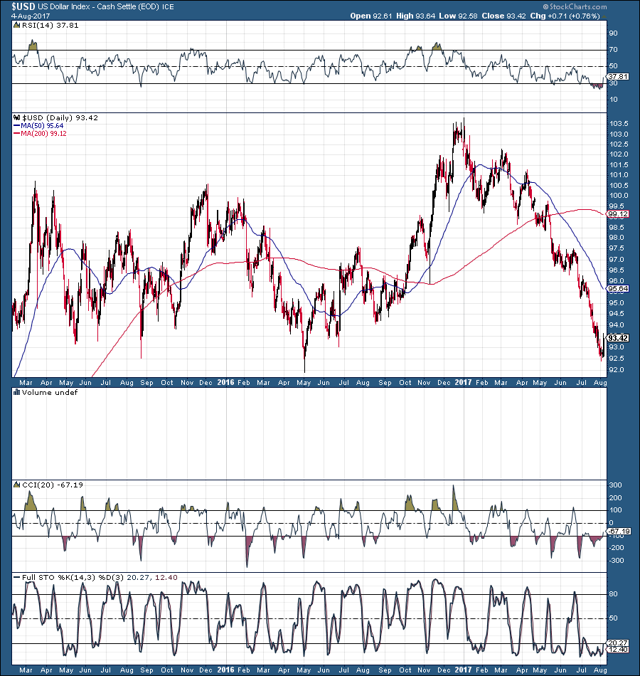 Make a Comment
Econintersect

wants your comments, data and opinion on the articles posted. As the internet is a "war zone" of trolls, hackers and spammers -

Econintersect

must balance its defences against ease of commenting. We have joined with Livefyre to manage our comment streams.

To comment, just click the "Sign In" button at the top-left corner of the comment box below. You can create a commenting account using your favorite social network such as Twitter, Facebook, Google+, LinkedIn or Open ID - or open a Livefyre account using your email address.
---
---
Econintersect Behind the Wall
---
---
---
---
---
| | |
| --- | --- |
| Print this page or create a PDF file of this page | |
---
The growing use of ad blocking software is creating a shortfall in covering our fixed expenses. Please consider a donation to Econintersect to allow continuing output of quality and balanced financial and economic news and analysis.
---
---
---
---
---
---
---
---