>> Click Here for Historical Wall Post Listing <<
Econintersect: Every day our editors collect the most interesting things they find from around the internet and present a summary "reading list" which will include very brief summaries (and sometimes longer ones) of why each item has gotten our attention. Suggestions from readers for "reading list" items are gratefully reviewed, although sometimes space limits the number included.
This feature is published every day late afternoon New York time. For early morning review of headlines see "The Early Bird" published every day in the early am at GEI News (membership not required for access to "The Early Bird".).
BECOME A GEI MEMBER - IT's FREE!
Every day most of this column ("What We Read Today") is available only to GEI members.
To become a GEI Member simply subscribe to our FREE daily newsletter.
The rest of this post is available only the GEI Members. Membership is FREE - click here
Topics today include:
Articles about events, conflicts and disease around the world
Global
U.S.
Moderates were widely expected to decide the fate of this bill, but no. In the end, it was brought down by two of the more reliably conservative voices in the Senate chamber — and just days after Senate majority leader Mitch McConnell accepted demands to move the bill dramatically right-ward.

This failure raises an ominous question for the whole Republican agenda. Looking beyond health care, will they ever be able to satisfy conservative purists and still assemble a coalition of 50 votes?
It's a dramatic turn for one of the Republican Party's biggest stars and its 2012 vice presidential nominee. The approval rating decline for Ryan is the largest among GOP leaders measured by the Bloomberg survey -- and exceeds the drop in approval for the party, Congress and Trump.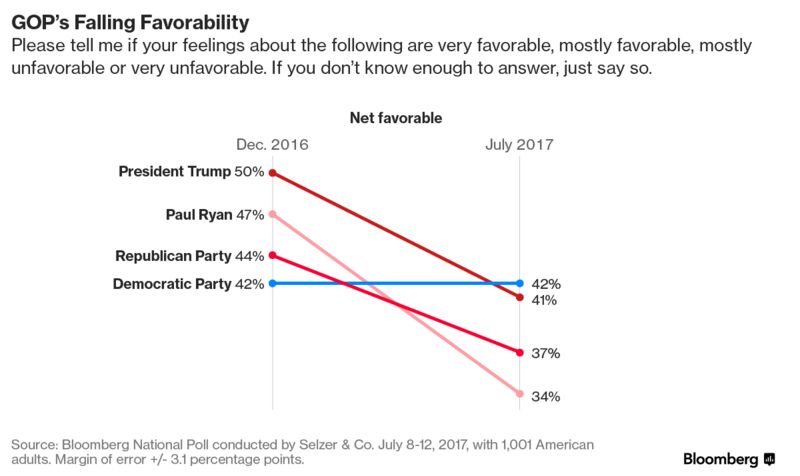 There have been plenty of stout critics of U.S. warring in recent years — including Antiwar.com, The Future of Freedom Foundation, Ron Paul, the Mises Institute, and some principled liberals and leftists such as CounterPunch and Glenn Greenwald and The Intercept. But overall, the media spotlight rarely shone on U.S. carnage abroad, as it did in earlier times. Perhaps the anti-war movement will revive if Donald Trump commences bombing new foreign nations. But it is clear that too many Americans have not yet learned the folly of "kill foreigners first, ask questions later."
Iran
Russia
This reflector, in the shape of a 3 m (9.8 ft) tall pyramid, is there to achieve two of Mayak's main scientific goals. Made of a thin reflective metallized membrane, the pyramid is designed to catch the sun's rays and reflect the light back to Earth, which the team says makes it the second brightest object in the night sky behind the Moon. That allows Mayak to be used as a reference object to help measure the apparent magnitude, or brightness, of satellites.

The second goal is to increase drag on the satellite. That sounds like something you'd normally want to avoid, but in this case the team is testing a new space-brakes system designed to help Mayak deorbit faster and burn up as it reenters Earth's atmosphere. If the system works, it could be applied as a disposal method for other satellites to help declutter low-Earth orbit, which is currently full of old space junk that poses an increasing hazard.
Venezuela
The U.S. Treasury could announce the sanctions, which would freeze the officials out of the U.S. financial system, as soon as Tuesday, the people said. Among those named would be Defense Minister Vladimir Padrino Lopez, 54, and Diosdado Cabello, 54, a longtime ally of late President Hugo Chavez and power broker within the ruling Socialist party, they said. The officials couldn't immediately be reached for comment.
Other Scientific, Health, Political, Economics, and Business Items of Note - plus Miscellanea
The radio signals appear to be coming from Ross 128, a red dwarf star that's not yet known to have any planets and is about 2,800 times dimmer than the sun. Abel Méndez, an astrobiologist at the University of Puerto Rico at Arecibo, said the star was observed for 10 minutes, during which time the signal was picked up and observed to be "almost periodic".

Méndez said it's extremely unlikely that intelligent extraterrestrial life is responsible, but noted that the possibility can't yet be ruled out.
Markets and innovation are the creative-destructive forces that undermine, challenge and reshape corporations and public bureaucracies on behalf of consumers.
Maybe society does not need to be told what to do. [Econintersect: Often society needs to be told what NOT to do.]
True communism, true collectivism, is created by the market, not the state.
Free markets reject, demolish even, the cult of selfish individualism.
Commerce is greener than statism too.
Economics offers a comprehensive doctrine with a moral code promising adherents salvation in this world; an ideology so compelling that the faithful remake whole societies to conform to its demands. It has its gnostics, mystics and magicians who conjure money out of thin air, using spells such as "derivative" or "structured investment vehicle". And, like the old religions it has displaced, it has its prophets, reformists, moralists and above all, its high priests who uphold orthodoxy in the face of heresy.
SLV received two upgrades in our decision matrix, and the silver COT report continued to confirm bullish activity.

SLV has mountains to climb in order to reestablish a daily uptrend.

Since the COMEX bullion banks are now net long silver (including their vaulted silver), we believe that the downward momentum should dissipate.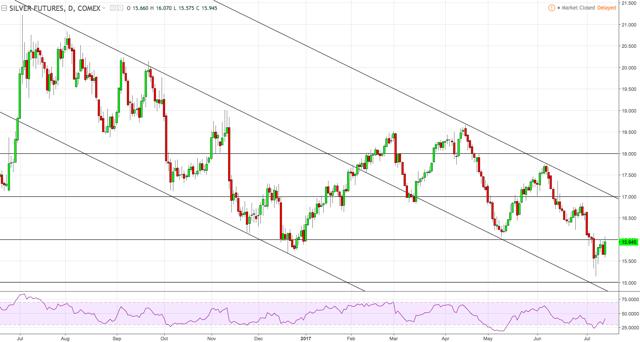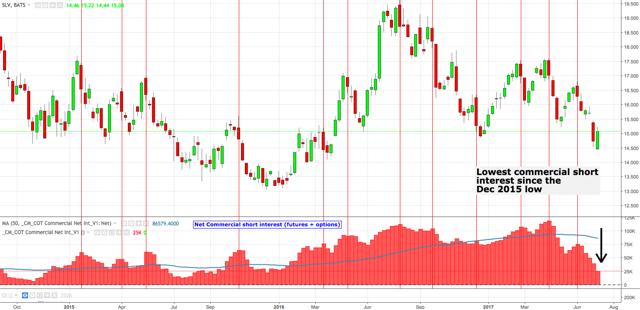 Make a Comment
Econintersect

wants your comments, data and opinion on the articles posted. As the internet is a "war zone" of trolls, hackers and spammers -

Econintersect

must balance its defences against ease of commenting. We have joined with Livefyre to manage our comment streams.

To comment, just click the "Sign In" button at the top-left corner of the comment box below. You can create a commenting account using your favorite social network such as Twitter, Facebook, Google+, LinkedIn or Open ID - or open a Livefyre account using your email address.
---
---
Econintersect Behind the Wall
---
---
---
---
---
| | |
| --- | --- |
| Print this page or create a PDF file of this page | |
---
The growing use of ad blocking software is creating a shortfall in covering our fixed expenses. Please consider a donation to Econintersect to allow continuing output of quality and balanced financial and economic news and analysis.
---
---
---
---
---
---
---
---