>> Click Here for Historical Wall Post Listing <<
Econintersect: Every day our editors collect the most interesting things they find from around the internet and present a summary "reading list" which will include very brief summaries (and sometimes longer ones) of why each item has gotten our attention. Suggestions from readers for "reading list" items are gratefully reviewed, although sometimes space limits the number included.
This feature is published every day late afternoon New York time. For early morning review of headlines see "The Early Bird" published every day in the early am at GEI News (membership not required for access to "The Early Bird".).
BECOME A GEI MEMBER - IT's FREE!
Every day most of this column ("What We Read Today") is available only to GEI members.
To become a GEI Member simply subscribe to our FREE daily newsletter.
The rest of this post is available only the GEI Members. Membership is FREE - click here
Topics today include:
Articles about events, conflicts and disease around the world
U.S.
On June 29, 10 attorneys general from Republican states sent a letter to President Donald Trump threatening to sue the administration if the White House does not take steps to phase out Deferred Action for Childhood Arrivals, or DACA, by Sept. 5.

On Wednesday, Department of Homeland Secretary John Kelly told a meeting of Hispanic lawmakers that he doesn't expect DACA to survive a court challenge.
Secretary of Homeland Security John Kelly told Congressional Hispanic Caucus (CHC) lawmakers this week that he didn't believe the program was legally sustainable.
However, attendees at the prestigious golf tournament did not welcome the presence of protesters.

Guests at the sporting event were reportedly annoyed with the demonstrations, according to reports.
The Republican-controlled House retained an amendment to the 2018 defense funding bill affirming that "climate change is a direct threat to the national security of the United States." It orders defense officials to draw up a report laying out which facilities would be most affected.
UK
Austria
Germany
The ECB may launch so-called ownership control procedures to scrutinize both the Qatari royal family and China's HNA (0521.HK), which each own just under 10 percent of the shares of Germany's flagship lender, Sueddeutsche Zeitung reported in a prereleased version of its Monday edition.

The ECB and Deutsche Bank declined to comment.

The aim of a such an assessment is to establish whether an investor is trustworthy and financially sound, where the money used for the investment came from, and whether the investor engages in any criminal dealings such as money laundering or terrorist financing.

Normally it is only carried out if a shareholder holds more than 10 percent.
India
China
Called the Panda Power Plant, it will be able to produce 3.2 billion kilowatt-hours of solar energy in 25 years, according to the company.

That will eliminate approximately million tons of coal that would have been used to produce electricity, reducing carbon emissions by 2.74 million tons.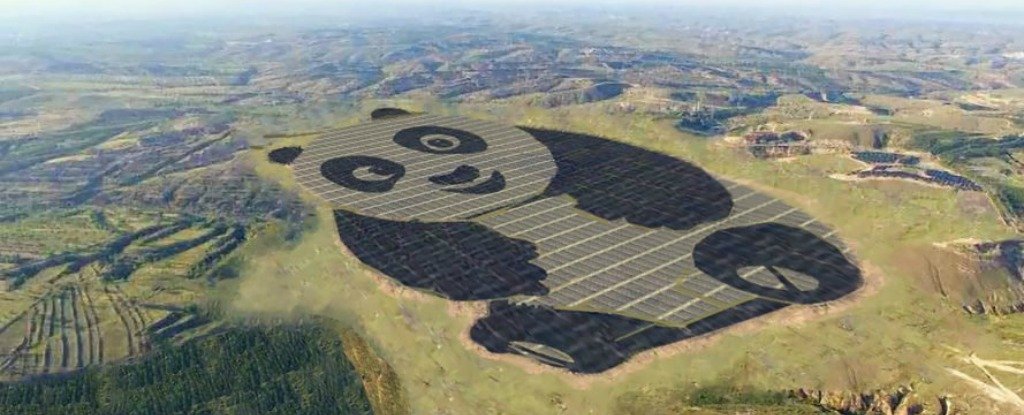 Other Scientific, Health, Political, Economics, and Business Items of Note - plus Miscellanea
The classical political economists – David Ricardo, John Stuart Mill and Adam Smith – that shaped the birth of modern economics, emphasized that land had unique qualities, distinct from capital and labour, that had important influence on the dynamics of production.
The classical economists feared that land-owners would increasingly monopolise the proceeds of growth as nations developed and desirably locational land became relatively more scarce. Eventually, as rents rose, the proportion of profits available for capital investment and wages would become so small as to lead to economic stagnation, inequality and rising unemployment. In other words, economic rent could crowd out productive investment.
The classical economists were 'political' in the sense that they saw a key role for the state and in particular taxation in preventing the institution of private property from constraining economic development via rent. But at the turn of the nineteenth century, a group of economists began to develop a new kind of economics, based upon universal scientific laws of supply and demand and free of normative judgements concerning power and state intervention. Land's uniqueness as an input to production was lost along the way.
In the UK, land is not included as a distinct asset class in the National Accounts, despite being one of the largest and most important asset classes in the economy. Instead, the value of the underlying land is included in the value of dwellings and other buildings and structures, which are classed as 'produced non-financial assets' (Figure 2)
Figure 2: Growth in the value of non-financial assets in the UK, 1995-2015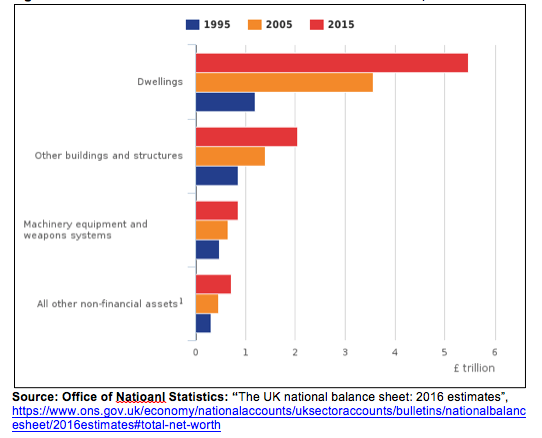 Make a Comment
Econintersect

wants your comments, data and opinion on the articles posted. As the internet is a "war zone" of trolls, hackers and spammers -

Econintersect

must balance its defences against ease of commenting. We have joined with Livefyre to manage our comment streams.

To comment, just click the "Sign In" button at the top-left corner of the comment box below. You can create a commenting account using your favorite social network such as Twitter, Facebook, Google+, LinkedIn or Open ID - or open a Livefyre account using your email address.
---
---
Econintersect Behind the Wall
---
---
---
---
---
| | |
| --- | --- |
| Print this page or create a PDF file of this page | |
---
The growing use of ad blocking software is creating a shortfall in covering our fixed expenses. Please consider a donation to Econintersect to allow continuing output of quality and balanced financial and economic news and analysis.
---
---
---
---
---
---
---
---