>> Click Here for Historical Wall Post Listing <<
Econintersect: Every day our editors collect the most interesting things they find from around the internet and present a summary "reading list" which will include very brief summaries (and sometimes longer ones) of why each item has gotten our attention. Suggestions from readers for "reading list" items are gratefully reviewed, although sometimes space limits the number included.
This feature is published every day late afternoon New York time. For early morning review of headlines see "The Early Bird" published every day in the early am at GEI News (membership not required for access to "The Early Bird".).
BECOME A GEI MEMBER - IT's FREE!
Every day most of this column ("What We Read Today") is available only to GEI members.
To become a GEI Member simply subscribe to our FREE daily newsletter.
The rest of this post is available only the GEI Members. Membership is FREE - click here
Topics today include:
Articles about events, conflicts and disease around the world
Global
On the New York Mercantile Exchange, July West Texas Intermediate crudeCLN7, -0.52% fell 71 cents, or 1.5%, to $46.95 a barrel. August Brent crudeLCOQ7, -0.84% on London's ICE Futures exchange slipped 80 cents, or 1.6%, to $49.15 a barrel. Settlements around these levels would be the lowest since May 9 for both benchmark crudes.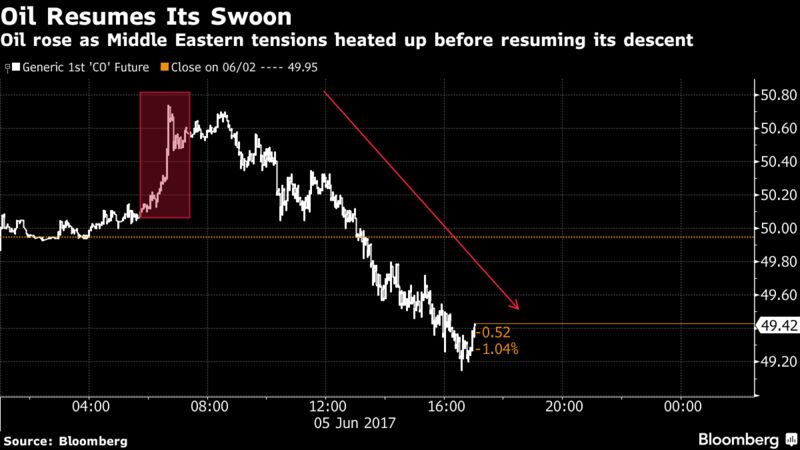 Qatar Quarrel

U.K. Election

Comey Testimony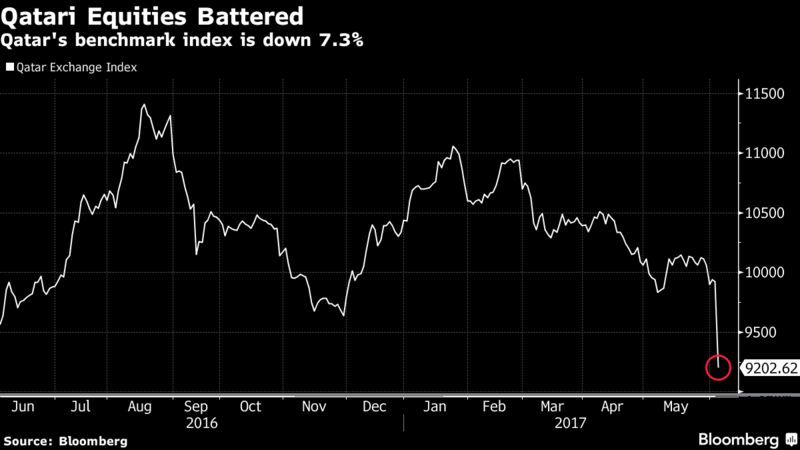 U.S.
It is difficult to interpret the rationale for all of Trump's tweets, which may have caught even some of his advisers off guard.
The proposal "means Trump tolls from one end of America to the other, and huge profits for financiers who, when they put up the money, want to be repaid by the average driver, worker and citizen."
The unsigned order, issued without any dissent, affirms a three-judge panel's ruling last year that 28 state legislative districts were drawn improperly because legislators considered race in the crafting of new lines in 2011.

The high court did, however, side with Republican state legislators who sought to block the part of the lower court decision that ordered new district lines and special elections be held this year.
House leaders are clinging tenaciously to the idea of including border tax adjustments as part of corporate tax reform, despite significant opposition among Republicans in both chambers of Congress. They have good reason — BTAs would provide the resources necessary to overcome political opposition to a revenue-neutral package and put the United States closer to tax parity with other industrialized countries.

At about 35%, the United States has the highest marginal corporate tax rate among large industrialized economies. Although credits and deductions — such as R&D credits and the oil depletion allowance — permit some firms to pay much less, many businesses still pay taxes near the statutory maximum.
Israel
Qatar
India
Noting the ban of sale of cattle for slaughter would have an adverse impact on the state, Goa Congress said the state has a sizeable beef eating population.

Congress party has therefore urged the Goa government to take up the issue with the Centre, as it "cannot impose eating habits on other people or cannot dictate terms to the people on their food".
China
One big problem for Trump in Asia is now starting to emerge, across a variety of fields including defense cooperation — dealing with the many political and security hotspots throughout the region. By apparently ditching long-held American principles in favor of a case-by-case "transactional approach" in trying to resolve policy dilemmas, Trump may be responding to U.S. domestic pressure for a more hard-nosed attitude toward "free-riding" allies and partners. But he is opening himself to the charge that America cannot be trusted over the longer term — and giving China a gigantic opportunity to move across Asia into a leadership role from which it will not easily be supplanted.
Canada
Other Scientific, Health, Political, Economics, and Business Items of Note - plus Miscellanea
"When faced with the choices between what's good for the whole and what's good for the part, and between harmony and conflict, he has a strong tendency to choose the part and conflict. The more I see Donald Trump moving toward conflict rather than cooperation, the more I worry about him harming his presidency and its effects on most of us."
The Marshall Plan became a significant instrument of American power. It represented a substantial sacrifice for the US, but one that paid dividends long after the US stopped providing funds to Marshall Plan recipients.

At a time when the world is divided on the merits of nationalism versus internationalism, it's worth reflecting on why the Marshall Plan worked.
The recognition that real wage growth is a major driver of labor productivity growth also holds an important insight for macroeconomic policy, as Gordon (1987, pp. 154-155) explains: "… a stimulus to aggregate demand provides not only the direct benefit of raising output and employment, but also the indirect benefit of raising the real wage and creating substitution away from labor that boosts productivity [….] With this dual benefit obtainable from demand expansion, the case against demand stimulation must rest on convincing evidence that such policies would create an unacceptable acceleration of inflation." There may be less inflation than expected, in other words, because the rate of potential growth would go up.
Make a Comment
Econintersect

wants your comments, data and opinion on the articles posted. As the internet is a "war zone" of trolls, hackers and spammers -

Econintersect

must balance its defences against ease of commenting. We have joined with Livefyre to manage our comment streams.

To comment, just click the "Sign In" button at the top-left corner of the comment box below. You can create a commenting account using your favorite social network such as Twitter, Facebook, Google+, LinkedIn or Open ID - or open a Livefyre account using your email address.
---
---
Econintersect Behind the Wall
---
---
---
---
---
| | |
| --- | --- |
| Print this page or create a PDF file of this page | |
---
The growing use of ad blocking software is creating a shortfall in covering our fixed expenses. Please consider a donation to Econintersect to allow continuing output of quality and balanced financial and economic news and analysis.
---
---
---
---
---
---
---
---