>> Click Here for Historical Wall Post Listing <<
Econintersect: Every day our editors collect the most interesting things they find from around the internet and present a summary "reading list" which will include very brief summaries (and sometimes longer ones) of why each item has gotten our attention. Suggestions from readers for "reading list" items are gratefully reviewed, although sometimes space limits the number included.
This feature is published every day late afternoon New York time. For early morning review of headlines see "The Early Bird" published every day in the early am at GEI News (membership not required for access to "The Early Bird".).
BECOME A GEI MEMBER - IT's FREE!
Every day most of this column ("What We Read Today") is available only to GEI members.
To become a GEI Member simply subscribe to our FREE daily newsletter.
The rest of this post is available only the GEI Members. Membership is FREE - click here
Topics today include:
Articles about events, conflicts and disease around the world
Global
U.S.
Elizabeth Warren

Cory Booker

Bernie Sanders
More than half a dozen sources on Wall Street and in the White House said Cohn has gained the upper hand over Trump's chief strategist, Steve Bannon, the former head of the right-wing website Breitbart News and a champion of protectionist trade opposed by moderate Republicans and many big companies.
EU
So, is the worst over? Is wealth and prosperity – the ultimate promise of the EU to its citizens – finally coming back to the Eurozone? And is the fragility of the Eurozone that brought the crisis and the dramatic rise in unemployment a thing of the past?

To start with: Yes, the worst is over, but 'better' is not yet 'good'. First, the benchmark should not be 2009, but 2007, the year before the great financial crisis, when the unemployment rate stood at around 7.5%. Second, even this number was back then considered as being much too high, pointing at structural unemployment problems in several countries.
Turkey
Russia
"So Russia's support for that kind of horrible regime, that is a party to that kind of a conflict, is something that has to be drawn into question as well as Russia's subversive actions in Europe. And so I think it's time though, now, to have those tough discussions Russia."
Japan
The market is undervalued because investors are overly pessimistic about the next round of quarterly earnings starting in two weeks, and about the risks associated with North Korea. Once people realize they're being too negative, Tokyo stocks should rise.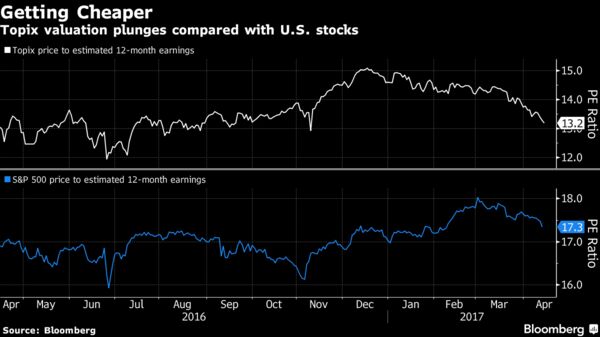 North Korea
China
"Why would I call China a currency manipulator when they are working with us on the North Korean problem? We will see what happens!"
Other Scientific, Health, Political, Economics, and Business Items of Note - plus Miscellanea
"The clearest message that we get from this 75-year study is this: Good relationships keep us happier and healthier. Period."

"It's not just the number of friends you have, and it's not whether or not you're in a committed relationship. It's the quality of your close relationships that matters."
Labour's proposed changes to the Reserve Bank are sensible and worth trying. They will certainly do no harm, and might bring real benefits.

The proposal adds full employment to the bank's current mandate of price stability. This would give the bank the dual mandate under which the American central bank, the Federal Reserve, has operated since the 1970s.

The theory is that the bank's task of setting interest rates should reflect not just the value of stable prices, but jobs as well. This is a bit like arguing for both motherhood and apple pie, however, so the theory matters much less than the actual practice of central banks.

Some argue that central banks with a dual mandate really ignore the employment part of the equation and just concentrate on controlling inflation. If the Reserve Bank in New Zealand did this, then Labour finance spokesman Grant Robertson's reform would make no difference in practice.

There is, however, an argument that central banks should take employment seriously and that concentrating solely on inflation is harmful. Critics of the European Central Bank, for instance, which has only a single mandate, says the Eurozone has as a result been stuck in a damaging cycle of austerity and high unemployment.
In the 1970s, Canadian psychologist Bruce Alexander and a group of colleagues at Simon Fraser University tested the widely believed hypothesis that drugs such as morphine are intrinsically addictive. They took two groups of rats and placed the first in the standard laboratory cages used at the time: small and cramped with little space to move and interact. The second they put in the 'Rat Park': a spacious enclosure filled with wood chips, platforms, running wheels and tin cans.

Alexander and his colleagues introduced two types of liquid for the rats to drink: water and morphine solution. The caged rats consumed significantly more morphine than their 'Rat Park' counterparts. Alexander and his colleagues concluded that there was something about the living conditions of the isolated rats that meant that they were more likely to drink the morphine; the 'Rat Park' rats tended to avoid it. Whilst these results have subsequently been disputed, it is an attractive allegory for drug consumption and addiction in humans.

Following this line of thought, it is not necessarily the substance that is the problem: many people consume alcohol and other drugs without becoming addicted. Instead, it is more to do with social context. Those hardest hit by addiction are predominantly from economically and socially marginalised groups.
Make a Comment
Econintersect

wants your comments, data and opinion on the articles posted. As the internet is a "war zone" of trolls, hackers and spammers -

Econintersect

must balance its defences against ease of commenting. We have joined with Livefyre to manage our comment streams.

To comment, just click the "Sign In" button at the top-left corner of the comment box below. You can create a commenting account using your favorite social network such as Twitter, Facebook, Google+, LinkedIn or Open ID - or open a Livefyre account using your email address.
---
---
Econintersect Behind the Wall
---
---
---
---
---
| | |
| --- | --- |
| Print this page or create a PDF file of this page | |
---
The growing use of ad blocking software is creating a shortfall in covering our fixed expenses. Please consider a donation to Econintersect to allow continuing output of quality and balanced financial and economic news and analysis.
---
---
---
---
---
---
---
---