>> Click Here for Historical Wall Post Listing <<
Econintersect: Every day our editors collect the most interesting things they find from around the internet and present a summary "reading list" which will include very brief summaries (and sometimes longer ones) of why each item has gotten our attention. Suggestions from readers for "reading list" items are gratefully reviewed, although sometimes space limits the number included.
This feature is published every day late afternoon New York time. For early morning review of headlines see "The Early Bird" published every day in the early am at GEI News (membership not required for access to "The Early Bird".).
BECOME A GEI MEMBER - IT's FREE!
Every day most of this column ("What We Read Today") is available only to GEI members.
To become a GEI Member simply subscribe to our FREE daily newsletter.
The rest of this post is available only the GEI Members. Membership is FREE - click here
Topics today include:
Articles about events, conflicts and disease around the world
U.S.
President Donald Trump says, "we'll see what happens," in response to a question about what happens if the vote on the Republican-backed health care bill fails in the House.

Asked if Ryan should remain as speaker if the bill fails, Trump says, "Yes."

President Donald Trump is telling lawmakers who oppose abortion that a vote against the health care bill would favor Planned Parenthood.

White House budget chief Mick Mulvaney says he has "a lot of confidence" in President Donald Trump's ability to salvage a congressional Republican health care plan, but warns that Trump "also wants to move on" if the deal collapses.

A lack of women in a photo of negotiations over the GOP health care bill that was tweeted out by Vice President Mike Pence is drawing criticism from Democrats.
"Obamacare is the law of the land. We're going to be living with Obamacare for the foreseeable future."
"This does make tax reform more difficult, but it does not in any way to make it impossible. Obamacare taxes stay with Obamacare. We're going to fix the rest of the tax code."
The Washington political scene is looking less like The Apprentice and more and more like the old Marlon Perkins Wild Kingdom show, with giant crocodiles slithering down the muddy banks to encircle Donald Trump paddling fecklessly in his leaky dugout while a chorus of angry birds shrieks in the surrounding treetops. Yes, it really looks that bad all of a sudden for Ole Number 45, the Golden Golem.

RussiaGate is flaring to a toxic shock level event. Everything that spun out of Monday's House Intelligence Committee hearing made all parties look bad. The spooks are everywhere and nowhere. The spooks are leaking to the press. The president is tweeting instead of governing. The two parties are literally at war in congress, and the news media is playing it all like a Stockhausen cantata for kazoo and trashcan lid.

One can't help marveling at the way the "Russian interference" motif has shifted the spotlight off the substance of what Wikileaks revealed about Clinton Foundation and DNC misdeeds onto Trump campaign officials "colluding" with Russians, supposedly to support their interference in the election. It's true that the election is way over and the public is no longer concerned with Hillary or her foundation (which is closing shop anyway). But the switcheroo is impressive, and quite confusing, considering recently retired NSA James Clapper just two weeks ago said on NBC's Meet the Press that there was "no evidence" of collusion Between Trump and Russia. Okay… uh, say what?

On Monday, FBI Director James Comey revealed that his agency had been investigating the Trump Campaign since at least last August. Is that so…? Investigating how? Some sort of electronic surveillance? Well, what else would they do nowadays? Send a gumshoe to a hotel room where he could press his ear on a drinking glass against the wall to eavesdrop on Paul Manafort? I don't think so. Of course they were sifting through emails, phone calls, and every other sort of electronic communication.
The legislation, which is expected to be voted on Friday, would hit those making less than $10,000 a year so hard because these folks receive hefty amounts of government assistance from Obamacare. Many benefit from the expansion of Medicaid to low-income adults, while those who earn just a bit more receive generous subsidies that lower their premiums, deductibles and co-pays.

The GOP bill, titled the American Health Care Act, would eliminate the enhanced federal funding for Medicaid expansion and cap federal support of the entire program. It would also replace Obamacare's subsidies with less generous tax credits based mainly on age, rather than income. (Individuals who earn more than $215,000 and couples making more than $290,000 don't qualify for tax credits, under the GOP bill.)

On average, families who earn less than $50,000 a year would be worse off under the bill, researchers concluded.
The measure would repeal major parts of Obama's health law, capping future funding for Medicaid and cutting tax increases for high-income families, health insurance companies and drugmakers.

The bill would repeal tax credits that people can use to purchase health insurance and replace them with a new tax credit that is less generous for most.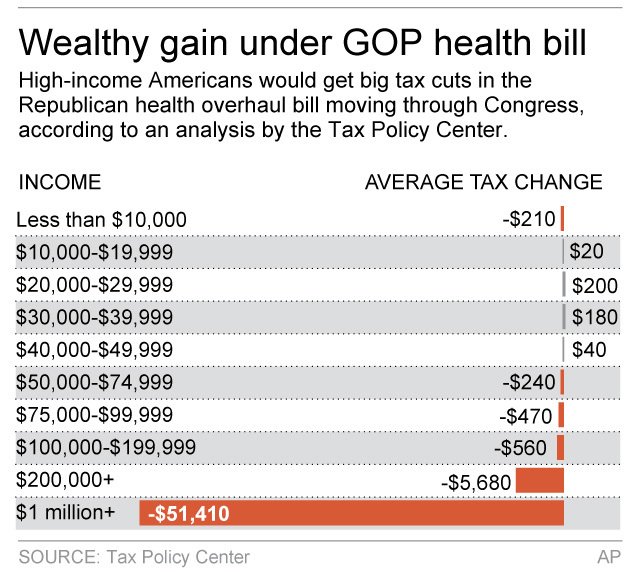 UK
In a briefing outside Scotland Yard, London's top counterterror officer, Mark Rowley, said two more "significant" arrests had been made, bringing to nine the number of people in custody over Wednesday's attack.

Detectives have searched 21 properties in London, the central English city of Birmingham and Wales.

"We've seized 2,700 items from these searches, including massive amounts of computer data for us to work through," Rowley said, adding that contact had been made with 3,500 witnesses.
France
Turkey
Many in Turkey are now concerned that the antagonistic climate will help the adoption of the constitutional changes, thereby further undermining an already damaged and fragile democracy. As one pro-EU Turkish commentator put it: "Taking anti-democratic measures against the leader of a Muslim-majority country is not the right way to combat populist politicians exploiting anti-immigrant feelings."

Turkish leaders' reactions haven't helped. Leveling accusations of Nazism and fascism—especially against two countries with strong freedom of expression and media reputations—together with predicting imminent religious wars between the "crescent and the cross" test the limits of reason.
Egypt
The ailing, 88-year-old Mubarak left the Armed Forces Hospital in Cairo's southern suburb of Maadi and went to his home in the upscale Heliopolis district under heavy security, according to an Egyptian security official. The official spoke on condition of anonymity because he was not authorized to talk to the media.

His release marked a new chapter for the former autocrat whose people rose up against him in 2011 and demanded an end to his 30 years in power marked by corruption, economic inequity and reliance on a much-feared security apparatus.
India
Although the author focuses on high-level corruption in the government, it is important to understand that it is the politician-bureaucrat-businessman nexus that is at the heart of the rot in the system. Also, at a time when 82% of the MPs of the lower house are multi-millionaires and 34% of the newly elected members have criminal cases against them (as of 2014), the roots of the malaise are buried in the composition of the legislature.

Does the book forebode a looming disaster that will befall our democracy? Well, the author makes mixed predictions. He hopes that in the long term, we will be working towards building a nation that works for its people. With many public-spirited souls having picked up the tools of change, such as the Right to Information to strengthen the foundations of democracy and make it work for the last man in the queue, not all hope is lost.
Other Scientific, Health, Political, Economics, and Business Items of Note - plus Miscellanea
The acceleration in what economists Anne Case and Sir Angus Deaton call "deaths of despair" among middle-aged white Americans was first documented in their 2015 paper that was held up as one explanation for the popularity with white working-class voters of the then-candidate Donald Trump.

In a paper being presented to a Brookings conference on Friday, Ms Case and Sir Angus, 2015 winner of the Nobel Prize in economics, detail a widening educational divide that is expected to cast a shadow over the US economy for years to come.
Midlife increases in suicides and drug poisonings have been previously noted. However, that these upward trends were persistent and large enough to drive up all-cause midlife mortality has, to our knowledge, been overlooked. If the white mortality rate for ages 45−54 had held at their 1998 value, 96,000 deaths would have been avoided from 1999–2013, 7,000 in 2013 alone. If it had continued to decline at its previous (1979‒1998) rate, half a million deaths would have been avoided in the period 1999‒2013, comparable to lives lost in the US AIDS epidemic through mid-2015. Concurrent declines in self-reported health, mental health, and ability to work, increased reports of pain, and deteriorating measures of liver function all point to increasing midlife distress.
Fig. 1.
All-cause mortality, ages 45–54 for US White non-Hispanics (USW), US Hispanics (USH), and six comparison countries: France (FRA), Germany (GER), the United Kingdom (UK), Canada (CAN), Australia (AUS), and Sweden (SWE).
Fig. 4.
Mortality by poisoning, suicide, chronic liver disease, and cirrhosis, white non-Hispanics by 5-y age group.
Make a Comment
Econintersect

wants your comments, data and opinion on the articles posted. As the internet is a "war zone" of trolls, hackers and spammers -

Econintersect

must balance its defences against ease of commenting. We have joined with Livefyre to manage our comment streams.

To comment, just click the "Sign In" button at the top-left corner of the comment box below. You can create a commenting account using your favorite social network such as Twitter, Facebook, Google+, LinkedIn or Open ID - or open a Livefyre account using your email address.
---
---
Econintersect Behind the Wall
---
---
---
---
---
| | |
| --- | --- |
| Print this page or create a PDF file of this page | |
---
The growing use of ad blocking software is creating a shortfall in covering our fixed expenses. Please consider a donation to Econintersect to allow continuing output of quality and balanced financial and economic news and analysis.
---
---
---
---
---
---
---
---