>> Click Here for Historical Wall Post Listing <<
Econintersect: Every day our editors collect the most interesting things they find from around the internet and present a summary "reading list" which will include very brief summaries (and sometimes longer ones) of why each item has gotten our attention. Suggestions from readers for "reading list" items are gratefully reviewed, although sometimes space limits the number included.
This feature is published every day late afternoon New York time. For early morning review of headlines see "The Early Bird" published every day in the early am at GEI News (membership not required for access to "The Early Bird".).
BECOME A GEI MEMBER - IT's FREE!
Every day most of this column ("What We Read Today") is available only to GEI members.
To become a GEI Member simply subscribe to our FREE daily newsletter.
The rest of this post is available only the GEI Members. Membership is FREE - click here
Topics today include:
Articles about events, conflicts and disease around the world
Global
For at least the past year, populism has been wreaking havoc on Western democracies. Populist forces – parties, leaders, and ideas – underpinned the "Leave" campaign's victory in the United Kingdom's Brexit referendum and Donald Trump's election as President of the United States. Now, populism lurks ominously in the background of the Netherlands' general election in March and the French presidential election in April and May.

But, despite populism's seeming ubiquity, it is a hard concept to pin down. Populists are often intolerant of outsiders and those who are different; and yet Geert Wilders, the far-right Dutch populist leader, is a firm believer in gay rights. In the US, Trump's presidential campaign was described as an anti-elite movement; and yet his administration is already practically a subsidiary of Goldman Sachs.

While today's populist resurgence comes from the nationalist right, some of the leading populist exponents in recent decades – such as Venezuela's late president, Hugo Chávez – were firmly on the left. What they share is a zero-sum view of the world, which necessitates the creation of scapegoats who can be blamed for all problems. Moreover, because populist leaders claim to embody the uniform will of a mythical "people," they consider democracy to be a means to power, rather than a desirable end in itself.

But populists have more in common than an obsession with cultural boundaries and political borders. They also share a recipe for economic governance, one that Project Syndicate commentators have been tracking since long before today's brand of populism began dominating the world's headlines. Guided by their insights, we can begin to understand the origins of today's populist resurgence, and what is in store for Western countries where its avatars come to power.
U.S.
"At our meeting later this month, the Committee will evaluate whether employment and inflation are continuing to evolve in line with our expectations, in which case a further adjustment of the federal funds rate would likely be appropriate."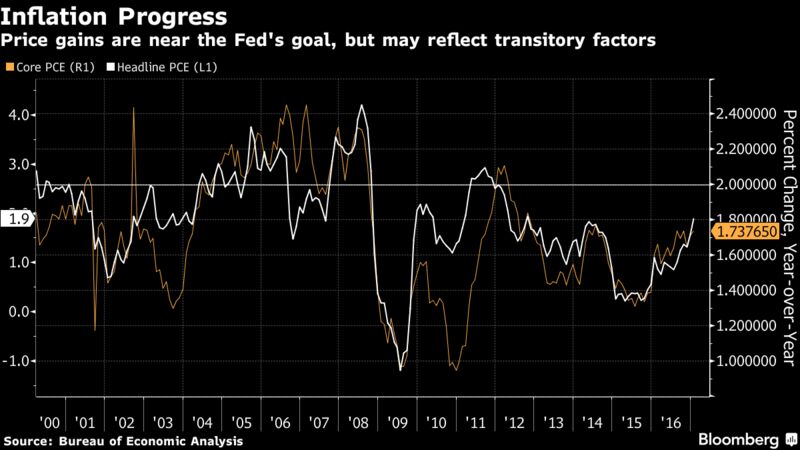 The global warming potential of the gaseous fossil fuel [methane] may be consistently underestimated.
Environmental advocates are trying to change how policymakers consider the climate impacts of methane, a potent greenhouse gas.

The change, if implemented, could make natural gas a less attractive option for generating electricity in power plants.
EU
President Donald Trump's unpredictability accounts for a lot and I don't think that US protectionist measures – tariffs or some form of border tax – would be good for the US dollar.

Sure, they 'improve' the US trade account and would heft inflation. So the Fed must tighten more, but Fed tightening (more than other central banks) is a tired story – even if the market still lags the dots.

Protectionism might hurt the US capital account more than it helps the US trade account. On the capital account, there is risk of damage to the US dollar from second-order effects – principally retaliation by China, which could include reducing its $1 trillion holdings of US treasuries or a myriad of anti-US corporate measures in China. And that's before confrontation about the South China Sea kicks in.

Then there's the euro. The European Central Bank (ECB) is done easing. The ECB targets headline inflation adjusted for transient effects. Headline CPI is likely to end the year closer to the ECB's 2% target than anyone thinks.
France
Syria
China
Mexico
The number of Mexican immigrants living in the U.S. illegally has declined by more than 1 million since 2007.

More non-Mexicans than Mexicans were apprehended at U.S. borders in fiscal year 2016 for the second time on record (first was 2014).

Mexicans were deported from the U.S. 242,456 times in 2015, down from recent high of 309,807.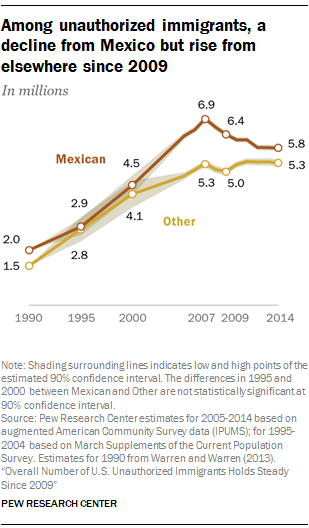 Other Scientific, Health, Political, Economics, and Business Items of Note - plus Miscellanea
... the public rejection of science is an extension of our politics, which in turn have become an expression of our constant outrage about everything that offends our deepest beliefs about ourselves. As social scientist David Dunning has put it: "Some of our most stubborn misbeliefs arise not from primitive childlike intuitions or careless category errors, but from the very values and philosophies that define who we are as individuals." When those misbeliefs are challenged, laypeople take it not as correction but as a direct attack on their identity.
Click for larger animated time lapse map at Bloomberg.

Make a Comment
Econintersect

wants your comments, data and opinion on the articles posted. As the internet is a "war zone" of trolls, hackers and spammers -

Econintersect

must balance its defences against ease of commenting. We have joined with Livefyre to manage our comment streams.

To comment, just click the "Sign In" button at the top-left corner of the comment box below. You can create a commenting account using your favorite social network such as Twitter, Facebook, Google+, LinkedIn or Open ID - or open a Livefyre account using your email address.
---
---
Econintersect Behind the Wall
---
---
---
---
---
| | |
| --- | --- |
| Print this page or create a PDF file of this page | |
---
The growing use of ad blocking software is creating a shortfall in covering our fixed expenses. Please consider a donation to Econintersect to allow continuing output of quality and balanced financial and economic news and analysis.
---
---
---
---
---
---
---
---