>> Click Here for Historical Wall Post Listing <<
Econintersect: Every day our editors collect the most interesting things they find from around the internet and present a summary "reading list" which will include very brief summaries (and sometimes longer ones) of why each item has gotten our attention. Suggestions from readers for "reading list" items are gratefully reviewed, although sometimes space limits the number included.
This feature is published every day late afternoon New York time. For early morning review of headlines see "The Early Bird" published every day in the early am at GEI News (membership not required for access to "The Early Bird".).
BECOME A GEI MEMBER - IT's FREE!
Every day most of this column ("What We Read Today") is available only to GEI members.
To become a GEI Member simply subscribe to our FREE daily newsletter.
The rest of this post is available only the GEI Members. Membership is FREE - click here
Topics today include:
Articles about events, conflicts and disease around the world
U.S.
Spending varies widely — from $731 to $3,037 per state resident in 2015. Federal grants vary from $1 for each dollar spent in 14 states to more than $2 in 13 states. A large cut in Medicaid spending would force most states to take less. The question is, how much less?

To see the problem, consider two not-randomly-chosen states — Kentucky, represented by Senate Majority Leader Mitch McConnell, and Utah, represented by Senate Finance Committee Chairman Orrin Hatch.

Compared to Utah, Kentucky spends three times more per resident and devotes twice as large a share of its budget to Medicaid. The reason for the difference is that a larger portion of Kentucky citizens have low incomes and bad health than do Utah residents. In addition, Kentucky expanded Medicaid under Obamacare, and Utah did not.
Not all financial advisors act contrary to their clients' interests. Some already apply a fiduciary standard, to earn their clients' trust, even though the law does not yet require them to do it. Truly ethical advisors tend to want the Obama rule to go into effect in April as planned, because the removal of unscrupulous competitors is good for their business. It is like an auto dealer who favors the laws preventing salesmen from turning back the odometer on a used car, because he would not do that anyway but knows that some others are not as ethical. How foolish it would be to oppose such laws because they "deprive consumers of their free choice" to buy a used car under fraudulent terms!
EU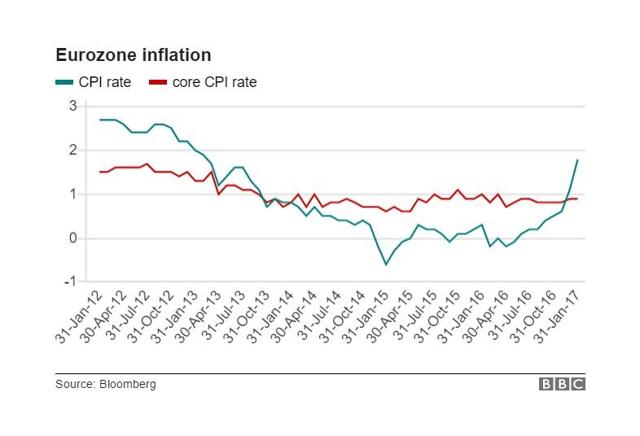 Germany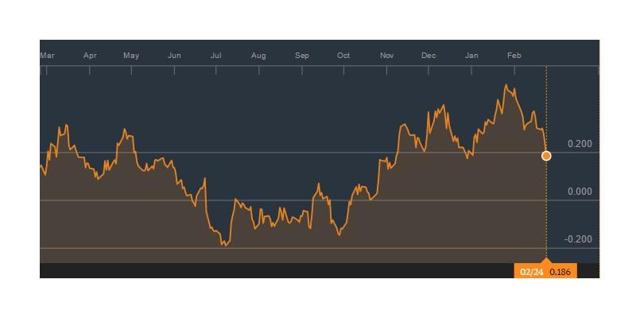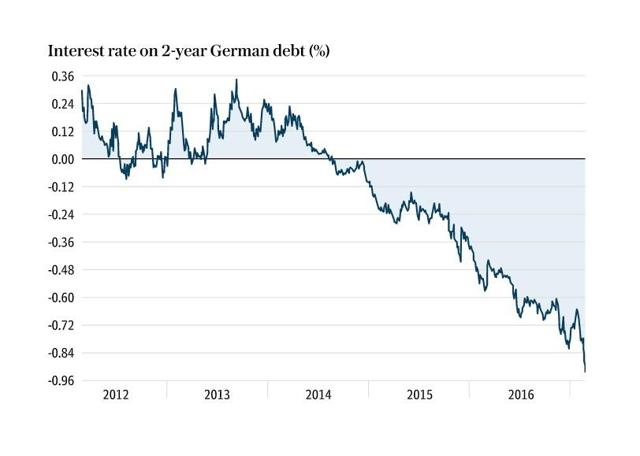 Italy
We think there are many reasons why Italian bond yields are likely to go higher, like eurozone tensions, a rising yield global environment, ECB tapering, political uncertainty, etc.

Unfortunately, for US-based investors, the pickings are basically very slim. One has to have access to European markets, where there is only one ETF listed.

There are more exotic, derivative products called Turbos or Sprinters which are well designed for this situation, but again, only in Europe, unfortunately.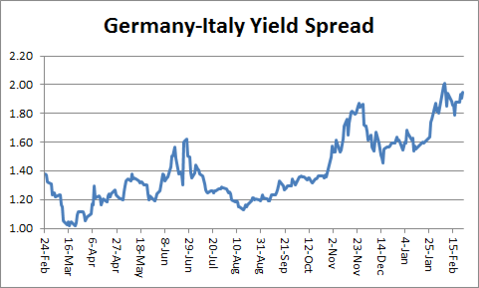 Syria
Cambodia
South Korea
China
While the White House pushes American companies to restore manufacturing in the U.S., the country's factory sector is getting a boost from a seemingly unlikely source: China. Investments by Chinese companies in the U.S. have grown over the past decade, the WSJ's Nina Trentmann reports, as rising labor costs at home, saturated local markets and prospects for new trade barriers push China's manufacturers to consider extending their supply chains to North America. A research group says Chinese firms plowed $8.6 billion into the U.S. from 2000 to 2016, with companies offsetting higher labor costs with more automation and lower electricity and transportation expenses. They also can get around some trade barriers and more easily reach U.S. consumers. A maker of kitchen cabinets that has started assembly in the U.S. says the workers "are not cheap," for instance, but the company saves on logistics spending—an economic calculation that may change still more if the U.S. imposes new import taxes.
Mexico
The problem for American workers is not international trade, per se. America has been a trading nation since its beginning. The problem is, rather, the radical new rules for trade imposed by NAFTA—and copied in the myriad trade deals signed by the US ever since—that shifted the benefits of expanding trade to investors and the costs to workers.
Other Scientific, Health, Political, Economics, and Business Items of Note - plus Miscellanea
The ACA has helped millions. However, our health care system remains deeply flawed. Nine percent of persons in the United States are uninsured, deductibles are rising and networks narrowing, costs are again on the upswing, the pursuit of profit too often displaces medical goals, and physicians are increasingly demoralized. Reforms that move forward from the ACA are urgently needed and widely supported. Even two fifths of Republicans (and 53% of those favoring repeal of the ACA) would opt for single-payer reform (10). Yet, the current Washington regime seems intent on moving backward, threatening to replace the ACA with something far worse.
Gold price broke out last week.

But gold price faces a strong hurdle to make a further run.

Both gold and gold miners may move down in near term.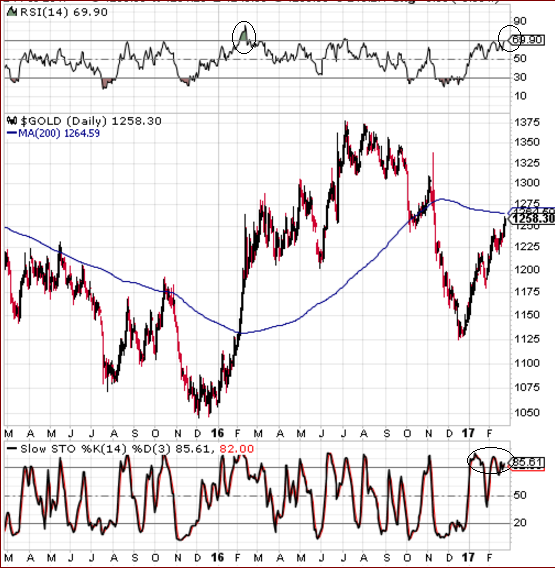 Make a Comment
Econintersect

wants your comments, data and opinion on the articles posted. As the internet is a "war zone" of trolls, hackers and spammers -

Econintersect

must balance its defences against ease of commenting. We have joined with Livefyre to manage our comment streams.

To comment, just click the "Sign In" button at the top-left corner of the comment box below. You can create a commenting account using your favorite social network such as Twitter, Facebook, Google+, LinkedIn or Open ID - or open a Livefyre account using your email address.
---
---
Econintersect Behind the Wall
---
---
---
---
---
| | |
| --- | --- |
| Print this page or create a PDF file of this page | |
---
The growing use of ad blocking software is creating a shortfall in covering our fixed expenses. Please consider a donation to Econintersect to allow continuing output of quality and balanced financial and economic news and analysis.
---
---
---
---
---
---
---
---