>> Click Here for Historical Wall Post Listing <<
Econintersect: Every day our editors collect the most interesting things they find from around the internet and present a summary "reading list" which will include very brief summaries (and sometimes longer ones) of why each item has gotten our attention. Suggestions from readers for "reading list" items are gratefully reviewed, although sometimes space limits the number included.
This feature is published every day late afternoon New York time. For early morning review of headlines see "The Early Bird" published every day in the early am at GEI News (membership not required for access to "The Early Bird".).
BECOME A GEI MEMBER - IT's FREE!
Every day most of this column ("What We Read Today") is available only to GEI members.
To become a GEI Member simply subscribe to our FREE daily newsletter.
The rest of this post is available only the GEI Members. Membership is FREE - click here
Topics today include:
Articles about events, conflicts and disease around the world
Global
U.S.
I now endorse Gary Johnson. He's allegedly a stoner who doesn't know much about Aleppo. I call that relatable. A vote for Clinton or Trump is support for an alleged abuser of women. I don't need that on my brand.
The truth—however improbable—is that inventories are probably much lower than what is reported.
The central theme of Donald Trump's economic policy is trade. He promises to slash America's trade deficit by tearing up international agreements and imposing massive new tariffs on imports from China (45%) and Mexico (35%). By cutting the trade deficit from $500 billion to zero, according to his senior economic advisers, $1.74 trillion in new tax revenue will accrue to the Treasury over the next decade. Trump will use this massive windfall to fund two-thirds of his proposed tax cuts. If true, this will indeed go some way toward Making America Great Again.

But unfortunately it isn't—not by a long shot. If produced by a Macro 101 student, this sort of analysis would send his professor into paroxysms of red-pen rage.

Trade deficits, you see, do not just disappear, and tax revenues soar, because you block imports. A trade deficit results from a deficit of savings relative to investment. If savings and investment don't budge after imports fall—which they don't in the Trump analysis—then exports must fall by an equivalent amount. The mechanism by which this would happen is simple. The lower demand for non-U.S. currency created by the import cut pushes up the value of the dollar, which makes U.S. exports more expensive and imports cheaper. So imports rise and exports fall. The trade deficit remains the same.
Turkey
Iran

Russia
• The distinctive Russian approach to operations in Ukraine gave rise to an impression among some observers that its military had employed fundamentally new concepts of armed conflict. The widespread adoption of phrases such as 'hybrid warfare' and 'Gerasimov doctrine' reinforced this perception of novelty, and was indicative of a search for ways to conceptualize – and make sense of – a Russian approach to conflict that the West found at first sight unfamiliar.

• Nevertheless, the techniques and methods displayed by Russia in Ukraine have roots in traditional Soviet approaches. Since the end of the Cold War, Russia's military academics have displayed an unbroken and consistently developing train of thought on the changing nature of conflict and how to prevail in it, including – but certainly not limited to – the successful application of military power. As a result, despite modern technological enablers, Russia's intentions and actions throughout the Ukraine conflict have been recognizable from previous decades of study of the threat to the West from the Soviet Union. Today, as in the past, Western planners and policy-makers must consider and plan not only for the potential threat of military attack by Russia, but also for the actual threat of Moscow's ongoing subversion, destabilization and 'active measures'.
Other Scientific, Health, Political, Economics and Business Items of Note - plus Miscellanea
"Animal spirits aren't there – people aren't excited about growth prospects."

"Confidence has to be turned on for people to want to invest and we're waiting to see that happen. It will happen at some point. But precisely when is unknown.
Recall that ObamaCare is putatively universal and depends for its success on [genuflects] competition. We've seen that ObamaCare is not universal for people who, because of ObamaCare's death spiral, have the misfortune to live in Pain City, with zero carriers (and a resulting insane arithmetical calculation, topped off with an insane bureaucratic process). We've seen that it should be possible to create competition through the MSP program — accepting for the sake of the argument that the neoliberal faith in markets is sane — in counties with one carrier, but that the administration butchered the MSP implementation. Meanwhile, in Minnesota, we see one state propose to allow insurers to limit enrollments, which threatens a reversion to pre-ObamaCare underwriting practices, also insane. Finally, we see that the brainiacs in the administration propose to nudge — by which I mean shove — a million or so people into new plans not of their choosing when their old plans are cancelled.

Wouldn't it make a lot more sense to move to simple, rugged, and proven single payer? I mean, if our elites were sane?
In October 2008, the absolute peak of the prior credit bubble, there were $1.59 trillion commercial and industrial loans outstanding. As the Great Recession chewed into the economy, C&I loans plunged. Many of them were cleansed from bank balance sheets via charge-offs. But then the Fed decided what the US needed was more debt to fix the problem of too much debt, thus kicking off what would become the greatest credit bubble in US history. By July 2016, C&I loans had surged to $2.064 trillion, 30% above their prior bubble peak.

But in August, something stopped working: C&I loans actually fell 0.3% to $2.058 trillion, according to the Federal Reserve Board of Governors. That translates into an annualized decline of 3.8%, after an uninterrupted six-year spree of often double-digit annualized increases. Note that first month-to-month dip since October 2010: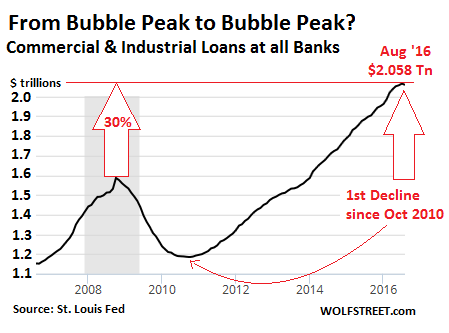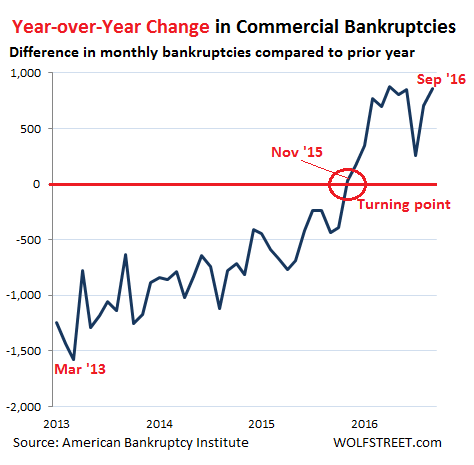 ---
Special notice from an Econintersect contributor:
Announcing Trader Education Week -- A FREE trading event that will teach you how to spot trading opportunities in your charts. Spend October 12-18 getting free trading lessons that you can apply to your trading immediately -- from one of the world's foremost market technicians, Jeffrey Kennedy. Register now for your FREE week of trading lessons and get immediate access to 3 introductory resources.
---
Make a Comment
Econintersect

wants your comments, data and opinion on the articles posted. As the internet is a "war zone" of trolls, hackers and spammers -

Econintersect

must balance its defences against ease of commenting. We have joined with Livefyre to manage our comment streams.

To comment, just click the "Sign In" button at the top-left corner of the comment box below. You can create a commenting account using your favorite social network such as Twitter, Facebook, Google+, LinkedIn or Open ID - or open a Livefyre account using your email address.
---
---
Econintersect Behind the Wall
---
---
---
---
---
| | |
| --- | --- |
| Print this page or create a PDF file of this page | |
---
The growing use of ad blocking software is creating a shortfall in covering our fixed expenses. Please consider a donation to Econintersect to allow continuing output of quality and balanced financial and economic news and analysis.
---
---
---
---
---
---
---
---