>> Click Here for Historical Wall Post Listing <<
Econintersect: Every day our editors collect the most interesting things they find from around the internet and present a summary "reading list" which will include very brief summaries (and sometimes longer ones) of why each item has gotten our attention. Suggestions from readers for "reading list" items are gratefully reviewed, although sometimes space limits the number included.
This feature is published every day late afternoon New York time. For early morning review of headlines see "The Early Bird" published every day in the early am at GEI News (membership not required for access to "The Early Bird".).
BECOME A GEI MEMBER - IT's FREE!
Every day most of this column ("What We Read Today") is available only to GEI members.
To become a GEI Member simply subscribe to our FREE daily newsletter.
The rest of this post is available only the GEI Members. Membership is FREE - click here
Topics today include:
Fifteen Fatal Fallacies of Financial Fundamentalism

Hillary Clinton's Economic Dream Team

Is the New Consensus View in Economics Really an Old View?

U.S. Education is Training for Jobs that Will Go Away

What Happens When Millions of Jobs are Lost to Automation

Money Management Jobs that are Disappearing

More Email Woes for Clinton

Why Does the Wall Street Journal Report Misleading IP Data?

The Biggest U.S. Financial Risk is Still Housing

Proof that Trump Appeals to the Poor

Greece Still Going Down

Italy Could Follow Greece and that Would End the EU

Russia Ends Air Raids from Iranian Base

Russia Views the West Through a Historical Lens - Sees an Aggressor

Philippines Drug War has Killed 1,800

Canada Wants to Grow Services Exports

Canada Has a 'Wetback' Problem with Illegals from the U.S.

And More
Articles about events, conflicts and disease around the world
U.S.
State Department Told to Speed Latest Clinton E-Mail Review (Bloomberg) A federal judge has ordered the U.S. State Department to accelerate its review of almost 15,000 previously undisclosed documents recovered by the FBI from private e-mail servers used by Hillary Clinton while she was secretary of state. Those documents are among tens of thousands of records the State Department is sifting through to cope with the demands of a Freedom of Information Act lawsuit filed by the conservative group Judicial Watch as the presidential race between Democrat Clinton and Republican Donald Trump enters a crucial phase. U.S. District James Boasberg on Monday ordered the State Department to process that first batch of records by Sept. 22 and report back to him that day. While he didn't set a schedule for their being made public, a Justice Department lawyer proposed a phased release beginning Oct. 14, a rate that raised the ire of Judicial Watch lawyer Lauren Burke. Econintersect: Judicial Watch is displeased because they want the emails disclosed before the election 08 November.
Industrial Production Let Me Count The Ways (Lee Adler, The Wall Street Examiner) LA contributes to GEI. Lee Adler criticizes The Wall Street Journal for saying industrial production was increasing in July when that was an artifact of the seasonal adjustment process used and not the raw data. Using year-over-year numbers tells a different story (see graph below). See also July 2016 Industrial Production Remains In Contraction Year-over-Year But Good Improvement Month-over-Month (Steven Hansen, GEI).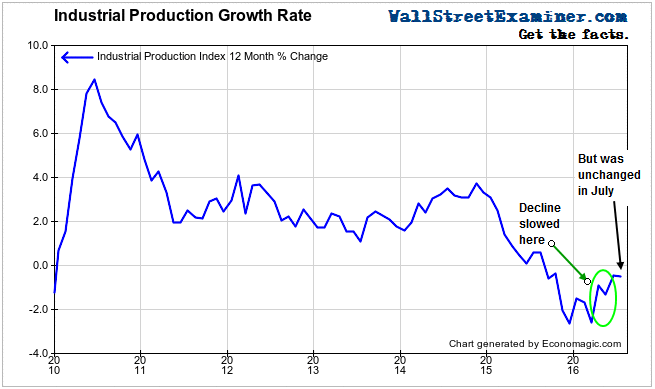 Speedo, Ralph Lauren Drop Ryan Lochte After Rio Robbery Lie (Bloomberg) How much are 12 Olympic medals (6 gold) worth? Not much if you are an immature, petulent, indulged elite who lies to police.
Nightmare on Main Street (The Economist) The biggest fiancial risk for the U.S. economy is America's $26 trillion housing market. Here is the intro to this article:
What are the most dysfunctional parts of the global financial system? China's banking industry, you might say, with its great wall of bad debts and state-sponsored cronyism. Or the euro zone's taped-together single currency, which stretches across 19 different countries, each with its own debts and frail financial firms. Both are worrying. But if sheer size is your yardstick, nothing beats America's housing market.

It is the world's largest asset class, worth $26 trillion, more than America's stockmarket. The slab of mortgage debt lurking beneath it is the planet's biggest concentration of financial risk. When house prices started tumbling in the summer of 2006, a chain reaction led to a global crisis in 2008-09. A decade on, the presumption is that the mortgage-debt monster has been tamed. In fact, vast, nationalised, unprofitable and undercapitalised, it remains a menace to the world's biggest economy.
Within income tiers, Trump supporters more likely than Clinton's to say own family is falling behind cost of living (Twitter) Here is proof that Trump is connecting with those left behind.
Greece
'Nobody believes in anything anymore': Why Greece's economic crisis is not over (CNBC) With Europe facing pressing crises including the refugee crisis, economic slowdown and political disintegration following the Brexit vote, it's easy to forget that Greece's political and economic crisis dominated headlines last summer. One year on and a third bailout worth €86 billion ($96 billion) later, arrived at after tortuous negotiations between Greece and its lenders, and the situation in Greece is a game of two halves with many Greeks suffering - and some trying to make something out of a bad situation. Greece's government has been forced to make widespread spending cuts over the course of its three separate bailout programs, making life harder for most Greeks of ordinary means. The cuts have affected all ages with unemployment rising to the highest level in Europe. A survey by independent analysis firm DiaNEOsis in June revealed that many Greeks were facing an increasing struggle to get by. Extreme poverty in the Greek population (of 11 million people) had risen from 2.2% in 2009, to 15% in 2015, the public opinion survey of 1,300 people showed, with 1.6 million people now living below in extreme poverty.
Italy
STIGLITZ: Italy could be the 'cataclysmic event' that leads to the fall of the eurozone (Business Insider Australia) Europe is heading towards a "cataclysmic event" that could lead to the collapse of the euro and the end of the European project as we know it, according to Nobel prize-winning economist Joseph Stiglitz. In an interview with Business Insider following the launch of his latest book "The Euro: How A Common Currency Threatens the Future of Europe" — which argues that the European single currency will inevitably cease to be at some point in the future unless drastic changes are made — Stiglitz said that a "disastrous" political event similar to the United Kingdom's decision to leave the European Union could trigger such a collapse.
Romania
US moves nuclear weapons from Turkey to Romania (EurActiv.com) Hat tip to Roger Erickson. Two independent sources told EurActiv.com that the US has started transferring nuclear weapons stationed in Turkey to Romania, against the background of worsening relations between Washington and Ankara. According to one of the sources, the transfer has been very challenging in technical and political terms. "It's not easy to move 20+ nukes," said the source, on conditions of anonymity.
Iran
They are simply "misguided" (The Truth About Money) Econintersect: This is a good read. Caution: The author (Elizabeth Harris) specializes in making sure you understand every conspiracy theory has a neoliberal origin. She could never be a professional economist because there is never an "on the otherhand".
Russia
Russia Ends Air Raids From Iran Amid Criticism for 'Showing Off' (Bloomberg) Russia has been 'called out' by Iran. Russia has stopped using an airbase in Iran to stage bombing raids against militants in Syria, shortly after it was accused of "showing off" by the Iranian Defense Minister for announcing its presence there. Russia was "inconsiderate" and "keen to show off as a superpower" by disclosing its use of the Hamadan base for the missions, Iranian Defense Minister Hossein Dehghan said on state-run Channel 2 television late Sunday. He said:
"They also have a desire to show themselves to be effective in the theater of operations in Syria, in order to be able to negotiate with the Americans and guarantee themselves a stake in Syria's political future."
How Russia views the West (EurActiv.com) Russia views the West as an aggressor to be defended against. This perception has deep historic roots dating back to the Napoleonic invasion, German Imperial and Nazi invasions, and the Iron Curtain and proxy wars of the Cold War. The 1990s offered a brief reprieve in Russian-Western relations, but the general theme has remained the same: Russia feels threatened by the West. The Ukraine crisis is the most recent manifestation of that fact. The removal in 2014 of the democratically elected Ukrainian President Victor Yanukovich, who favored closer ties with Russia over the EU, was deemed by Moscow to have been orchestrated by the West. While this perception may exaggerate reality, it is not entirely unfounded. In December 2013, Senator John McCain spoke to Euromaidan protesters while standing next to Ukrainian boxer Vitali Klitschko, who had lived in Germany for years and became one of the leading figures in Ukraine's pro-European movement. Yanukovich's fall from power only cemented Russia's view of the West's self-serving rhetoric on democracy and universal values – as a values-based imperialism used by the West when politically convenient and easily forgotten when not. The removal of Yanukovich was perceived as a political move that revealed Western hypocrisy and delegitimized rhetoric on Western values.
Philippines
Philippines drug war deaths climb to 1,800, U.S. voices concern (Reuters) The Philippines has recorded about 1,800 drug-related killings since President Rodrigo Duterte took office seven weeks ago and launched a war on narcotics, far higher than previously believed, according to police figures. Philippine National Police Chief Ronald Dela Rosa told a Senate committee on Monday that 712 drug traffickers and users had been killed in police operations since July 1. Police were also investigating 1,067 other drug-related killings, Dela Rosa said, without giving details. The comments came a day after Duterte lashed out at the United Nations for criticizing the wave of deaths.
Canada
Trudeau's Cure for Canada's Slump? Architects and Accountants (Bloomberg) Canada sees an improved economy will depend less on resource exports and more on services exports.
Hundreds of Americans wash up illegally in Canada after river party (Reuters) Now Canada has a "wetback" problem with illegals from the U.S. About 1,500 Americans floating down a river that separates the United States from Canada had to be rescued from the water when strong rains and winds sent them illegally into Canadian territory, the country's coast guard said on Monday. The Americans were taking part in the annual Port Huron Float Down on Sunday in the St. Clair River, which runs between the U.S. state of Michigan and the Canadian province of Ontario. The winds blew the flotilla of inflatable rafts and inner tubes off course and toward the Canadian shore. Some rafts deflated, spurring a rescue effort by the Canadian Coast Guard as well as federal and provincial police, coast guard spokeswoman Carol Launderville said in an email.
Other Scientific, Health, Political, Economics and Business Items of Note - plus Miscellanea
Fifteen Fatal Fallacies of Financial Fundamentalism (William Vickery, Columbia.edu) Read this and commit it to memory. Draw on that resource when confronted by idiots. See also next article.
Hillary Clinton's economic dream team (The Week) Jared Spross outlines his recommendations for Hillary Clinton to consider as economics advisors. None of those who worked for her husband (or any other recent president) are on the list, although Jared Bernstein, who worked for VP Joe Biden (and co-authored a book with Biden on the benefits of full employment and fighting inequality). Econintersect: Several of the eight have had their work posted on GEI. None of the proposed economists have entertained any of the 15 fallacies described in the preceding article - and, in fact, have been engaged in exposing the fallacies in their work. Neoliberals are not found in this group - real liberals are and the political opposition would scream "socialism", "communism" and worse. Yet all of these eight are pure capitalists with not a hint of state ownership of anything from the private sector. They are biased toward policies that promote income distribution away from plutocratic and oligarchical concentration and toward middle and lower income workers. They represent an antidote to the policy domination of rentier favoritism of the past 30+ years.
The next big consensus view in economics has arrived (Business Insider) (Econintersect: It's really the old consensus view that has been forgotten for a few decades.) Here is what Myles Udland wrote:
It's official: Calling for more government spending is a mainstream consensus view.

For years following the financial crisis, policymakers around the world sought to follow the post-crisis response endorsed by the International Monetary Fund of reducing debt burdens to ease the stress of recession on various economies.

This mostly simply involves cutting government spending and raising taxes.

This is known as austerity.
Make a Comment
Econintersect

wants your comments, data and opinion on the articles posted. As the internet is a "war zone" of trolls, hackers and spammers -

Econintersect

must balance its defences against ease of commenting. We have joined with Livefyre to manage our comment streams.

To comment, just click the "Sign In" button at the top-left corner of the comment box below. You can create a commenting account using your favorite social network such as Twitter, Facebook, Google+, LinkedIn or Open ID - or open a Livefyre account using your email address.
---
---
Econintersect Behind the Wall
---
---
---
---
---
| | |
| --- | --- |
| Print this page or create a PDF file of this page | |
---
The growing use of ad blocking software is creating a shortfall in covering our fixed expenses. Please consider a donation to Econintersect to allow continuing output of quality and balanced financial and economic news and analysis.
---
---
---
---
---
---
---
---