>> Click Here for Historical Wall Post Listing <<
Econintersect: Every day our editors collect the most interesting things they find from around the internet and present a summary "reading list" which will include very brief summaries (and sometimes longer ones) of why each item has gotten our attention. Suggestions from readers for "reading list" items are gratefully reviewed, although sometimes space limits the number included.
This feature is published every day late afternoon New York time. For early morning review of headlines see "The Early Bird" published every day in the early am at GEI News (membership not required for access to "The Early Bird".).
BECOME A GEI MEMBER - IT's FREE!
Every day most of this column ("What We Read Today") is available only to GEI members.
To become a GEI Member simply subscribe to our FREE daily newsletter.
The rest of this post is available only the GEI Members. Membership is FREE - click here
Topics today include:
Bank CEOs Unloaded Stock Just Before the Great Financial Crisis

Highest Paying U.S. Jobs for 2016

What Causes the U.S. Gender pay Gap and How to Address It

Verizon to Bid For Yahoo! Core Business

Class Warfare

"We Hang the Petty Thieves and ..." (Aesop)

Al Qaeda Chief Calls for Western Kidnappings for Prisoner Swaps

Latest Problems for Trump and Clinton

Trump is "Ahead" in Battleground States

Why the U.S. Has Always Been Dis-united and What is Different This Time

Man Faces Prison for Returning Used Bottles

Jon Stewart's Latest 'Shout Out'

Turkey's Turmoil May Send More Refugees to Europe

Afghan Forces on Offense Against the Islamic State

IOC Refuses to Ban Russians

And More
Articles about events, conflicts and disease around the world
Global
Al Qaeda chief urges kidnappings of Westerners for prisoner swaps: SITE (Reuters) Al Qaeda chief Ayman al-Zawahiri has appeared in an audio interview calling on fighters to take Western hostages and exchange them for jailed jihadists, the monitoring service SITE Intelligence Group said on Sunday. In recording posted online, Al-Zawahiri called on the global militant network to kidnap Westerners "until they liberate the last Muslim male prisoner and last Muslim female prisoner in the prisons of the Crusaders, apostates, and enemies of Islam," according to SITE.
U.S.
"You feel that you're this country's rightful owners. There's only one problem with that: This country isn't yours. You don't own it. It never was."
EU
"...we are deeply worried about the developments in our neighboring country. Anything that disturbs the Europe-Turkey agreement on refugees may increase the migration flows. We hope that this agreement will be respected.,"
Afghanistan
After Obama's green light, Afghan forces on the offensive (Associated Press) After two years of heavy casualties, the Afghan military is trying to retake the initiative in the war against militants with a new offensive against Islamic State group loyalists, an assault that will see American troops back on the battlefield working more closely with Afghan soldiers. Afghan President Ashraf Ghani recently announced a major assault against fighters loyal to the Islamic State group, who over the past year captured positions along Afghanistan's eastern border with Pakistan, mainly in Nangarhar province. That goal to uproot IS from Afghanistan has taken on new urgency in the wake of a deadly suicide bombing of a protest march Saturday in Kabul that killed at least 80 people.
Russia
IOC declines to issue blanket ban of Russian athletes (USA Today) In the face of calls to ban Russia from competing in the upcoming Rio Olympics, the International Olympic Committee on Sunday deferred decisions about the eligibility of the country's athletes to the international federations that govern each sport. The decision now moves the heavy lifting of determining whether individual athletes can meet the criteria set out by the IOC to demonstrate sufficient anti-doping records, a challenge for the international federations (IFs) as the IOC has advised reversing the presumption of innocence. The IOC's executive board made the decision that will certainly be unpopular in sport and anti-doping communities. The World Anti-Doping Agency, a group of 14 leaders of national anti-doping organizations and athletes worldwide had called for a collective ban. See next article.
Russia orchestrated state-sponsored doping cover-up, says Wada report (The Guardian) A devastating and damning report into Russian sport has found that the country's government, security services and sporting authorities colluded to hide widespread doping across "a vast majority" of winter and summer sports. The review, led by the highly respected Canadian lawyer Richard McLaren, found widespread state action to hide cheating among Russian athletes in the run up to the London 2012 Olympics, as well as a comprehensive cover up of doping during the World Championships in Moscow and the World University Games in Kazan in 2013 and the Winter Olympics in Sochi a year later. In light of Monday's report, the World Anti-Doping Agency (WADA) has now explicitly urged the IOC to consider banning Russia from the Olympics altogether while also suggesting Russia's government officials should be denied access to Rio 2016. For IOC action, see preceding article.
Other Scientific, Health, Political, Economics and Business Items of Note - plus Miscellanea
Was the Financial Crisis Anticipated? (Institute for New Economic Thinking) Hat tip to Yves Smith, Naked Capitalism. A research paper has found that the top executives' ex-ante sale of their own bank shares predicts worse bank returns during the crisis; interestingly, effects are insignificant for independent directors' and other officers' sales of shares. The effect is seen for the top five executives, with impact stronger for banks with higher ex-ante exposure to the real estate bubble. In these cases where an increase of one standard deviation of insider sales is associated with a 13.33% point drop in stock returns during the crisis period. For details see Anticipating the Financial Crisis: Evidence from Insider Trading in Banks (London, Centre for Economic Policy Research).
The highest paying jobs of 2016! (MSN News) The short list (with median base pay):
Physician ($180k median)

Lawyer ($144.5k median)

IT Manager ($120k median)
Women are paid 79 cents for every dollar paid to men—despite the fact that over the last several decades millions more women have joined the workforce and made huge gains in their educational attainment. Too often it is assumed that this pay gap is not evidence of discrimination, but is instead a statistical artifact of failing to adjust for factors that could drive earnings differences between men and women. However, these factors—particularly occupational differences between women and men—are themselves often affected by gender bias. For example, by the time a woman earns her first dollar, her occupational choice is the culmination of years of education, guidance by mentors, expectations set by those who raised her, hiring practices of firms, and widespread norms and expectations about work–family balance held by employers, co-workers, and society. In other words, even though women disproportionately enter lower-paid, female-dominated occupations, this decision is shaped by discrimination, societal norms, and other forces beyond women's control.
Verizon Said to Announce $4.8 Billion Yahoo Takeover Monday (Bloomberg) Verizon Communications Inc. will announce plans to buy Yahoo! Inc.'s core assets for about $4.8 billion on Monday, a move that would finally seal the fate of the iconic web pioneer after months of speculation and pressure from investors. This is a continuation of a trend for service providers to also become content providers. (Econintersect: We suggest there are significant anti-trust issues in this trend which are not being addressed. What compromises are forced on open internet access when the providers are also majpr content porviders?) This purchase is slightly more than 10% of Yahoo! - the company will be left with its stakes in Alibaba Group Holding Ltd. and Yahoo Japan Corp., with a combined market value of about $40 billion.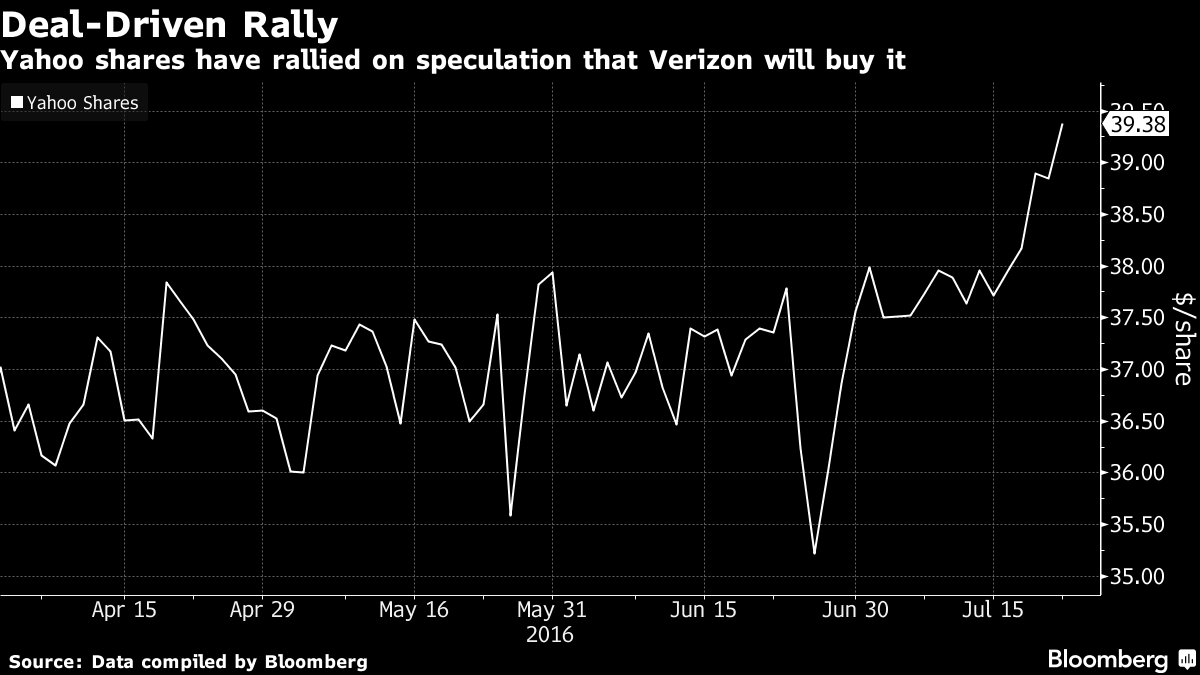 Two Illustrations Forwarded by Roger Erickson without links to source(s):
Make a Comment
Econintersect

wants your comments, data and opinion on the articles posted. As the internet is a "war zone" of trolls, hackers and spammers -

Econintersect

must balance its defences against ease of commenting. We have joined with Livefyre to manage our comment streams.

To comment, just click the "Sign In" button at the top-left corner of the comment box below. You can create a commenting account using your favorite social network such as Twitter, Facebook, Google+, LinkedIn or Open ID - or open a Livefyre account using your email address.
---
---
Econintersect Behind the Wall
---
---
---
---
---
| | |
| --- | --- |
| Print this page or create a PDF file of this page | |
---
The growing use of ad blocking software is creating a shortfall in covering our fixed expenses. Please consider a donation to Econintersect to allow continuing output of quality and balanced financial and economic news and analysis.
---
---
---
---
---
---
---
---