>> Click Here for Historical Wall Post Listing <<
Econintersect: Every day our editors collect the most interesting things they find from around the internet and present a summary "reading list" which will include very brief summaries (and sometimes longer ones) of why each item has gotten our attention. Suggestions from readers for "reading list" items are gratefully reviewed, although sometimes space limits the number included.
This feature is published every day late afternoon New York time. For early morning review of headlines see "The Early Bird" published every day in the early am at GEI News (membership not required for access to "The Early Bird".).
BECOME A GEI MEMBER - IT's FREE!
Every day most of this column ("What We Read Today") is available only to GEI members.
To become a GEI Member simply subscribe to our FREE daily newsletter.
The rest of this post is available only the GEI Members. Membership is FREE - click here
Topics today include:
Articles about events, conflicts and disease around the world
Global
1. The referendum sparked three years of intense internal reflection in almost every European nation. Both the U.K. and EU stepped back from some of their traditional global roles. And with the U.S. hesitant to take on additional international responsibilities, the vacuum was filled in a haphazard manner by many other countries, further fragmenting the global system and accelerating its march to what Ian Bremmer has labeled the G-Zero world.

2. In the months after the referendum, the U.K suffered a series of political traumas. All attempts to bypass the referendum's verdict failed. The two major parties, the Conservatives and Labour, went through messy leadership contests, but still received a major rebuke from voters in the general election that followed. A new "national coalition" somehow managed to come together and negotiated a new Association Agreement with the EU that maintained most free trade of goods and services.
The golden rice project started roughly 20 years ago by German researchers. The GMO crop is developed to produce pro-vitamin A (beta-carotene) and is touted by proponents as a solution to vitamin A deficiencies prevalent in developing countries. The deficiency increases risk for infection, diseases and blindness.

Greenpeace, however, has deemed the golden rice project as "environmentally irresponsible, poses risks to human health, and could compromise food, nutrition and financial security."

Because of this stance, proponents of golden rice have long attacked the organization for being "anti-science" and prolonging the suffering of children with VAD.

In response to the letter, Wilhelmina Pelegrina, a campaigner for Greenpeace Southeast Asia told The Post that the organization was not blocking golden rice, as the initiative "has failed as a solution and isn't currently available for sale, even after more than 20 years of research."

"As admitted by the International Rice Research Institute, it has not been proven to actually address vitamin A deficiency. So to be clear, we are talking about something that doesn't even exist," she continued. "Corporations are overhyping golden rice to pave the way for global approval of other more profitable genetically engineered crops. Rather than invest in this overpriced public relations exercise, we need to address malnutrition through a more diverse diet, equitable access to food and eco-agriculture."

She argues that the "only guaranteed solution" to fix malnutrition is a diverse, healthy diet: "Providing people with real food based on ecological agriculture not only addresses malnutrition, but is also a scalable solution to adapt to climate change."
U.S.
Tomorrow, Vermont's historic GMO labeling law goes into effect. This is the first law enacted in the U.S. that would provide clear labels identifying food made with genetically engineered ingredients. Indeed, stores across the country are already stocking food with clear on-package labels thanks to the Vermont law, because it's much easier for a company to provide GMO labels on all of the products in its supply chain than just the ones going to one state.

But this victory may be fleeting. The Senate will vote next week on a federal bill that would nullify Vermont's law and other state labeling efforts percolating, thanks to the heavy hand the ag-biotech industry wields over our congressional representatives.
Click for larger image at Bloomberg.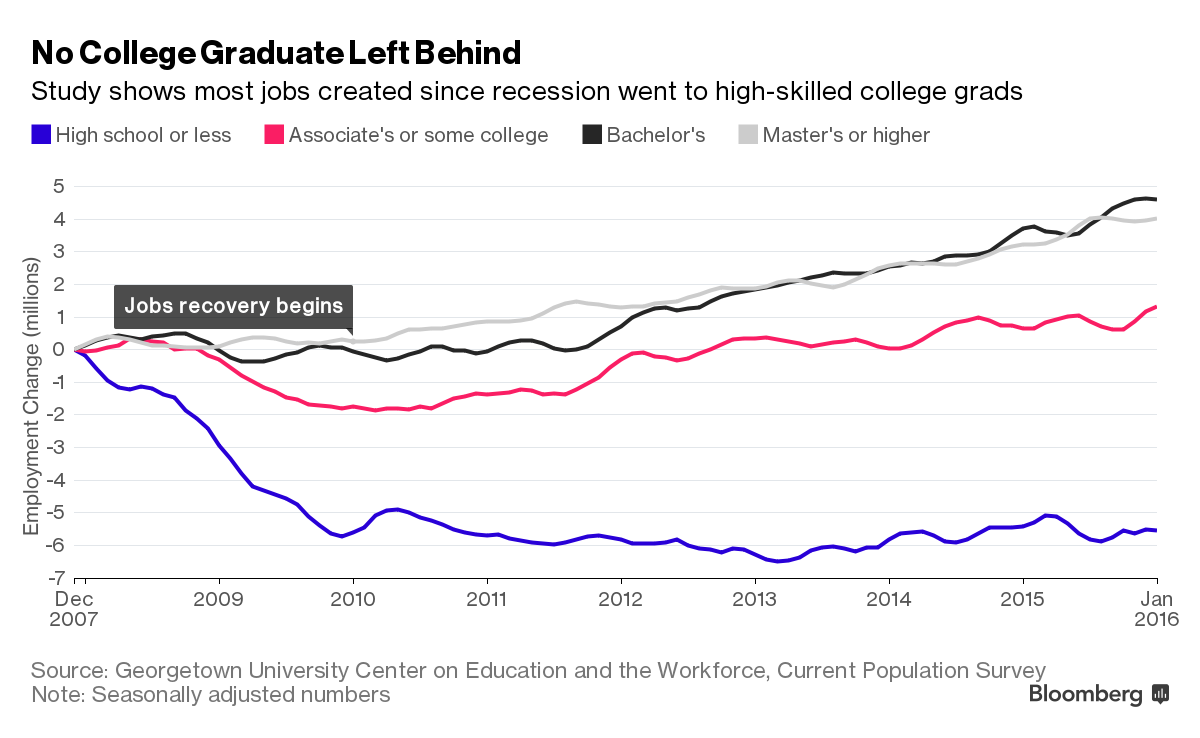 UK
Don't let the media fool you, the Leave vote was not about bigotry or racism, it was a loud cry for economic freedom, for individual freedom for the freedom to govern one's own affairs. I believe that after a relatively short-term market disruption reality will settle in and that ultimately Brixit (sic) will be seen as bullish for all.
The EU Vote last week has the same legal force as an opinion poll. I suspect it is not quite the "advisory" outcome that some have suggested but it is certainly not a legally binding mandate to trigger the exit process. Parliament is not obligated to follow through and although it may now come as a surprise that few bothered to explain any of this beforehand, the failure to communicate it changes nothing.

Article 50 would be the mechanism by which the UK triggered the process of negotiating exit. It may not require an Act of Parliament to activate Article 50 but it has always been doubtful that the Prime Minister is able to use Prerogative Powers to pull the Article 50 trigger unilaterally. Of course an incoming Prime Minister may well feel he or she has a moral duty to deliver the wishes of the electorate and may well have said so in their leadership manifesto irrespective of whether they backed Remain or Leave themselves. However, whether they can then go on to deliver an outcome that satisfies the Leave campaign is far from certain.
France
If a nation has a trade deficit, and cannot create its money out of thin air, then the nation will have ever-increasing debt, poverty, austerity, inequality, unemployment, and privatization.

There are no exceptions to this rule. None. Never.

France has a trade deficit, and cannot create its money out of thin air. Therefore, as seen in the chart below, an average of 2.011 billion more euros flow out of France each month than come into France. This means that France must borrow an average of 2.011 billion more euros each month. France goes 2.011 billion euros deeper into debt each month.

... France will eventually become Greece.
Other Scientific, Health, Political, Economics and Business Items of Note - plus Miscellanea
Let's see if you can figure this out.

We know that the U.S. government is "broke," since money is physical, and is therefore limited. Right?

I mean, it's not like the U.S. government can create money out of thin air, simply by changing the numbers in bank accounts.

This is why there is no money for something like universal social security.

Now suppose I won a lottery prize of $200 million. That much money in hundred-dollar bills would weigh 2.2 tons. I presume that the money would be loaded onto a dozen armored cars, and delivered to the bank of my choice. I could then access that money using a debit card.

Here is the profound mystery…

If money is physical, then how does the bank manage to squeeze 2.2 tons of money into one of those little plastic cards?
Over the past 2-3 years, we have seen a number of commercial carriers pull out of the public exchange space, due to poor experience. The end result is an exchange with a single carrier or "payer," to take care of our national health care needs.

Do we really have an exchange if we have only one manufacturer? Nope, if it looks like a single-payer system and it works like a single-payer system, it must be a single-payer system.
It has been my opinion, for a number of years, until we lower the claims, not just the cost of care, we will not lower the cost of healthcare. Let's put that into a formula: Lower Claims = Lower Cost of Healthcare.

... The fact is there will always be certain claims that occur, that we cannot prevent. However, if we decreased obesity, smoking and sugar intake by 10%, all while increasing exercise and health awareness by 20% I am convinced that we would see a drop in claims, ultimately driving down premiums.
Adam Smith is said to be the founder of modern economics.[1] Yet, contrary to a widespread view, Smith regarded individuals as driven by moral motives as well as self-interest. This is most clear in his Theory of Moral Sentiments, but ideas of justice and morality also pervade his Wealth of Nations.[2]

It took economics a while to get rid of this argument. In two classic works published in 1871, William Stanley Jevons and Carl Menger placed individual self-interest at the foundation of economics. Three years later, Léon Walras built neoclassical general equilibrium analysis upon a similar assumption. For the next 100 years or more, self-interested, utility-maximizing, "economic man" was the centerpiece of mainstream economic theory.
Those making $10,000 a year have the highest migration rates—about 4.5 percent per year. As incomes climb, the migration rate falls steadily, until it reaches its lowest point (2 percent) for those making $90,000 a year. Once incomes reach millionaire-level, the migration rate increases, but only slightly. As the study points out, "higher-income earners show greater residential stability … than do low-income earners." In other words, the well-off tend to be even more settled than other residents.
The FTSE Index (London) has been in a down trend the past year (lower highs and lower lows). Over the past 6-years, it remains in an uptrend, so far higher lower and higher highs.

The news last week did NOT cause the FTSE to break rising channel (A) support.

At the time, the FTSE is near falling resistance at (1). Despite all negative attention on Europe last week, the FTSE is closer to a breakout than a breakdown at (1) below.

If Europe is really in trouble from a stock market perspective, rising support channel (A) needs to break and so far it has not.
Click for large image at Kimble Charting Solutions.

Make a Comment
Econintersect

wants your comments, data and opinion on the articles posted. As the internet is a "war zone" of trolls, hackers and spammers -

Econintersect

must balance its defences against ease of commenting. We have joined with Livefyre to manage our comment streams.

To comment, just click the "Sign In" button at the top-left corner of the comment box below. You can create a commenting account using your favorite social network such as Twitter, Facebook, Google+, LinkedIn or Open ID - or open a Livefyre account using your email address.
---
---
Econintersect Behind the Wall
---
---
---
---
---
| | |
| --- | --- |
| Print this page or create a PDF file of this page | |
---
The growing use of ad blocking software is creating a shortfall in covering our fixed expenses. Please consider a donation to Econintersect to allow continuing output of quality and balanced financial and economic news and analysis.
---
---
---
---
---
---
---
---