>> Click Here for Historical Wall Post Listing <<
Econintersect: Every day our editors collect the most interesting things they find from around the internet and present a summary "reading list" which will include very brief summaries (and sometimes longer ones) of why each item has gotten our attention. Suggestions from readers for "reading list" items are gratefully reviewed, although sometimes space limits the number included.
This feature is published every day late afternoon New York time. For early morning review of headlines see "The Early Bird" published every day in the early am at GEI News (membership not required for access to "The Early Bird".).
BECOME A GEI MEMBER - IT's FREE!
Every day most of this column ("What We Read Today") is available only to GEI members.
To become a GEI Member simply subscribe to our FREE daily newsletter.
The rest of this post is available only the GEI Members. Membership is FREE - click here
Topics today include:
Articles about events, conflicts and disease around the world
Global
I'm fed up with the hype around blockchain. It's not rocket science, it's not revolutionary and it's not even that smart. And it's not going to change the world.

Anyone who has worked on payment systems – as I have – knows that a payment system consists of two essential components: a ledger, and a means of sending and receiving messages. In a minimalist world, that is all a payment system needs. The rest of the complexity in payment systems arises from incomplete networks, imperfect information and – above all – the need to protect against human fraud and error.

Blockchain is a stripped-down payments system. It consists of a distributed ledger and peer-to-peer messaging. Ok, so the private keys stuff is smart – though it is not without its problems. But it is still essentially a protected messaging service. It is not rocket science.
U.S.
Over the course of the Obama presidency, we've watched as Republicans have thrown out many of the norms that have been established in order to keep our democracy functioning. It isn't just things like shouting "You lie!" in a presidential address before a joint session of Congress. And it isn't just a requirement that basically any vote (including presidential nominations) get a super majority in the Senate. It includes doing things like overtly undermining the executive branch during complex negotiations with other countries (i.e., Iran nuclear deal and Paris climate accord) and failing to give a Supreme Court nominee a hearing. Remember back during Obama's first term when Republicans were taking the global economy hostage by threatening to not raise the debt limit?
EU
Today, as Europe faces difficult questions about its future, exemplified in the UK's upcoming referendum on its European Union membership, perhaps Germany's experience in the late nineteenth century can be brought usefully to bear. If so, there are few better guides to that experience – and our own – than Friedrich Nietzsche, one of the most perceptive thinkers of his time.

Nietzsche was a fearsome critic of the "blood and iron" power politics by which Bismarck had brought about German unity. He called it an example of the "slave morality" that he lambastes in his great work On the Genealogy of Morality – a "lowly" approach to morality, focused simply on relieving suffering.

In Beyond Good and Evil, Nietzsche went further, exploring how a superior political system – based on "master morality," which transcends simplistic notions of "good" and "bad" to develop values from a position of nobility and strength – would look. He envisioned a united Europe, led by a trans-European cultural elite focused not on grandeur, but on the development of a new European culture.

Only through unification, Nietzsche argued, could continental Europe have a strong voice in world affairs. ..... The alternative – the power politics in which Bismarck was engaged – was "petty," as it was premised upon European fragmentation and disintegration.
UK
Japan
North Korea
China
Other Scientific, Health, Political, Economics and Business Items of Note - plus Miscellanea
Merely touching money has the power to alter our behavior. Money makes us more selfish, less helpful, and less generous towards others.One experiment, for example, had a pedestrian drop a bus pass in front of people who had just gotten money out of a cash machine or merely walked past the machine. People who had gotten money out of the cash machine were less likely to alert the woman that she had dropped her pass. While money can hamper helpfulness, it also confers psychological advances in the form of making people more persistent and more successful at solving challenging problems.
President Reagan's famed economic adviser Milton Friedman often thought outside the economics box. In 1969, Friedman proposed that the best way to stimulate economies was to take bundles of cash up in helicopters and throw them out for everyone. His student, former Fed Chair Ben Bernanke, referring to Friedman's idea, earned the nickname "Helicopter Ben."
CEO Mark Zuckerberg is making his company an autocracy, just like Rupert Murdoch's Fox.

Paying media companies for content, then trapping their users is not a business model.

Facebook's money and power may look unlimited, but that can change.
Facebook (NASDAQ:FB) is getting sued. No big deal right? They always get sued for one reason or another right? Perhaps, but this lawsuit tackles the heart of one of Facebook's lifelines.

As of today, I have been unable to find any media organization that has picked up this lawsuit. Also, it is not mentioned specifically in eitherFacebook's 2015 annual report, its most recent quarterly 10-Q SEC filing or any other subsequent filings.
 Nearly 10 million households qualify as "unbanked," meaning they don't have any traditional banking products such as a checking account. Another 25 million are "underbanked," meaning they have an account but still turn to payday loans or similar products. Together, these two groups comprise nearly a third of all households in the country. The so-called alternative products they rely on—payday loans, prepaid debit cards, check-cashing services—cost them almost $90 billion a year in interest and fees, or an average of about $2,400 per family.

The United States Postal Service would be a much friendlier lender. If the USPS were to offer debit cards, savings accounts, and small-dollar loans, it could save the average underbanked family more than $2,000 a year. Even if just a tenth of the 12 million people who take out payday loans every year instead got a small loan from the post office, they would save more than half a billion dollars.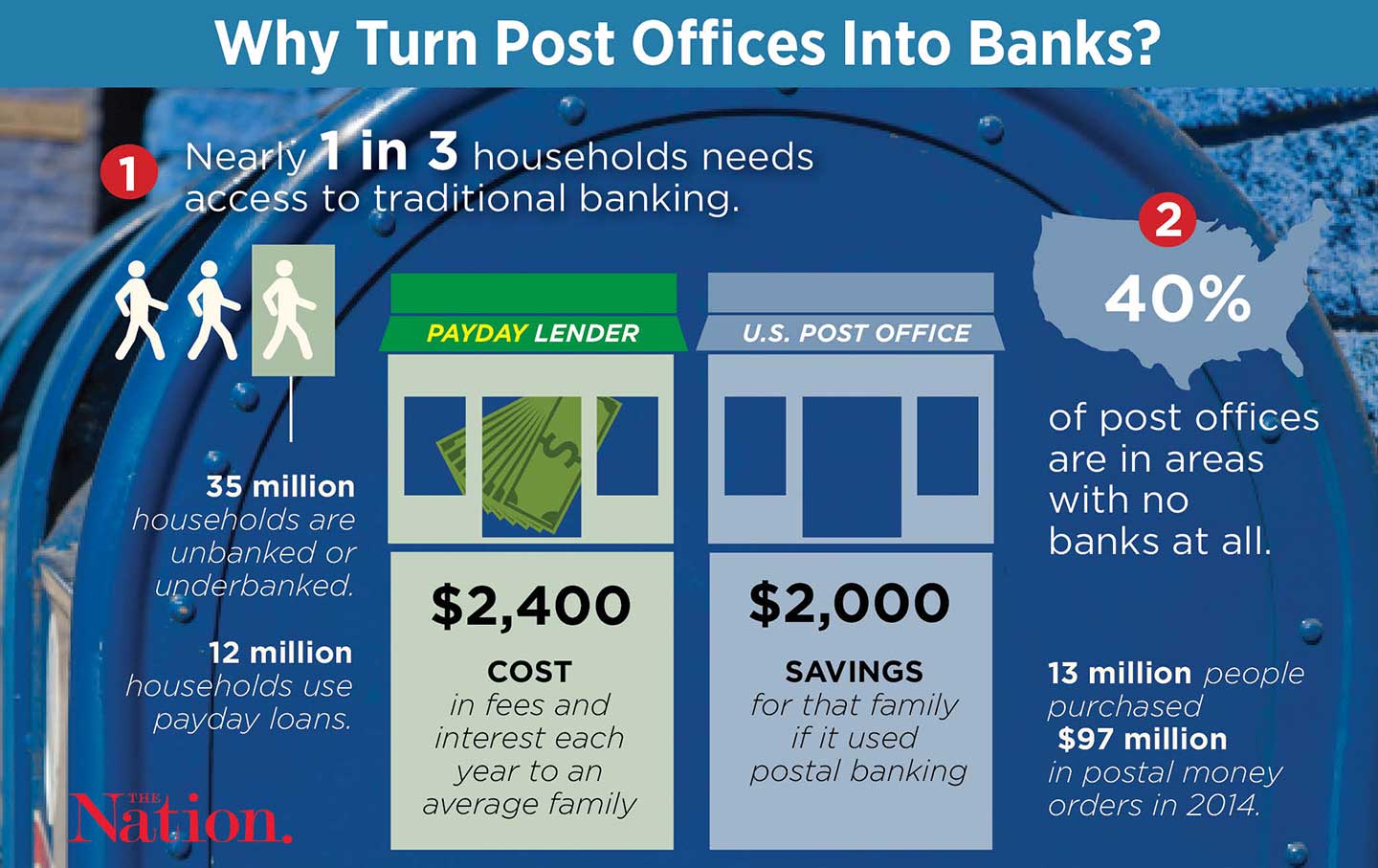 The industry is in urgent need of reinventing itself, and will need to invest in Carbon Capture & Storage (CCS) infrastructure at scale and develop products with low embedded carbon if it is to be ready for a low-carbon future. Although some companies are starting to take these steps, the current pace of change is not fast enough. CDP estimates that the carbon intensity of the industry needs to be reduced by 40% from current 'best in class' levels which many companies are not yet attaining.
Amprius' innovation lies in its use of silicon nanowires in the negative side of a lithium-ion battery instead of the conventional carbon. Silicon has long been known to researchers for its potential to increase battery density because one silicon atom can hold on to four lithium ions, while it takes six carbon atoms to hold just one lithium ion. That's a huge advantage. However, shuttling all of those lithium ions into and out of silicon causes it to swell to three times its original size, and inevitably causes the silicon to fracture and destroy itself after just a few cycles. To overcome the issues caused by silicon swelling, Amprius' founder Professor Yi Cui developed a silicon nanowire electrode that leaves room for thin "hairs" of silicon to swell and shrink as they absorb lithium. The unique geometry allows the battery to cycle repeatedly without damaging the delicate silicon—and unlocks all of the energy density benefits of using silicon instead of carbon.
Make a Comment
Econintersect

wants your comments, data and opinion on the articles posted. As the internet is a "war zone" of trolls, hackers and spammers -

Econintersect

must balance its defences against ease of commenting. We have joined with Livefyre to manage our comment streams.

To comment, just click the "Sign In" button at the top-left corner of the comment box below. You can create a commenting account using your favorite social network such as Twitter, Facebook, Google+, LinkedIn or Open ID - or open a Livefyre account using your email address.
---
---
Econintersect Behind the Wall
---
---
---
---
---
| | |
| --- | --- |
| Print this page or create a PDF file of this page | |
---
The growing use of ad blocking software is creating a shortfall in covering our fixed expenses. Please consider a donation to Econintersect to allow continuing output of quality and balanced financial and economic news and analysis.
---
---
---
---
---
---
---
---