>> Click Here for Historical Wall Post Listing <<
Econintersect: Every day our editors collect the most interesting things they find from around the internet and present a summary "reading list" which will include very brief summaries (and sometimes longer ones) of why each item has gotten our attention. Suggestions from readers for "reading list" items are gratefully reviewed, although sometimes space limits the number included.
This feature is published every day late afternoon New York time. For early morning review of headlines see "The Early Bird" published every day in the early am at GEI News (membership not required for access to "The Early Bird".).
BECOME A GEI MEMBER - IT's FREE!
Every day most of this column ("What We Read Today") is available only to GEI members.
To become a GEI Member simply subscribe to our FREE daily newsletter.
Topics today include:
What Might Happen Tomoorow at OPEC Meeting in Doha?
Latest on Mounting Death, Injury and Destruction from Multiple Earthquakes in Southern Japan 
How to Minimize State and Local Taxes
The American Prophet Who Predicted Trump
Trump's Path to Clinch Nomination Before Convention
Damaging Economics of School Choice

Research Needed on Economics of Climate Change

TripAdvisor Does Increase Travel, Report Says

G-20 Threatens Action Against Tax Havens

Investment Banks Keep Cutting and Losing Revenue

Everybody Ganging Up on Donald Trump

Iran Wants its Money

South Africa Needs New Economic Curriculum
Americans Happy at Home, Unhappy with Washington
---
NOTICE:  Due to a processing timing error, What We Read Today did not appear in yesterday's newsletter.  Content from that post has been added to today's article.
---
Articles about events, conflicts and disease around the world
Global
G-20 Threatens Penalties on Tax Havens After Panama Papers(Bloomberg)   Group of 20 economies threatened to penalize havens that don't share information on their banking clients after the leak of the Panama Papers provoked a global uproar over tax evasion.  The G-20 will consider "defensive measures" against financial centers and jurisdictions that don't commit to an international standard requiring the exchange of information about account holders, the group's finance ministers and central bankers said Friday in a statement after meeting in Washington.  The group said it would work with the OECD to come up with criteria for identifying "non-cooperative jurisdictions" by July, adding that improving the transparency on who controls legal tax entities is vital to the international financial system.
U.S.
The American Prophet Who Predicted Trump (The Daily Beast)  Whether or not Donald Trump knows it, he's running his presidential campaign out of Eric Hoffer's playbook.  That would be The True Believer, published 65 years ago this spring, a book about mass movements. Hoffer's big insight was that the followers of Nazism and Communism were essentially the same sort of true believers, the most zealous acolytes of religious, nationalist, and other mass movements throughout history. In 1951, it was stunning to Americans to be told that ultra-right-wing Nazis and ultra-left-wing Communists—their recent enemies of World War II and current enemies in the Cold War—were, according to Hoffer, cut from the same cloth.  Hofler explained:
"All mass movements irrespective of the doctrine they preach and the program they project, breed fanaticism, enthusiasm, fervent hope, hatred, and intolerance."
Greece
Migrant crisis: Pope returns from Greece with 12 migrants (BBC News)  Pope Francis has taken 12 Syrian migrants back with him to the Vatican after visiting a camp on the Greek island of Lesbos.  The three families, including six children, are all Muslim and had their homes bombed during the Syrian war.  The Vatican said in a statement that Pope Francis wanted to "make a gesture of welcome'' to the refugees.  Thousands of migrants are now stuck on Lesbos after last month's EU-Turkey deal to try to ease the flow.  Comment from Twitter, below.
Iran
Iran Seeks Access to Its $100 Billion Via U.S. Financial System(Bloomberg)  Three months after a nuclear deal was implemented between Iran and western powers, the Islamic Republic has been unable to tap about $100 billion held abroad and is seeking access to the U.S. financial system to help pay its bills, Central Bank Governor Valiollah Seif said.  While Iranian deposits held abroad are supposed to be accessible, Seif said Friday that European banks are worried about running afoul of U.S. regulations. He wants the U.S. Treasury's Office of Foreign Assets Control to issue guidelines encouraging European banks to be more receptive to Iran. Seif met Treasury Secretary Jack Lew Thursday on the sidelines of the IMF-World Bank meetings in Washington to discuss his concerns.
South Africa
South Africa: Economics - Time to Design a New Curriculum (All Africa)  A good essay which concludes with questions about the relevance of mainstream economics to some of the greatest challenges in South Africa, and the author would add, the world. The call to change economics curricula is a global one.
Japan
Death Toll From Southern Japan's Two Earthquakes Rises to 41 (Bloomberg)  The death toll from earthquakes in southern Japan reached 41 after a series of temblors struck Kyushu island overnight, including one more powerful than the quake that hit Kumamoto a day earlier.  A magnitude-7.3 quake occurred at a depth of 12 kilometers (7.5 miles) at 1:25 a.m. local time Saturday in Kumamoto, causing strong vibrations across the island with a population of 13 million people. Almost 2,000 people were injured in the most recent quake, according to Japanese broadcaster NHK.  Search and rescue operations are underway with about 20,000 personnel mobilized by the national government.  Evacuation has been ordered for 170,000 and 200,000 homes are without power.  Nuclear power plants in the area, recently reactivated after review and bolstering of earthquake safety, were undamaged.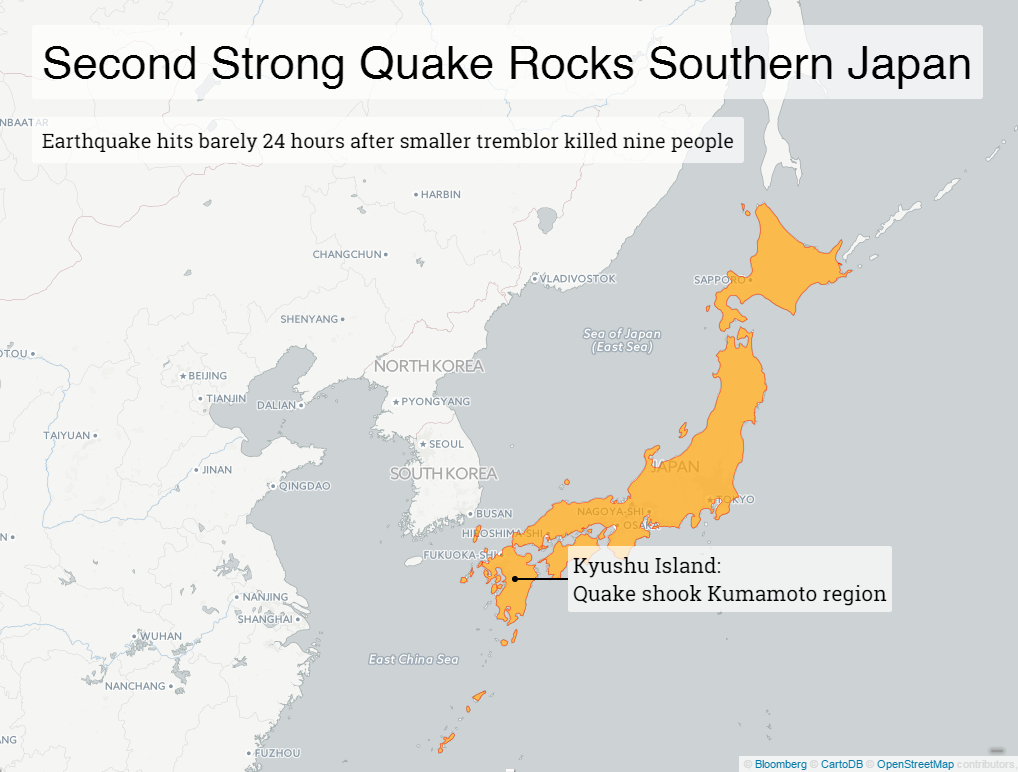 Brazil
Brazil's Rousseff: Impeachment backers 'protecting the corrupt' (BBC News)   Brazilian President Dilma Rousseff has accused those backing her impeachment of condemning the innocent to protect the corrupt.  Writing in Folha de Sao Paulo, she said this was an attempted coup to replace the legitimate government.  Several lawmakers supporting her impeachment face corruption charges.  On Sunday, MPs in the lower house will vote on whether to impeach Ms Rousseff on charges of manipulating government accounts ahead of her 2014 re-election.
Other Scientific, Health, Political, Economics and Business Items of Note - plus Miscellanea
The Best—and Worst—States to Avoid Income Taxes (Bloomberg)  The most progressive state income tax structures are at the top of the table below.  The least progressive (most flat tax) state are at the bottom.  Note that Alabama is actually regressive, taxing the highest incomes at a lower rate than lower incomes.  So the best and worse states for income taxes depend to some extent on whether you have low or high income, although states like Hawaii and Oregon look bad for everyone and North Dakota looks good for all.  Of course the best states for income tax burden are the seven that do not have a state income tax of any kind and the two states which tax only interest and dividends.  So to minimize state and local taxes requires planning and strategy.  An example would by to take your high earned income to New Hampshire, invest only in growth stocks (or other growth ventures) that do not pay interest and dividends and live in a shack (to avoid high real estate taxes).  
Table below has two sections (upper and lower).  Each section has click to enlarge capability.
Make a Comment
Econintersect

wants your comments, data and opinion on the articles posted. As the internet is a "war zone" of trolls, hackers and spammers -

Econintersect

must balance its defences against ease of commenting. We have joined with Livefyre to manage our comment streams.

To comment, just click the "Sign In" button at the top-left corner of the comment box below. You can create a commenting account using your favorite social network such as Twitter, Facebook, Google+, LinkedIn or Open ID - or open a Livefyre account using your email address.
---
---
Econintersect Behind the Wall
---
---
---
---
---
| | |
| --- | --- |
| Print this page or create a PDF file of this page | |
---
The growing use of ad blocking software is creating a shortfall in covering our fixed expenses. Please consider a donation to Econintersect to allow continuing output of quality and balanced financial and economic news and analysis.
---
---
---
---
---
---
---
---