>> Click Here for Historical Wall Post Listing <<
Econintersect: Every day our editors collect the most interesting things they find from around the internet and present a summary "reading list" which will include very brief summaries (and sometimes longer ones) of why each item has gotten our attention. Suggestions from readers for "reading list" items are gratefully reviewed, although sometimes space limits the number included.
This feature is published every day late afternoon New York time. For early morning review of headlines see "The Early Bird" published every day in the early am at GEI News (membership not required for access to "The Early Bird".).
BECOME A GEI MEMBER - IT's FREE!
Every day most of this column ("What We Read Today") is available only to GEI members.
To become a GEI Member simply subscribe to our FREE daily newsletter.
The rest of this post is available only the GEI Members. Membership is FREE - click here
Topics today include:
Extinction for Pollinatators

Oil Starting a Bull Run?

GOP Desperation to Stop Trump

States Cutting Unemployment Benefits

Is the Economy Only Creating Low-Wage Jobs?

Syrian Cease-Fire Complaints

Chinese Billionaire Shut Out of Social Media by Government

The 100-Year-Old Law that Unnecessarily Makes Everything More Expensive

Americans Don't Know What Single-Payer Means

Teachers' Pay Varies Widely by State

And More
Articles about events, conflicts and disease around the world
Global
A mass extinction of bees and butterflies could threaten world food crops, UN report finds (Mashable) Hat tip to Roger Erickson, who suggests the headline might be: "Killing of Golden Goose Could Threaten Stupid Goose Farmers". Many species of wild bees, butterflies and other critters that pollinate plants are shrinking toward extinction, and the world needs to do something about it before our food supply suffers, a new United Nations scientific mega-report warns. The 20,000 or so species of pollinators are key to hundreds of billions of dollars' worth of crops each year — from fruits and vegetables to coffee and chocolate. Yet 2 out of 5 species of invertebrate pollinators, such as bees and butterflies, are on the path toward extinction, said the first-of-its-kind report. Pollinators with backbones, such as hummingbirds and bats, are only slightly better off, with 1 in 6 species facing extinction.
Oil still under pressure, but bulls are on the run (CNBC) The hunt for a crude oil bottom continues. But for now, at least, the bulls appear to have some wind at their backs. A week after WTI crude oil fell to its lowest level in more than a decade, some oil industry stakeholders appear to be hard at work trying to find reasons why the worst is over for crude.
U.S.
Inside the Republican Party's Desperate Mission to Stop Donald Trump (The New York Times) Karl Rove, addressing a luncheon of Republican governors and donors in Washington on Feb. 19, warned that Donald J. Trump's increasingly likely nomination would be catastrophic, dooming the party in November. But Mr. Rove, the master strategist of George W. Bush's campaigns, insisted it was not too late for them to stop Mr. Trump, according to three people present. And Senate majority leader, Mitch McConnell of Kentucky, has laid out a plan that would have lawmakers break with Mr. Trump explicitly in a general election. Econintersect: When will politicians learn that the American government is not about them? See last item in today's WWRT below.
States reduce jobless checks, adding pressure to unemployed (Associated Press) States traditionally have offered up to half a year of aid for the unemployed as they search for new jobs. But since the end of the Great Recession, eight states have reduced the number of weeks that people can draw benefits, while others have cut the amount of money the unemployed can collect. The cutbacks generally are intended to help shore up unemployment insurance trust funds, which went insolvent in 35 states following the recession that began in 2008. The changes could save hundreds of millions of dollars for businesses that pay unemployment taxes. President Barack Obama is pushing in the opposite direction. The White House warns that states are engaging in a "damaging erosion" of unemployment benefits. Obama's budget plan would require all states to provide at least 26 weeks of benefits while expanding coverage to more part-time and intermittent workers. The Republican-led Congress appears unlikely to approve the president's plan during an election year. GOP governors and state lawmakers initiated many of the recent cutbacks to unemployment benefits. And they point to declining unemployment rates as evidence that jobs are getting easier to find.
Average Monthly Employment Change '13 to '15 by Wage Level (Justin Wolfers, Twitter) He made the point he was arguing against. It is true that the number of jobs $10 per hour and lower are shrinking, but more than half the jobs created (other than the $51+ an hour) are $11 - $17 per hour. This was about 105,000 +/- jobs. The average number of hours worked per week in 34.6 so that amounts to $19,700 to $30,300 per year. This compares to the average wage (2014) of $44,300. So more than half the jobs created among the working class (defined as those earning less than $51 an hour) were less than 2/3 the average wage and some were less than 40%. All told there were about 250,000 +/- jobs created between $11 and $49 an hour. And nearly 2/3 of these $180,000 +/- were less than the average wage. So Prof. Wolfers is correct: Not all jobs created have been low paying. Just most of them. (Data estimated from the chart provided.)
Ireland
How to Get Irish Taxpayers Smiling (Bloomberg) Ireland's next government will inherit strong economic growth and a lopsided tax system. Its main task will be to fix the second without spoiling the first. Opinion polls detect great public dissatisfaction with the established political order, and it's no surprise: When Ireland's banks imploded in 2008, the cost of bailing them out fell entirely on the nation's taxpayers. A special charge of up to 11% was imposed on almost everyone, so that marginal rates for many in the middle class now routinely exceed 50%. But the elections just held have not determined a majority party. The two top vote getters, Fine Gael and Fianna Fail, are almost identical politically but do not cooperate because of disagreement in 1921 over the Anglo-Irish Treaty. This editorial suggests that hatchett should be buried and punitive taxation be tackled.
Syria
Syrian war: Russia and opposition allege truce breaches (BBC News) Anti-government rebels and Russia have both reported breaches of the fragile truce in Syria - now in its second day. Russian planes have attacked several sites in northern Syria, activists say. Russia has not confirmed any sorties on Sunday and says it has also identified nine breaches of the truce. A cessation of hostilities was agreed as part of a US-Russian plan. Russia says that in general it is holding. It is the first major cessation of hostilities in the five years of war.
The Latest: Saudi FM says Syrian forces violating cease-fire (Associated Press) Saudi Foreign Minister Adel al-Jubeir says Syrian troops are violating the cease-fire brokered by Russia and the U.S. Al-Jubeir spoke to reporters in the Saudi capital Riyadh on Sunday during a press conference with the visiting Danish Foreign Minister. He reiterated Saudi Arabia's position that Syrian President Bashar Assad has no place in the future of Syria and that he must leave power, either peacefully or through military means.
Iraq
Twin suicide bombing kills 70 in Baghdad's deadliest attack this year (Reuters) A twin suicide bombing claimed by Islamic State killed 70 people in a Shi'ite district of Baghdad on Sunday in the deadliest attack inside the capital this year, as militants launched an assault on its western outskirts. Police sources said the suicide bombers were riding motorcycles and blew themselves up in a crowded mobile phone market in Sadr City, wounding more than 100 people in addition to the dead.
Iran
Iran Gives Ultimatum to Chinese Car Makers (FARS News Agency) Hat tip to Roger Erickson. Deputy Industry Minister Mohsen Salehinia said Chinese car making companies will have to leave the market if they fail to sign joint venture agreements with their Iranian partners. On negotiations between Iranian and European automakers, he said following the model of contract signed between Iran Khodro and Peugeot, that talks are underway between Saipa and Renault to form a joint venture company in Iran with a 50% share for each. Reportedly "Volkswagen has held talks with Kerman Khodro while KIA and Hyundai are interested in joint ventures".
Russia
Russian mine accident leaves 36 dead (BBC News) A total of 36 people, including five rescue workers, are presumed dead following an explosion at a coal mine in northern Russia, officials say. Four miners were killed when a methane leak triggered two explosions in the mine near Vorkuta on Thursday. Rescuers were trying to rescue 26 trapped miners when a new blast occurred, killing five rescue workers and a miner. The rescue operation has been halted and those missing are presumed dead. The incident is one of the worst Russian mining disasters in recent times.
China
Chinese Tycoon Loses 37 Million Web Followers After Faulting Xi (Bloomberg) China's top Internet regulator closed the social media accounts of an influential retired property developer who criticized President Xi Jinping's campaign to tighten control over state-run media. Sites including Sina Corp.'s Weibo and Tencent Holdings Ltd.'s QQ were told to shut down accounts held by Ren Zhiqiang for spreading "illegal information" and having a "negative impact," according to a statement Sunday by the Cyberspace Administration of China. Ren, the former chairman of Huayuan Property Co., is known for airing outspoken views to his more than 37 million Weibo followers. He didn't reply to a text message seeking comment. Ren is a close friend of the Communist Party's discipline chief Wang Qishan.
Other Scientific, Health, Political, Economics and Business Items of Note - plus Miscellanea
This Crazy 100-Year-Old Law Makes Almost Everything More Expensive (Foundation for Economic Education) Hat tip to John O'Donnell. There are so many laws that ought to be repealed, including countless special interest statutes that benefit a tiny group while imposing costs on a vastly greater number of Americans. But if candidates need an idea of where to start, one such law is the Merchant Marine Act of 1920, also called the "Jones Act." This law, enacted to protect U.S.merchantile shipping from foreign competition, has the effect of increasing costs of goods shipped by sea by as much as 23%, 76% and 300% in three examples given in this article.
Americans Don't Know What 'Single Payer' Means, and when they find out, they don't like it. (The Atlantic) This article discusses results of a recent poll by the Kaiser Family Foundation. See graphics below. Econintersect: The lack of understanding of Medicare seems to be endemic among non-retired Americans. See next article.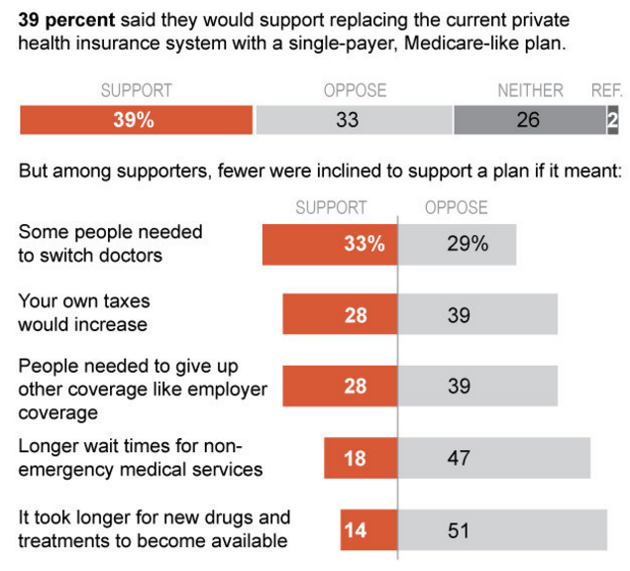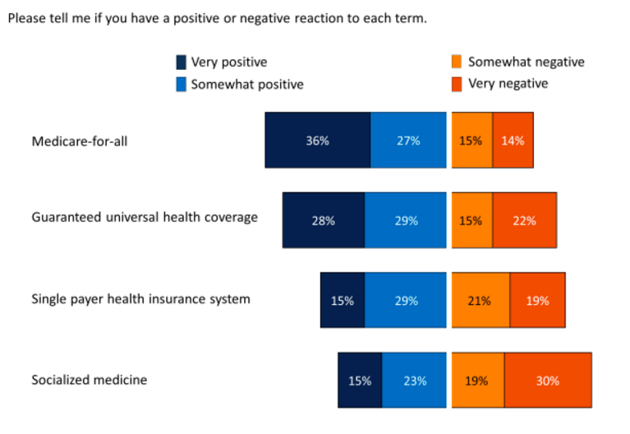 Retirement and Health Poll: Topline Findings (Robert Woods Johnson Foundation) Pre-retirees and retirees differ in their views on the future of Medicare, but neither wants a complete overhaul or major change to the program. Pre-retirees are less confident that Medicare will provide benefits of at least equal value to current benefits than retirees are (38% pre-retirees; 52% retirees). About one in three pre-retirees (33%) and retirees (36%) say that waiting two more years to receive Medicare benefits would be—or would have been—a major problem for them and their family. More pre-retirees than retirees want major changes in the Medicare program (47% pre-retirees; 32% retirees). Among retirees, 68% do not want the program changed. A major concern among the 32% who do want changes is the desire for Long-Term-Care (LTC) coverage. Yet very few knew Medicaid will pay the majority of their costs for three months in a nursing home (10% pre-retirees; 7% of retirees). Econintersect: So the level of favorable response to Medicare among retirees would probably be greater than 68% if the LTC benefit were understood. Also the 53% unfavorable rating for Medicare among pre-retirees may similarly based in part on ignorance. Finally, the suggestion that access to some doctors might be cut off (see preceding article) seems a false flag question. If all insurance were single payer almost all medical care would be provided through that insurance. How many doctors would be able to practice medicine if they didn't accept almost all of the patients available?
How much teachers get paid — state by state (The Washington Post) The data are for 2013 and represent the estimated average annual salary of teachers in public elementary and secondary schools. Boeckensted's original map, here on the Higher Ed Data Stories blog, has information for earlier years, as well. You can find the NCES original data here. See also next two articles.
How Much Is $100 Really Worth in Each State? (Mental Floss) How far does $100 go? Today's map, which comes from the Tax Foundation and uses data from the Bureau of Economic Analysis, answers that question state by state. In Mississippi, your $100 could buy $115.74 worth of stuff relative to the national average. On the other end of the spectrum is Hawaii, where you'd only get $85.32 worth. Washington, D.C. is even lower, at $84.60. Econintersect: Stating the numbers differently, a dollar in Mississippi buys, on average, almost 37% more than it does in Washington, DC. Another comparison is that a $30,000 income in Mississippi buys as much as $41,000 in the District of Columbia. See also preceding article and next article.
Where are Teachers Best Compensated? (GEI) This is work not yet published elsewhere. Using the data in the two preceding articles we have calculated the ranking of states by (average teacher salary) / (average cost of living) for each state. This is not the final word on teacher compensation because benefits are not included. There may be significant differences in healthcare benefits, disability coverage and retirement plans from state to state. Massachusetts teachers have the highest pruchasing power of any state. The table below shows the relative purchasing power of the average teacher's salary in every state, in rank order from highest to lowest. Notes:
Nebraska is the median state with teachers earning 80% of what public schools pay in Massachusetts

Half the country earns between 2/3 and 4/5 of what teachers are paid in Massachusetts

The top nine states are within 10% of the pay in Massachustts
Make a Comment
Econintersect

wants your comments, data and opinion on the articles posted. As the internet is a "war zone" of trolls, hackers and spammers -

Econintersect

must balance its defences against ease of commenting. We have joined with Livefyre to manage our comment streams.

To comment, just click the "Sign In" button at the top-left corner of the comment box below. You can create a commenting account using your favorite social network such as Twitter, Facebook, Google+, LinkedIn or Open ID - or open a Livefyre account using your email address.
---
---
Econintersect Behind the Wall
---
---
---
---
---
| | |
| --- | --- |
| Print this page or create a PDF file of this page | |
---
The growing use of ad blocking software is creating a shortfall in covering our fixed expenses. Please consider a donation to Econintersect to allow continuing output of quality and balanced financial and economic news and analysis.
---
---
---
---
---
---
---
---