>> Click Here for Historical Wall Post Listing <<
Econintersect: Every day our editors collect the most interesting things they find from around the internet and present a summary "reading list" which will include very brief summaries (and sometimes longer ones) of why each item has gotten our attention. Suggestions from readers for "reading list" items are gratefully reviewed, although sometimes space limits the number included.
This feature is published every day late afternoon New York time. For early morning review of headlines see "The Early Bird" published every day in the early am at GEI News (membership not required for access to "The Early Bird".).
BECOME A GEI MEMBER - IT's FREE!
Every day most of this column ("What We Read Today") is available only to GEI members.
To become a GEI Member simply subscribe to our FREE daily newsletter.
The rest of this post is available only the GEI Members. Membership is FREE - click here
Topics today include:
Global
U.S.
Poland
Syria
At it's core, the war in Syria is not a Kurdish fight though the Kurds do share many of the same enemies of warring parties. The Kurds have had major successes on the ground battling ISIS, but they also have significant tensions with Turkey, a major partner in the U.S. strategy to support rebel groups in Syria. But defeating either of these enemies is overshadowed by the Kurds' first priority in Syria, which is to secure territory they are able to self-govern. And they are ready to adjust their allegiances in accordance with whichever side is most likely to help them achieve this goal — even the Syrian regime. Kurdish militias aligning closer to pro-regime forces could jeopardize U.S. policy in Syria, which aims for the defeat of both ISIS and Syrian President Bashar Assad.
Russia
Cuba
Venezuela
---
In U.S., Socialist Presidential Candidates Least Appealing (Gallup Poll) In this June 2015 poll more Americans said they would vote for a Muslim or an atheist than said they would vote for a socialist. See also next article.
---
"Socialism" Not So Negative, "Capitalism" Not So Positive (Pew Research) In this poll taken in 2010, Pew found that some words evoke strong political reaction. The variations among liberal, moderate, conservative, Democrat and Republican self-identifications are as one might expect.
---
Democrats more divided on socialism (YouGov) Polling on the subject of socialism in America has changed little as Bernie Sanders' campaign has progressed, even among Democrats. See first graphic below. Why is he holding up so far in primaries? Because of his young supporters. See second graphic below.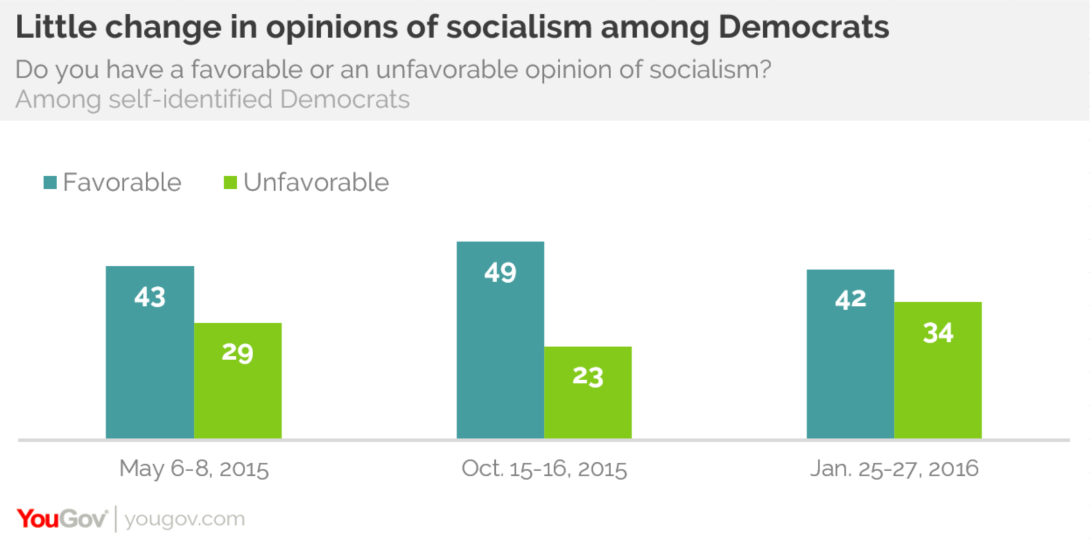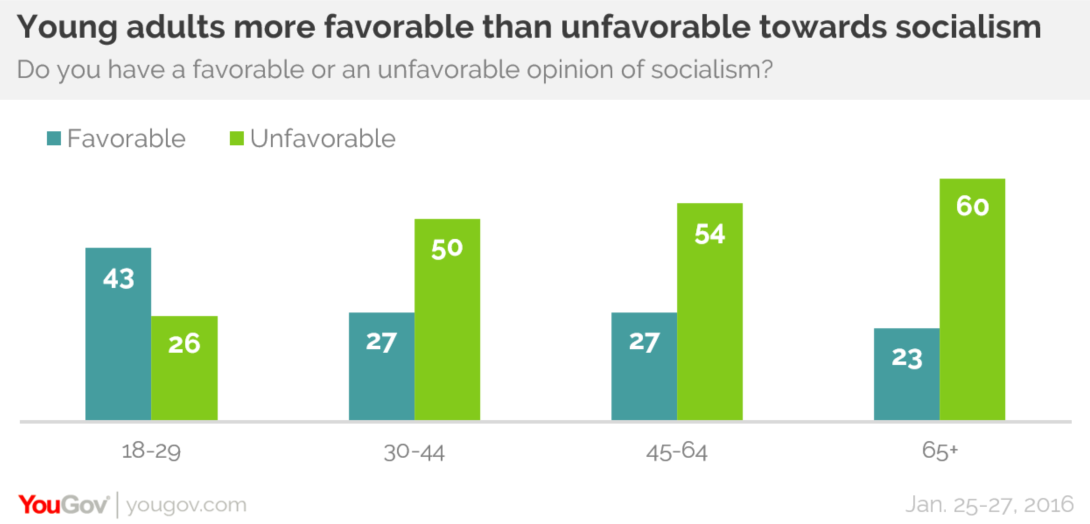 Other Economics and Business Items of Note and Miscellanea
"Our new research supports early divergence: 10 million years ago for the human-gorilla split and 8 million years ago for our split from chimpanzees. That's at least 2 million years earlier than previous estimates, which were based on genetic science that lacked fossil evidence.

"Our analysis of C. abyssinicus fossils reveals the ape to be only 8 million years old, younger than previously thought. This is the time period when human and African ape lines were thought to have split, but no fossils from this period had been found until now,"
Although now long retired, the octogenarian George Soros is widely considered the greatest speculator of all time. Other investors such as Ray Dalio may have made more money for their investors than Soros. Activists such as Carl Icahn may have briefly exceeded Soros's net worth.

But Soros will always remain the man who "broke the Bank of England" in 1992, thereby exemplifying a gunslinging style of trading that has been largely confined to the history books.
In the past couple of decades, index-style investing has become the strategy of choice for millions of investors who are satisfied by duplicating market returns instead of trying to beat them. Research by Wharton faculty and others has shown that, in many cases, "active" investment managers are not able to pick enough winners to justify their high fees.
Passive management generally works best for easily traded, well-known holdings like stocks in large U.S. corporations ... because so much is known about those firms that active managers are unlikely to gain any special insight. "You should almost never pay for active management for those things."

But in certain niche markets ... like emerging-market and small-company stocks, where assets are less liquid and fewer people are watching, it is possible for an active manager to spot diamonds in the rough.
To nail down a strategy that works for you, begin by making sure you fully grasp the differences between the two investing approaches.

In simple terms, actively managed funds are those with professional stock pickers at the helm. This kind of fund strives to beat its benchmark — an index — by relying on sophisticated research and human judgment calls to determine which stocks the fund should buy and sell.
Make a Comment
Econintersect

wants your comments, data and opinion on the articles posted. As the internet is a "war zone" of trolls, hackers and spammers -

Econintersect

must balance its defences against ease of commenting. We have joined with Livefyre to manage our comment streams.

To comment, just click the "Sign In" button at the top-left corner of the comment box below. You can create a commenting account using your favorite social network such as Twitter, Facebook, Google+, LinkedIn or Open ID - or open a Livefyre account using your email address.
---
---
Econintersect Behind the Wall
---
---
---
---
---
| | |
| --- | --- |
| Print this page or create a PDF file of this page | |
---
The growing use of ad blocking software is creating a shortfall in covering our fixed expenses. Please consider a donation to Econintersect to allow continuing output of quality and balanced financial and economic news and analysis.
---
---
---
---
---
---
---
---