>> Click Here for Historical Wall Post Listing <<
Econintersect: Every day our editors collect the most interesting things they find from around the internet and present a summary "reading list" which will include very brief summaries (and sometimes longer ones) of why each item has gotten our attention. Suggestions from readers for "reading list" items are gratefully reviewed, although sometimes space limits the number included.
This feature is published every day late afternoon New York time. For early morning review of headlines see "The Early Bird" published every day in the early am at GEI News (membership not required for access to "The Early Bird".).
BECOME A GEI MEMBER - IT's FREE!
Every day most of this column ("What We Read Today") is available only to GEI members.
To become a GEI Member simply subscribe to our FREE daily newsletter.
The rest of this post is available only the GEI Members. Membership is FREE - click here
Today we have a section on the future of solar electovoltaic electricity generation.
Articles about events, conflicts and disease around the world
Global
U.S.
"According to the complaint, as part of Emanuel Lutchman's attempt to provide material support to ISIL, he planned to kill innocent civilians on New Year's Eve in the name of the terrorist organization. Thankfully, law enforcement was able to intervene and thwart Lutchman's deadly plans."
Palestine
Saudi Arabia
Mexico
---
America's Solar Energy Potential (Energy Independence) Every hour, the sun radiates more energy onto the earth than the entire human population uses in one whole year. This article states that "Solar power alone could provide all of the energy Americans consume." and that "The technology required to harness the power of the sun is available now." The article goes through the calculations to show that in the U.S. southwest, about 200 square feet of solar panels will provide more than enough electricity to power an average size home. In much of the northeastern U.S., Great Lakes area and eastern Canada double the number of solar panels are required. See first graphic below. The cost of solar electricity will be less than all other sources before 2020 and solar will be producing about 7% of all electricity globally in about five years. See second graphic below.
---
Adding Energy Storage To Home Solar: Does It Make Sense? (Clean Technica) The general consensus seems to be that adding storage systems to solar systems on individual homes today is still a bit dicey – payback times at current prices can be a decade or longer (see chart below for Victoria, Australia) – but that large scale use by utilities can offer significant operational and cost advantages. Of course payback depends on the size of the storage system, storage costs now and in the future, size and cost of the associated solar PV array, the structure of electricity tariffs and incentives, the regulatory environment, and the size of the solar resource. It is clear that utility scale storage will be have a much better economic case far into the future. See next article.
---
The Future of Commercial Energy Storage in One Graph (Solar Grid Storage) Grid storage for solar power will grow at an estimated 34% a year over the next five years which will quadruple the capacity in that time.
---
The future role and challenges of Energy Storage (DG ENER Working Paper, European Commission Directorate-General for Energy) This paper has a large section that discusses hydro-pumped storage. The paper describes the "field of play" thusly:
Other Economics and Business Items of Note and Miscellanea
... theorising, like Einstein's and Schrödinger's, straddled physics and philosophy because the questions raised by the new quantum realities radically challenge taken-for-granted accounts of everyday life and being. Non- local causation and inseparable individuals contradict assumptions of atomistic individualism and zero-sum conflict between groups in social as well as physical life.

An entangled or co-operative economics would be far removed from the economic "rationalities" that dominate existing theory and practice. The euro zone crisis politically entangles Irish, German, Greek, and Spanish citizens.
"This invention may also be used in connection with a door or window, so as to kill any person or thing opening the door or window to which it is attached."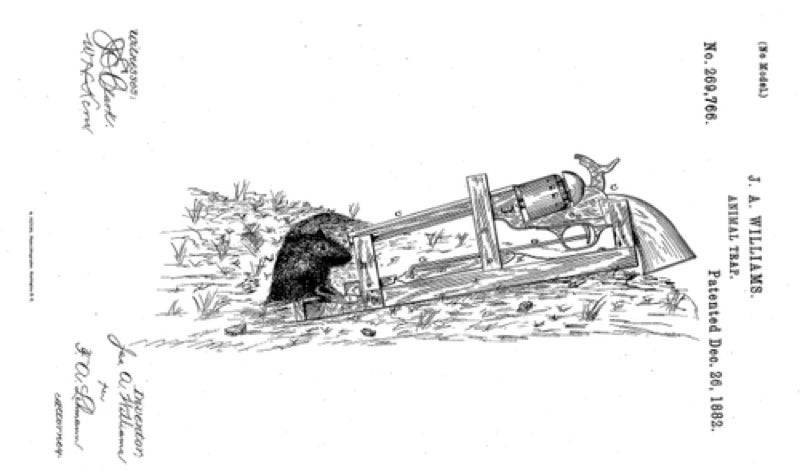 Make a Comment
Econintersect

wants your comments, data and opinion on the articles posted. As the internet is a "war zone" of trolls, hackers and spammers -

Econintersect

must balance its defences against ease of commenting. We have joined with Livefyre to manage our comment streams.

To comment, just click the "Sign In" button at the top-left corner of the comment box below. You can create a commenting account using your favorite social network such as Twitter, Facebook, Google+, LinkedIn or Open ID - or open a Livefyre account using your email address.
---
---
Econintersect Behind the Wall
---
---
---
---
---
| | |
| --- | --- |
| Print this page or create a PDF file of this page | |
---
The growing use of ad blocking software is creating a shortfall in covering our fixed expenses. Please consider a donation to Econintersect to allow continuing output of quality and balanced financial and economic news and analysis.
---
---
---
---
---
---
---
---