>> Click Here for Historical Wall Post Listing <<
Econintersect: Every day our editors collect the most interesting things they find from around the internet and present a summary "reading list" which will include very brief summaries of why each item has gotten our attention. Suggestions from readers for "reading list" items are gratefully reviewed, although sometimes space limits the number included.
---
There are 12 articles discussed today 'behind the wall'.
The final article discussed resulted in a short article discussing the economic effects of the Fed raising interest rates and/or selling treasury securities from its balance sheet.

Please support all that we do at Global Economic Intersection with a subscription to our premium content 'behind the wall'.
There are between 75 and 100 articles reviewed most weeks. That is in addition to the 140-160 articles of free content we provide.

You get a full year for only $25.
---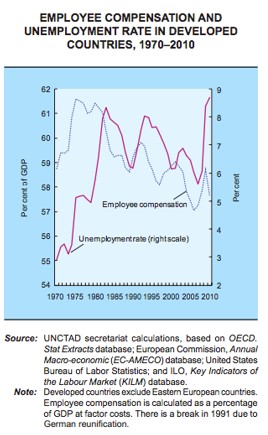 ... when we talk about infrastructure in the USA - we need to remember in the 21st century that it includes the internet. Europe and Asia are far ahead of the USA. As we start to build the Internet of Things we will get more data about the real world, and that data, teamed with what we already know about the world, will allow us to make more intelligent decisions. This will allow us to be much smarter in how we use resources. I am careful to use the word 'smarter' instead of smart because we see this as a journey, to start to instrument things and get new insight. This allows you to improve services and get to new places which then become the new 'norm' which you can evolve from.
Click on graphic for large image at Scientific American.

Here is what Treece has to say:
This wouldn't be the worst possible Fed reaction, but it's nevertheless the wrong tack. Instead of raising near-term rates by adjusting the Fed funds or discount rates, the Fed should liquidate all or some of its excessive portfolio of long-term US treasury bonds.

The majority of this country's major economic expansions of the past century have been preceded by a steepening of the yield curve (the line drawn along yield rates of US treasury notes and bonds of various durations), not a flattening. With long-term rates currently just above short-term rates - and offering almost zero return to long-term fixed income investors like retirees or pension funds - it's far more important to see increases in long-term rates rather than shorter-term. After all, raising short-term rates would serve to flatten the yield curve, which historically precedes a slowdown of economic growth, and with short-term rates at or near zero, they simply can't be cut any more than they already have.
The effect of a flattening yield curve is correctly discussed. The statements about the current condition of the yield curve couldn't be more wrong (see emphasis we added above):
If the Fed raised short-term rates to 1% and the long bond didn't change the long-term slope would still be above 2%, far from the flattening that has been seen within a couple of years before a recession starts. In order for such a Fed tightening to result in a move toward a fl;at curve the long bond would have to come down close to 1% (it is currently around 3.3%). That is not likely to happen unless economic activity slows more than now appears on the horizon. If that happened then the result would be a flattening yield curve because the anticipated inflation rate would be reduced as a result of a recession.
The fundamental error in Treece's discussion is the apparent premise that flattening the yield curve produces an economic slowdown. We suggest that is an incorrect hypothesis. The yield curve flattens because economic activity is indicating an imminent economic slowdown is possible. It is a signal of what is going on in the economy; it is not a condition that produces the economic condition.
Treece makes another error when he suggests that a better course of action would be to sell part or all of the $2.4 trillion of treasury securities it now holds. How would this boost the economy? If the treasuries were bought using excess reserves there would be no direct economic impact at all: the "cash" credits in the reserve accounts would be converted to treasuries in the capital accounts of the purchasers. From an overall balance sheet point of view there would be no change. Also there would likely be no change in the money supply. If the treasury securities were sold in open market action the buyers would be using money that was essentially in their "checking and savings accounts" and replacing it with money in savings certificates (treasury securities). The only possible effect here would be contractionary if a reduction in M1 or M2 resulted. But most likely the effect would be an exchange of one type of M2 or M3 deposit for another (actually would be a risk-free addition to the bank equity account which could be debited by the bank at any time that M2 or M3 liabilities required). See description of Money Supply.
Treece seems to have missed the point that the only possible effect of the Fed liquidating their treasury holding would more likely be contractionary, not expansionary. We add a caveat to that: If $2.4 trillion of treasuries were held by the public instead of the Fed, then the approximately $90 billion in interest that the Fed currently returns to the Treasury would instead be paid to the public and mostly added M1 or M2. This would have an expansionary effect.
We invite any of our readers with money and banking experience to explain any shortcomings they find in our analysis.
Make a Comment
Econintersect

wants your comments, data and opinion on the articles posted. As the internet is a "war zone" of trolls, hackers and spammers -

Econintersect

must balance its defences against ease of commenting. We have joined with Livefyre to manage our comment streams.

To comment, just click the "Sign In" button at the top-left corner of the comment box below. You can create a commenting account using your favorite social network such as Twitter, Facebook, Google+, LinkedIn or Open ID - or open a Livefyre account using your email address.
---
---