posted on 07 October 2017
Written by Sig Silber
---
This Article has been updated. You can access the updated article by clicking on "Nate Lands 07Oct2017"
---
Updated 8:50AM CDT Oct 07, 2017: LATEST FROM NHC: "...NATE STRENGTHENING AND NOW EXPECTED TO BE A CATEGORY 2 HURRICANE AT LANDFALL ON THE CENTRAL GULF COAST... ...NEW TROPICAL STORM WARNING FOR PORTIONS OF THE FLORIDA PANHANDLE..." "Maximum flooding of 7 to 11 feet above ground level is expected in portions of southeastern Louisiana and along the Mississippi coast. "
Landfall as a Category 2 Hurricane along the Northern Gulf Coast expected Saturday Night. Exact location may vary slightly from this updated forecast. NHC updates are available by clicking here. But for those impacted their, local National Weather Service Reports will be more specific. Many of the local reports can be found here.
---
Please share this article - Go to very top of page, right hand side for social media buttons.
---
This most likely will be a full Category 2 at Landfall but what does that mean and what are the implications?
Here is the track.
This is also of interest. Notice the impacts on the Northeast.
And this:
Here is the Discussion:
Hurricane Nate Discussion Number 13...Corrected NWS National Hurricane Center Miami FL 1000 AM CDT Sat Oct 07 2017

Corrected 24 kt motion to 23 kt motion in third paragraph

Nate is showing improved organization in satellite imagery this morning, with the formation of a symmetric central dense overcast with cloud tops colder than -80C. In addition, Air Force Reserve and NOAA Hurricane Hunter aircraft have reported a central pressure near 984 mb inside a 25 n mi wide eye that is starting to form under the overcast. The planes have reported 700-mb flight level winds of up to 88 kt and surface wind estimates from the SFMR instrument between 75-85 kt. Based on these data, the initial intensity is increased to a possibly conservative 80 kt.

Conditions appear favorable for Nate to continue strengthening for the next 12 h or so before it encounters land and increasing shear. The new intensity forecast thus follows the SHIPS model in showing Nate become a Category 2 hurricane before landfall on the central Gulf Coast. After landfall, Nate should weaken rapidly as it moves through the eastern United States. The cyclone is now forecast to become extratropical near the 72 hr point and dissipate completely by 96 h.

The initial motion is toward the north-northwest at a very rapid 23 kt. The hurricane is being steered by the flow between a large cyclonic gyre over the southwestern Gulf of Mexico and a mid-level ridge over the western Atlantic. In addition, a mid-latitude trough in the westerlies is moving eastward through the central United States. This pattern is expected to cause Nate to turn northward during the next 12-18 h as it rounds the western end of the ridge, followed by a turn toward the northeast as it enters the westerlies. The new forecast track is nudged a little to the left of the previous track, and it lies near the center of the tightly clustered guidance.

KEY MESSAGES:

1. Nate is expected to bring life-threatening storm surge flooding near and well east of where the center makes landfall, and a storm surge warning is in effect from Morgan City, Louisiana, to the Okaloosa/Walton county line in Florida. Maximum flooding of 7 to 11 feet above ground level is expected in portions of southeastern Louisiana and along the Mississippi coast. Residents in these areas should immediately heed any evacuation instructions given by local officials.

2. Nate is forecast to reach Category 2 intensity before landfall. A hurricane warning is in effect for portions of the northern Gulf Coast from Louisiana to Alabama, with the strongest winds expected to occur primarily to the east of the center. Preparations to protect life and property should be rushed to completion in these areas, as tropical storm conditions will first arrive in the warning area this afternoon.

3. Nate's fast forward speed after landfall will bring tropical-storm-force winds well inland across portions of the southeastern U.S. Tropical storm watches and warnings are in effect for portions of southeastern Mississippi, Alabama, and western Georgia.

4. Nate will bring heavy rainfall of 3 to 6 inches with isolated totals of 10 inches east of the Mississippi River from the central Gulf Coast into the Deep South, eastern Tennessee Valley, and southern Appalachians through Monday, resulting in the potential for flash flooding in these areas.

5. Moisture from Nate interacting with a frontal zone will also bring 2 to 4 inches of rain with isolated totals of 6 inches across the Ohio Valley and central Appalachians Sunday and Monday, which will increase the risk for flash flooding across these locations.

FORECAST POSITIONS AND MAX WINDS

INIT 07/1500Z 26.6N 88.4W 80 KT 90 MPH

12H 08/0000Z 29.1N 89.0W 90 KT 105 MPH

24H 08/1200Z 32.1N 88.3W 60 KT 70 MPH...INLAND

36H 09/0000Z 35.7N 85.5W 35 KT 40 MPH...INLAND

48H 09/1200Z 39.2N 80.6W 30 KT 35 MPH...INLAND

72H 10/1200Z 44.5N 67.5W 25 KT 30 MPH...POST-TROP/EXTRATROP

96H 11/1200Z...DISSIPATED
HURRICANE NATE FORECAST/ADVISORY NUMBER 13 NWS NATIONAL HURRICANE CENTER MIAMI FL 1500 UTC SAT OCT 07 2017

CHANGES IN WATCHES AND WARNINGS WITH THIS ADVISORY...

A TROPICAL STORM WARNING IS NOW IN EFFECT EAST OF THE OKALOOSA/WALTON COUNTY LINE TO INDIAN PASS FLORIDA.

SUMMARY OF WATCHES AND WARNINGS IN EFFECT...

A HURRICANE WARNING IS IN EFFECT FOR...

* GRAND ISLE LOUISIANA TO THE ALABAMA/FLORIDA BORDER

* METROPOLITAN NEW ORLEANS AND LAKE PONTCHARTRAIN

A STORM SURGE WARNING IS IN EFFECT FOR...

* MORGAN CITY LOUISIANA TO THE OKALOOSA/WALTON COUNTY LINE FLORIDA

* NORTHERN AND WESTERN SHORES OF LAKE PONTCHARTRAIN

A TROPICAL STORM WARNING IS IN EFFECT FOR...

* LAKE MAUREPAS

* WEST OF GRAND ISLE TO MORGAN CITY LOUISIANA

* EAST OF THE ALABAMA/FLORIDA BORDER TO INDIAN PASS FLORIDA

A HURRICANE WATCH IS IN EFFECT FOR...

* LAKE MAUREPAS

* EAST OF THE ALABAMA/FLORIDA BORDER TO THE OKALOOSA/WALTON COUNTY LINE

* WEST OF GRAND ISLE TO MORGAN CITY LOUISIANA

A STORM SURGE WATCH IS IN EFFECT FOR...

* EAST OF THE OKALOOSA/WALTON COUNTY LINE TO INDIAN PASS FLORIDA

A TROPICAL STORM WATCH IS IN EFFECT FOR...

* WEST OF MORGAN CITY TO INTRACOASTAL CITY LOUISIANA
General Weather Situation
We believe that it is easier to understand what is going on with individual storms if they are put into the context of the overall weather situation.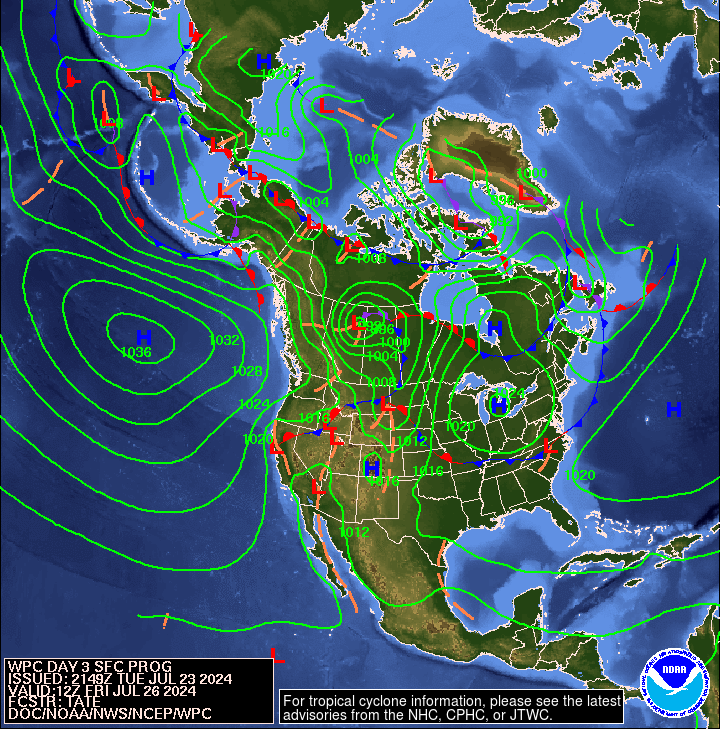 Additional Graphics
This is the Day 1 Forecast. You can see Nate in Day 1. It has now been upgraded to Hurricane Status.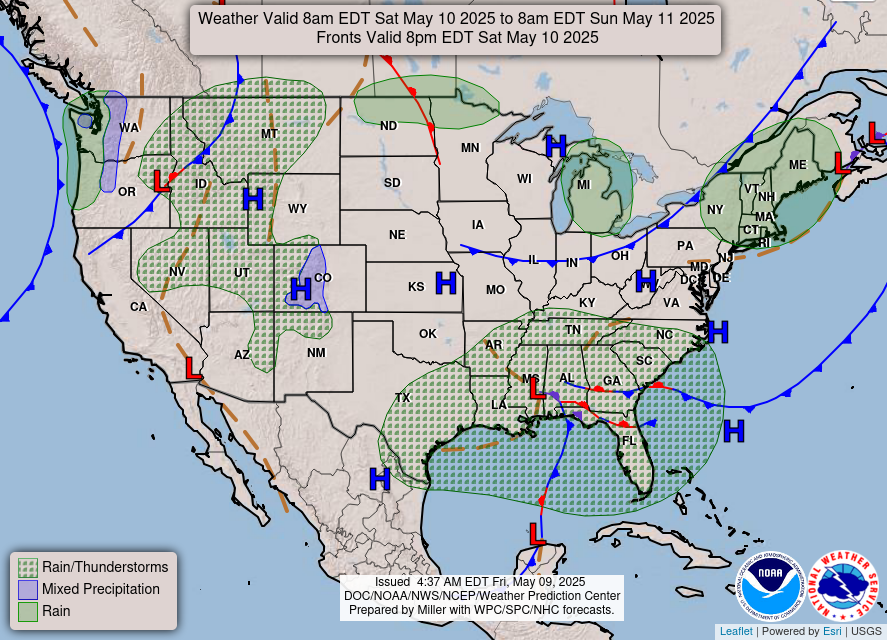 This is a Day 2 Forecast. The speed-up of Nate has meant that the huge High over the West has had a limited impact on the track.
This is a national animation of weather fronts and precipitation forecasts with four 6-hour projections of the conditions that will apply covering the next 24 hours and a second day of two 12-hour projections the second of which is the forecast for 48 hours out and to the extent it applies for 12 hours, this animation is intended to provide coverage out to 60 hours. This graphic is very relevant as one can see both storms of most interest in this graphic. .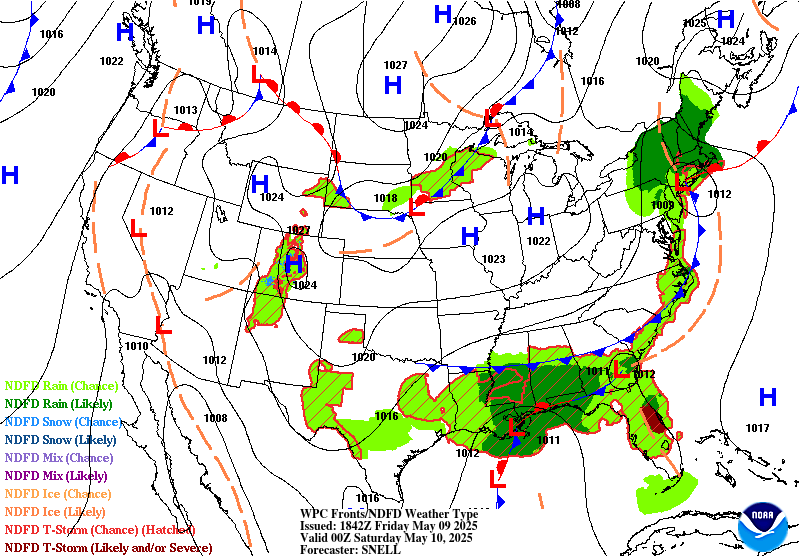 The explanation for the coding used in these maps, i.e. the full legend, can be found here although it includes some symbols that are no longer shown in the graphic because they are implemented by color coding.
You can see the forecast for seven days of cumulative precipitation. It is important to keep in mind that these are forecasts going forward. The high precipitation is not just where landfall is anticipated but inland into the southern Appalachians.
The water vapor imagery is a good guide to where precipitation is occurring. You can now see Nate. It is developing an eye.

Click here for a list of Sig Silber's Weather Posts
>>>>> Scroll down to view and make comments <<<<<<
Make a Comment
Econintersect

wants your comments, data and opinion on the articles posted. You can also comment using Facebook directly using he comment block below.
---