posted on 24 September 2017
Written by Sig Silber
---
This article has been updated. You can access the updated article at: Out to Sea after Quick Brush with Outer Banks - 26Sep2017
---
2:40 PM EDT Sept 25, 2017: LATEST FROM NHC: "...MARIA CONTINUES TO MOVE SLOWLY NORTHWARD... ...LARGE SWELLS AFFECTING MUCH OF THE EAST COAST OF THE UNITED STATES...""Deep convection is primarily confined to the eastern semicircle of the circulation" "A large mid-latitude trough is forecast to...cause Maria to accelerate east-northeastward to northeastward after 72 hours."
It continues to look like Maria will stay on track and just graze the Cape Hatteras area and inland from there to a fairly limited extent. We will continue to update this report. It looks like the threat is diminishing.
---
Please share this article - Go to very top of page, right hand side for social media buttons.
---
This remains an active period in the tropics so we are starting with the overview of the situation in both the Pacific and the Atlantic even though right now only the Pacific presents major threats. Those potentially impacted by any of these storms should consult their local sources of information. The Public Advisories and other information that is available from the NOAA National Hurricane Center can be found here. Information from the Weather Prediction Center can be found here.
First the Atlantic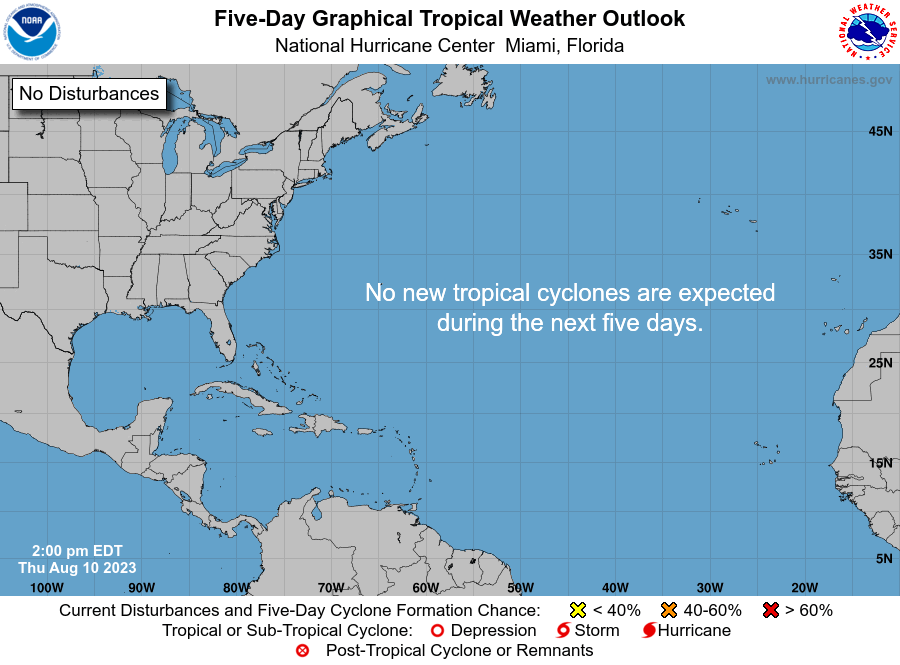 And now the Pacific.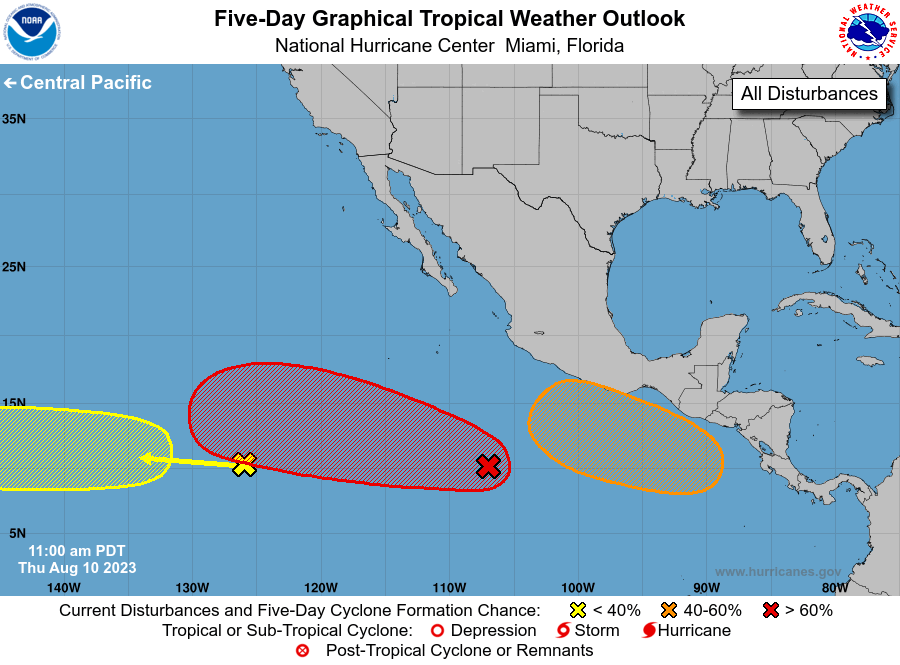 This graphic looks out a bit further into the future. It is an analysis of projected tropical hazards and benefits over an approximately two-week period.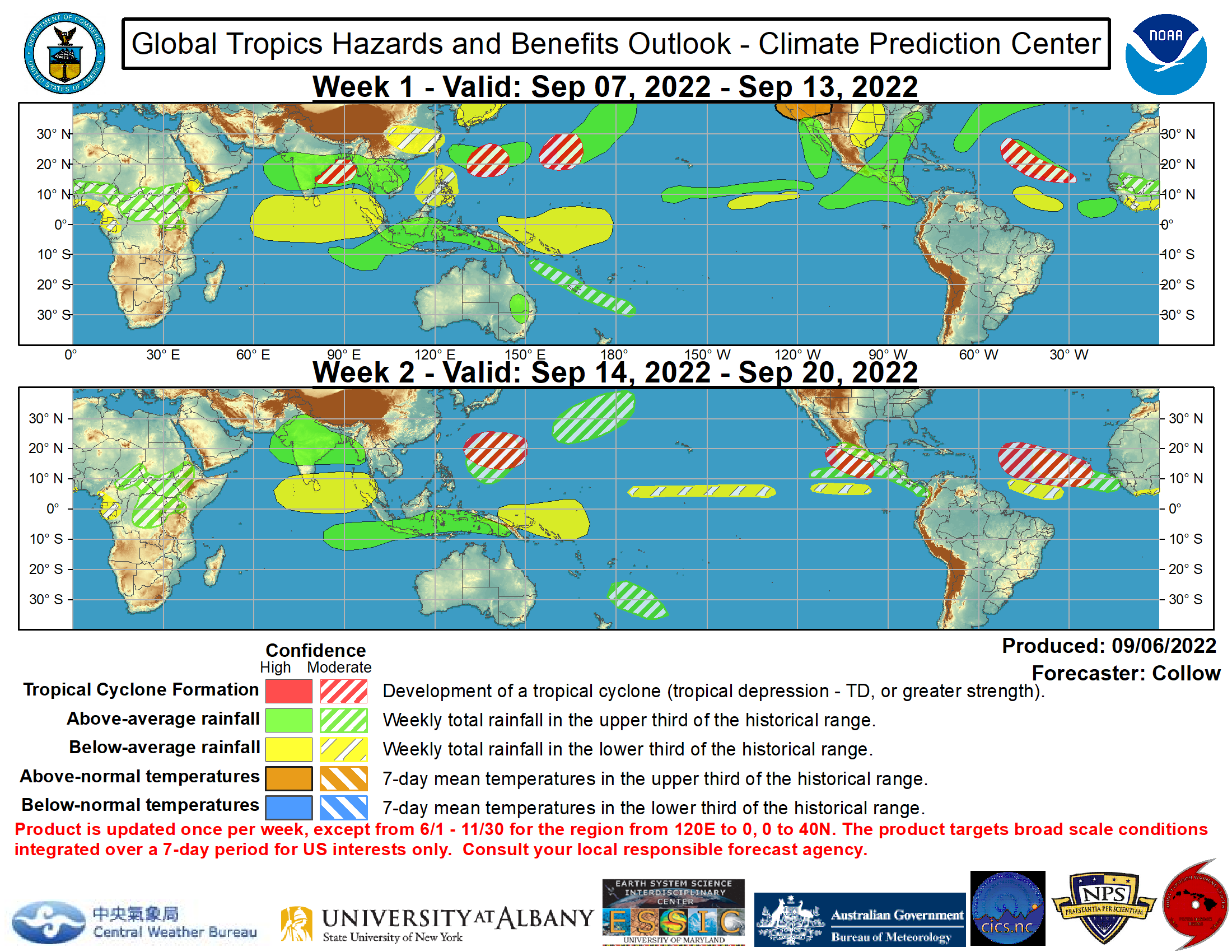 Notice in the forecast for September 27 through October 3 the area west of Central America and the potential for cyclone development. This forecast will update on Tuesday and Week 2 will become Week 1.
We start our Report with Hurricane Maria. The"M" Designation means a very powerful storm: Category 3 or higher. Notice that Maria no longer categorized as "M".
That is Hurricane Lee off to the right!
And the Discussion
Hurricane Maria Discussion Number 38 NWS National Hurricane Center Miami FL 1100 AM EDT Mon Sep 25 2017

Satellite and aircraft data indicate that Maria's structure has changed considerably since yesterday. Deep convection is primarily confined to the eastern semicircle of the circulation and the radius of maximum winds has significantly increased. After not finding many SFMR winds over 60 kt during the overnight flights, the latest Air Force Reserve Aircraft measured SFMR winds of 65-70 kt about 90 n mi from the center over the eastern portion of the circulation. As a result, the initial wind speed is set at 70 kt, a slight readjustment from the 1200 UTC estimate indicated in the intermediate advisory. The 50-kt and 64-kt wind radii have also been adjusted outward primarily over the eastern semicircle based on the aircraft data.

The intensity forecast reasoning remains the same as that in the previous advisory. Cool sea surface temperatures, moderate westerly shear, and dry air are expected to cause gradual weakening over the next couple of days. The global model guidance suggests Maria will remain a strong tropical cyclone as it accelerates northeastward later in the forecast period. Therefore, the NHC forecast is a little higher than the statistical guidance at those times.

Maria continues to move northward or 360/6 kt. Although Maria is being steered northward between a mid- to upper-level low over the southeastern United States and a subtropical ridge over the southwestern Atlantic, the hurricane's forward motion should remain quite slow as it is currently being impeded by a mid-level ridge over the northeastern United States. A large mid-latitude trough is forecast to move across the Great Lakes region and into the northeast United States by the end of the week. This feature should cause Maria to accelerate east-northeastward to northeastward after 72 hours. The track guidance is in excellent agreement through 48 hours, but there are some differences in Maria's forward speed after that time. The NHC forecast track is near the middle of the guidance envelope through 48 h and is in between the ECMWF and various consensus models later in the period.

KEY MESSAGES:

1. Maria is forecast to continue moving northward, paralleling the U.S. east coast, and it is likely that some direct impacts will occur along portions of the North Carolina coast beginning Tuesday, where a Tropical Storm Warning is in effect.

2. Storm surge flooding, especially along the sound side of the North Carolina Outer Banks, is possible beginning on Tuesday, and a Storm Surge Watch has been issued for portions of eastern North Carolina.

3. Swells from Maria are occurring along the coast of the southeastern United States and will be increasing along the Mid-Atlantic and southern New England coasts today. These swells will likely cause dangerous surf and rip currents at beaches in these areas through much of the week. For more information, please monitor information from your local National Weather Service office at www.weather.gov.

FORECAST POSITIONS AND MAX WINDS

INIT 25/1500Z 31.2N 72.9W 70 KT 80 MPH

12H 26/0000Z 31.8N 73.0W 70 KT 80 MPH

24H 26/1200Z 32.9N 73.1W 65 KT 75 MPH

36H 27/0000Z 33.8N 73.1W 65 KT 75 MPH

48H 27/1200Z 34.7N 73.0W 60 KT 70 MPH

72H 28/1200Z 35.7N 71.4W 60 KT 70 MPH

96H 29/1200Z 37.5N 64.5W 60 KT 70 MPH

120H 30/1200Z 42.0N 52.0W 60 KT 70 MPH
Vertical Wind Shear is one factor now starting to diminish Maria.
Learn more about wind shear here.
New Storm: Tropical Storm Pilar
Tropical Depression Pilar Discussion Number 8 NWS National Hurricane Center Miami FL 900 AM MDT Mon Sep 25 2017

Water vapor satellite imagery indicates that strong southwesterly vertical wind shear, along with an abundance of dry mid-/upper-level air, ahead of sharp shortwave trough moving across southern Baja California is taking its toll on Pilar. Convection has weakened considerably and has been displaced to the north and east of the poorly defined low-level circulation center. A blend of Dvorak satellite T-numbers and current intensity (CI) estimates from TAFB and SAB is a consensus T2.0/30 kt, resulting in Pilar being downgraded to a tropical depression. The shear is forecast to increase to more than 30 kt by 12 h, so continued weakening and degeneration into a remnant low is forecast today, followed by dissipation on Tuesday...if not sooner.

The initial motion estimate is 335/06 kt. Pilar and its remnants are expected to continue moving in this general direction, accompanied by a slight decrease in forward speed, for the next day or so until dissipation occurs. The new NHC track forecast is similar to the previous advisory track, and lies close to a blend of the NOAA-HCCA and TCVA consensus track models.

The main hazard associated with Pilar will continue to be heavy rainfall, which could trigger life-threatening flash floods and mudslides, over the states of Nayarit, the southern portion of Sinaloa, and the southwestern portion of Durango during the next day or so.

FORECAST POSITIONS AND MAX WINDS

INIT 25/1500Z 22.8N 107.0W 30 KT 35 MPH

12H 26/0000Z 23.4N 107.3W 25 KT 30 MPH...POST-TROP/REMNT LOW

24H 26/1200Z...DISSIPATED
The below graphic (which we repeat later in this Article) helps in locating TS Pilar. You can see that it is partially if not totally on land.
General Weather Situation
We believe that it is easier to understand what is going on with individual storms if they are put into the context of the overall weather situation.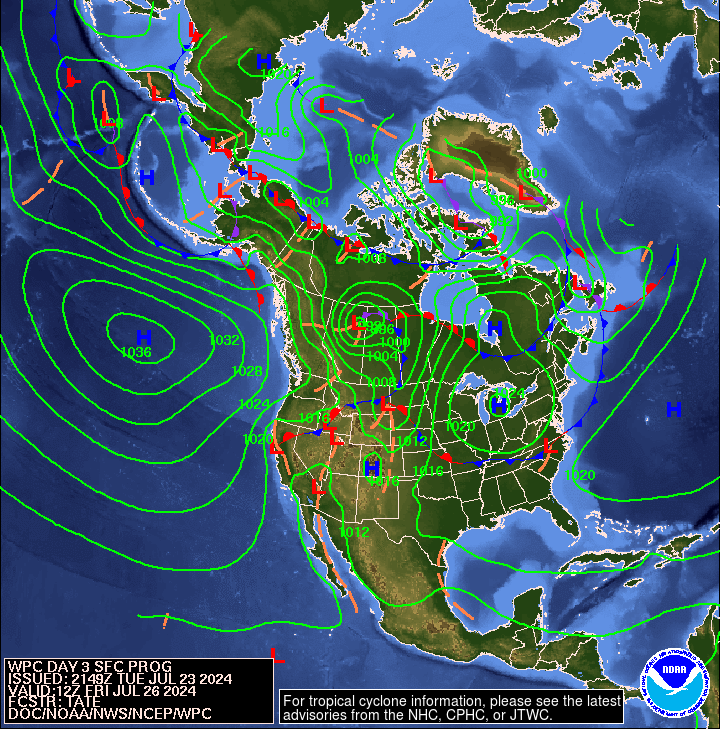 The graphic above is particularly useful as it shows the forecasted conditions that might determine the future of a storm beyond the predictions of where the storm might be on Day 3. This graphic is updated frequently. There is still a possibility that Maria and Lee will interact at least indirectly. The High forecast to be to the Northeast of Maria remains the key to Maria being able to turn right or be forced to hug the coast.
Some of the graphics below show the two storms of most interest.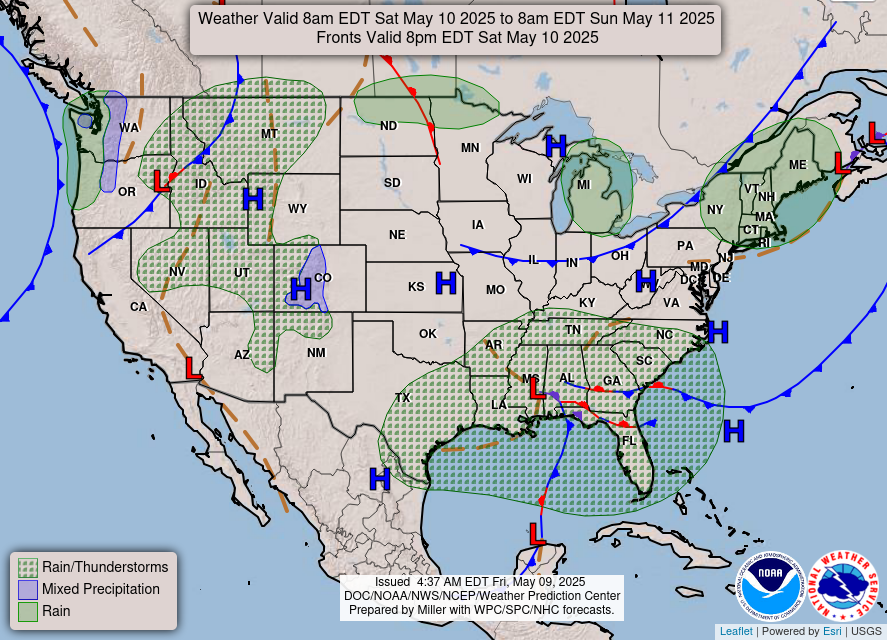 This is a Day 2 Forecast. You can see Maria.
Additional Graphics
Note that this graphic has not been updating since September 20. We could remove it but I hope it will start to work soon so we are leaving it in for now but the dates of update are clearly shown at the top of the graphic.
This is a national animation of weather fronts and precipitation forecasts with four 6-hour projections of the conditions that will apply covering the next 24 hours and a second day of two 12-hour projections the second of which is the forecast for 48 hours out and to the extent it applies for 12 hours, this animation is intended to provide coverage out to 60 hours. This graphic is very relevant as one can see both storms of most interest in this graphic. .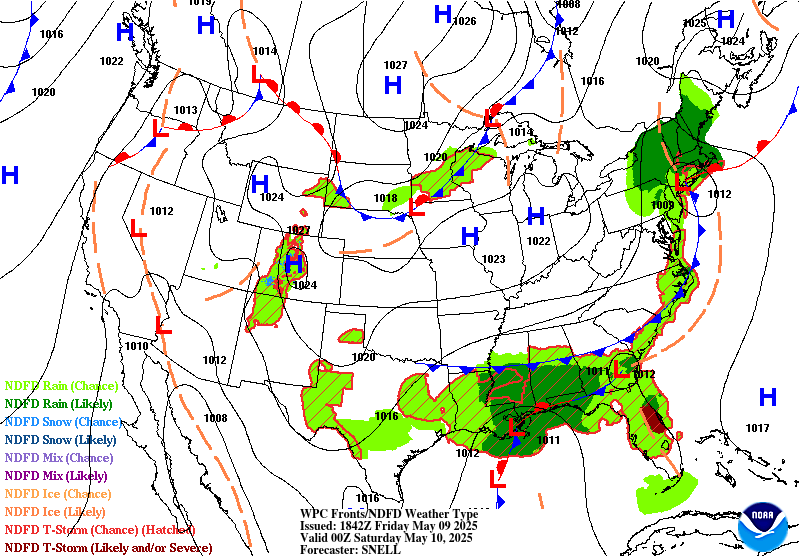 The explanation for the coding used in these maps, i.e. the full legend, can be found
here
although it includes some symbols that are no longer shown in the graphic because they are implemented by color coding.
You can see the forecast for seven days of cumulative precipitation. It is important to keep in mind that these are forecasts
going forward
. Precipitation that has already occurred does not show up in these forecasts but will show up in the 30 day maps we show in our weekly Weather and Climate Report. That did not show up in our September 11 Report but did show up in the September 18 Report that was issued Monday evening
click here
to read. You can see the current QPF for Maria. Separate from Maria ,we see a concerning situation for Southwest Texas. It is also tropical moisture.
The water vapor imagery is a good guide to where precipitation is occurring. One sees Maria off shore. The outer bands are starting to impact the Carolinas. One can see Pilar off the west coast of Mexico or has it gone aground?
Click here for a list of Sig Silber's Weather Posts
>>>>> Scroll down to view and make comments <<<<<<
Make a Comment
Econintersect

wants your comments, data and opinion on the articles posted. You can also comment using Facebook directly using he comment block below.
---