posted on 17 September 2017
Written by Sig Silber
---
This article has been republished (we generally do this daily). You can find the current article at Extreme Concern for Maria Continues -18Sep2017
---
5:30 PM EDT Sept 17, 2017 An aircraft flight a day beats satellite data any day of the week. The Jose flight results are in and as a result: "TROPICAL STORM WATCH ISSUED FOR A PORTION OFTHE MID-ATLANTIC AND NEW ENGLAND COAST. Now we are awaiting the results of today's Maria flight.
---
Please share this article - Go to very top of page, right hand side for social media buttons.
---
Advisory Issued by NHC at 5PM EDT,.
HURRICANE JOSE FORECAST/ADVISORY NUMBER 50 NWS NATIONAL HURRICANE CENTER MIAMI FL 2100 UTC SUN SEP 17 2017

CHANGES IN WATCHES AND WARNINGS WITH THIS ADVISORY...

A TROPICAL STORM WATCH IS IN EFFECT FROM FENWICK ISLAND.DELAWARE...TO SANDY HOOK...NEW JERSEY...INCLUDING DELAWARE BAY SOUTH...AND FROM EAST ROCKAWAY INLET...NEW YORK...TO PLYMOUTH MASSACHUSETTS...INCLUDING LONG ISLAND SOUND...BLOCK ISLAND MARTHA'S VINEYARD...AND NANTUCKET.

SUMMARY OF WATCHES AND WARNINGS IN EFFECT...

A TROPICAL STORM WATCH IS IN EFFECT FOR...

* FENWICK ISLAND TO SANDY HOOK

* DELAWARE BAY SOUTH

* EAST ROCKAWAY INLET TO PLYMOUTH

* BLOCK ISLAND

* MARTHA'S VINEYARD

* NANTUCKET
This is an active period in the tropics so we are starting with the overview of the situation in both the Pacific and the Atlantic. Those potentially impacted by any of these storms should consult their local sources of information. The Public Advisories and other information that is available from the NOAA National Hurricane Center can be found here. Information from the Weather Prediction Center can be found here.
First the Atlantic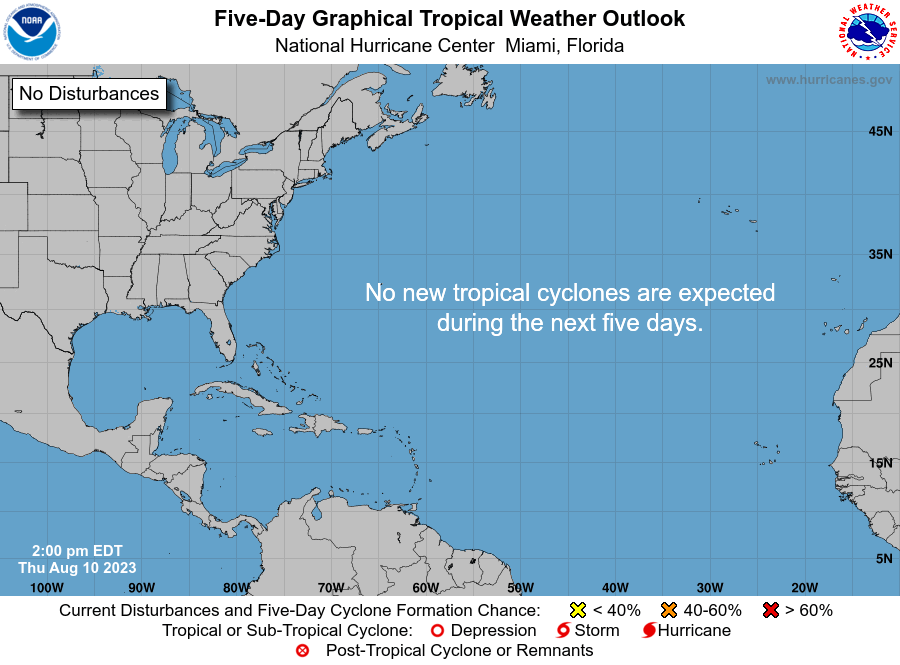 Note Tropical Storm Maria. It is a real threat!!!!!!!!!!
And now the Pacific.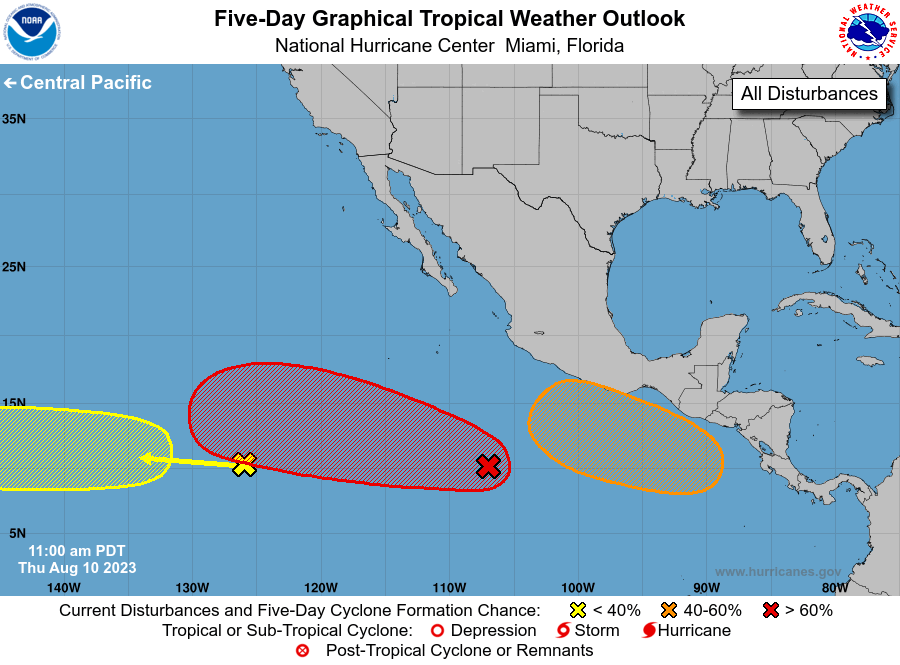 Norma is no longer much of a threat even for Baja California. Otis is moving to the west. Only Jose and Maria are of concern other than for shipping.
The two most dangerous storms right now are in the Atlantic.
We start our Report with currently Tropical Storm Maria, which now appears to be the main threat to life and property and soon. Where you see an "M" on a track map that means a Hurricane of Category 3 or higher. Predictions four days out are not highly reliable but a prediction of an "M" storm directly on Puerto Rico can not be ignored.
And the Discussion
Tropical Storm Maria Discussion Number 5 NWS National Hurricane Center Miami FL 1100 AM AST Sun Sep 17 2017

The cloud pattern has not changed much since the last advisory. There appears to be a dry slot working into the western side of Maria, and the low-level circulation seems to be peaking out from under the western side of a persistent CDO feature. Dvorak estimates are unchanged from six hours ago, so the initial intensity is held at 55 kt. An Air Force Reserve Hurricane Hunter aircraft will be investigating Maria this afternoon.

Maria continues to move west-northwestward, or 290/13 kt, and that trajectory is expected to continue at least for the next four days while a mid-level high is centered over the western Atlantic Ocean. However, the track guidance has generally slowed down since the high is not very expansive or strong, and the new NHC track forecast follows that trend, ending up a little slower than the previous forecast. The official forecast also continues to hedge toward the southern side of the track guidance envelope, closest to the ECMWF and HCCA models, which have been doing very well this hurricane season.

Until the reconnaissance aircraft investigates Maria, the initial intensity will be a little uncertain. Regardless, the storm is within an environment of very low shear and over sea surface temperatures around 29 degrees Celsius, so steady strengthening is expected during the next few days. Due to this seemingly ideal environment, the NHC intensity forecast is higher than the statistical-dynamical guidance and closely follows HCCA and the ICON intensity consensus through the entire forecast period. Maria is likely to become a hurricane later today and could become a major hurricane in 2 to 3 days. No major changes to the intensity forecast were necessary compared with the previous cycle, and I'd rather wait anyway until we have a better handle on Maria's intensity and structure.

KEY MESSAGES:

1. Maria is expected to strengthen and affect portions of the Leeward Islands as a hurricane early this week, bringing dangerous wind, storm surge and rainfall hazards. Hurricane and tropical storm warnings have been issued for portions of the Leeward Islands, and these warnings will likely be extended northward and westward later today and tonight.

2. Maria could also affect the British and U.S. Virgin Islands and Puerto Rico by mid week as a dangerous major hurricane, and hurricane watches could be issued for these islands as early as tonight. Interests in these areas should monitor the progress of Maria and follow any advice given by local officials.

FORECAST POSITIONS AND MAX WINDS

INIT 17/1500Z 13.5N 56.2W 55 KT 65 MPH

12H 18/0000Z 14.1N 57.7W 65 KT 75 MPH

24H 18/1200Z 14.8N 59.3W 75 KT 85 MPH

36H 19/0000Z 15.5N 60.7W 85 KT 100 MPH

48H 19/1200Z 16.1N 62.0W 95 KT 110 MPH

72H 20/1200Z 17.3N 64.7W 110 KT 125 MPH

96H 21/1200Z 18.5N 67.5W 105 KT 120 MPH

120H 22/1200Z 20.0N 69.5W 100 KT 115 MPH
We observed a slight change in the track forecast after Puerto Rico. That will be of interest as this storm moves closer and more information becomes available.
Here is the current Track Map for Jose.
Notice Jose is projected to go out to sea. The issue is when? Does it take a small move west first? What about Nova Scotia and Cape Cod? The most recent discussions from NHC are optimistic. The risk to Nova Scotia seems to have been reduced. Cape Cod will be wet. We will pay close attention to the NHC Discussion updates.
Jose Discussion
Hurricane Jose Discussion Number 50 NWS National Hurricane Center Miami FL 500 PM EDT Sun Sep 17 2017

The satellite appearance of Jose has generally changed little during the past several hours. Microwave data indicate that the center of circulation is located on the south side of the main area of deep convection, likely due to strong southerly shear. The current intensity is held at 80 kt based on the earlier aircraft data. The initial wind radii have been adjusted outward in accordance with the ASCAT data from a few hours ago.

The strong wind shear currently affecting Jose is expected to continue for another day or so. Although the shear is expected to slacken beyond that time, Jose is forecast to cross the north wall of the Gulf Stream current by then and move into a progressively drier environment. These conditions should cause a slow weakening trend through the period, and the NHC intensity forecast is largely an update of the previous one. It should be noted, however, that despite the expected weakening, the models suggest that Jose's outer wind field will expand, which is typical for tropical cyclones that move into the mid-latitudes.

The hurricane continues to move northward at 8 kt on the west side of a subtropical ridge. This general motion is expected to persist for the next 2 to 3 days while the steering pattern holds. Thereafter, a turn to the northeast and then east is predicted as a trough currently over central Canada moves closer to Jose. This trough, however, is not expected to pick up Jose, and instead the cyclone is expected to meander or drift southward by the end of the forecast period. The 5-day forecast position has been adjusted to the southwest of the previous NHC prediction, but otherwise only minor changes were made.

The Air Force and NOAA Hurricane Hunters will both be investigating Jose this evening. This valuable data will help assess the hurricane's initial intensity and structure, and assist the models in determining the future path and intensity of the hurricane.

KEY MESSAGES:

1. While the center of Jose is currently forecast to remain offshore of the U.S. coast, the large cyclone could cause some direct impacts from Delaware northward to New England, and any deviation to the left of the NHC forecast track would increase the likelihood and magnitude of those impacts. A tropical storm watch is now in effect from the Delaware coast to southeastern Massachusetts. Interests elsewhere along the U.S. east coast from North Carolina to New England should monitor the progress of Jose through the next several days.

2. Minor to moderate coastal flooding is possible from Delaware to southern New England during the next several days. Please see products issued by local National Weather Service forecast offices.

3. Swells generated by Jose are affecting Bermuda, the Bahamas, and much of the U.S. east coast. These swells are likely to cause dangerous surf and rip current conditions for the next several days in these areas.

4. Jose will produce heavy rain as it passes near southern New England and the mid-Atlantic on Tuesday and Wednesday. Total accumulations of three to five inches are expected over eastern Long Island, southern Rhode Island, and southeast Massachusetts, including Martha's Vineyard and Nantucket. Based on the current forecast, the risk of flooding will be limited in scope. Any deviation to the left of the forecast track, however, could bring heavier and more widespread rainfall to southern New England, Long Island, New York City, and New Jersey. If this deviation were to occur, the risk of urban flash flooding and some river flooding would increase.

FORECAST POSITIONS AND MAX WINDS

INIT 17/2100Z 31.5N 71.8W 80 KT 90 MPH

12H 18/0600Z 32.7N 71.7W 80 KT 90 MPH

24H 18/1800Z 34.3N 71.8W 75 KT 85 MPH

36H 19/0600Z 35.9N 71.9W 70 KT 80 MPH

48H 19/1800Z 37.7N 71.6W 65 KT 75 MPH

72H 20/1800Z 40.1N 69.7W 55 KT 65 MPH

96H 21/1800Z 39.7N 67.5W 50 KT 60 MPH

120H 22/1800Z 38.5N 67.0W 50 KT 60 MPH...POST-TROPICAL
This shows the loop de loop of Jose pretty well. It is not that unusual but makes long-term forecasting difficult. Also you can see that the track of Jose was just far enough north to avoid significant impacts in the Antilles. IS IT ATTEMPTING ANOTHER LOOP DE LOOP?
Now Norma.
We no longer consider Norma to be a significant threat since NHC continues to report that it is turning towards Baja as it gets further away.
General Weather Situation
We believe that it is easier to understand what is going on with individual storms if they are put into the context of the overall weather situation.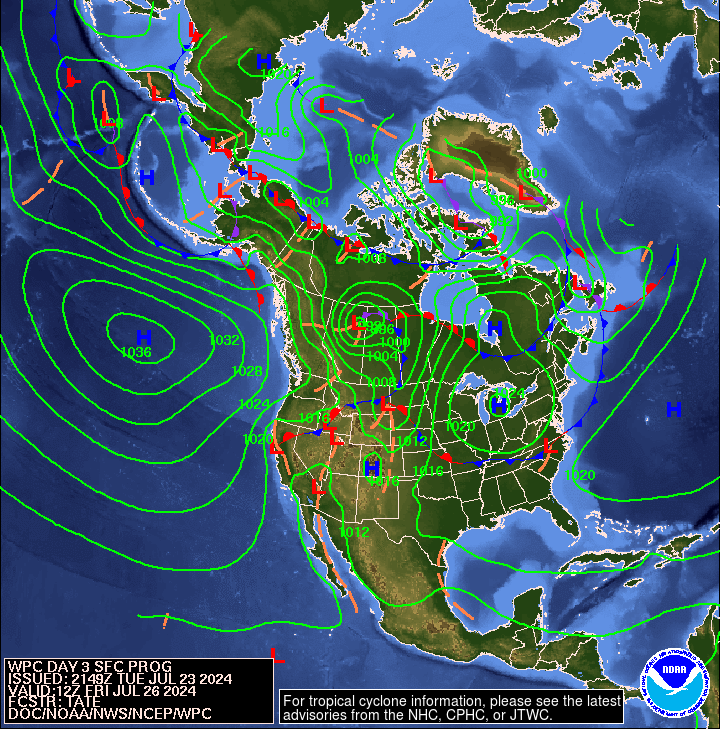 The graphic above is particularly useful as it shows the forecasted conditions that might determine the future of a storm beyond the predictions of where the storm might be on Day 3. This graphic is updated frequently. The High north of Jose remains of interest. But it appears to be out of position to have much impact.
Some of the graphics below show the two storms of most interest. Other graphics will be more relevant for Jose as it moves north and comes into view.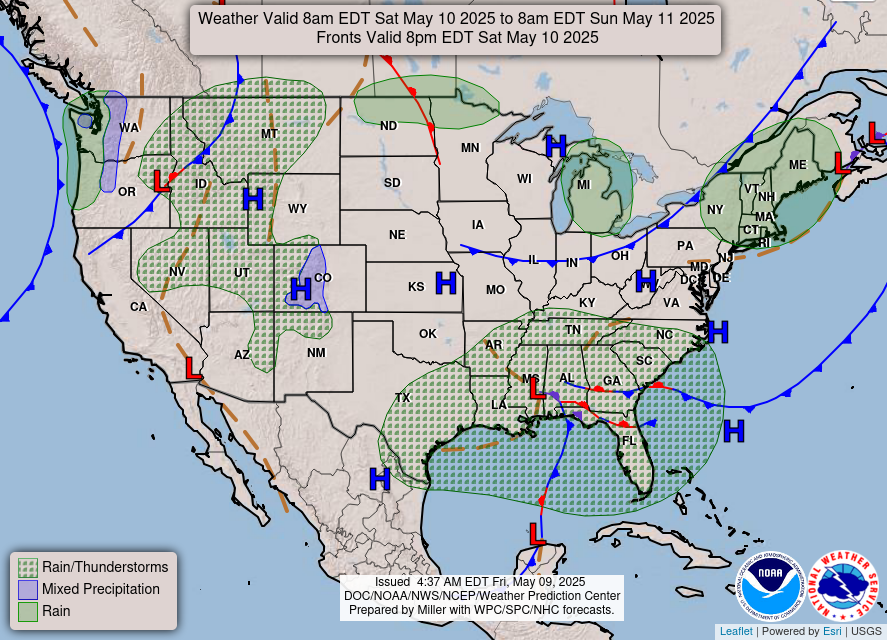 This is a Day 2 Forecast.
Additional Graphics
This is a national animation of weather fronts and precipitation forecasts with four 6-hour projections of the conditions that will apply covering the next 24 hours and a second day of two 12-hour projections the second of which is the forecast for 48 hours out and to the extent it applies for 12 hours, this animation is intended to provide coverage out to 60 hours. This graphic is now very relevant as one can see three storms in this graphic. .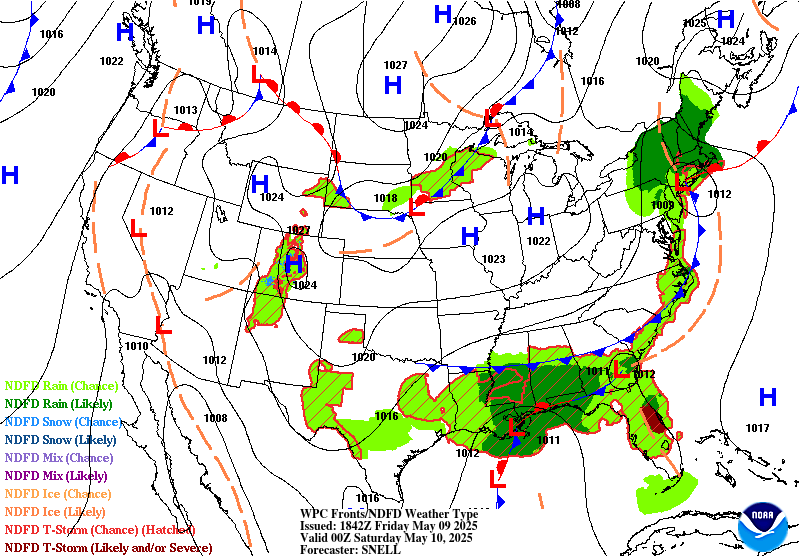 The explanation for the coding used in these maps, i.e. the full legend, can be found
here
although it includes some symbols that are no longer shown in the graphic because they are implemented by color coding.
You can see the forecast for seven days of cumulative precipitation. It is important to keep in mind that these are forecasts going forward. Precipitation that has already occurred does not show up in these forecasts but will show up in the 30 day maps we show in our weekly Weather and Climate Report. That did not show up in our September 11 Report but it will show up in the September 18 Report. You can already see a preliminary precipitation QPF for Jose. It is mostly offshore and now. Cape Cod may be impacted. .
The water vapor imagery is a good guide to where precipitation is occurring. You can now see Jose and Norma. One might even conclude that they see water vapor from Norma impacting Texas but not to a significant extent.
Click here for a list of Sig Silber's Weather Posts
>>>>> Scroll down to view and make comments <<<<<<
Make a Comment
Econintersect

wants your comments, data and opinion on the articles posted. You can also comment using Facebook directly using he comment block below.
---