posted on 12 September 2017
Written by Sig Silber
---
Coverage on Jose has resumed and can be accessed at Keeping an Eye on Jose - 15Sep2017- Watch and Wait for Now
---
4:00 PM Sept 12: Last Remaining Distinct Threat of Irma to SERN [Editors' Note: Southeastern] North Carolina occurred this morning and that should complete the special reporting on Irma current and forecasted weather impacts. The Track of Jose is not yet clear but appears to have a low probability of impacting CONUS but may be a threat to Canada. Thus our frequent updates of this report will cease unless Jose or another storm becomes an imminent threat but we will later provide a comprehensive report on the Damages from Irma. We will also provide an update with our next Weekly Report on September 18, 2017
---
Please share this article - Go to very top of page, right hand side for social media buttons.
---
Imitation is the sincerest form of flattery but the Bob Henson Article is better than the regurgitated version.
---
Remember: A radar loop shows the recent (looks like for this "loop" it shows the past forty minutes) readings leading up to the current readings so it is not a forecast. It looks like this might update every ten minutes or so.
Specific Precipitation Forecast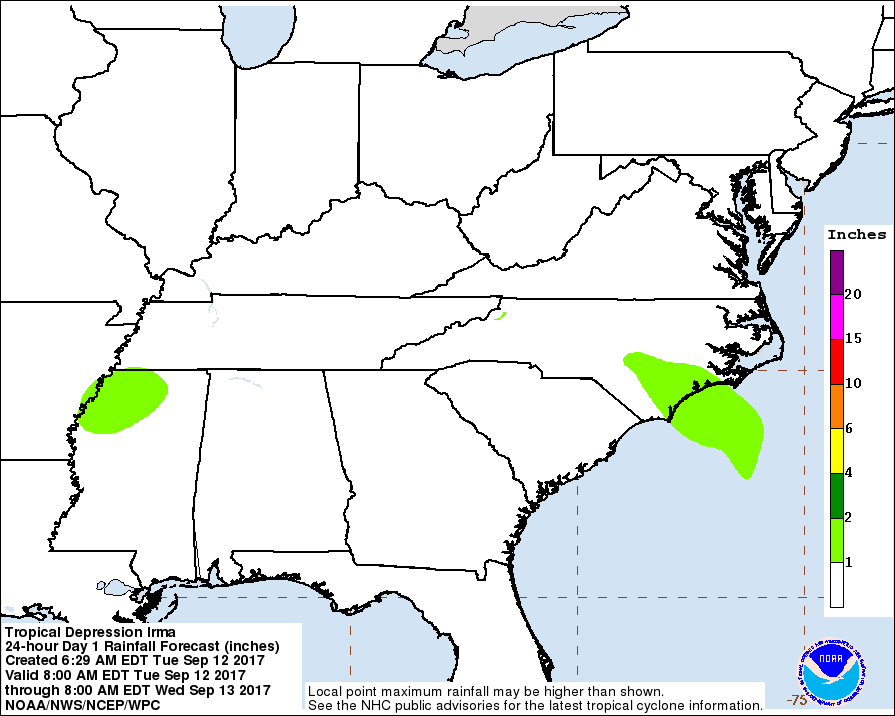 Latest Irma Discussion. Early Morning Threat to Sern North Carolina should have passed by the time you read this report.
CONCERNING...HEAVY RAINFALL...FLASH FLOODING POSSIBLE VALID 121248Z - 121615Z

SUMMARY...LINGERING TRAINING BANDS OF HEAVY RAIN WILL CONTINUE A THREAT FOR FLASH FLOODING FOR PORTIONS OF SERN NC THROUGH 16Z. LOCALIZED ADDITIONAL RAINFALL TOTALS OF 3-5 INCHES ARE EXPECTED..

DISCUSSION...STRONG LOW LEVEL MOISTURE TRANSPORT CONTINUES TO FOCUS MODERATE TO LOCALLY HEAVY RAINFALL INTO ERN NC. KLTX RADAR AS OF 12Z CONTINUED TO SHOW THE HEAVIEST RAINFALL RATES...1-3 COUNTIES INLAND FROM THE COAST FOR LOCATIONS JUST WEST OF I-40. DUAL-POL ESTIMATES WERE NEAR OBSERVATIONS OF 1.5 TO 2.5 IN/HR. THESE HEAVIER RAINFALL RATES WERE LOCATED AT THE LEADING EDGE OF A DEWPOINT GRADIENT LOCATED SEWD FROM NERN SC AND WERE LIMITED BY A LACK OF INSTABILITY FARTHER INLAND ON THE COOL SIDE OF A STATIONARY FRONT SEPARATING HIGHER THETA-E AIR FROM COASTAL LOCATIONS FROM THOSE FARTHER INLAND.

AS THE SURFACE LOW TIED TO POST-TROPICAL CYCLONE IRMA CONTINUES TO SLOWLY MOVE NORTHWEST FROM NRN AL OVER THE NEXT 3-6 HOURS...LITTLE CHANGE TO THE COASTAL FRONTAL BOUNDARY AND INSTABILITY AXIS IS EXPECTED. ONSHORE WINDS WHICH ARE CURRENTLY 20-30 KT PER VAD WIND DATA FROM KLTX AND KMHX ARE FORECAST TO WEAKEN A LITTLE AS DRIER AIR NOTED ON WATER VAPOR IMAGERY CONTINUES TO PUSH NORTH THIS MORNING ACROSS THE REGION WHICH ALONG WITH DECREASING LOW LEVEL CONVERGENCE SHOULD ALLOW THE HEAVY RAINFALL THREAT TO CONTINUE TO DIMINISH THROUGH 16Z. UNTIL THEN HOWEVER...ANOTHER FEW HOURS OF LOCALLY HEAVY RAIN IS EXPECTED FOR PORTIONS OF SERN NC WITHIN NARROW AXES OF TRAINING HEAVY RAIN WHICH MAY CAUSE LOCALIZED FLASH FLOODING.
Those impacted should consult their local sources of information. The Public Advisories and other information that is available from the NOAA National Hurricane Center can be found here. Information from the Weather Prediction Center can be found here.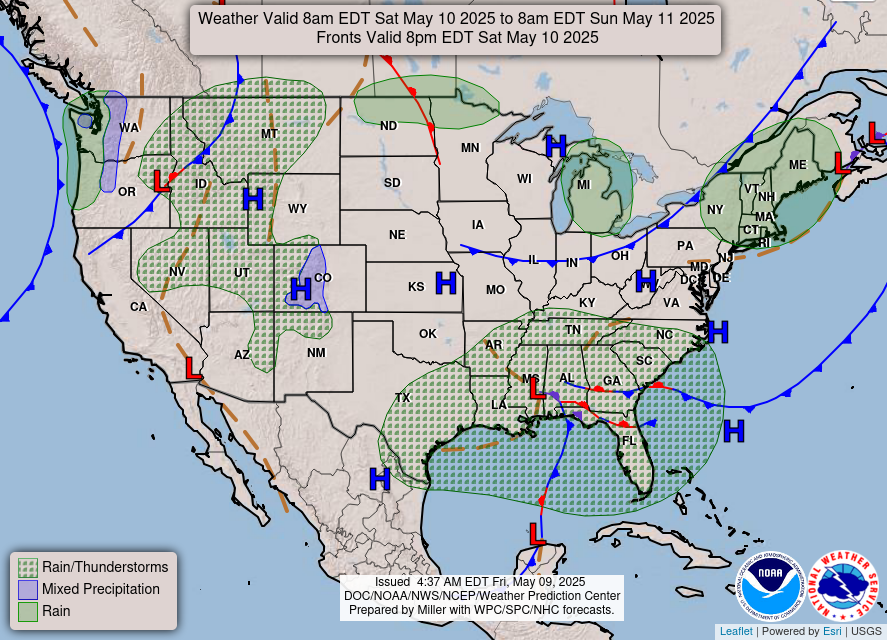 This is a Day 2 Forecast and you can see the large area that will be potentially impacted by Irma. This forecast map shows some interesting information with respect to the types of impacts keeping the severe thunderstorms over on the east side but now in Eastern Georgia and South Carolina even though the core of Irma is further west. This graphic only updates once a day and has done so this morning Sunday September 10 and will update again in the morning but it appears that this graphic updates somewhat continually independently of the times shown as an official update. .
Additional Graphics
This is a national animation of weather fronts and precipitation forecasts with four 6-hour projections of the conditions that will apply covering the next 24 hours and a second day of two 12-hour projections the second of which is the forecast for 48 hours out and to the extent it applies for 12 hours, this animation is intended to provide coverage out to 60 hours. This graphic is now very relevant.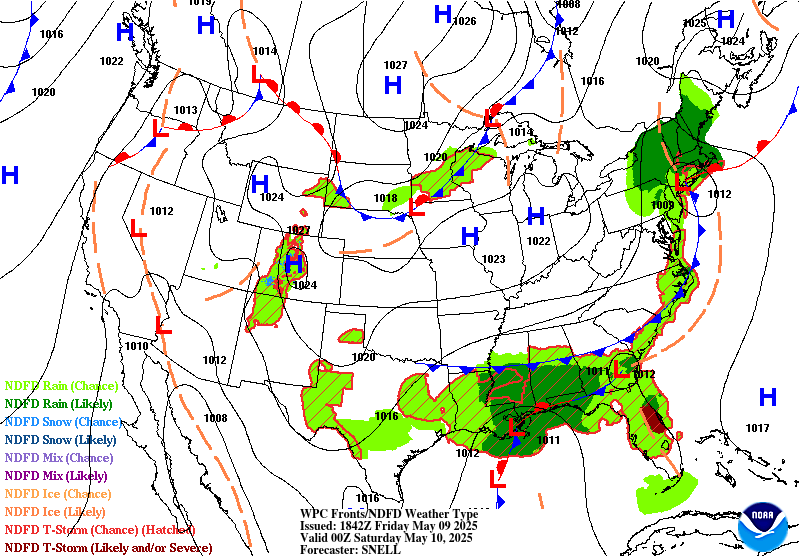 The explanation for the coding used in these maps, i.e. the full legend, can be found
here
although it includes some symbols that are no longer shown in the graphic because they are implemented by color coding.
You can see the forecast for seven days of cumulative precipitation. It is important to keep in mind that these are forecasts going forward. Precipitation that has already occurred does not show up in these forecasts but will show up in the 30 day maps we show in our weekly Weather and Climate Report. That did not show up in our September 11 Report but it will show up in the September 18 Report.
The water vapor imagery is a good guide to where precipitation is occurring.
---
And right behind Irma: Jose which appears to be forecast to turn out to sea and may be doing a loop de loop and coming back into play. And there may be yet another storm to follow Jose but this is no means guaranteed.
Jose Discussion
Hurricane Jose Discussion Number 29 NWS National Hurricane Center Miami FL 1100 AM AST Tue Sep 12 2017

The satellite presentation of Jose is that of a rather amorphous blob of deep convection, with only slight evidence of banding features. The system continues to be sheared by northwesterly flow associated with an upper-level anticyclone centered just to its west. A value of 65 kt is retained for the current intensity, in agreement with a Dvorak estimate from SAB. The dynamical models indicate that the shear over Jose will remain fairly strong for the next few days with perhaps some relaxation by days 3-5 as upper-level high becomes situated over the system. Thus a little weakening in the short term, followed by some restrengthening later in the forecast period, is expected. Confidence in this intensity forecast is, however, lower than usual.

Although the center is difficult to locate, a blend of geostationary and microwave fixes yield a slow eastward motion of around 090/4 kt. Jose is currently situated in a region of weak steering currents. The GFS and ECMWF global models build a mid-level anticyclone to the west of the tropical cyclone in a day or two. The anticyclone is then forecast to shift north, and then east, of Jose later in the forecast period. This evolution of the steering flow should result in the tropical cyclone moving in a clockwise loop over the next several days. Aside from the U.K. Met. Office prediction, which is well south and west of the other track models, the official forecast is near the left side of the guidance suite.

FORECAST POSITIONS AND MAX WINDS

INIT 12/1500Z 27.5N 68.3W 65 KT 75 MPH

12H 13/0000Z 27.2N 67.1W 60 KT 70 MPH

24H 13/1200Z 26.4N 66.0W 60 KT 70 MPH

36H 14/0000Z 25.7N 65.5W 60 KT 70 MPH

48H 14/1200Z 25.3N 66.0W 65 KT 75 MPH

72H 15/1200Z 26.0N 69.0W 70 KT 80 MPH

96H 16/1200Z 28.0N 72.0W 70 KT 80 MPH

120H 17/1200Z 30.0N 72.0W 70 KT 80 MPH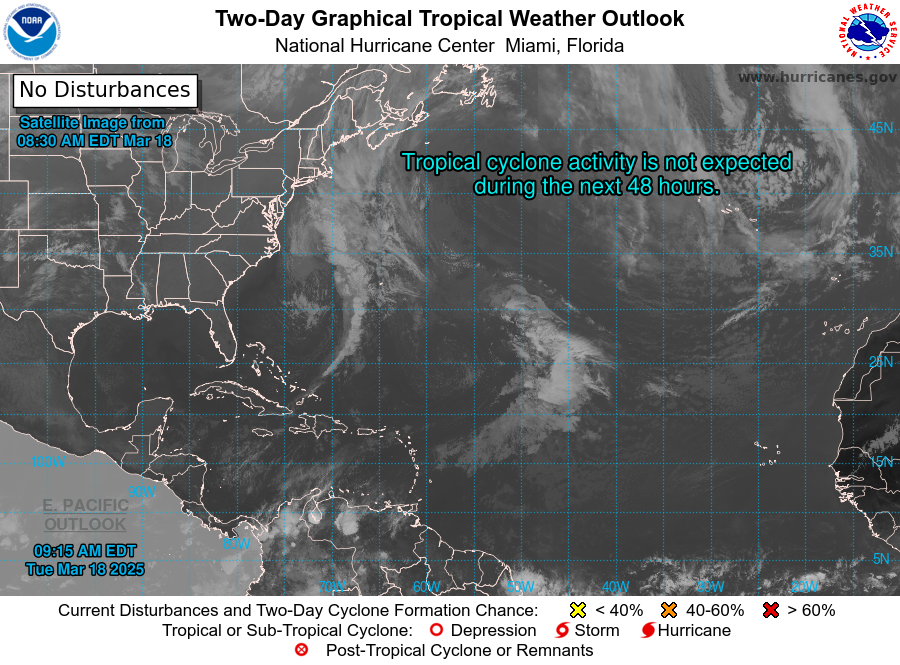 Irma and Jose are what are called Cape Verde Hurricanes and you can see a string of tropical waves from Western Africa passing by the Cape Verde Islands with one being of interest to the NHC. The full discussion can be found
here
.
Part B. The Human and Economic Impacts of Recent Storms
B1. Irma Impacts
This snapshot of the radar image when the storm first went inland just before 3 PM on Sunday September 10, 2017 is for historical purposes only.
Last Reported Track
Precipitation Totals can be found here.
This is close to the Final Results
Damage Assessment
We are showing Saint Martin Impacts as they were well reported. We are not showing other impacts because there where so many that we want to compile a more representative picture of the impacts and right now the focus needs to be on the those islands in the immediate path and Florida.
First Saint Martin especially the French portion of the Island.
Hurricane Irma destroys '95%' of French part of St Martin
dd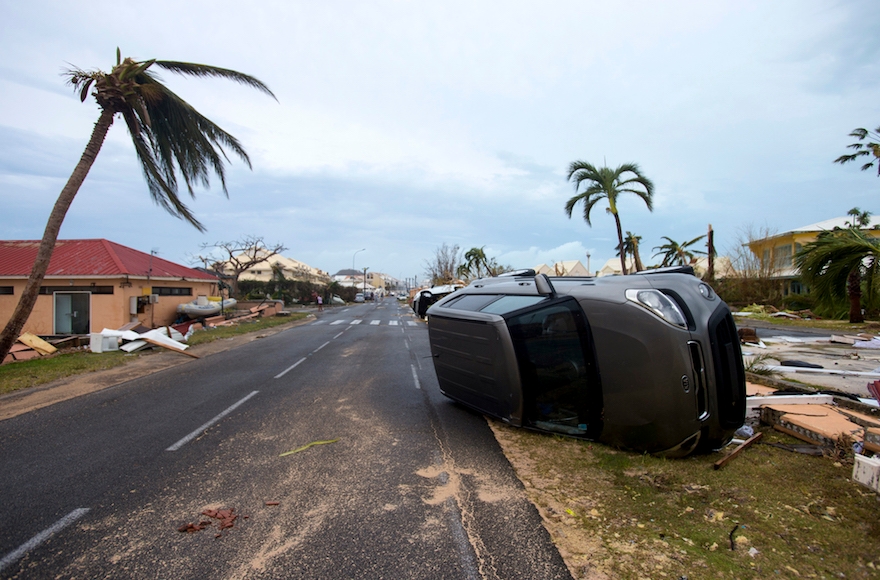 Saint Martin September 6, 2017 Photo Credit. Lionel Chamoiseau/AFP/Getty Images
B2. Harvey Meteorological Summary (For Analysis Purposes Mainly)
Final NOAA Harvey Advisory.
POST-TROPICAL CYCLONE HARVEY ADVISORY NUMBER 53 NWS WEATHER PREDICTION CENTER COLLEGE PARK MD 1100 AM EDT SAT SEP 02 2017

POST-TROPICAL CYCLONE HARVEY CONTINUES TO WEAKEN...

SUMMARY OF 1100 AM EDT...1500 UTC...INFORMATION

LOCATION...38.1N 84.9W ABOUT 20 MILES...30 KM...WNW OF LEXINGTON KENTUCKY ABOUT 60 MILES...100 KM...ENE OF FORT KNOX KENTUCKY MAXIMUM SUSTAINED WINDS...15 MPH...25 KM/H PRESENT MOVEMENT...NE OR 045 DEGREES AT 5 MPH...8 KM/H MINIMUM CENTRAL PRESSURE...1013 MB...29.92 INCHES

WATCHES AND WARNINGS

FLOOD WARNINGS AND ADVISORIES ARE ONGOING SCATTERED THROUGHOUT EASTERN TEXAS...THE LOWER MISSISSIPPI VALLEY...TENNESSEE VALLEY...AND THE LOWER OHIO VALLEY.

DISCUSSION AND 48-HOUR OUTLOOK

AT 1100 AM EDT...1500 UTC...THE CENTER OF POST-TROPICAL CYCLONE HARVEY WAS LOCATED NEAR LATITUDE 38.1 NORTH...AND LONGITUDE 84.9 WEST. HARVEY CONTINUES TO WEAKEN AND IS EXPECTED TO DISSIPATE OVER THE MID-UPPER OHIO VALLEY BY TONIGHT ALONG WITH ANY LINGERING HEAVY RAIN AND RUNOFF THREAT DIRECTLY RELATED TO THE CIRCULATION. HOWEVER, A SEPARATE AREA OF LOW PRESSURE DEVELOPING OVER THE MID-ATLANTIC REGION AHEAD OF HARVEY WILL INTERACT WITH ITS REMNANT MOISTURE PLUME TO PRODUCE AS MUCH AS 1 TO 2 INCHES OF RAIN OVER THE NORTHEAST THROUGH SUNDAY.

HAZARDS AFFECTING LAND

RAINFALL...RESIDUAL FLOODING WILL CONTINUE IN AND AROUND HOUSTON, BEAUMONT/PORT ARTHUR/ORANGE, AND EASTWARD AROUND THE LOUISIANA BORDER THROUGH THE WEEKEND. DO NOT ATTEMPT TO TRAVEL IN THE AFFECTED AREA IF YOU ARE IN A SAFE PLACE. DO NOT DRIVE INTO FLOODED ROADWAYS.

NEXT ADVISORY

THIS IS THE LAST PUBLIC ADVISORY ISSUED BY THE WEATHER PREDICTION CENTER FOR THIS SYSTEM. PLEASE REFER TO YOUR LOCAL NATIONAL WEATHER SERVICE OFFICE FOR FURTHER INFORMATION ON THIS STORM.

FORECAST POSITIONS

INITIAL 02/1500Z 38.1N 84.9W

12HR VT 03/0000Z 39.8N 82.3W...POST-TROP/EXTRATROP

24HR VT 03/1200Z...DISSIPATED
Harvey Final Reported Precipitation Totals as of 11AM EDT September 2, 2017. There is no longer a separate site that I know of that provides update totals and they will no longer be in the WPC Updates so most likely this will be the final update of this information. We may add local updates if significant.
And then Additional States were Impacted.
New States being Impacted
| | | |
| --- | --- | --- |
| | | |
Second Set of States Impacted (This data is as reported on Thursday 10 PM August 31.
Initial States Impacted (These totals are no longer being updated so they were correct as of 10 AM CDT Wednesday August 30).
Below is the last reported Track. There are no further updates of the track but you can tell the track by other graphics that I have included. Also the track is describe in the discussion which is up to date. We are now at the end of the reported track so this graphic is mostly of historical significance now.
Interesting way to view the precipitation pattern in the Houston area.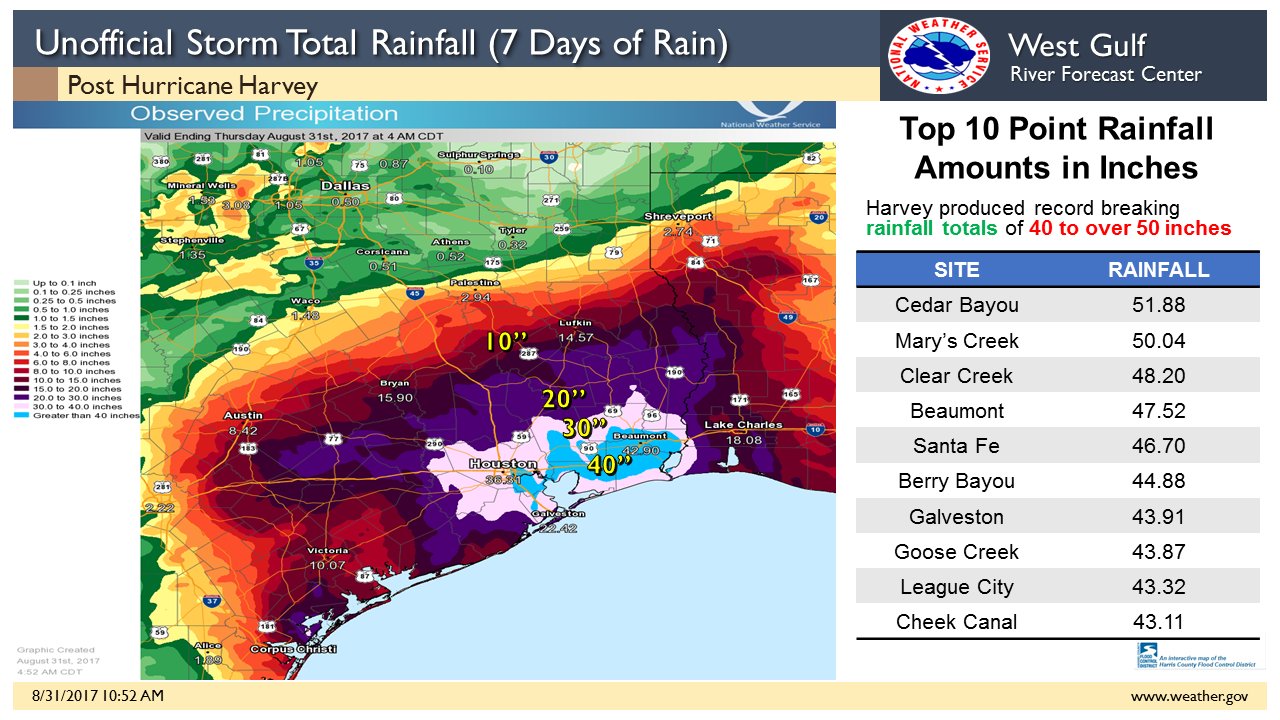 B2: Harvey Impacts
Economic Impacts.
The usual impacts of a disaster are first very negative and later very positive and essentially reflect Keynesian Economics. Unfortunately the first phase comes first and it can be very heartbreaking. One clue to how this might work out is provided by this excellent article.
First Report on number of homes damaged. Source: Market Watch
About 100,000 homes were damaged by Hurricane Harvey, President Donald Trump's Homeland Security Adviser Tom Bossert told reporters on Thursday. Speaking at the White House, Bossert said the administration would soon ask Congress for an initial round of emergency funding to aid relief efforts. He said a second request would be made after getting more information.
Oil Refinery Impacts
At the Beaumont-Port Arthur Airport, 26.03" of rain fell on Tuesday, which is more than double Beaumont's previous calendar-day record of 12.76" on May 19, 1923, in records going back to 1901. Between 10 pm last night and 1 am this morning, 11.86" fell. So far on Wednesday, 4.71" has been reported (as of 11 am CDT), bringing their 5-day storm total rainfall to a staggering 47.98". The intense rains caused extreme flash flooding that inundated all of Port Arthur, according to Mayor Freeman, who showed a video this morning of the inside of his flooded house on his Facebook page. Port Arthur is the site of the nation's largest oil refinery, which was forced to shut down due to the floods. The nation's second-largest refinery, in Baytown, TX, was also forced to shut down yesterday, due to flooding-induced roof damage. In all, at least 12 refineries are currently offline due to Harvey. Source: Weather Underground Category 6 Click to Read Full Article
From this Geopolitical Futures article
The following is from our initial assessment Saturday afternoon. We will attempt to provide an organized assessment rather than streaming news reports as they come it. There is so much reporting that streaming these reports would mostly duplicate the traditional news services. So we will attempt to consolidate the information and provide a somewhat comprehensive analysis.
Concern about Facilities that Depend on Cooling.
Arkema: No way to prevent explosion at flooded Texas chemical plant Click to read more
Well it seems the report unfortunately was timely as this chemical plant has had explosions. You may be able to read about it here (you may hit a paywall not sure).
This is what we reported Saturday afternoon. There are many pictures showing flooding and other damage that we could show now.
Some of the graphics are very disturbing. But first we want to put this storm into perspective. This graphic was sent in by the NWS in Jackson Kentucky but was probably originally prepared by PBS.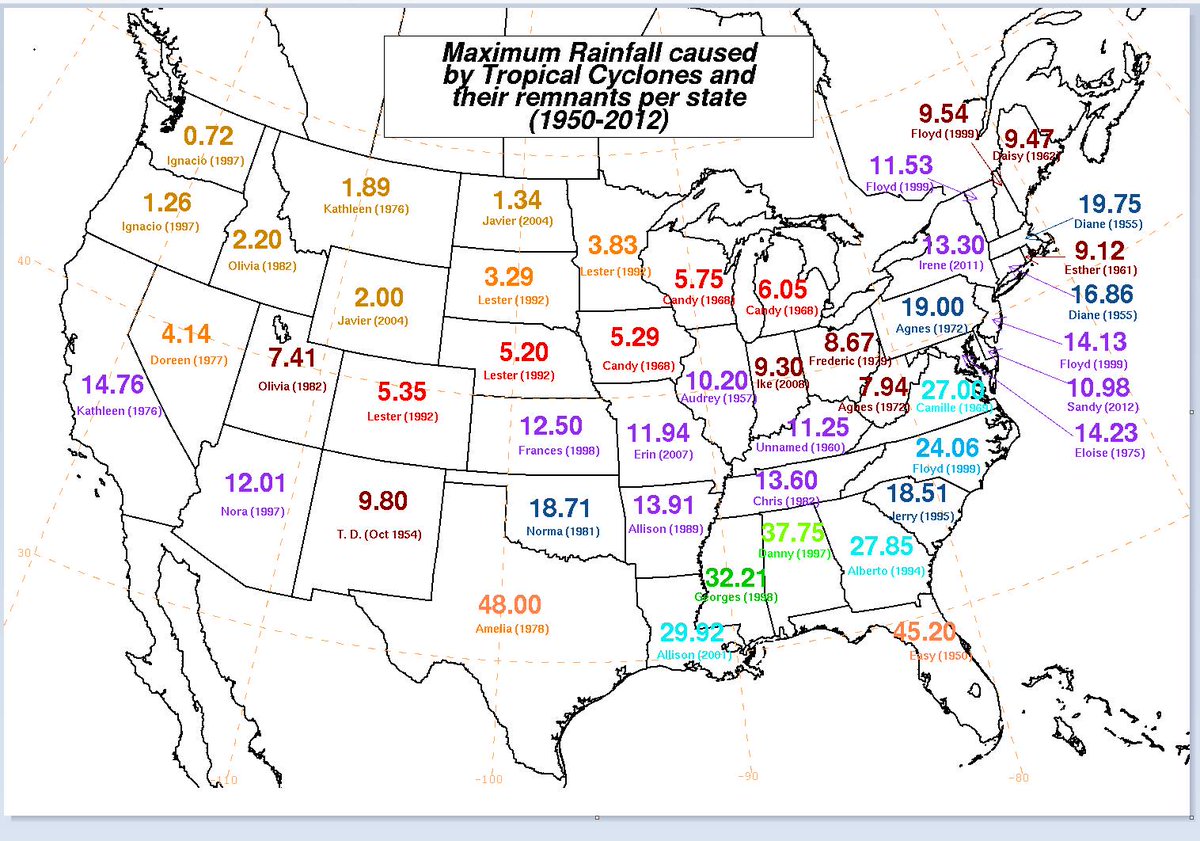 It shows that very wet events are not unknown to Texas so we hope they are prepared to deal with this one.
This is a photo shown on the Blog Category 6; Image Credit is Joe Raedle/Getty Images.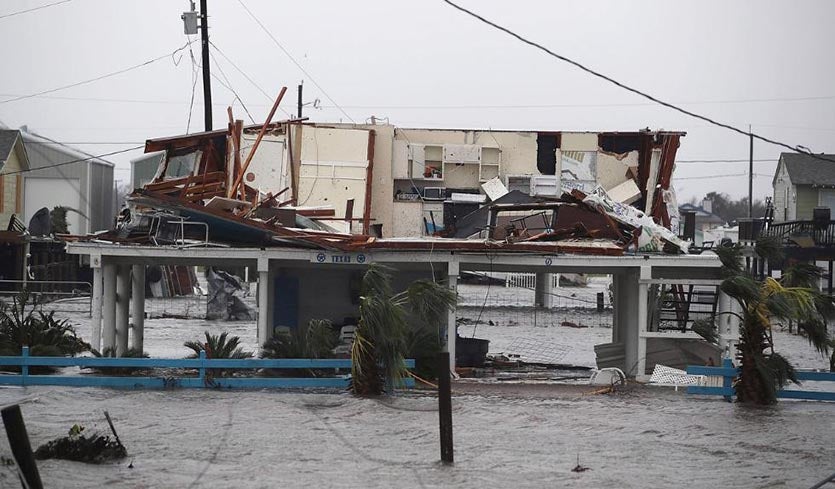 Rockport is about 40 miles Northeast of Corpus Christi and presumably exposed to the strongest winds which are often in the NE quadrant of the storm. Harvey's winds declined rapidly so we should expect that wind damage now will be restricted to tornadoes which can be very deadly. The main story here will be the flooding.
Another Rockport photo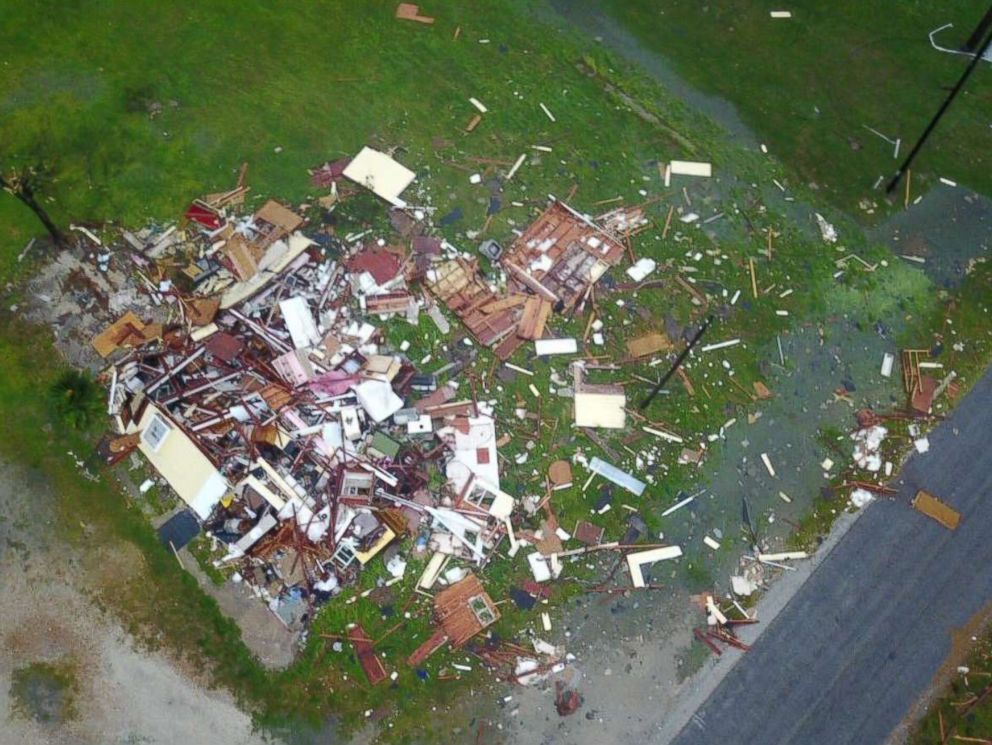 More photo coverage of Rockport can be found here. For some reason the photo credit that is on the photo in the article does not show up when I display the photo separately. It is Brian Emfinger/LSM
We should expect that damage reports may come in slowly since may areas have been evacuated and the media may not be allowed in until the areas are deemed to be save from down power lines etc.
Tornadoes will cause a lot of damage. Right now they seem to be happening in the Cypress Area Northwest of Houston while in Houston flooding has been significant.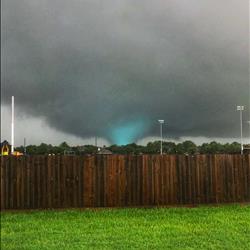 Source: Houston News KHOU
Same source for photos below: KHOU with the first photo credited to Kyra Respress.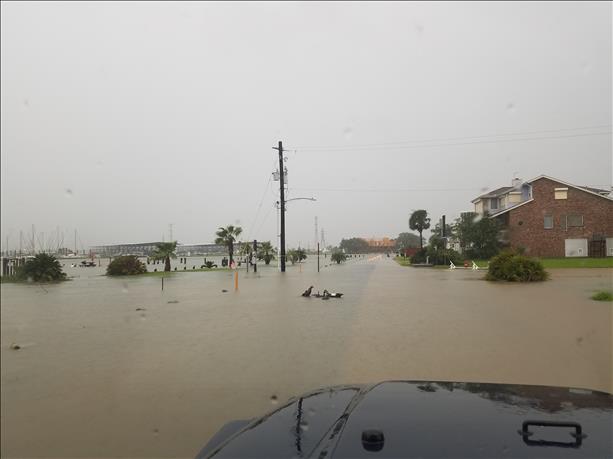 and one more.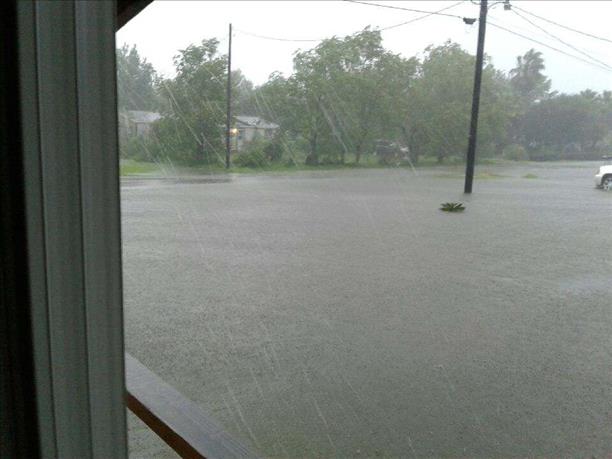 So far the reports of injured and deaths are amazingly low. That might change.
This is an excellent report from the Daily Mail in the UK - Lots of photos.
What Happens Next
It is important to understand that natural disasters often occur over a period of time, not instantaneously.
A good example is the rising of rivers which then overflow their banks and cause damage many hours and even days after the advent of a widespread storm. It takes time for this to happen and with Harvey we have a storm that is likely to provide the time for such subsequent events. Below, from NOAA, is a forecast for the San Bernard River. It is already at flood stage. Not sure how the river can rise to 35 feet once the level is so high that it can no longer be confined by the river banks but the graphic may be intended to show the severe level that is predicted. (If the normal level is x feet below the average river bank height, then all land within 35-x feet in elevation above normal water level will be flooded.)
Click here for a list of Sig Silber's Weather Posts
>>>>> Scroll down to view and make comments <<<<<<
Make a Comment
Econintersect

wants your comments, data and opinion on the articles posted. You can also comment using Facebook directly using he comment block below.
---