posted on 07 September 2017
Written by Sig Silber
---
Note: This article has been updated - Go to Tracking Irma while also Assessing Storm Impacts - 08Sep2017
---
1AM EDT Sept 7: Storm Track for Day 4 Turns North Threatening Florida but there is time for further changes in the Track. Because of the intensity of the Hurricane Season so far, possibly related to the developing La Nina conditions and stronger than usual Easterlies, we have created this article to provide ongoing coverage of the storms that threaten, are impacting, or have recently impacted CONUS (U.S. excluding Alaska and Hawaii) or neighboring nations. This article is updated every evening or more frequently when the situation is changing rapidly. We are now showing the date and time of the most recent update.
Irma is now considered to be a threat to CONUS. Learn about the categories of Hurricanes: Saffir-Simpson Hurricane Wind Scale here
Part A will be the current weather forecasts as they involve Irma. This analysis will also address all other severe weather impacting CONUS and perhaps the Islands that may be at risk from Irma.
Part B will be the physical and human impacts of Harvey and Irma if it comes to that which seems increasingly likely.
---
Please share this article - Go to very top of page, right hand side for social media buttons.
---
Part A. Here we focus on the Meteorological Aspects of the Storms impacting or potentially impacting CONUS. We attempt to keep this information up to date. We will update this information frequently and one can also access some of this information directly from NOAA here if it has Hurricane status or potential or here if it has been downgraded to a Tropical Storm. It is our goal to provide in this continually updated report the information that readers will find most useful. But those links have additional information.
For some purposes, you might want to consult our Monday Weather and Climate report as that report has additional information on the overall weather situation. You can always find the location of all of our reports by clicking here.
Let's Focus on Irma.
Latest Reported Track Forecast
The probabilities of there being a miss for CONUS are not clear since the track for Day 4 (Sun) has turned north. The Track shown is not a guarantee. It is a forecast and much less reliable after 72 hours. But as shown it appears that that IRMA will turn north but the cone is a bit confusing since the center of the cone is right along the east coast of Florida and it is difficult to see how a storm really could follow that track exactly.
Latest Irma Discussion
Hurricane Irma Discussion Number 32 NWS National Hurricane Center Miami FL 1100 PM AST Wed Sep 06 2017

Earlier radar observations from the San Juan WSR-88D showed a concentric eyewall, and observations from an Air Force Hurricane Hunter aircraft showed a secondary wind maximum over the northwest quadrant. These phenomena may be associated with some weakening, but since the central pressure hasn't risen much the intensity is held at 160 kt at this time. Moreover, the concentric eyewall has become less apparent in recent radar imagery. Considerable lightning activity has been noted in the eyewall of Irma, which research has shown to sometimes be a harbinger of weakening. Notwithstanding, low vertical wind shear and warm waters along the forecast track of Irma should allow it to remain a very powerful hurricane during the next several days. The official intensity forecast is similar to the previous one except at day 5 when stronger shear should cause more weakening. This forecast is generally above the intensity model consensus.

Irma continues on a west-northwestward heading at around 14 kt. A ridge of high pressure over the western Atlantic should maintain this course for the next 48 to 72 hours. Later in the forecast period a shortwave trough moving into the southeastern United States is likely to turn the hurricane northwestward to north-northwestward. There has been a slight eastward shift in some of the track guidance models, but since the models could shift back to the west it is prudent to make little change to the official forecast at this time. In any event, users are reminded not to focus on the exact track since the average NHC track errors at days 4 and 5 are about 175 and 225 miles, respectively.

KEY MESSAGES:

1. Irma is a potentially catastrophic category 5 hurricane and will bring life-threatening wind, storm surge, and rainfall hazards to Puerto Rico tonight, the northern coast of Hispaniola Thursday, and the Turks and Caicos and southeastern and central Bahamas Thursday and Friday.

2. Hurricane watches are in effect for the northwestern Bahamas and much of Cuba. Irma is likely to bring dangerous wind, storm surge, and rainfall to portions of these areas on Friday and Saturday.

3. The threat of direct hurricane impacts in Florida over the weekend and early next week has increased. Hurricane watches will likely be issued for portions of the Florida Keys and the Florida peninsula on Thursday.

FORECAST POSITIONS AND MAX WINDS

INIT 07/0300Z 19.4N 66.8W 160 KT 185 MPH

12H 07/1200Z 20.3N 68.8W 155 KT 180 MPH

24H 08/0000Z 21.3N 71.7W 150 KT 175 MPH

36H 08/1200Z 22.1N 74.1W 145 KT 165 MPH

48H 09/0000Z 22.7N 76.3W 140 KT 160 MPH
Those impacted should consult their local sources of information. The Public Advisories and other information that is available from the NOAA National Hurricane Center can be found here.
Also most recently from the NHC
1200 AM AST POSITION UPDATE... ...CORE OF IRMA MOVING AWAY FROM PUERTO RICO
And right behind Irma: Jose
And over in the Western Gulf of Mexico: Katia which clearly is a threat to Mexico
Current Conditions and Short-Term Forecast. The Above Information was Provided by the National Hurricane Center. Now I Present information from Other Parts of NOAA.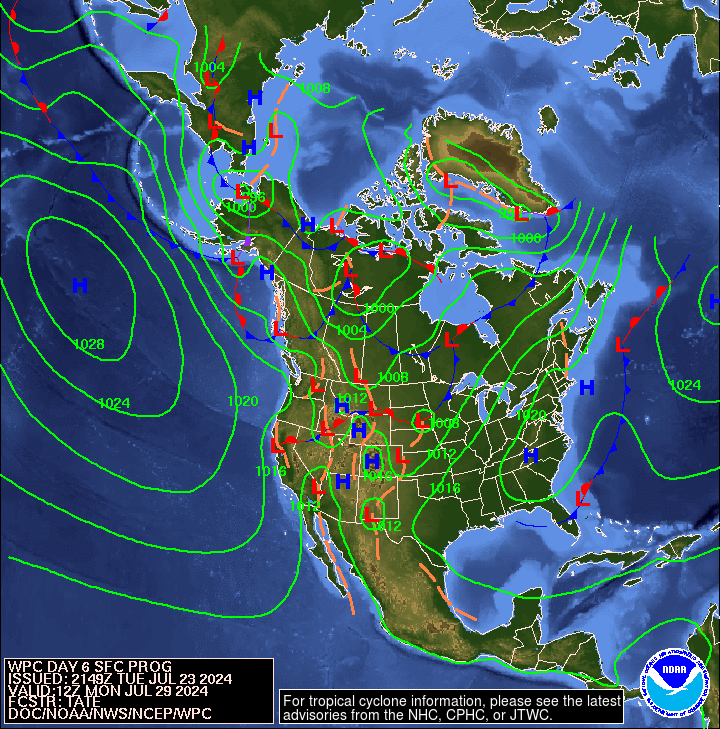 You can see Irma in this forecast provided by the WPC. They work closely with the NHC and have access to the same information. But this graphic provides a larger picture view of the situation. We gather that the Low shown out to sea is Jose.
Additional Graphics
The next set of graphics will apply increasingly to Irma as it comes closer to CONUS. One of the reasons for including these graphics is that I try not to change the graphics that I am presenting as I believe that makes it more difficult for the reader. Since it is our intention to update this article daily, I want to be as consistent was possible. You already can see Irma in this Atmospheric River Graphic. More explanation on Atmospheric Rivers can be found
by clicking here
or if you want more theoretical information
by clicking here
.
This is a national animation of weather fronts and precipitation forecasts with four 6-hour projections of the conditions that will apply covering the next 24 hours and a second day of two 12-hour projections the second of which is the forecast for 48 hours out and to the extent it applies for 12 hours, this animation is intended to provide coverage out to 60 hours. This graphic is now very relevant. Irma early impacts are shown.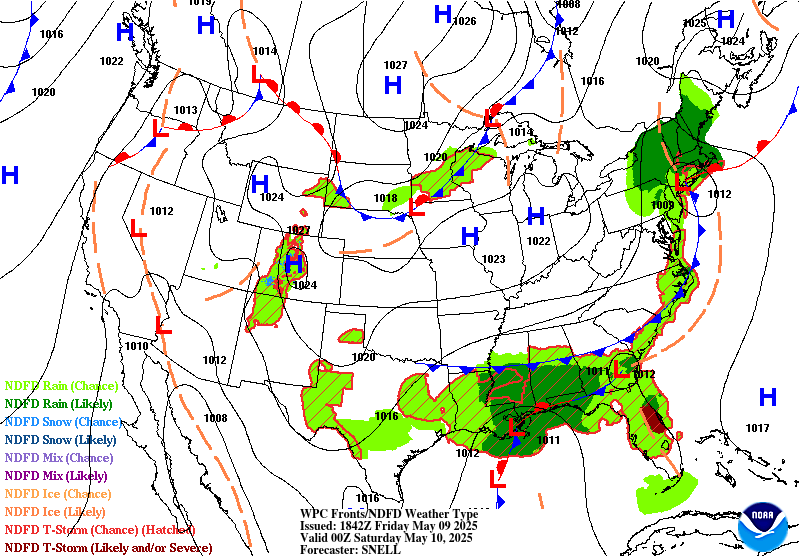 The explanation for the coding used in these maps, i.e. the full legend, can be found
here
although it includes some symbols that are no longer shown in the graphic because they are implemented by color coding.
You can see the tentative forecast for cumulative precipitation for and near Florida. That is likely to be further updated frequently over the next few days. You can see the changes since yesterday. At this point in time there is not the kind of heavy precipitation we had with Harvey forecast for the land area of Florida except possibly right along the coast. That may change as this graphic is updated.
The water vapor imagery is a good guide to where precipitation is occurring. You can see the trough that may allow Irma to proceed north.
---
Part B. The Human and Economic Impacts of Recent Storms
B1. Harvey Meteorological Summary (For Analysis Purposes Mainly)
Final NOAA Harvey Advisory.
POST-TROPICAL CYCLONE HARVEY ADVISORY NUMBER 53 NWS WEATHER PREDICTION CENTER COLLEGE PARK MD 1100 AM EDT SAT SEP 02 2017

POST-TROPICAL CYCLONE HARVEY CONTINUES TO WEAKEN...

SUMMARY OF 1100 AM EDT...1500 UTC...INFORMATION

LOCATION...38.1N 84.9W ABOUT 20 MILES...30 KM...WNW OF LEXINGTON KENTUCKY ABOUT 60 MILES...100 KM...ENE OF FORT KNOX KENTUCKY MAXIMUM SUSTAINED WINDS...15 MPH...25 KM/H PRESENT MOVEMENT...NE OR 045 DEGREES AT 5 MPH...8 KM/H MINIMUM CENTRAL PRESSURE...1013 MB...29.92 INCHES

WATCHES AND WARNINGS

FLOOD WARNINGS AND ADVISORIES ARE ONGOING SCATTERED THROUGHOUT EASTERN TEXAS...THE LOWER MISSISSIPPI VALLEY...TENNESSEE VALLEY...AND THE LOWER OHIO VALLEY.

DISCUSSION AND 48-HOUR OUTLOOK

AT 1100 AM EDT...1500 UTC...THE CENTER OF POST-TROPICAL CYCLONE HARVEY WAS LOCATED NEAR LATITUDE 38.1 NORTH...AND LONGITUDE 84.9 WEST. HARVEY CONTINUES TO WEAKEN AND IS EXPECTED TO DISSIPATE OVER THE MID-UPPER OHIO VALLEY BY TONIGHT ALONG WITH ANY LINGERING HEAVY RAIN AND RUNOFF THREAT DIRECTLY RELATED TO THE CIRCULATION. HOWEVER, A SEPARATE AREA OF LOW PRESSURE DEVELOPING OVER THE MID-ATLANTIC REGION AHEAD OF HARVEY WILL INTERACT WITH ITS REMNANT MOISTURE PLUME TO PRODUCE AS MUCH AS 1 TO 2 INCHES OF RAIN OVER THE NORTHEAST THROUGH SUNDAY.

HAZARDS AFFECTING LAND

RAINFALL...RESIDUAL FLOODING WILL CONTINUE IN AND AROUND HOUSTON, BEAUMONT/PORT ARTHUR/ORANGE, AND EASTWARD AROUND THE LOUISIANA BORDER THROUGH THE WEEKEND. DO NOT ATTEMPT TO TRAVEL IN THE AFFECTED AREA IF YOU ARE IN A SAFE PLACE. DO NOT DRIVE INTO FLOODED ROADWAYS.

NEXT ADVISORY

THIS IS THE LAST PUBLIC ADVISORY ISSUED BY THE WEATHER PREDICTION CENTER FOR THIS SYSTEM. PLEASE REFER TO YOUR LOCAL NATIONAL WEATHER SERVICE OFFICE FOR FURTHER INFORMATION ON THIS STORM.

FORECAST POSITIONS

INITIAL 02/1500Z 38.1N 84.9W

12HR VT 03/0000Z 39.8N 82.3W...POST-TROP/EXTRATROP

24HR VT 03/1200Z...DISSIPATED
Harvey Final Reported Precipitation Totals as of 11AM EDT September 2, 2017. There is no longer a separate site that I know of that provides update totals and they will no longer be in the WPC Updates so most likely this will be the final update of this information. We may add local updates if significant.
And then Additional States were Impacted.
New States being Impacted
| | | |
| --- | --- | --- |
| | | |
Second Set of States Impacted (This data is as reported on Thursday 10 PM August 31.
Initial States Impacted (These totals are no longer being updated so they were correct as of 10 AM CDT Wednesday August 30).
Below is the last reported Track. There are no further updates of the track but you can tell the track by other graphics that I have included. Also the track is describe in the discussion which is up to date. We are now at the end of the reported track so this graphic is mostly of historical significance now.
Interesting way to view the precipitation pattern in the Houston area.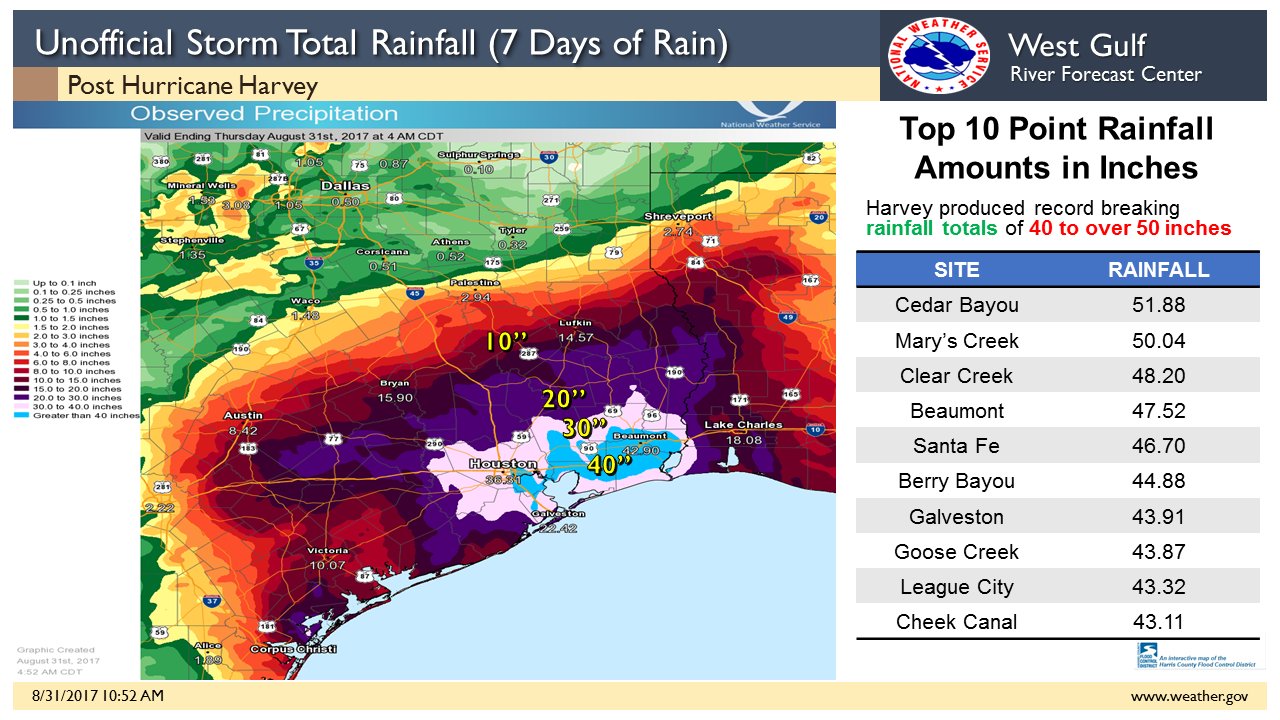 B2: Harvey Impacts
Economic Impacts.
The usual impacts of a disaster are first very negative and later very positive and essentially reflect Keynesian Economics. Unfortunately the first phase comes first and it can be very heartbreaking. One clue to how this might work out is provided by this excellent article.
First Report on number of homes damaged. Source: Market Watch
About 100,000 homes were damaged by Hurricane Harvey, President Donald Trump's Homeland Security Adviser Tom Bossert told reporters on Thursday. Speaking at the White House, Bossert said the administration would soon ask Congress for an initial round of emergency funding to aid relief efforts. He said a second request would be made after getting more information.
Oil Refinery Impacts
At the Beaumont-Port Arthur Airport, 26.03" of rain fell on Tuesday, which is more than double Beaumont's previous calendar-day record of 12.76" on May 19, 1923, in records going back to 1901. Between 10 pm last night and 1 am this morning, 11.86" fell. So far on Wednesday, 4.71" has been reported (as of 11 am CDT), bringing their 5-day storm total rainfall to a staggering 47.98". The intense rains caused extreme flash flooding that inundated all of Port Arthur, according to Mayor Freeman, who showed a video this morning of the inside of his flooded house on his Facebook page. Port Arthur is the site of the nation's largest oil refinery, which was forced to shut down due to the floods. The nation's second-largest refinery, in Baytown, TX, was also forced to shut down yesterday, due to flooding-induced roof damage. In all, at least 12 refineries are currently offline due to Harvey. Source: Weather Underground Category 6 Click to Read Full Article
From this Geopolitical Futures article
The following is from our initial assessment Saturday afternoon. We will attempt to provide an organized assessment rather than streaming news reports as they come it. There is so much reporting that streaming these reports would mostly duplicate the traditional news services. So we will attempt to consolidate the information and provide a somewhat comprehensive analysis.
Concern about Facilities that Depend on Cooling.
Arkema: No way to prevent explosion at flooded Texas chemical plant Click to read more
Well it seems the report unfortunately was timely as this chemical plant has had explosions. You may be able to read about it here (you may hit a paywall not sure).
This is what we reported Saturday afternoon. There are many pictures showing flooding and other damage that we could show now.
Some of the graphics are very disturbing. But first we want to put this storm into perspective. This graphic was sent in by the NWS in Jackson Kentucky but was probably originally prepared by PBS.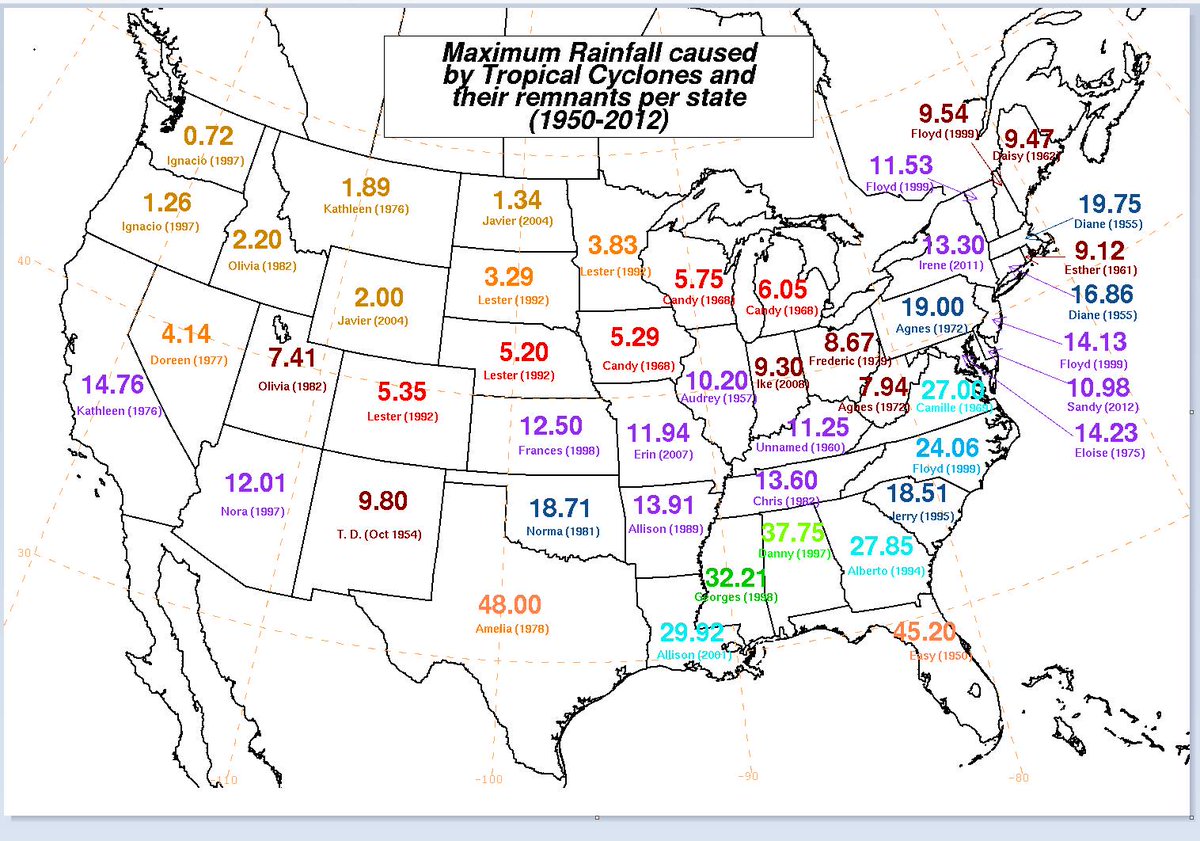 It shows that very wet events are not unknown to Texas so we hope they are prepared to deal with this one.
This is a photo shown on the Blog Category 6; Image Credit is Joe Raedle/Getty Images.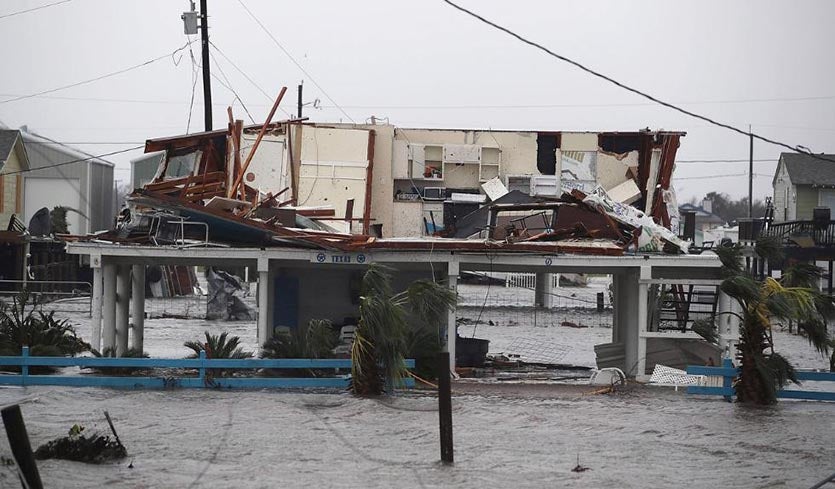 Rockport is about 40 miles Northeast of Corpus Christi and presumably exposed to the strongest winds which are often in the NE quadrant of the storm. Harvey's winds declined rapidly so we should expect that wind damage now will be restricted to tornadoes which can be very deadly. The main story here will be the flooding.
Another Rockport photo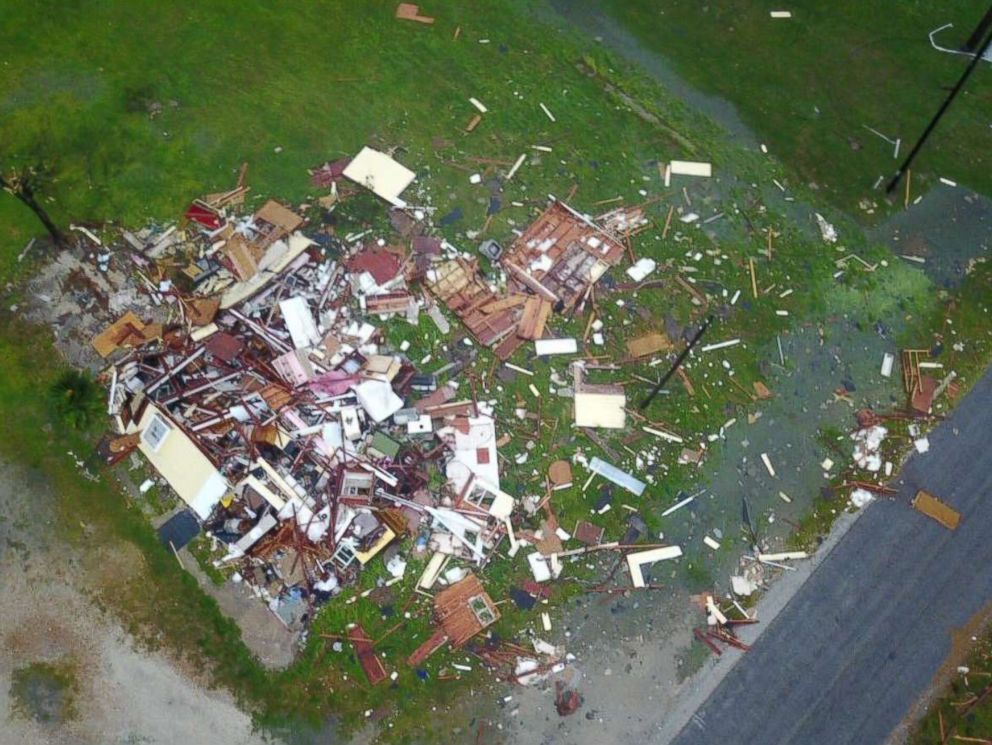 More photo coverage of Rockport can be found here. For some reason the photo credit that is on the photo in the article does not show up when I display the photo separately. It is Brian Emfinger/LSM
We should expect that damage reports may come in slowly since may areas have been evacuated and the media may not be allowed in until the areas are deemed to be save from down power lines etc.
Tornadoes will cause a lot of damage. Right now they seem to be happening in the Cypress Area Northwest of Houston while in Houston flooding has been significant.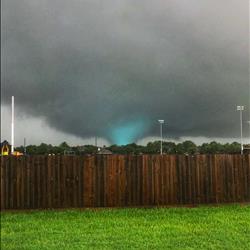 Source: Houston News KHOU
Same source for photos below: KHOU with the first photo credited to Kyra Respress.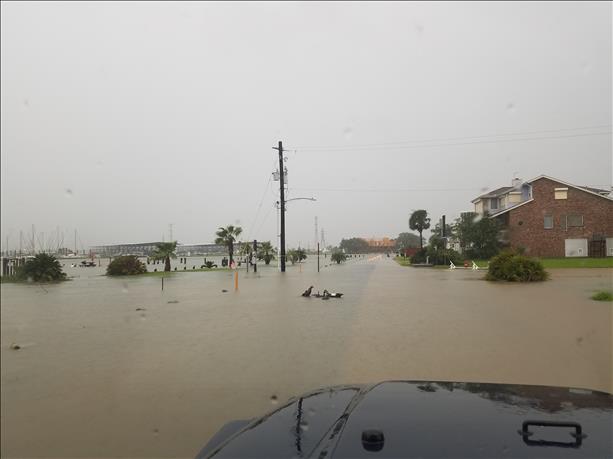 and one more.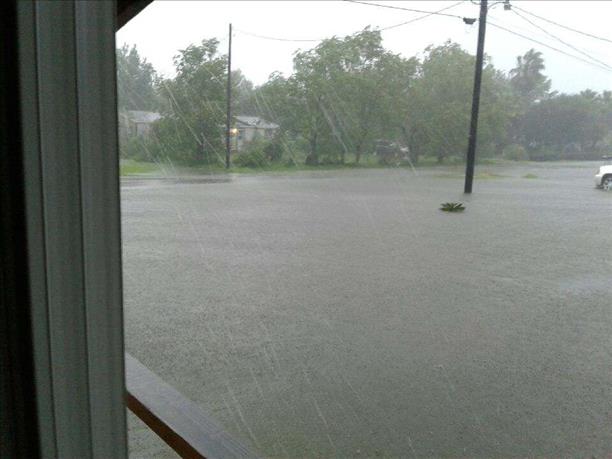 So far the reports of injured and deaths are amazingly low. That might change.
This is an excellent report from the Daily Mail in the UK - Lots of photos.
What Happens Next
It is important to understand that natural disasters often occur over a period of time, not instantaneously.
A good example is the rising of rivers which then overflow their banks and cause damage many hours and even days after the advent of a widespread storm. It takes time for this to happen and with Harvey we have a storm that is likely to provide the time for such subsequent events. Below, from NOAA, is a forecast for the San Bernard River. It is already at flood stage. Not sure how the river can rise to 35 feet once the level is so high that it can no longer be confined by the river banks but the graphic may be intended to show the severe level that is predicted. (If the normal level is x feet below the average river bank height, then all land within 35-x feet in elevation above normal water level will be flooded.)
Click here for a list of Sig Silber's Weather Posts
>>>>> Scroll down to view and make comments <<<<<<
Make a Comment
Econintersect

wants your comments, data and opinion on the articles posted. You can also comment using Facebook directly using he comment block below.
---