posted on 19 February 2017
Written by Sig Silber
... But Less than Previously
On February 16, 2017 NOAA released their Seasonal Outlook (which actually looks out fifteen months). JAMSTEC, which is a Japanese Research Institute, also has issued their Outlook based on their February 1 forecast for ENSO. We will review what have we learned - and address the question: Are either of these forecasts credible? Also of interest is the possibility of a new El Nino and a possible decadal or even a multi-decadal climate shift in the Pacific to PDO Positive.
In this Update, we compare the JAMSTEC temperature and precipitation forecast maps, which are for the World, with the NOAA temperature and precipitation forecast maps that cover only CONUS and Alaska. We do this primarily for educational purposes. Remember: these are forecasts not guarantees. But the differences between the NOAA and JAMSTEC forecasts are significant - especially in the further-out months - and are mostly related to the differing perspectives on the evolution of a possible ENSO into Summer and Fall. JAMSTEC in their further-out forecast (which is only out to Sept - Nov 2017) is reflecting a higher probability of El Nino conditions next Fall.
Both the NOAA and ENSO forecasts are attempting to properly factor in the chances of an El Nino this Summer and into next winter. The difficulty with predicting an El Nino in February is discussed [click here ] This makes all forecasts right now beyond the next three months somewhat of a WAG. We are also watching a possible Climate Shift in the Pacific to a period lasting two to three decades of PDO Positive.
Some Housekeeping Issues
This report will be posted late Saturday February 18 and will be referred to in the Weekly Report for reference until the Saturday after the next NOAA Update on March 16, 2017 which we will report on March 18. The Regular Weekly Report will be published on February 20. If you are reading this Update Report and wish to transfer to the Current Weather and Climate Report, Click here for the list of Weather Posts. That link takes you to the archive of all weather articles written by Sig Silber so you can if the new Weekly Weather Report has been published go there or back to an earlier report but please keep in mind that the graphics in earlier reports in some cases auto-update and the text may no longer apply to the graphics shown. Remember, if you leave this page to visit links provided in this article, you can return by hitting your "Back Arrow", usually top left corner of your screen just to the left of the URL box.
---
NOAA Updated Seasonal Outlook
NOAA issued their updated Seasonal Outlook on the third Thursday of the month i.e. February 16, 2017 as is their normal schedule. Let's first take a look at the NOAA maps. Then we will compare the NOAA Maps to those issued by JAMSTEC. A note about terminology; the deviations from climatology/normal are color coded but also labeled "A" for more than normal and "B" for less than normal. The area designated EC means Equal Chances of being more or less than normal. JAMSTEC relies on their color coding. In my comments I have used EC to cover all the situations where a clear anomaly is not shown.
First we will take a look at the Early Outlook for March 2017. It is called the Early Outlook because it will be updated at the end of February. Only the March Outlook is updated at that time.
Temperature
Precipitation
We have nothing to compare these maps with as NOAA does not in their Update provide a forecast for two months out separate from their three-month forecast. Thus I do not have March maps from the January 19 NOAA Report to compare against. And February is not over so we can not really compare the March forecast against February actual. It is probably best to just try to understand what NOAA is trying to convey about March which can be summarized as for temperature we have a warm Southern Tier and a small North Central cool anomaly. For precipitation, we have three wet anomalies one in Alaska, one in the Southeast but not including Florida, and one in the North Central states. The only cool anomaly is the Southwest. Notice for Western CONUS the anomalies for temperature and precipitation are in the same places but opposite in sign.
Now we consider the three-month Outlook.
Notice that the three-month periods are abbreviated e.g. March,April/May is shown as MAM. You will see such abbreviations often in this report.
Prior Temperature Outlook for MAM 2017
New Temperature Outlook for MAM 2017
It is almost identical to the prior forecast. The warm anomaly is rotated just a bit counter-clockwise thus the anomaly is further west along the Northern Tier.
Prior Precipitation Outlook for MAM 2017
New Precipitation Outlook for MAM 2017
The Northern Tier wet anomaly is shifted to the west and is a bit larger. The Southeast dry anomaly is no longer shown on the map.
Now let us focus on the long-term situation and compare the new set of maps with the maps issued on December 15, 2016.
Prior 14 Month Temperature Outlook: MAM 2017 - FMA 2018
New 14 Month Temperature Outlook: AMJ 2017 - MAM 2018
To compare maps from one release to another, one needs to remember that the new release drops one three-month period and adds a later one. So to make the comparisons one has to shift the new maps to the right one position and that makes the map on the right drop down to become the left-most map in the next level. I do not have a computer software tool for doing that for you so you have to do it mentally. When I do the comparison, I print the two sets of maps and put them side by side and number the same three-month maps 1, 2, 3,.....,11 in both sets of maps to make it easier for me to easily compare the same three-month period in the new with the previous forecast. One uses the same procedure to compare the precipitation maps. Based on this procedure, I conclude that:
There is essentially no major change from the prior forecast until FMA 2018 when the EC area extends to the Southeast.In JJA 2017 the EC anomaly now extends further to the Southeast.
Prior 14 Month Precipitation Outlook: MAM 2017 - FMA 2018
New 14 Month Precipitation Outlook: AMJ 2017 - MAM 2018
Unlike temperature, there are some significant changes in the precipitation maps as follows: Apr-May-Jun 2017 (The Northwest dry anomaly has now become wet), May-Jun-Jul 2017 (The Southwest dry anomaly has been dropped); Jun-Jul-Aug 2017 (The Southwest wet anomaly has been dropped which is very significant).
If you want larger versions of each map (temperature and precipitation) you can find them here. And then each of those maps can be clicked on to further enlarge them.
Sometimes it is useful to compare the present month outlook to the three-month outlook
One can mentally subtract the March Outlook from the three-month Outlook and create the Outlook for the last two months in the three-month period namely April and May 2017. When I do that, I deduce that with respect to temperature, the three-month forecast has a larger warm anomaly but not the North Central cool anomaly shown in March. There are for precipitation less differences. The Northern Tier March wet anomaly covers a smaller area than shown in the three-month map. So again April and May need to have probabilities that differ from what is shown in order for the three-month average to work out. Same goes for the Southeast wet anomaly shown in March but not in the three-month map.
The whole idea is that a three-month average set of probabilities for anomalies is the sum of that information for three months. If you have the first month differing in places from the three-month average you can calculate what a map of the second and third month would look like for the sum of the two maps (March and April/May) to equal the published three-month map. This then allows us to create an April/May map. I have not created a graphic for such a map but simply pointed out where such a map would differ from either the March Map or the three-month map.
If you look carefully you will see four levels of probability of being different than EC: 33%, 40%, 50% and 60%. I am not sure if NOAA calls those levels "classes" as they may just refer to +, - and EC as classes i.e. three levels. But they show nine levels of probabilities on these maps: EC plus four levels of positive deviation from normal and four in the other direction. So if you assume these colors are assigned correctly it is a simple algebra equation to solve 3-Month Probability = March Probability + 2X(April//May probability). So you can derive the April/May forecast this way.You can do that calculation easily for where you live.
Discussion
Below are excerpts (significantly reorganized and with some of the redundancy removed) from the Discussion released by NOAA on February 16, 2017.Depending on your perspective, this discussion is either brilliant or nonsense. The authors have attempted to describe the conflicting information that they have had to resolve so the value of the discussion depends on how much time you are willing to devote to reading and understanding it. It is very illuminating but for many, the maps represent the way NOAA has resolved what appears to be a very complex situation.
Headings that are "Initial Cap" only rather than all caps were added by the Author of this Update Report for clarity. Also we have organized the sequence of the sections of NOAA Discussion to first present the Atmospheric and Oceanic Conditions and then the Current Month, the Three or Four-month period, and finally the remainder of the 15 Month Forecast. We think that sequence with the three- to four-month period broken out separately, makes the discussion more useful for more readers.
SUMMARY OF THE OUTLOOK FOR NON-TECHNICAL USERS

RECENT OCEANIC AND ATMOSPHERIC OBSERVATIONS SHOW THAT ENSO-NEUTRAL CONDITIONS HAVE RETURNED TO THE EQUATORIAL PACIFIC OCEAN. THE OFFICIAL CPC ENSO FORECAST FAVORS ENSO-NEUTRAL CONDITIONS TO PERSIST AT LEAST THROUGHOUT BOREAL SPRING, WITH SIGNIFICANT UNCERTAINTY IN THE PHASE OF ENSO BEYOND THAT TIME.

CURRENT ATMOSPHERIC AND OCEANIC CONDITIONS

OCEANIC AND ATMOSPHERIC OBSERVATIONS INDICATE THAT THE RECENT LA NINA THAT WAS IN PLACE ACROSS THE EQUATORIAL PACIFIC HAS GIVEN WAY TO ENSO-NEUTRAL CONDITIONS. THOUGH A RESIDUAL AREA OF RELATIVELY COOL WATER PERSISTS BETWEEN THE DATE LINE AND ABOUT 160W [Editor's Note: Only 170W to 160W is included in the Nino 3.4 Measurement Area], SEA SURFACE TEMPERATURES (SSTS) FOR MOST AREAS EAST OF ABOUT 150W ARE NOW ABOVE-AVERAGE. ACCORDING TO THE LATEST ENSO DIAGNOSTIC DISCUSSION ISSUED BY CPC ON 9 FEBRUARY 2017, THE LATEST WEEKLY NINO INDEX VALUES WERE -0.3 DEG C IN THE WESTERNMOST NINO-4 AND NINO-3.4 REGIONS, AND +1.5 DEG C IN THE EASTERNMOST NINO 1+2 REGION. THE UPPER-OCEAN (TOP 300 METERS) HEAT CONTENT ANOMALY INCREASED DURING JANUARY, AND FOR THE FIRST TIME IN NEARLY 11 MONTHS, BECAME SLIGHTLY POSITIVE. THIS REFLECTS THE INCREASE OF ABOVE-AVERAGE TEMPERATURES AT DEPTH.

LOW-LEVEL (850-HPA) EASTERLY WINDS WERE SLIGHTLY ENHANCED OVER THE WESTERN TROPICAL PACIFIC, AND UPPER-LEVEL (200-HPA) WINDS WERE NEAR-AVERAGE. THE DOMINANT OUTGOING LONGWAVE RADIATION (OLR) ANOMALY PATTERN FOR THE PAST FEW MONTHS FEATURED ENHANCED CONVECTION ACROSS THE MARITIME CONTINENT REGION, AND SUPPRESSED CONVECTION OVER APPROXIMATELY THE CENTRAL THIRD OF THE TROPICAL PACIFIC. THIS DICHOTOMY IN ANOMALOUS CONVECTION BEARS THE SIGNATURE OF THE LA NINA THAT WAS RECENTLY IN PLACE. THIS PATTERN OF ANOMALOUS CONVECTION IS ALSO CONSISTENT WITH, AND REFLECTIVE OF, A POSITIVELY PHASED INDIAN OCEAN DIPOLE (IOD), WHICH HAS ALSO BEEN IN PLACE FOR SOME TIME. THESE SLOWLY VARYING, LOWER FREQUENCY SIGNALS (THE ENSO AND IOD) HAVE BEEN MODULATING INTRA-SEASONAL SIGNALS [Editor's Note: Probably referring to the Active Phase of the MJO] AS THEY PASS THROUGH THESE REGIONS. CONSTRUCTIVE INTERFERENCE WOULD RESULT WHEN THE ENHANCED CONVECTIVE PHASES OF THESE INTRA-SEASONAL SIGNALS MOVED ACROSS THE MARITIME CONTINENT REGION, AND DESTRUCTIVE INTERFERENCE WOULD RESULT WHEN THE ENHANCED CONVECTIVE PHASES OF THESE INTRA-SEASONAL SIGNALS MOVED ACROSS THE CENTRAL PACIFIC.

PROGNOSTIC DISCUSSION OF SST FORECASTS

THE CPC SST CONSOLIDATION FORECAST, WHICH INCLUDES THREE STATISTICAL FORECASTS ALONG WITH THE CFS, PREDICTS ENSO-NEUTRAL CONDITIONS WILL PERSIST FROM NOW UNTIL THE UPCOMING WINTER SEASON, AFTER WHICH A WEAK LA NINA WOULD BE BRIEFLY FAVORED. IN CONTRAST, THE CFS PREDICTS THE ONSET OF A WEAK EL NINO IN MAM 2017, WHICH STRENGTHENS TO MODERATE INTENSITY BY THE UPCOMING SUMMER. THE AMPLITUDE-CORRECTED NMME (NATIONAL MULTI-MODEL ENSEMBLE) PLUME OF NINO 3.4 SST FORECASTS IS GENERALLY IN-BETWEEN THE CFS AND THE CPC CONSOLIDATION FORECAST. THE CPC-IRI-CONSENSUS FORECAST DEPICTS DECREASING ODDS OF ENSO-NEUTRAL DURING THE NEXT FEW MONTHS, AND INCREASING ODDS OF A WARM EVENT. BY JJA AND JAS, THE PROBABILITY OF EITHER SCENARIO BECOMES AROUND 45 PERCENT EACH, WITH ONLY 10 PERCENT REMAINING FOR A COLD EVENT. THOUGH THERE IS A REASONABLE CHANCE OF AN EL NINO OCCURRING DURING THE NEXT COLD SEASON, IT IS TOO EARLY, AND TOO UNCERTAIN AT THIS TIME, TO CONSIDER USING THIS INFORMATION IN THE SEASONAL TEMPERATURE AND PRECIPITATION OUTLOOKS.

30-DAY OUTLOOK DISCUSSION FOR MARCH 2017

AN INITIAL REVIEW OF SOME OF THE FACTORS TYPICALLY CONSIDERED IN FORMULATING THE HALF MONTH LEAD MONTHLY OUTLOOK INCLUDE CONDITIONS ACROSS THE TROPICS. OCEANIC AND MOST ATMOSPHERIC INDICATORS ASSOCIATED WITH LA NINA CONDITIONS HAVE FADED AND CPC ISSUED ITS FINAL LA NINA ADVISORY EARLIER THIS MONTH. LA NINA WAS NOT CONSIDERED IN THE MARCH 2017 TEMPERATURE AND PRECIPITATION OUTLOOK. AT THE SUBSEASONAL TIME SCALE, WE DO HOWEVER, OBSERVE A ROBUST MJO EVENT WITH THE ENHANCED CONVECTIVE PHASE CENTERED ACROSS THE WESTERN HEMISPHERE AND THE SUPPRESSED CONVECTIVE PHASE LOCATED ACROSS THE INDIAN OCEAN AND MARITIME CONTINENT REGION AND THIS SIGNAL WAS CONSIDERED IN DEVELOPING THE MARCH OUTLOOK. ANOMALOUS SNOW COVER AND ABOVE NORMAL COASTAL SEA SURFACE TEMPERATURES IN SOME AREAS WERE ALSO CONSIDERED.

INFORMATION FROM DYNAMICAL MODEL GUIDANCE PLAYED A LARGE ROLE AS WELL IN THE INITIAL MARCH 2017 OUTLOOK AND INCLUDED WEEK 3-4 MODEL GUIDANCE FROM THE CFS AND ECMWF MODEL SYSTEMS AND MONTHLY GUIDANCE AS A WHOLE FROM THE CFS. STATISTICAL FORECAST GUIDANCE LINKED TO PREDICTORS SUCH AS THE MJO, ENSO AND TREND FOR THE WEEK 3-4 TIME PERIOD ALSO CONTRIBUTED TO THE OUTLOOK.

THE MARCH 2017 TEMPERATURE OUTLOOK DEPICTS A CONSIDERABLE AREA OF EQUAL CHANCES (EC) AT THIS HALF MONTH LEAD AS THERE IS CONSIDERABLE UNCERTAINTY IN A NUMBER OF THE FORECAST TOOLS. LAGGED 200-HPA HEIGHT AND TEMPERATURE COMPOSITES LINKED TO THE CURRENT MJO PHASE WOULD TEND TO FAVOR IN TIME NEGATIVE HEIGHT DEPARTURES AND AREAS OF BELOW NORMAL TEMPERATURES FOR CONSIDERABLE PORTIONS OF THE CONUS DURING LATER FEBRUARY INTO EARLY MARCH INCLUDING THE EASTERN U.S. THIS IS CURRENTLY AT ODDS WITH WEEK-2 GUIDANCE WHICH ON AVERAGE CONTINUES TO FAVOR ABOVE-NORMAL TEMPERATURES IN THIS REGION CLOSE TO EARLY MARCH.

FOR THE INITIAL MARCH 2017 OUTLOOK, BELOW NORMAL TEMPERATURES ARE FAVORED FOR A REGION WHERE MJO RELATED INFORMATION (ABOVE DESCRIBED COMPOSITES AND STATISTICAL FORECAST TOOLS) AND DYNAMICAL MODEL GUIDANCE FROM BOTH WEEK 3-4 AND THE CFS MONTHLY FORECAST ARE CONSISTENT. THIS REGION IS FOR A SMALL AREA THAT INCLUDES PORTIONS OF THE NORTHERN ROCKIES AND NORTHERN HIGH PLAINS. ABOVE NORMAL TEMPERATURES ARE FAVORED ACROSS THE SOUTHERN TIER OF THE CONTIGUOUS U.S. WHERE, IN GENERAL, THERE IS AGREEMENT FROM WEEK 3-4 MODEL GUIDANCE FROM THE CFS AND ECMWF AND THE CFS MONTHLY FORECAST AS WELL AS SUPPORT FROM LONG TERM TRENDS. ABOVE NORMAL TEMPERATURES ARE FAVORED FOR PORTIONS OF WESTERN ALASKA SUPPORTED BY ABOVE NORMAL SEA SURFACE TEMPERATURES IN SOME AREAS AND AVAILABLE DYNAMICAL MODEL GUIDANCE.

THE MARCH 2017 PRECIPITATION OUTLOOK IS STRONGLY BASED ON AVAILABLE DYNAMICAL MODEL GUIDANCE AND TO A LESSER DEGREE MJO CONSIDERATIONS. ABOVE MEDIAN PRECIPITATION IS FAVORED FOR PORTIONS OF THE SOUTHEAST CONUS IN PART DUE TO MJO STATISTICAL FORECAST GUIDANCE AND IS ALSO SUPPORTED BY DYNAMICAL MODEL GUIDANCE FROM BOTH THE WEEK 3-4 PERIOD GUIDANCE AS WELL AS THE CFS MONTHLY FORECAST. ABOVE MEDIAN PRECIPITATION IS ALSO MOST LIKELY DURING MARCH 2017 FOR AREAS OF THE NORTHERN ROCKIES AND NORTHERN HIGH PLAINS WHERE BOTH LONG TERM TRENDS AND DYNAMICAL MODEL GUIDANCE DEPICT A POTENTIAL SIGNAL. PRIMARILY BASED ON THE CFS MONTHLY FORECAST AND LONG TERM TRENDS, THERE ARE ELEVATED ODDS FOR BELOW-MEDIAN PRECIPITATION FOR AREAS STRETCHING FROM ARIZONA TO WEST TEXAS, WHILE WEST-CENTRAL ALASKA IS FAVORED TO SEE ABOVE-MEDIAN PRECIPITATION.

Three Months March - April - May (MAM)

TEMPERATURE

THE MARCH-APRIL-MAY (MAM) 2017 TEMPERATURE OUTLOOK FAVORS ABOVE-NORMAL TEMPERATURES EAST OF A LINE THAT RUNS APPROXIMATELY FROM SOUTHERN CALIFORNIA THROUGH EASTERN WYOMING TO NORTHERN MINNESOTA, AND OVER WESTERN ALASKA. PROBABILITIES OF ABOVE-NORMAL TEMPERATURES EXCEED 50-PERCENT OVER PORTIONS OF THE SOUTHWESTERN AND SOUTH-CENTRAL CONUS, AND OVER MUCH OF THE NORTHEAST.

THE OUTLOOK FOR MAM 2017 WAS CHANGED LITTLE FROM LAST MONTH. PROBABILITIES FOR ABOVE-NORMAL TEMPERATURES WERE EXPANDED WESTWARD ACROSS THE GREAT LAKES REGION AND UPPER MISSISSIPPI VALLEY, BASED ON THE NMME AND MANY OF ITS COMPONENT INPUTS (SUCH AS THE CANADIAN CANCM3 AND CANCM4 MODELS, GFDL FLOR, CFS, NCAR, AND NASA). PROBABILITIES FOR ABOVE-NORMAL TEMPERATURES WERE ALSO INCREASED TO 50-PERCENT IN NEW ENGLAND, BASED ON MANY OF THESE SAME DYNAMICAL MODELS. PROBABILITIES FOR RELATIVE WARMTH WERE ALSO INCREASED ACROSS MUCH OF THE EAST, FROM BETWEEN 33-40 PERCENT, TO BETWEEN 40-50 PERCENT. THE FAVORED ABOVE-NORMAL TEMPERATURES IN WESTERN ALASKA (ESPECIALLY THE ALEUTIANS) FOR THE MAM SEASON ARE BASED PRIMARILY ON DYNAMICAL MODEL INPUTS. ONE REGION THAT WAS ORIGINALLY CONSIDERED FOR A FORECAST OF BELOW-NORMAL TEMPERATURES WAS THE NORTH-CENTRAL CONUS, WHERE A ENSO-TREND BASED FORECAST TOOL THAT USES THE CPC SST CONSOLIDATION AS A PREDICTOR INDICATED THIS POTENTIAL. HOWEVER, WITH THE RECENT TRANSITION OF LA NINA TO ENSO-NEUTRAL CONDITIONS, AS WELL AS LITTLE DYNAMICAL MODEL SUPPORT, IT WAS DECIDED NOT TO INCLUDE THIS AREA OF BELOW-NORMAL TEMPERATURES ON THE MAP.

PRECIPITATION

THE MAM 2017 PRECIPITATION OUTLOOK INDICATES ENHANCED PROBABILITIES OF ABOVE-MEDIAN PRECIPITATION FROM MICHIGAN WESTWARD ACROSS THE NORTHERN TIER OF STATES TO THE PACIFIC NORTHWEST. BELOW-MEDIAN PRECIPITATION AMOUNTS ARE FAVORED OVER SOUTHWESTERN PORTIONS OF THE COUNTRY, AND ALONG MOST OF THE SOUTHERN COAST OF ALASKA.

THE MAM 2017 PRECIPITATION OUTLOOK DEPICTS A FEW DIFFERENCES WITH THE PREVIOUS OUTLOOK. BASED PRIMARILY ON THE DYNAMICAL MODEL SUITE, THE FAVORED AREA OF ABOVE-MEDIAN PRECIPITATION WAS EXPANDED WESTWARD ACROSS THE NORTHERN ROCKIES AND THE PACIFIC NORTHWEST. THE AREA OF FAVORED BELOW-MEDIAN PRECIPITATION OVER THE SOUTHEAST WAS REMOVED DUE TO THE LARGE DIFFERENCES (AND HENCE LARGE UNCERTAINTIES) BETWEEN THE VARIOUS MODELS. THE AREA OF PREDICTED BELOW-MEDIAN (OR LOWER-TERCILE) PRECIPITATION ACROSS THE SOUTHWEST WAS INCREASED IN SIZE, WHILE A SLIVER OF LOWER-TERCILE PRECIPITATION WAS ADDED TO THE SOUTHERN COAST OF ALASKA. THIS LATTER FEATURE IS OFTEN OBSERVED DURING LA NINA WINTERS, AND IS SUPPORTED BY THE NMME, THE CANADIAN CANCM3 MODEL, GFDLS FLOR AND CM2.1 MODELS, AND NCARS CCSM4 AND CESM MODELS. THE CFS AND INTERNATIONAL MULTI-MODEL ENSEMBLE (IMME), HOWEVER, DID NOT PREDICT THIS FEATURE.

Beyond the Next Three Months.

THE OUTLOOKS FOR MAM 2017 THROUGH JAS 2017 ARE BASED ON DYNAMICAL MODEL OUTPUTS FROM THE NMME AND ITS CONSTITUENT INPUTS, BALANCED WITH INPUT FROM THE CPC CONSOLIDATION AND CONSTRUCTED ANALOG BASED ON SSTS (CA-SST). BEYOND JAS 2017, THE OUTLOOKS ARE BASED ON HISTORICAL TRENDS, THE CPC CONSOLIDATION, AND CA-SST. PROGNOSTIC DISCUSSION OF OUTLOOKS - MAM 2017 TO MAM 2018

Temperature

FROM AMJ THROUGH JAS 2017, ONLY MINOR ADJUSTMENTS WERE MADE TO THE PREVIOUS OUTLOOKS, BASED PRIMARILY ON DYNAMICAL AND STATISTICAL MODEL GUIDANCE. ACROSS THE WESTERN CONUS, PROBABILITIES FAVORING ABOVE-NORMAL (UPPER-TERCILE) TEMPERATURE ANOMALIES EXPANDED GENERALLY TOWARDS THE NORTHWEST. THE PROBABILITIES IN EXCESS OF 50-PERCENT ACROSS THE SOUTHWEST ARE CONSISTENT WITH SPRINGTIME TEMPERATURE TRENDS. BY MJJ, THE PREDICTED AREA OF EC IS CONFINED TO THE NORTH-CENTRAL CONUS, AND A NOTICEABLE WEAKNESS IN THE PROBABILITIES FOR ABOVE-NORMAL TEMPERATURES TAKES SHAPE FROM THE MIDWESTERN STATES TOWARDS THE CAROLINAS. THIS IS A FEATURE THAT IS PREDICTED BY MANY OF THE DYNAMICAL AND STATISTICAL MODELS, AND THIS SUGGESTS THE POTENTIAL FOR COLDER AIR MASSES TO MOVE THROUGH THIS CORRIDOR. ABOVE-NORMAL TEMPERATURES ARE FAVORED FOR ALL OF ALASKA BY MJJ. IN JJA, THE PROBABILITIES FOR ABOVE-NORMAL TEMPERATURES EXCEEDS 50-PERCENT ACROSS NEW ENGLAND, BASED ON SUCH MODELS AS THE CFS, CALIBRATED NMME AND IRI. BY JAS, THE CORRIDOR OF RELATIVE WEAKNESS NOTED EARLIER (WHICH ALSO CONTAINED SOME EC) FILLS IN COMPLETELY WITH MODEST PROBABILITIES FOR UPPER-TERCILE WARMTH. FROM ASO ONWARD, THE CPC CONSOLIDATION TOOL (WHICH INCORPORATES HISTORICAL TRENDS) AND THE SST-CA TOOL WERE USED. THE GENERAL SHAPE OF THE PREDICTED PATTERN FAVORING RELATIVE WARMTH CONTINUES ACROSS THE CONUS AND ALASKA, THOUGH WITH DIMINISHED PROBABILITIES. DURING THE SON AND OND SEASONS, PROBABILITIES FOR UPPER-TERCILE TEMPERATURE ANOMALIES INCREASE TO OVER 60-PERCENT FOR THE NORTH SLOPE OF ALASKA. THIS IS PRIMARILY ATTRIBUTED TO THE DELAYED ONSET, AND REDUCED COVERAGE OF, SEA ICE FORMATION IN RECENT YEARS. BY FMA AND MAM 2018, THE FAVORED ABOVE-NORMAL TEMPERATURES OVER THE EASTERN CONUS GRADUALLY GIVE WAY TO EC, WHILE THE WARM SIGNAL TREND PERSISTS OVER THE WESTERN CONUS AND ALASKA.

Precipitation

DURING AMJ AND MJJ 2017, THE ONLY SIGNAL CONSIDERED RELIABLE WAS AN AREA OF ABOVE-MEDIAN PRECIPITATION ACROSS THE NORTHWESTERN PORTION OF THE LOWER 48 STATES. THE NMME AND CFS ALSO PREDICTED EXTENSIONS OF THIS WET AREA INTO THE SOUTHWEST, BUT THESE WERE DEEMED UNRELIABLE. BY JJA AND JAS, AN AREA OF BELOW-MEDIAN PRECIPITATION IS FAVORED ACROSS THE NORTHWEST, WHICH IS A FAIRLY RELIABLE TREND SIGNAL, AS IS THE FAVORED WET SIGNAL OVER THE NORTHEAST. THE LATTER SIGNAL CONTINUES THROUGH ASO. FOR SON AND OND, THERE ARE NO RELIABLE PRECIPITATION SIGNALS, HENCE THE NATIONAL FORECAST OF EC. FROM NDJ 2017 THROUGH MAM 2018, THE PRECIPITATION OUTLOOKS ARE PRIMARILY BASED ON HISTORICAL TRENDS, BUT ALSO ON THE SST-CA TOOL. LOWER-TERCILE PRECIPITATION IS FAVORED FOR PARTS OF THE WEST COAST AND GULF COAST IN BOTH NDJ AND DJF. THIS SIGNAL OF RELATIVE DRYNESS CONTINUES ACROSS THE EASTERN GULF COAST REGION AND EXPANDS ACROSS THE CAROLINAS OUT TO MAM 2018, WHILE A DRY SIGNAL EMERGES OVER THE DESERT SOUTHWEST DURING THE FMA AND MAM 2018 SEASONS.
Forecasting the Evolution of ENSO
Here is the latest NOAA forecast of Nino 3.4 temperature anomalies. You can see the "blue" newer model runs and the "red" older model runs. The Oceanic Niño Index (ONI) which is the three-month rolling average of the Nino 3.4 values is NOAA's primary indicator for monitoring El Niño and La Niña. The secondary indicator is the Southern Oscillation Index (SOI) which is based on the extent that the air pressure anomaly in Tahiti exceeds the air pressure anomaly in Darwin Australia. It is a complicated formula and is intended to assess the response of the atmosphere to the changes in the pattern of warm and cool anomalies measured by the Nino 3.4 Index. It confirms rather than predicts the phases of ENSO. We will present the SOI data following the NOAA Nino 3.4 forecast discussion.
Now we are beyond wondering if the Cool Event will meet La Nina Standards (it did not but that did not stop NOAA from declaring it to have been a reportable La Nina) and instead are wondering if the forecasted Warm Event will meet El Nino Standards.
At this point in time, the forecast by the NOAA model is that Nino 3.4 no longer is sufficiently cool (-0.5C or cooler) to be considered a La Nina (but NOAA did not say this) and is expected to continue to be less cool i.e. warm. Looking at this graphic you can see that the Nino 3.4 reading is now about dead zero. NOAA claimed that their reason for declaring this Cool Event to have been a true La Nina was that the atmosphere had recently confirmed that borderline La Nina Conditions applied but the SOI did not support that conclusion as shown below. The ultimate recording of this as a La Nina event depends on the duration requirements being met and that did not occur. It is true that NOAA uses a second set of books to track ENSO events as they believe the way they manipulate the definition of current climate in their other set of books is more reliable. ENRON tried that also. In reality, fully meeting the criteria or just barely missing may have little impact on the weather that occurs. But it interferes with future statistical analysis and is IMO unprofessional.
Re The SOI
Normally La Nina Conditions are confirmed by SOI 30 day values that are greater than or equal to +7.0. As you can see, that was not the case in October (not shown), November, December or January. It was the case in September. So any claims that the atmosphere was showing La Nina was Fake News by NOAA. Now you see the SOI threatening to be consistent with El Nino i.e. a negative value for the last 30 days.
And now we have the IRI/CPC February 16, 2017 fully model-based report.
Here is the discussion that was released with the IRI/CPC Report.
Note: The SST anomalies cited below refer to the OISSTv2 SST data set, and not ERSSTv4. OISSTv2 is often used for real-time analysis and model initialization, while ERSSTv4 is used for retrospective official ENSO diagnosis because it is more homogeneous over time, allowing for more accurate comparisons among ENSO events that are years apart. During ENSO events, OISSTv2 often shows stronger anomalies than ERSSTv4, and during very strong events the two datasets may differ by as much as 0.5 C. Additionally, the ERSSTv4 may tend to be cooler than OISSTv2, because ERSSTv4 is expressed relative to a base period that is updated every 5 years, while the base period of OISSTv2 is based on a slightly older period and does not account as much for the slow warming trend in the tropical Pacific SST. [Editor's Note: This is correct but there is no valid reason for NOAA not to use a more realistic definition of Climatology in their CFSv2 model and avoid this confusion].

Recent and Current Conditions

In January 2017, the NINO3.4 SST anomaly, which had been near or slightly cooler than -0.5 C since the middle of 2016 (making for a borderline or weak La Niña SST condition), warmed back to neutral. For January the SST anomaly was -0.32 C, and for Nov-Jan it was -0.43 C. The IRI's definition of El Niño, like NOAA/Climate Prediction Center's, requires that the SST anomaly in the Nino3.4 region (5S-5N; 170W-120W) exceed 0.5 C. Similarly, for La Niña, the anomaly must be -0.5 C or less. The climatological probabilities for La Niña, neutral, and El Niño conditions vary seasonally, and are shown in a table at the bottom of this page for each 3-month season. The most recent weekly anomaly in the Nino3.4 region was 0.1, at an ENSO-neutral level. The SST farther east has increased to above-average levels. Most of the pertinent atmospheric variables also returned to neutral patterns, with the exception of the convection anomalies in the central and western tropical Pacific, which continued to suggest a weak La Niña. The lower-level trade winds and upper level westerly winds have been largely near-average, and the Southern Oscillation Index (SOI) has been near-average during January and early February. Subsurface temperature anomalies across the eastern equatorial Pacific have increased to near-average. Overall, given the SST and the atmospheric conditions, the diagnosis of ENSO-neutral is clearly most appropriate.

Expected Conditions

What is the outlook for the ENSO status going forward? The most recent official diagnosis and outlook was issued one week ago in the NOAA/Climate Prediction Center ENSO Diagnostic Discussion, produced jointly by CPC and IRI; it stated that the ENSO conditions have returned to neutral during January, and that ENSO-neutral is the most likely condition through May 2017. The latest set of model ENSO predictions, from mid-February, now available in the IRI/CPC ENSO prediction plume, is discussed below. Those predictions suggest that the SST is most likely to be in the ENSO-neutral range from February-Apr season forward through most of the first half of 2017, but with increased uncertainty from around May onward, when El Niño development becomes a possibility.

As of mid-February, 96% of the dynamical or statistical models predicts neutral ENSO conditions for the initial Feb-Apr 2017 season, while 4% predicts El Niño conditions. At lead times of 3 or more months into the future, statistical and dynamical models that incorporate information about the ocean's observed subsurface thermal structure generally exhibit higher predictive skill than those that do not. For the May-Jul 2017 season, among models that do use subsurface temperature information, no model predicts La Niña conditions, 61% predicts El Niño conditions, while 39% predicts neutral ENSO. For all model types, the probabilities for La Niña are 6% or less for for all predicted seasons from Feb-Apr through Oct-Dec 2017. The probability for El Niño conditions is near 5% for Feb-Apr and Mar-May, then rises to near 25% for Apr-Jun, and approximately 50% from May-Jul through the final season of Oct-Dec. Chances for neutral ENSO conditions exceeds 90% for Feb-Apr and Mar-May, is near 75% for Apr-Jun, and between approximately 40 to 55% from May-Jul through Oct-Dec.

Caution is advised in interpreting the distribution of model predictions as the actual probabilities. At longer leads, the skill of the models degrades, and skill uncertainty must be convolved with the uncertainties from initial conditions and differing model physics, leading to more climatological probabilities in the long-lead ENSO Outlook than might be suggested by the suite of models. Furthermore, the expected skill of one model versus another has not been established using uniform validation procedures, which may cause a difference in the true probability distribution from that taken verbatim from the raw model predictions.

An alternative way to assess the probabilities of the three possible ENSO conditions is more quantitatively precise and less vulnerable to sampling errors than the categorical tallying method used above. This alternative method uses the mean of the predictions of all models on the plume, equally weighted, and constructs a standard error function centered on that mean. The standard error is Gaussian in shape, and has its width determined by an estimate of overall expected model skill for the season of the year and the lead time. Higher skill results in a relatively narrower error distribution, while low skill results in an error distribution with width approaching that of the historical observed distribution. This method shows probabilities for La Niña at less than 10% from Feb-Apr through Jul-Sep 2017, increasing slightly thereafter, reaching nearly 20% by Oct-Dec. Probabilities for ENSO-neutral are near 95% for Feb-Apr 2017, falling steadily to 55% by May-Jul, and down to near 35% by the final Oct-Dec season. Probabilities for El Niño are less than 5% for Feb-Apr, rise to about 25% by Apr-Jun and to approximately 45-50% for Jun-Aug through the final season of Oct-Dec. A plot of the probabilities generated from this most recent IRI/CPC ENSO prediction plume using the multi-model mean and the Gaussian standard error method summarizes the model consensus out to about 10 months into the future. The same cautions mentioned above for the distributional count of model predictions apply to this Gaussian standard error method of inferring probabilities, due to differing model biases and skills. In particular, this approach considers only the mean of the predictions, and not the total range across the models, nor the ensemble range within individual models.

In summary, the probabilities derived from the models on the IRI/CPC plume describe, on average, a very high likelihood for neutral ENSO conditions for Feb-Apr. ENSO-neutral is predicted to remain the most likely of the three possibilities throughout around Jun-Aug, after which El Niño becomes more likely than neutral through the final season of Oct-Dec. Although most likely, the chances for El Niño only reaches near 50% during Jul-Sep through Oct-Dec. Chances for La Niña are below 10% through the first half of 2017, and only increase slightly later in the year, remaining less than 20% throughout. A caution regarding this latest set of model-based ENSO plume predictions, is that factors such as known specific model biases and recent changes that the models may have missed will be taken into account in the next official outlook to be generated and issued in early March by CPC and IRI, which will include some human judgment in combination with the model guidance.
I thought this was an interesting graphic.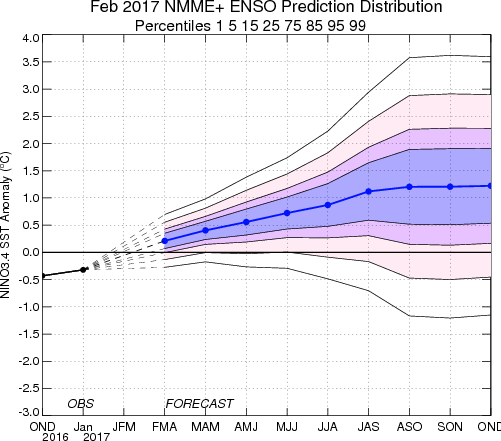 .
Here is the recently released JAMSTEC Nino 3.4 Forecast.
Based on the Nino 3.4 projection, JAMSTEC is saying the Cool Event did not meet the criteria to have been declared a La Nina as was done by NOAA: Nino 3.4 being colder than -0.5 and the duration of being under -0.5 was not sufficient to qualify as a La Nina. JAMSTEC is raising the possibility of an El Nino for the following winter. But it is too soon to make that prediction and the prior forecast last month suggested that such a warm event would be too short to qualify as an El Nino. That is not the case with the current forecast but forecasts in February are unreliable.
The Discussion that goes with their Nino 3.4 forecast has just been released. Notice the suggestion that we might be having a Pacific Climate Shift to PDO Positive.
Feb. 18, 2017
Prediction from 1st Feb., 2017

ENSO forecast:
The SINTEX-F now clearly predicts an El Niño event from this coming summer. This may suggest a decadal turnabout in the tropical Pacific climate condition to El Niño-like state after a long spell of La Niña-like state. If this happens, such natural climate variability may double the global warming impact as we observed during the period from 1976 through 1998.

Indian Ocean forecast:
Occurrence of a positive Indian Ocean Dipole is also clearly predicted; almost all ensemble members are suggesting the evolution in summer and the height in fall. We may observe co-occurrence of a positive Indian Ocean Dipole and an El Niño in the latter half of 2017; this is just as in 1997 and 2015.

Regional forecast:
On a seasonal scale, most part of the globe will experience a warmer-than-normal condition, while some parts of western Canada and northern Brazil will experience a colder-than-normal condition in the boreal spring. In the boreal summer, most parts of the globe will experience a hotter-than-normal condition. On the other hand, some parts of central Russia, northern China, and northern Australia will experience a cooler-than-normal condition.

According to the seasonally averaged rainfall prediction, a wetter-than-normal condition is predicted for eastern part of Brazil, northeastern part of China, and eastern part of southern Africa during the boreal spring, whereas most parts of southeastern China, Indonesia, and Europe will experience a drier condition during the boreal spring. In the boreal summer, most parts of Indonesia, western India, and Australia will experience a drier-than-normal condition, due to the El Niño and the positive Indian Ocean Dipole. Most parts of Japan will be in a warmer and wetter-than-normal condition in the boreal spring (except for less rain expected in March). In boreal summer, we expect a cooler (hotter)-than-normal condition in the northern (western) part. Since the Bonin high may not be matured in summer due to expected El Niño, we expect rather abnormal summer conditions particularly in the northern part. However, we also expect that the El Niño influences may be partly canceled mostly in the western part due to development of the positive Indian Ocean Dipole.
Here is the most recent Nino 3.4 report from the Australian BOM.
This is basically the same forecast as other agencies but with a different threshold for considering a SSTA to be either La Nina or El Nino and slightly higher values than NOAA through November so BOM does not show anything other than ENSO Neutral in recent months and going forward into the Summer. If BOM is not incorrect and if JAMSTEC is not incorrect then NOAA has been reporting questionable values for Nino 3.4. The BOM values do not agree totally with the JAMSTEC values so there is a margin for error. It is really hard to know who is correct. What we do know is they are all measuring the exact same part of the Equatorial Pacific. And as shown earlier the SOI has not confirmed that this was a possible La Nina. So to me NOAA was for unexplained reasons hyping a phantom La Nina. Now it is clear that the difference between a Cool Event that does not meet the criteria to be considered a true La Nina and a weak La Nina may not be very great. But scientists should try to be precise. NOAA is not precise. They have problems keeping up with changes. They get locked into a certain interpretation of what is going on and do not react quickly to new information. It may have to do with being a very large organization. But there could be more nefarious reasons.
Now the Comparison of the NOAA and JAMSTEC Forecasts. I am only discussing the differences for CONUS since NOAA does not cover the World in this set of forecasts. But the JAMSTEC World forecast is here for you to see and I comment on the highlights of that forecast also.
JAMSTEC works in three-month intervals and does not change the selection of months each time they update. So we have MAM, JJA, and SON to work with from JAMSTEC. So this month things line up very well. In two out of three months they do not but this is the one out of three.
In the past I showed the JAMSTEC forecast map first and commented on it and then I showed the NOAA map and commented on it and compared it to the JAMSTEC map that was above the NOAA map. Last month I changed the sequence and I am again showing the NOAA maps first.
MAM 2017
Temperature
NOAA
JAMSTEC WORLD MAP
For the World It is mostly warm but with notable cool areas in Northern Brazil, Northern Australia, Northern Siberia and Western Canada. For CONUS, NOAA shows three-fourths of CONUS warm with a divide that is a SW to NE (ending in Minnesota) division. They show the one-fourth that is north and west of the warm anomaly to be EC. JAMSTEC is somewhat similar but with a much smaller area that is not warmer than climatology.
Precipitation
NOAA
JAMSTEC WORLD MAP
Of interest is the mostly wet South America and dry Maritime Continent, dry Southeast Asia, and slightly dry Australia. But Japan is wet. There is really somewhat of a Northern Hemisphere/Southern Hemisphere divide with the Southern Hemisphere being wetter than the Northern Hemisphere. This shows up dramatically in Europe.
And then to get more focus, I extracted and enlarged an image from the JAMSTEC map for Europe and below that for CONUS (actually most of North America).. .
If I made these extracted images larger they would get blurred. For CONUS NOAA shows a wet Northern Tier and dry Southwest. JAMSTEC is showing a more complicated pattern and a dry Southeast and wet Midwest. JAMSTEC is showing Europe dry except for Ireland, Scotland and part of Norway which are forecast to be wet.
JJA 2017
Temperature
NOAA
JAMSTEC WORLD MAP
For JAMSTEC we see cool areas only in Northern Australia, CONUS Southeast, Western Canada, Eastern Siberia and a large part of Central Siberia. JAMSTEC and NOAA pretty much agree that Alaska will be warm. They disagree a bit on where CONUS will be cool. NOAA has it EC in the Upper Mississippi Valley and JAMSTEC has it cool in the Southeast.
Precipitation
NOAA
JAMSTEC CONUS (Extracted from the the JAMSTEC World Map and really including most of North America)
The most notable difference is that JAMSTEC shows the Southeast wet. NOAA is showing a dry Northwest but JAMSTEC is showing EC. Both seem to agree on the Southwest not having a strong Monsoon.
JAMSTEC WORLD MAP
Europe is dry. Australia and more intensely the island nations north of Australia are dry. Western India and Pakistan is dry. West Africa is wet.
SON 2017
Temperature
NOAA
JAMSTEC WORLD MAP
JAMSTEC has Asia cool and Western Europe cool.
NOAA has CONUS and Alaska warm and JAMSTEC has Alaska and most of CONUS warm but with parts of the Lower Mississippi Valley cool.
Precipitation
NOAA
JAMSTEC CONUS (Extracted from the JAMSTEC World Map and covering North and Central America)
JAMSTEC unlike NOAA is not shy about making a precipitation forecast for CONUS for SON 2017. NOAA shows it EC while JAMSTEC shows it having a complicated pattern of wet and dry areas.
JAMSTEC WORLD MAP
Europe is now much less dry, South Africa is wet. Australia is dry and areas to the north of Australia also are dry. North Korea is dry.
Conclusion
Most of the differences with respect to CONUS can be explained by the differing forecasts for ENSO with JAMSTEC shutting down the Cool Event faster than NOAA and factoring in an El Nino for the second and third periods in their forecast with more confidence than NOAA. Given the uncertainty about the Phase of ENSO that we might have for this Summer and next Fall, neither of the forecasts is totally reliable for the second half of 2017. I believe that NOAA with the help of IRI/CPC will soon begin to address the Spring Prediction Barrier with more confidence. Thus within a month or two, these two forecasts should converge further as confidence is gained in the Phase of ENSO that will apply to Summer, Fall, and the 2017/2018 Winter.
Click here for a list of Sig Silber's Weather Posts
>>>>> Scroll down to view and make comments <<<<<<
Make a Comment
Econintersect

wants your comments, data and opinion on the articles posted. You can also comment using Facebook directly using he comment block below.
---