posted on 05 October 2016
Written by Sig Silber
Updated Thursday October 20, 4 AM EST. This Update Report is kept up to date. When you access the report you will receive the latest information. Latest on Typhoon Haima.
This website will be repurposed soon to cover the NOAA Seasonal Outlook that is being issued today October 20, 2016. It probably will take a few days to have that update prepared and published. Until then it will updated to cover tropical storms.
Prior Discussion
There is no need for more advisories on Hurricane Nicole as it is way past Bermuda and now only a threat to shipping. If there is a comprehensive analysis of damage we will report it. But so far it appears that it was mainly wind-related which usually is less destructive than water related and if not inundated, water runs off islands easily. We now change our focus to a near certain problem for the U.S. Northwest and a possible problem in the Caribbean/Gulf of Mexico or eventually off the West Coast of Central America.
Typhoon Sarika / Karen will probably hit the Philippines probably today but may continue to head to the west and impact SE China and Indochina.
They changed the name of the Weather Underground Feature Blog to Category 6™ which kind of provides some insight into what this group thinks the future may hold re the strength of storms but for the moment the content has not changed and in the future there may be guest bloggers. For now this current report by Bob Henson remains in the same format and covers a variety of tropical hazards including the situation in the U.S. Northwest which is to some extent related to former Typhoon Songda.
Strangely Nicole remains capable of creating problems. From the most recent Public Advisory
HAZARDS AFFECTING LAND

SURF: Large swells associated with Nicole will continue to affect Bermuda, the United States east coast from the Carolinas northward, and the coastline of Atlantic Canada over the next couple of days. Swells from Nicole should begin to affect the United States east coast south of the Carolinas, the Bahamas, the Greater Antilles, and the Leeward Islands in a day or two. These swells will create dangerous surf conditions and rip currents. Please refer to products being issued by your local weather office for more information.
Is Iceland in the path? We shall see.
Below is the U.S. National Hurricane Center (NHC)Track Forecast. Additional information on Nicole can be obtained by clicking here.
U.S. Northwest to be very wet.
Here is the seven day precipitation forecast. More information is available here.
What you are seeing here is a projected major precipitation event for the Northwest. This is a typical Fall storm reinforced by the remnants of Typhoon Songda which did not hit major land areas in the Western Pacific but as often is the case has moved north then east and is adding to what would otherwise be a routine Northwest storm event. This may turn out to be anything but routine. But how this will play out is not clear-cut. Ways to monitor the evolution of this storm include the above graphic which will update and the forecast discussion from the
local NWS
and Statement from
National NOAA
(but it am not sure that one will update automatically). Here is the current
AccuWeather
Analysis. We will cover this storm in our regular Monday Night Weather and Climate Column but by then it most likely will be an inland storm with lots of moisture to work with.
You can see this situation evolving below and also use that tool to forecast the evolution of the situation. The graphic above is a seven day cumulative precipitation estimate. Below is the current water content of the lower atmosphere. It is repeated later in the article but I am not changing the prior discussing part of the article so I moved a copy of that graphic ahead for easy access by readers.
You can use this tool (notice Nicole is still visible) to forecast out into the future by clicking here.
Another approach is to just peek at the below which uses just one forecasting model whereas the above allows you to choose from among two but it is pretty clear that in a week, whatever is going on in the Northwest right now will in some form be impacting the Southeast but there by then may be another trough ready to impact the Northwest. Fall is here.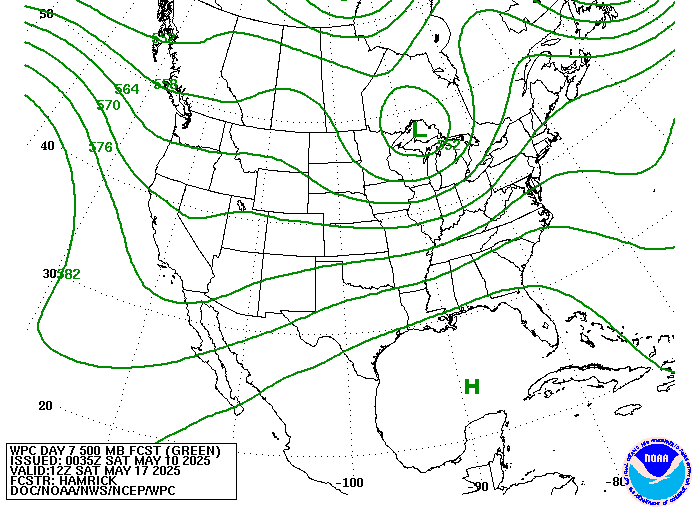 Tropics
Typhoon Sarika / Karen which will hit the Philippines probably today but may continue to head to the west and impact SE China and Indochina.
This was issued on October 11..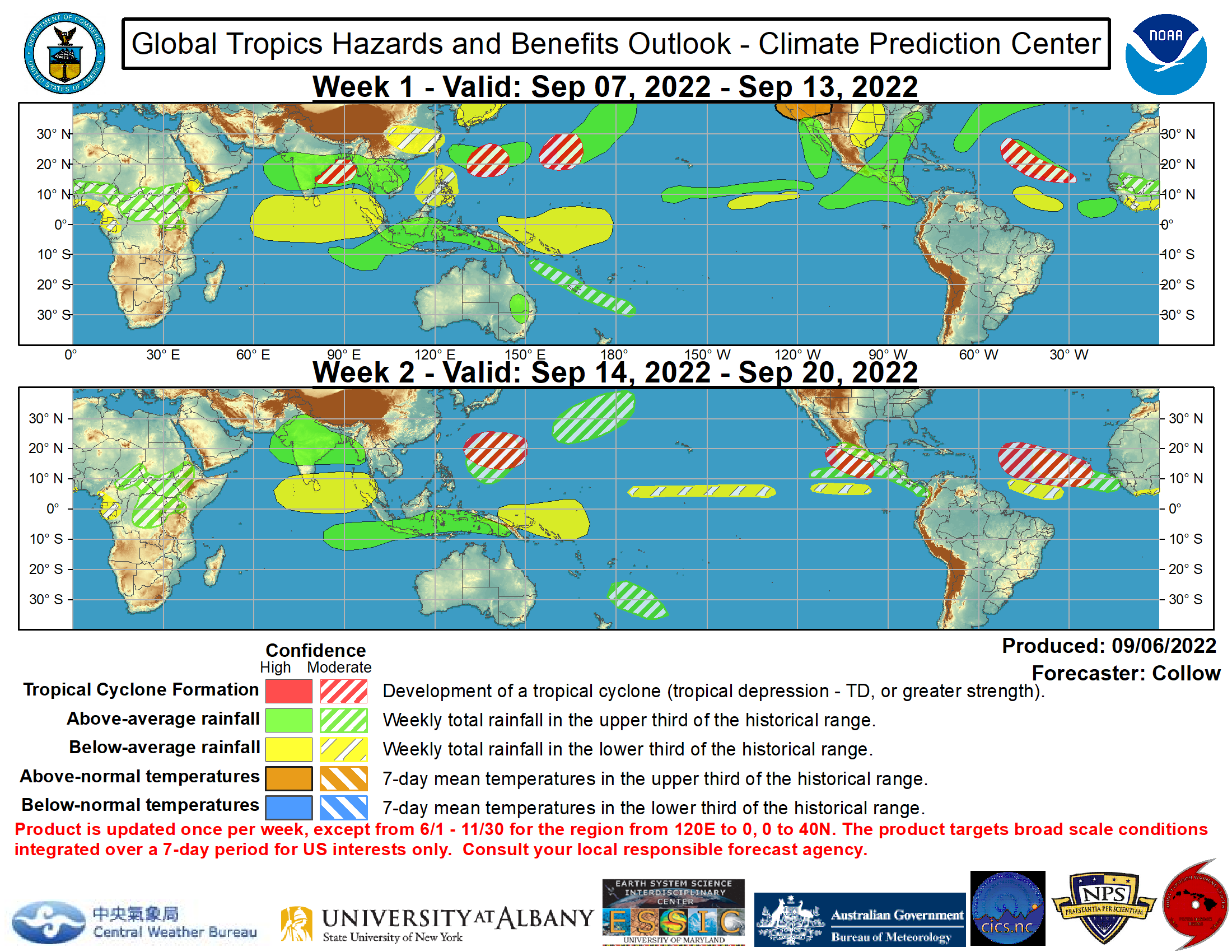 Today is October 13. Notice the cross-hatching in the Gulf of Mexico and Caribbean in both Week One and Week Two of this graphic. Recently many of these storms have crossed over to the Pacific and in some cases moved north and impacted the Southwest. It is later in the year so that pattern may not prevail. It certainly was not the case for Matthew. This is more speculative than the storm that is predicted to hit the Northwest soon. That is actually a series of storms and they can weaken but the Jet Stream will clearly bring them into North America somewhere. The situation in the Gulf of Mexico is harder to predict.
Prior Discussion
This Article by Masters and Henson posted on their Weather Underground Blog is very good. It reinforces the point that our hurricane models are not very good at predicting rapid intensification of such storms. There is some work that needs to be done. BTW...Weather Modification so far is not able to kill hurricanes but most likely can redirect them especially to the left. That is problematic with Gulf of Mexico Storms as to the left means hitting someone else In this case, to the left would have meant not hitting anyone. Just a thought!!!
From an early NHC Discussion (which is different than the Advisory) and repeated in the above Masters and Henson Article:
Note that while hurricanes often affect Bermuda, a hurricane this strong is rare. There have only been seven major hurricanes that have passed within 40 n mi of Bermuda in the Atlantic hurricane database, which goes back to 1851.
Bermuda was in the Path of Nicole
Source: Google Maps
Below is the U.S. National Hurricane Center (NHC)Track Forecast. Additional information on Nicole can be obtained by clicking here.
There have been major storms in the Atlantic and Pacific. The Pacific situation is now in the assessing the damage phase. There are tropical storms in the Pacific but none which appear to be a major threat to land areas. The death toll in the Caribbean is very large. The Atlantic situation remains dangerous only for Bermuda and ships at sea. But it is dangerous for Bermuda. it is a big ocean and Nicole is not a large storm so only a direct hit is likely to cause major damage. But check out the forecast map as it seems to show Nicole passing just west of Bermuda and that is not the best news. But the track does seem to be shifting a bit to the west which is better news.
How to react to evacuation orders has now become an issue for discussion.
Common sense would suggest it is better to be safer than needed than less safe than needed and unable to take action to become safe. Plus you then are one more problem for the Public Safety System that is attempting to deal with the problem. That having been said, the better the forecasts the better the response rate will be to evacuation orders and the better the measures to protect property from vandalism again the more willing people will be to observe evacuation orders. So there are many lessons learned from every disaster and partial disaster as this was for the U.S. East Coast but a full disaster for Haiti.
We still have to worry about Tropical Storm Nicole formerly Hurricane Nicole as it may threaten Bermuda.
Back to Matthew
And the impacts are by no means over as flooding continues especially in the Carolinas.
Parting Shot is Record Flooding from Possibly Record Wet Atmosphere
Hurricane Matthew's Haiti Death Toll Rises.
Here is the history of Hurricane Matthew. The Loop de Loop is no longer predicted. Not sure how long NOAA will keep this image live. .
There will be no further NOAA updates on Hurricane Matthew.
An even longer history is shown in this map.
The full article can be found here.
Reposting from Jeff Masters and Bob Henson's Wunderblog Analysis
Quoting from their latest update
Ex-Typhoon Songda to drench Northwest U.S.

In the Northwest Pacific, Category 3 Typhoon Songda is heading northeast at 13 mph towards Alaska, and is expected to transition to a very wet extratropical storm with 45 mph winds on Thursday, when it will be a few hundred miles south of Alaska's Aleutian Islands. Ex-Songda will then catch a ride with the jet stream and arrive off the coast of Washington on Saturday, when the storm is expected to intensify into a powerful low pressure system with a central pressure near 960 mb, bringing strong winds and heavy rains to the coasts of Oregon, Washington, and British Columbia. Rainfall of 6 to 10 inches, with local amounts over 12 inches, is possible western Washington south to northwestern California this week, due to a series of heavy rainstorms which include ex-Songda this weekend. East of the Cascades, rainfall could total 1 to 3 inches in the valleys and 3 to 7 inches in the foothills of the northern Rockies.
I will update the above link as Jeff Masters and Bob Henson update their analysis but you can go here and find the updates yourself. You can scroll through their updates and learn a lot about this storm and weather in general. It is well worth doing.
From a recent Henson and Master's update:
Figure 4. Multi-sensor analysis of precipitation for the 7-day period from 8:00 am EDT Sunday, October 2, to Sunday, October 9, 2016. Nearly all of the precipitation shown across the Southeast fell during Hurricane Matthew. Image credit: NOAA/NWS Advanced Hydrologic Prediction Service.
I am not terribly impressed but the high levels in the northern quadrant of the storm are of interest and this is discussed in the Henson and Master's article linked above.
This is not quite up to snuff yet but this Wikipedia Article might develop into a good history of this important storm.
The interrelationship between Matthew and Nicole can be observed in his graphic
You can use this tool to forecast out into the future by clicking here.
The Atlantic is not the only place where there has been major cyclonic activity
There are no clearly identified threats in the Pacific but they can be tracked by clicking here.
This is an unofficial private source but one that is easy to read.
This shows the track of formerly Typhoon Chaba from CNN Weather. It has since weakened and has now moved away from major land areas. .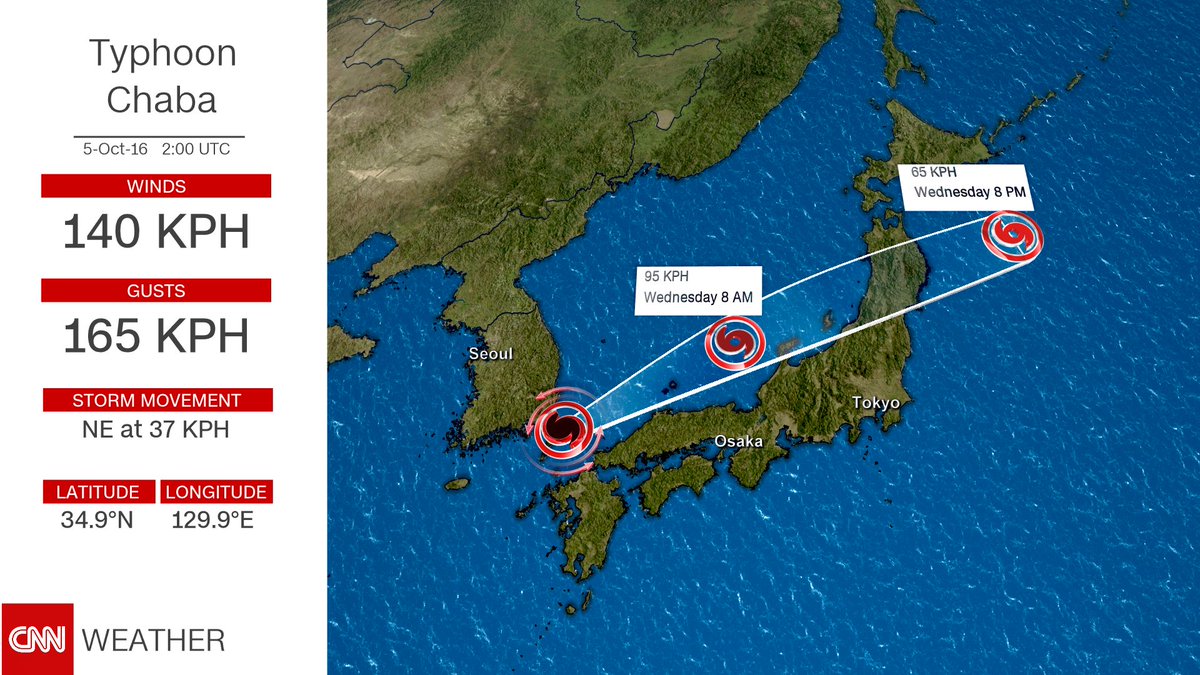 What remains is assessing the damage.
Here is a report on the damage to South Korea
This report contains a video
Here is a recent International Business Times Report on the impact of Chaba on South Korea.
Here is an earlier Weather Channel Story on Chaba.
This Storm Update replaces the regular weekly Weather and Climate Report but you can access the October 17 Edition by clicking Here and the Seasonal Outlook Update by clicking Here. And you can get back to the GEI Page by hitting your "Backspace" Key.
Click here for a list of Sig Silber's Weather Posts
>>>>> Scroll down to view and make comments <<<<<<
Make a Comment
Econintersect

wants your comments, data and opinion on the articles posted. You can also comment using Facebook directly using he comment block below.
---