posted on 29 June 2015
Written by Sig Silber
We now better understand the data update that NOAA performed probably on or about June 9 and what the implications are. They may be more extensive than just the recategorization of ENSO events. The current El Nino strengthens as it peaks and begins its inevitable decline. That is the way of all El Nino and La Nina events. The peak strength of the El Nino this Fall may be determined by the current or subsequent Madden Julian Oscillation (MJO).
This is the Regular Edition of my weekly Weather and Climate Update Report. Additional information can be found here on Page II of the Global Economic Intersection Weather and Climate Report.
Last week I noticed that NOAA had changed some things and we discussed that a bit in terms of the elimination of the Faux El Nino of 2014/2105. My Editor John Lounsbury carried the discussion a bit further on Tuesday NOAA Quietly Rescinds Faux El Nino and on Wednesday this very good article by Bob Tisdale showed up and you may want to read his post as he observes that it is not just the 2014/2015 El Nino that was impacted but many other ENSO events going back in time. Bob's post also serves as a very good reference document with links that are hard to find elsewhere so save it. I had sent a note to Bob on Sunday June 21 that I had found an irregularity (which is how it looked to me at that time) and I do not know if that is what motivated him to write his excellent article or if he had already learned about the situation from another source. In reality it was a periodic change that NOAA makes every five years or so but a change that I do not believe was handled very well.
Bob is very thorough and he went through the full list of ONI's and came to the following conclusions. The 2005/2006 La Nina dropped off the list as did the 1983/1984 La Nina. A 1967/1968 La Nina was added as was a 1979/1980 El Nino. I am comfortable with Bob Tisdale's analysis and I have now reviewed the new ONI estimates and came to the same conclusion - but I think he mainly looked at the ONI and not the other factors that determine an El Nino or a La Nina. Of interest to me, the Asians had already listed the 1979 El Nino as a Modoki Type II. So that helps bring NOAA in line with the rest of the World. At some point I would expect NOAA to resume showing their list of El Nino's and La Nina's. But for now I think Tisdale's list is usable and I will be using it in the analog discussion later in this week's report. Here is the link to the new index which I also provided last week. One thing I noticed is that, in general, events were not dropped or added due to changes in the calculated intensity but mostly due to duration. The requirement in the U.S. is five overlapping three-month periods meeting El Nino or La Nina criteria. So some events dropped from five to four periods with sufficient ONI values and were taken off the list and other events which had been four periods meeting the ONI criteria became five-period events and were admitted to the list. It is not clear that this improves the performance of weather forecasting models and I do not believe that was part of the testing performed before making this change.
Here is the write-up that describes the prior system which includes this sea surface temperature graphic.
And here is the write up on the revised system and the resulting sea surface temperature historic values.
So that is the change to the overall assessment of Sea Surface Temperatures (improved measurements and reanalysis) which then changes the assessment of anomalies. They are not major changes but enough to change calculations. These two articles Part I and Part II (Part I is of most interest) are the basis for the current change but are not available to the public without a payment. But the abstracts are available and they are probably all one needs to read but I do not like the principle of government employees writing articles and using the results to modify information that is made available to the public and then having access to those articles only available to those with access via subscriptions of their employer or by paying a fee. Is that fee shared with the government employee? Just asking. In lieu of access to the full articles used this time, this article and this.article which relate to the prior revision might be of interest. The abstracts for the current supporting articles are available so here they are:
The Abstract for Part I
The monthly Extended Reconstructed Sea Surface Temperature (ERSST) dataset, available on global 2° x 2° grids, has been revised herein to version 4 (v4) from v3b. Major revisions include updated and substantially more complete input data from the International Comprehensive Ocean;Atmosphere Data Set (ICOADS) release 2.5; revised empirical orthogonal teleconnections (EOTs) and EOT acceptance criterion; updated sea surface temperature (SST) quality control procedures; revised SST anomaly (SSTA) evaluation methods; updated bias adjustments of ship SSTs using the Hadley Centre Nighttime Marine Air Temperature dataset version 2 (HadNMAT2); and buoy SST bias adjustment not previously made in v3b.

Tests show that the impacts of the revisions to ship SST bias adjustment in ERSST.v4 are dominant among all revisions and updates. The effect is to make SST 0.1° - 0.2°C cooler north of 30°S but 0.1°-2° C warmer south of 30°S in ERSST.v4 than in ERSST.v3b before 1940. In comparison with the Met Office SST product [the Hadley Centre Sea Surface Temperature dataset, version 3 (HadSST3)], the ship SST bias adjustment in ERSST.v4 is 0.1°-0.2°C cooler in the tropics but 0.1°- 0.2°C warmer in the midlatitude oceans both before 1940 and from 1945 to 1970. Comparisons highlight differences in long-term SST trends and SSTA variations at decadal time scales among ERSST.v4, ERSST.v3b, HadSST3, and Centennial Observation-Based Estimates of SST version 2 (COBE-SST2), which is largely associated with the difference of bias adjustments in these SST products. The tests also show that, when compared with v3b, SSTAs in ERSST.v4 can substantially better represent the El Nino/La Nino behavior when observations are sparse before 1940. [Editor's Note: That is why I would have liked to have had access to the full articles which I requested from NOAA but never received a reply. Do I need to file a FOIA 5 U.S.C. § 552 Request?] Comparisons indicate that SSTs in ERSST.v4 are as close to satellite-based observations as other similar SST analyses.
The Abstract for Part II
Described herein is the parametric and structural uncertainty quantification for the monthly Extended Reconstructed Sea Surface Temperature (ERSST) version 4 (v4). A Monte Carlo ensemble approach was adopted to characterize parametric uncertainty, because initial experiments indicate the existence of significant nonlinear interactions. Globally, the resulting ensemble exhibits a wider uncertainty range before 1900, as well as an uncertainty maximum around World War II. Changes at smaller spatial scales in many regions, or for important features such as Nino-3.4 variability, are found to be dominated by particular parameter choices.

Substantial differences in parametric uncertainty estimates are found between ERSST.v4 and the independently derived Hadley Centre SST version 3 (HadSST3) product. The largest uncertainties are over the mid and high latitudes in ERSST.v4 but in the tropics in HadSST3. Overall, in comparison with HadSST3, ERSST.v4 has larger parametric uncertainties at smaller spatial and shorter time scales and smaller parametric uncertainties at longer time scales, which likely reflects the different sources of uncertainty quantified in the respective parametric analyses. ERSST.v4 exhibits a stronger globally averaged warming trend than HadSST3 during the period of 1910 - 2012, but with a smaller parametric uncertainty. These global-mean trend estimates and their uncertainties marginally overlap.

Several additional SST datasets are used to infer the structural uncertainty inherent in SST estimates. For the global mean, the structural uncertainty, estimated as the spread between available SST products, is more often than not larger than the parametric uncertainty in ERSST.v4. Neither parametric nor structural uncertainties call into question that on the global-mean level and centennial time scale, SSTs have warmed notably.
I do not think the following change just happened but it is also important. For most purposes, climatology (average and distribution of conditions over a thirty-year period) is redefined the end of every decade. For purposes of calculating ONI, sea surface temperature climatology is recalculated every five years. You can read more about this here.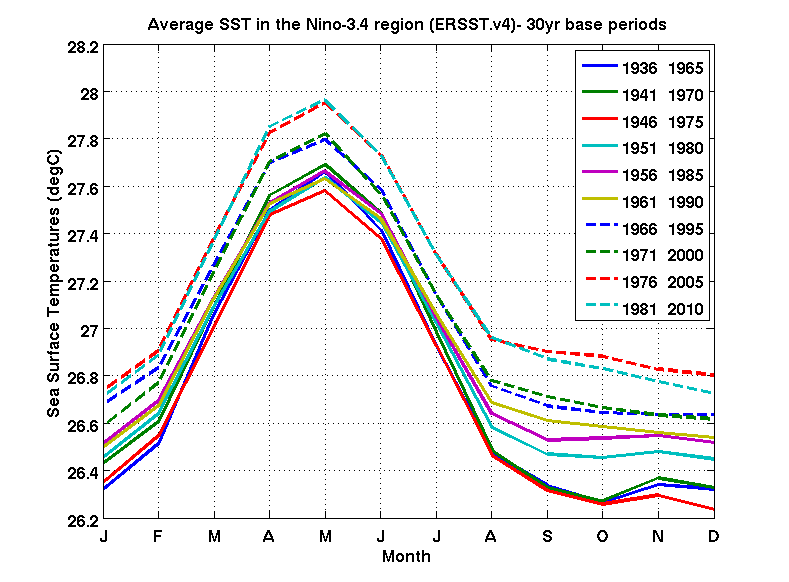 In one sense updating every five years should be a good thing. It means the base against which anomalies are calculated is adjusted every five years. Notice that over a 45 year period, SST in the Nino 3.4 region have increased by about 0.5C. The threshold for an El Nino condition is +0.5C. So without this adjustment to the base used for comparison, there would be a strong bias towards ONI's being El Nino-ish. The possible bad thing is the implied assumption that the base is changing due to Global Warming which excludes the impacts of the PDO and other low-frequency cycles. Given that most ocean cycles appear to be more or less of 60 year length, the definition of "climate" as being a "30" year slice of weather is problematic and then updating this for one purpose very decade and for another purpose very five years makes one wonder if this approach is sound.
Concerns
And please do not interpret what I am saying in the most extreme way possible. The reason for characterizing the phases of the ENSO cycle as being El Nino, La Nina and Neutral, is the utility of these designations in predicting weather particular winter weather. It is not clear to me that these adjustments add to the predictive ability of these labels. In Asia, they measure the phases of ENSO differently and they have paid more attention to what might be called the flavors of El Nino defining what they call a Modoki which is probably about the same thing as what is called in the U.S. a Central Pacific El Nino or Date Line El Nino and they have gone even further to define two kinds of El Nino Modoki. The near El Nino of 2014/2015 which NOAA has now correctly "undeclared" was IMO a Modoki Type II and may have been a powerful Warm Event but impacting parts of the Equator that are not the Nino 3.4 measurement region where the ONI is calculated and also areas towards the Northeast Pacific where it is difficult to separate the Tropical Event from a possible change in the PDO. BobTisdale has recently discussed part of this in this post but I read the situation a little differently than he does. But he has started the conversation and that is very useful.
So I am concerned that the urge to measure may be distracting NOAA from the reason why we measure.
Other Broader Impacts
I have to say that I think this change by NOAA and other meteorological agencies (some of which took place earlier this year or even late last year) although possibly very appropriate impacts many things. I think it compromises essentially all scientific research ever done on the Pacific (and other oceans) in this sequence from most impacted to least impacted:
A. Any research that depends on what periods of time are designated as ENSO El Nino, La Nina or Neutral Events. Clearly those designations are not permanent but subject to revision every five years.
B. Any research that depends on ONI values ie. if an ONI value is an independent variable in any paper or model, that work has to be redone to be accurate.
C. Any research that depends on sea-surface-temperatures (SST's) from 60 degrees North Latitude to 60 degrees South Latitude in any ocean. So again to the extent historical sea surface temperatures were used in any research paper or computer model, they are no longer necessarily valid. I am not saying that everything is invalidated but I am saying that everything is impacted and might be either invalidated or alternatively further confirmed. .
In the private sector, there is a EPA process for making this type of change to the environment. Perhaps in government there needs to be a a similar process to determine if a change in a historical data series is sufficiently important to invalidate all scientific research that was based on the prior historical data series. One assumes that it is always better to have more accurate data than less accurate data. But is the incremental advantage always worth the incremental cost of redoing work or dealing with work that we know is less than as accurate as it could be? Not only is our climate changing, but our ability to make comparisons has gotten a whole lot more complicated. Thus we may need some rules for the road on how changes in data series are handled.
Current (Now to 5 Days forward) Weather Situation:
For daily forecasts it is better to consult your local weather service or the weather service where you are traveling as these will be more specific. But I do have daily forecasts on Page II of the Report so you can always look at those as they auto-update. What I present here is information that normally is not made available via local weather forecasts and which can help you understand what some of the major drivers are for the local forecast.
First here is a national 12 hour to 60 hour forecast of weather fronts shown as an animation. Beyond 60 hours, the maps are available in Part II of the Global Economic Intersection Weather and Climate Report.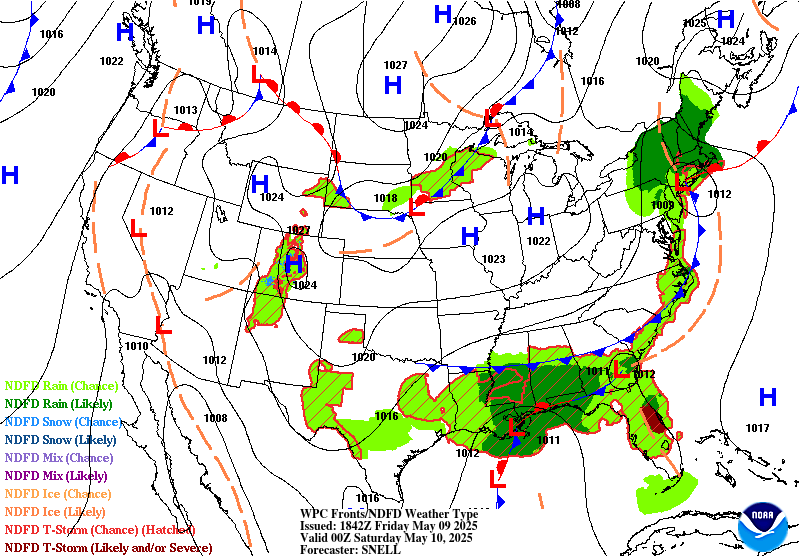 The explanation for the coding used in these maps, i.e. the full legend, can be found here.
This map is the mid-atmosphere 7-Day chart rather than the surface highs and lows and weather features. In some cases it provides a clearer less confusing picture as it shows only the major pressure gradients. You can see the Four Corners High where Utah, Colorado, Arizona, and New Mexico meet. At this time of the year, small changes in the location of that feature make a big difference in the weather of probably about ten or more states.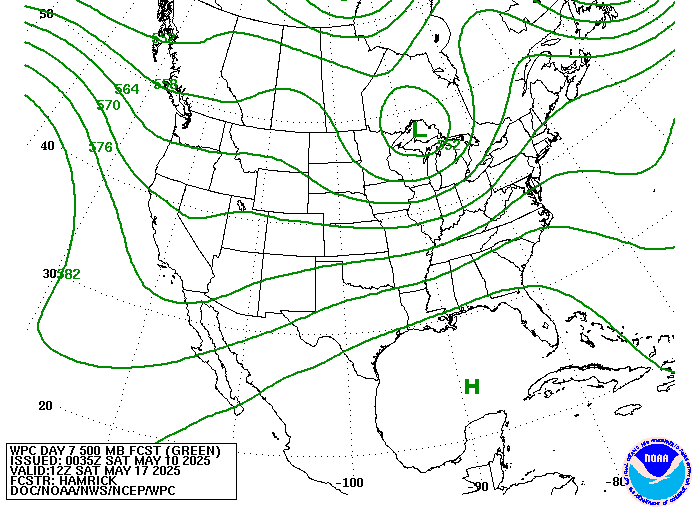 In the Tropical Weather Outlook graphic below, notice the stream of moisture moving north from Mexico into the Southwest. To some extent this is enhanced by the position of the extreme western edge of the influence of the Bermuda High. It is not a full fledge Southwest Monsoon but it is part of the pattern that is making CONUS unusually wet.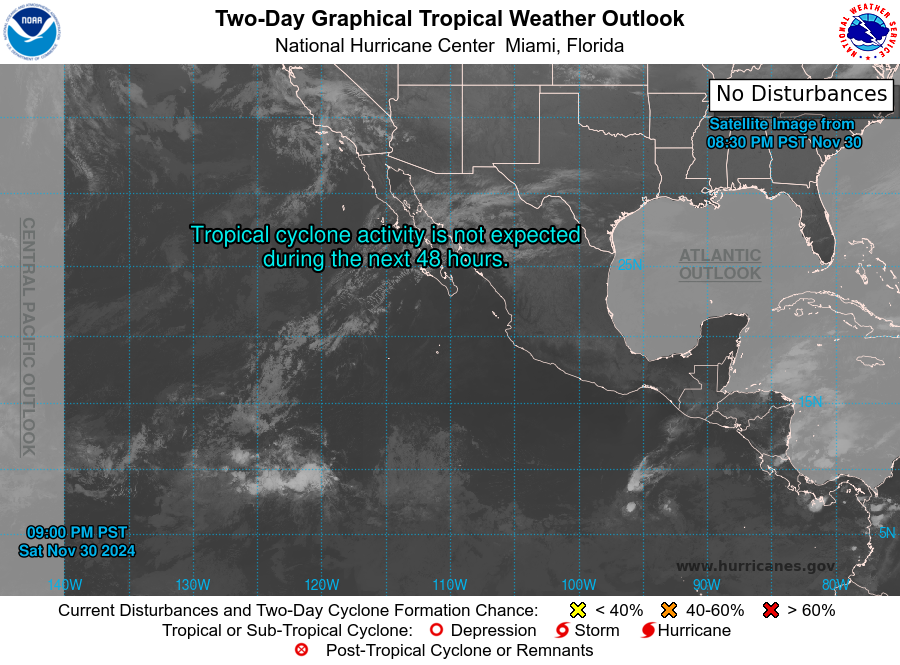 Below is another view which highlights the surface highs and the lows re air pressure on Day 6 (Day 3 can be seen in Part II of this Report). The Aleutian Low is now VERY weak (central pressure generally over rather than under 1,000 and more distance between the isobars) and would no longer be a major factor other than with respect to Alaska and Siberia except that on some days it shifts far to the east and substantially south and in those cases has more of an impact on CONUS. Just to be contrary, the Aleutian Low has strengthened a bit. The RRR continues to keep the Northwest toasty warm and dry.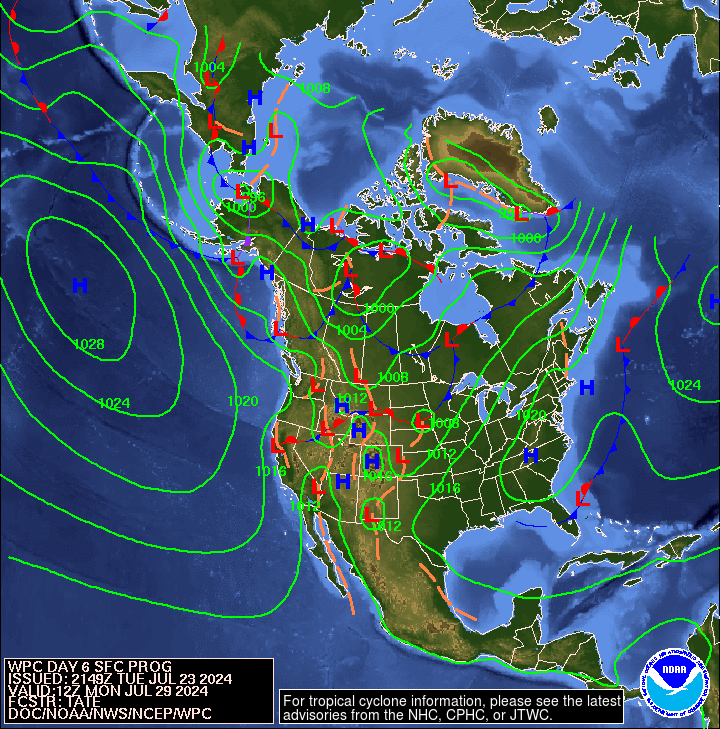 Outlook Days 6 - 14 (but only showing the 8 - 14 Day Maps)
Here is a graphic of the July Outlook issued June 18, 2015:
And here is the 8 - 14 Day Temperature Outlook issued today June 29, 2015.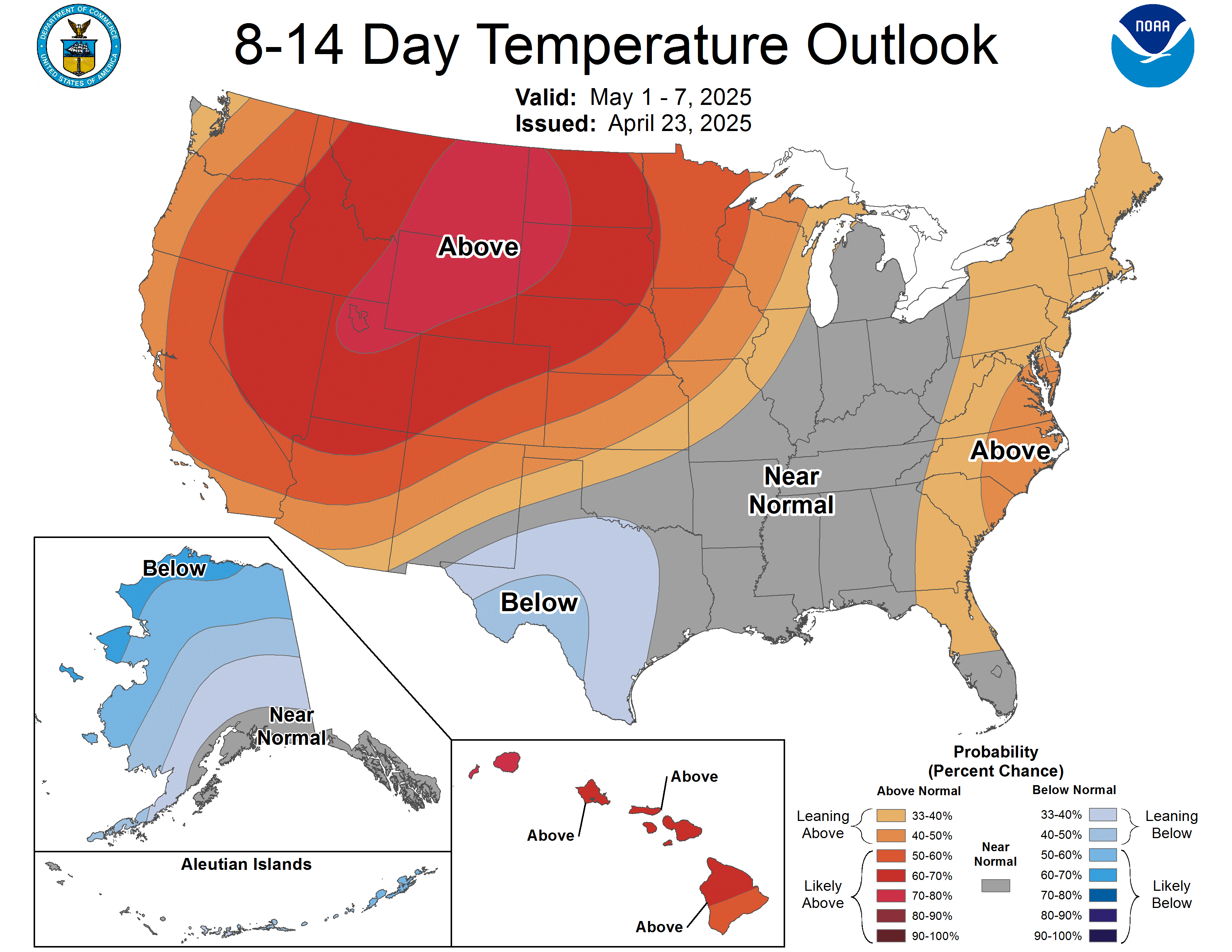 It covers the week following the current week. Today's 6 - 14 Day Outlook is just nine days of the month and the map shown of the 8 to 14 day Outlook only shows seven days but it does seem to be substantially in agreement with the monthly outlook issued on June 18 with the colder air extending further north.
And here is the Outlook for July Precipitation issued on June 18, 2015:
Here is the 8 - 14 Day Precipitation Outlook issued today June 29, 2015: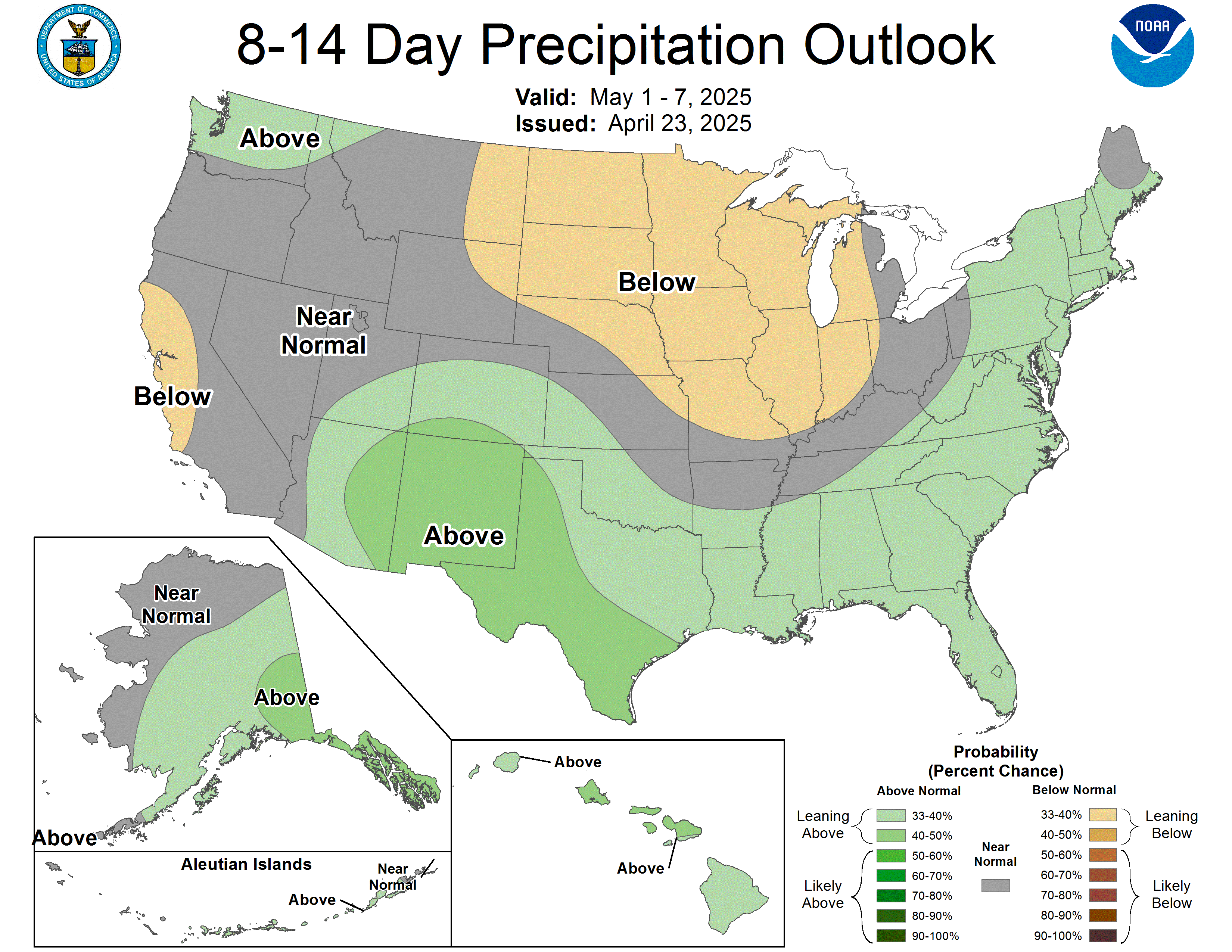 And again remember that this map shows only seven days and the full 6 - 14 Day Outlook only covers nine days. There are 31 days in July. The dry Northwest might be a change from the prior thinking or just an early in the month situation. But the total picture is for a wetter early July than perhaps was thought. But today the wetter than climatology area is a bit less expansive than it has been in recent forecasts. If you recall the NOAA discussion that accompanied their Seasonal Outlook and which I reported on last week, they were struggling with the question of were their models forecasting more precipitation than was likely and I think the precipitation pattern in the full month forecast was deamplified a bit. I believe this has to do with trying to assess the impacts of this El Nino and that is not an easy thing to do.
Regarding the Southeast, the Bermuda High is, I believe, having an impact on both temperature and precipitation and we can expect that to often be the case in Spring and Summer for the next thirty years due to the progresson of the AMO.from AMO+ to AMO-.and the influence of the AMO on the positioning of the Bermuda High.
For east of reference, I am repeating the July and three-month period Jul - Aug - Sep 2015 Outlook.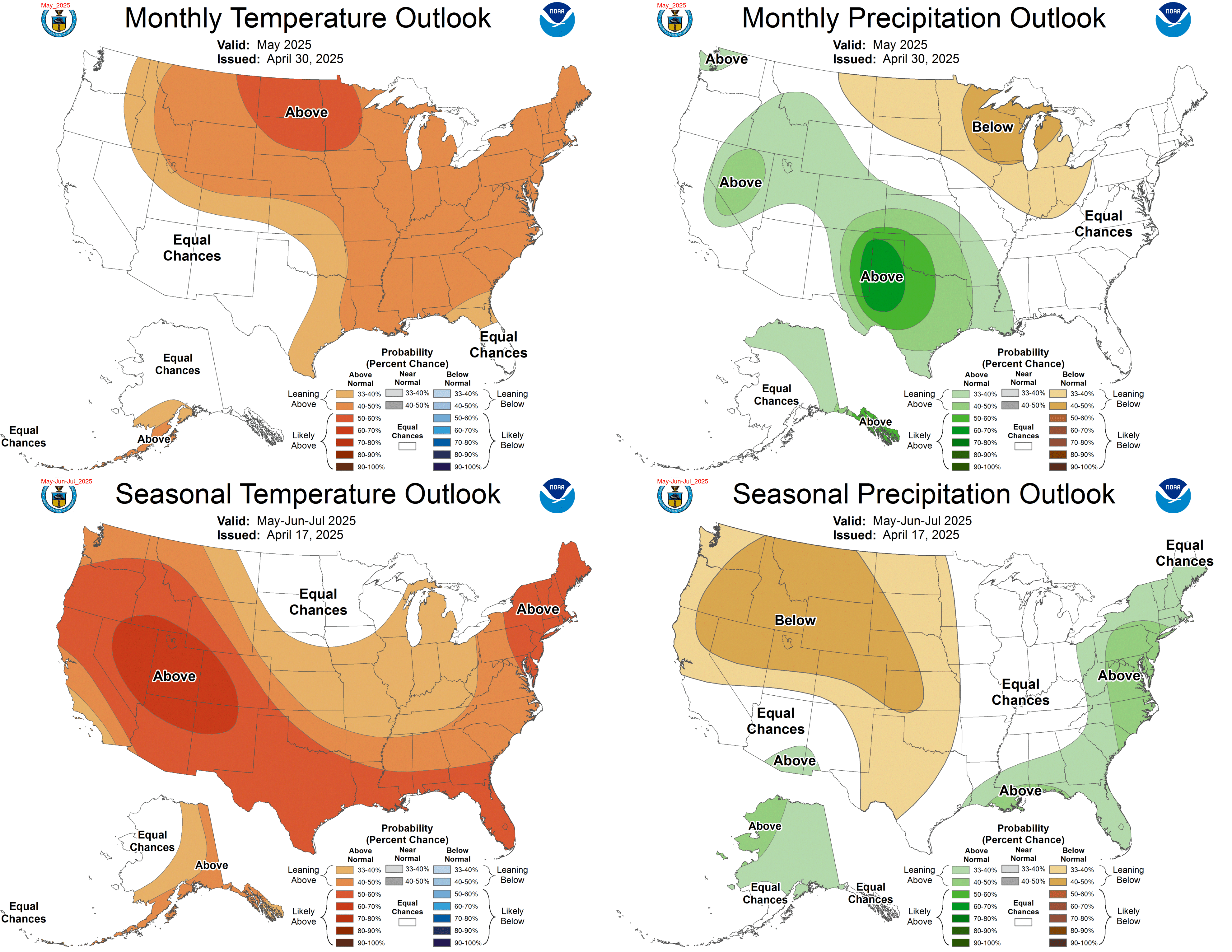 Here are excerpts from the NOAA release today June 29, 2015.
"6-10 DAY OUTLOOK FOR JUL 05 - 09 2015

TODAY'S ENSEMBLE MEAN AND DETERMINISTIC SOLUTIONS ARE IN GOOD AGREEMENT ON THE 500-HPA MEAN CIRCULATION PATTERN FORECAST OVER MOST OF THE NORTH AMERICA DOMAIN FOR THE 6-10 DAY PERIOD. TROUGHS ARE PREDICTED OVER THE WESTERN ALEUTIANS AND OVER THE EAST PART OF THE CONTINENT, WHILE A RIDGE IS EXPECTED TO SHIFT WEST TO THE GULF OF ALASKA. TODAY'S MANUAL 500-HPA HEIGHT BLEND IS COMPOSED PRIMARILY OF THE ENSEMBLE MEAN SOLUTIONS AND BASED LARGELY ON CONSIDERATIONS OF RECENT SKILL AND ON ANALOG CORRELATIONS, WHICH MEASURE HOW CLOSELY THE MODEL SOLUTIONS RESEMBLE CASES THAT HAVE OCCURRED IN THE PAST. THE ENSEMBLE SPAGHETTI DIAGRAMS INDICATE RELATIVELY LOW TO MODERATE SPREAD ACROSS THE MAJORITY OF THE FORECAST DOMAIN.

ABOVE-NORMAL 500-HPA HEIGHTS INCREASE THE CHANCES FOR ABOVE-NORMAL TEMPERATURES FOR THE WESTERN CONUS AND ALASKA. TEMPERATURES IN THE PACIFIC NORTHWEST ARE PREDICTED TO BE WELL ABOVE AVERAGE LEADING TO HIGH PROBABILITIES FOR ABOVE-NORMAL TEMPERATURES OVER THIS REGION. BELOW-NORMAL TEMPERATURES ARE FAVORED FOR PARTS OF THE NORTHERN PLAINS, THE UPPER MISSISSIPPI VALLEY AND THE UPPER GREAT LAKES IN ASSOCIATION WITH THE TROUGH. BELOW-NORMAL MEAN TEMPERATURES ARE ENHANCED OVER PARTS OF THE SOUTHERN ROCKIES AND THE SOUTHERN HIGH PLAINS DUE TO EXPECTED RAINFALL, WHILE ABOVE-NORMAL MEAN TEMPERATURES ARE FORECAST OVER THE SOUTHEAST PART OF NORTH AMERICA, CONSISTENT WITH GEFS REFORECAST GUIDANCE.

THE TROUGH EXPECTED OVER THE EASTERN PART OF THE COUNTRY SHOULD FOCUS SHORT-WAVE ACTIVITY OVER MUCH OF THE EASTERN CONUS, ELEVATING CHANCES FOR ABOVE-MEDIAN PRECIPITATION AMOUNTS FOR A WIDE AREA FROM THE SOUTHERN ROCKIES TO THE CENTRAL GREAT PLANS, THE MIDDLE MISSISSIPPI VALLEY, THE GREAT LAKES AND THE OHIO VALLEY. SOUTH OF THE MEAN FRONTAL BOUNDARY, NEAR- TO BELOW-MEDIAN PRECIPITATION AMOUNTS ARE FAVORED FOR THE GULF COAST, FLORIDA AND PARTS OF THE SOUTHEAST. BELOW-MEDIAN PRECIPITATION AMOUNTS ARE ANTICIPATED FOR PARTS OF THE NORTHERN GREAT PLAINS, THE NORTHERN ROCKIES, THE PACIFIC NORTHWEST, ALASKA AND THE ALASKA PANHANDLE IN ASSOCIATION WITH THE FORECAST RIDGE. SOUTHERLY FLOW ALOFT ELEVATES CHANCES FOR ABOVE-MEDIAN PRECIPITATION OVER THE ALEUTIANS.

FORECAST CONFIDENCE FOR THE 6-10 DAY PERIOD: ABOVE AVERAGE, 4 OUT OF 5, DUE TO EXCELLENT AGREEMENT AMONG THE MODEL SOLUTIONS AND FORECAST TOOLS.

8-14 DAY OUTLOOK FOR JUL 07 - 13 2015

TODAY'S ENSEMBLE MEAN AND DETERMINISTIC SOLUTIONS ARE IN GOOD AGREEMENT ON THE 500-HPA MEAN CIRCULATION PATTERN FORECAST OVER MOST OF NORTH AMERICA FOR THE WEEK-2 PERIOD. THE PREDICTED CIRCULATION PATTERN IS SIMILAR TO THAT EXPECTED FOR THE 6-10 DAY PERIOD. TROUGHS ARE PREDICTED OVER THE ALEUTIANS AND OVER THE EAST PART OF NORTH AMERICA, WHILE ALASKA AND WESTERN NORTH AMERICA REMAIN UNDER THE INFLUENCE OF A RIDGE.

A RIDGE OVER THE WESTERN CONUS AND ALASKA INCREASES THE CHANCES FOR ABOVE-NORMAL TEMPERATURES FOR THE WESTERN CONUS AND ALASKA. BELOW-NORMAL TEMPERATURES ARE FAVORED FOR THE CENTRAL CONUS, THE GREAT LAKES, THE OHIO VALLEY AND THE NORTHEAST IN ASSOCIATION WITH THE TROUGH. ABOVE-NORMAL MEAN TEMPERATURES ARE FORECAST OVER THE SOUTHEAST PART OF NORTH AMERICA, CONSISTENT WITH GEFS REFORECAST GUIDANCE. THE PRECIPITATION OUTLOOK FOR THE 8-14 DAY PERIOD IS SIMILAR TO THAT OF 6-10 DAYS, WITH LOWER CONFIDENCE DUE TO THE LONGER LEAD TIME.

FORECAST CONFIDENCE FOR THE 8-14 DAY PERIOD IS: 4 OUT OF 5, DUE TO GOOD MODEL AGREEMENT."
Analogs to Current Conditions
Now let us take a detailed look at the "Analogs" which NOAA provides related to the 5 day period centered on 3 days ago and the 7 day period centered on 4 days ago. "Analog" means that the weather pattern then resembles the recent weather pattern and was used in some way to predict the 6 - 14 day Outlook.
Here are today's analogs in chronological order although this information is also available with the analog dates listed by the level of correlation. I find the chronological order easier for me to work with. There is a second set of analogs associated with the outlook but I have not been analyzing this second set of information. This first set applies to the 5 and 7 day observed pattern prior to today. The second set which I am not using relates to the forecast outlook 6 - 10 days out to similar patterns that have occurred in the past during the dates covered by the 6 - 10 Day Outlook. That may also be useful information but they put this set of analogs in the discussion with the other set available by a link so I am assuming that this set of analogs is the most meaningful.
Analog

Centered

Day

ENSO

Phase

PDO
AMO
Other Comments
1953 July 9
Neutral
+
+
1956 July 8
La Nina
-
-
1989 June 9
La Nina
+
-
Tail End
1989 June 10
La Nina
+
-
Tail End
2006 June 22
Neutral
+
+
Followed by Traditional El Nino
2006 June 23
Neutral
+
+
Followed by Traditional El Nino
2006 June 27
Neutral
+
+
Followed by Traditional El Nino
2007 July 3
Neutral
Neutral
+
Followed that winter by La Nina
2007 July 4
Neutral
Neutral
+
Followed that winter by La Nina
It is interesting that we are in an El Nino Condition and have zero El Nino analogs. There are six ENSO Neutral analogs and three La Nina analog so it is not surprising that the 6 - 14 Day Outlook is pretty much a neutral forecast which is a bit less wet than recent forecasts. I am curious about why there are three 2006 and two 2007 analogs. Both years were ENSO Neutral in June and July and by winter 2006 turned into an El Nino and 2007 into a La Nina. It is not April 1 so I know it is not a joke but how can you have such diametrically opposed analogs and then have a forecast with a 4 out of 5 level of confidence?
The ocean phases associated with the analogs are not strong signals (lots of variability from month to month) but they do tend to point towards McCabe Condition C which is pretty much consitent with the 6 to 15 Day forecast. The seminal work on the impact of the PDO and AMO on U.S. climate can be found here.
You may have to squint but the drought probabilities are shown on the map and also indicated by the color coding with shades of red indicating higher than 25% of the years are drought years (25% or less of average precipitation for that area) and shades of blue indicating less than 25% of the years are drought years. Thus drought is defined as the condition that occurs 25% of the time and this ties in nicely with each of the four pairs of two phases of the AMO and PDO.
Historical Anomaly Analysis
When I see the same dates showing up often I find it interesting to consult this list.
Progress of the Warm Event
Let us start with the SOI.
Below is the Southern Oscillation Index (SOI) reported by Queensland, Australia. The first column is the tentative daily reading, the second is the 30 day running average and the third is the 90 day average.
23 June 2015 -28.5 0.3 -6.87

24 June 2015 -30.8 -1.19 -7.25

25 June 2015 -44.4 -2.65 -7.58

26 June 2015 -48.9 -4.44 -7.93

27 June 2015 -40.7 -6.39 -8.23

28 June 2015 -34.5 -8.11 -8.52

29 June 2015 -28.4 -9.45 -8.74
This past week the SOI exploded to the downside which possibly assists the development of the current El Nino. The 30-day average, which is the most widely used measure, on June 29 was reported as being -9.45 which is clearly an El Nino reading. The 90-day average also is now again in El Nino territory at -8.74.
The presumed reason for this quite likely is the Madden Julian Oscillation (MJO) which is a 40 to 60 day cycle around the Equator and is in its active phase right now where the SOI is calculated. It is controversial as to whether or not the MJO has an impact on Kelvin Waves. But we need to pay attention to whether or not this active phase of the MJO leads to a new wind burst and new Kelvin Wave. This will occur again probably around Mid-August so that will be last time that the MJO may impact this El Nino.
Here are the low-level wind anomalies. This graphic is not as compact as the graphic provided by the weekly NOAA ENSO Report (more white space) but this version auto-updates so you will always have the latest version of this Hovmoeller. As you can see, the wind gust of a several weeks ago at 160E is over and a subsequent less intense wind gust at 160W to 140W has also played out. There may be some activity starting in the Western Pacific that is just starting to show up on this graphic. Take a look over at 130E to 140E which by chance happens to be Darwin Australia one pole of the SOI Index. I think this is too far west to impact the current El Nino. We can also see some activity at 160E which is more significant and needs to be monitored.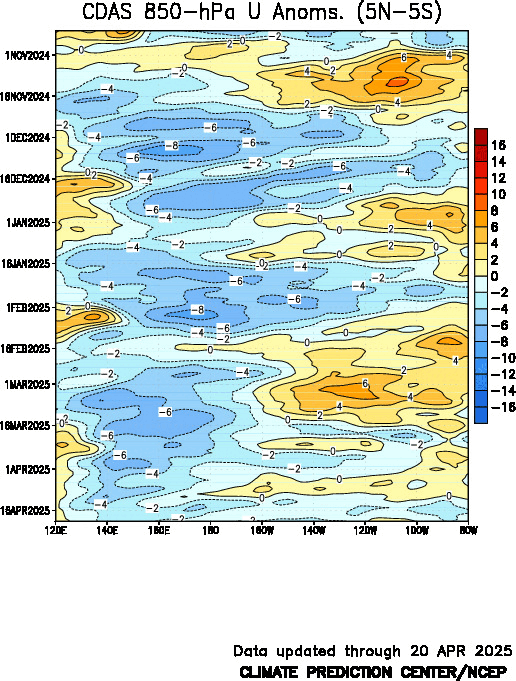 Here is another graphic that is less compact than the prettied up version published by NOAA on Mondays but which has the advantage of auto-updating. You can see how the convection pattern (really cloud tops has in May shifted to the East from a Date Line (180) Modoki pattern to a 170W to 120W Traditional/Canonical El Nino Pattern. But the signs of an El Nino are getting quite faint and shifting to the west.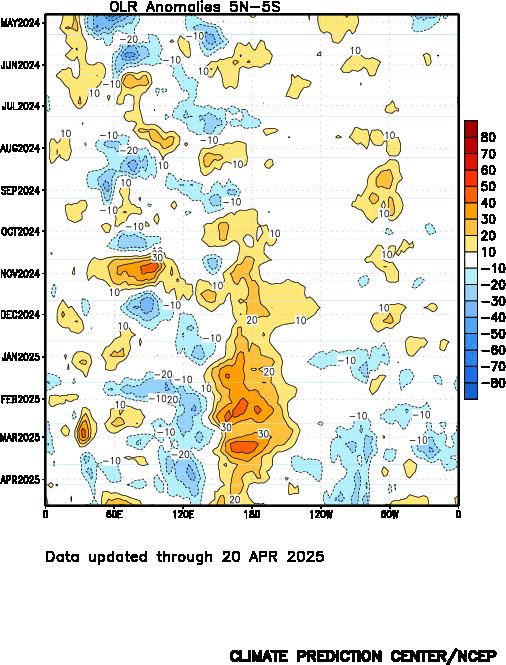 Let us now take a look at the progress of the Kevin wave which is the key to the situation.
And here is one more way of looking at the situation. I like this Hovmoeller a lot and I have now been able to find a version that autoupdates but is not prettied up. I will take the auto-update feature. With the NOAA Weekly ENSO Update, they are not very good at telling you the currency of the information that they are presenting. I believe their version of the below presented this morning is also the June 22 version. Hopefully by the time you read my report, it will have updated to June 29 in my report. So at this point my comments are a week stale but may be tomorrow, if needed, when this graphic is updated.. You can see the Kelvin Wave that got started in February which started this Warm Event. There have been earlier such events that proved to be not very strong. But if you look at the bottom of the Hovmoeller which represents the current situation, you can see that this latest Kelvin Wave is moving to the East fairly rapidly and we will see the impact of that on declining ONI estimates fairly soon. The main impact of this Kelvin Wave is already East of 170 West the westernmost extension of the Nino 3.4 region.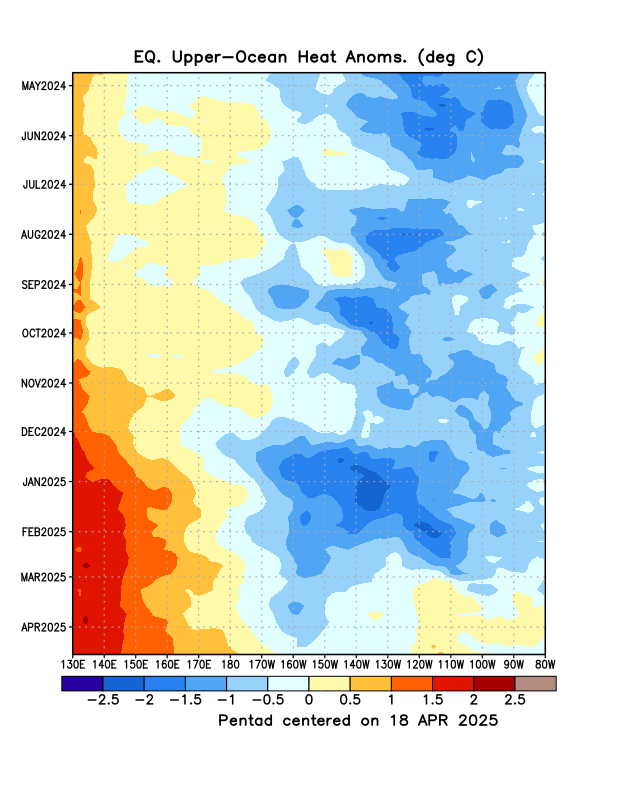 You can see below in the graphic which shows temperature along the Equator as a function of depth, both the magnitude of the anomalies and their size. You can now see where 2C (anomaly) water is impacting the area where the ONI is measured i.e. 170W to 120W. The 2C anomaly now extends to about 140W and the blips visible further to the west are no longer evident. The subsurface warm water appears to be making its way to the surface to some extent. This will be apparent when we discuss the TAO/TRITON graphic and my crude estimation of the ONI value that that I develop from that graphic.
The big issue is where will the +6C anomaly water go as it reaches the beaches of Ecuador? To the extent it surfaces it can create convection and impact the Walker Circulation which could then provide positive feedback to this El Nino. But that warm water might tend to go north or south or both. That is part of the phase out process for an El Nino and that is where we are in the life of this El Nino. It is peaking and will soon begin its decline.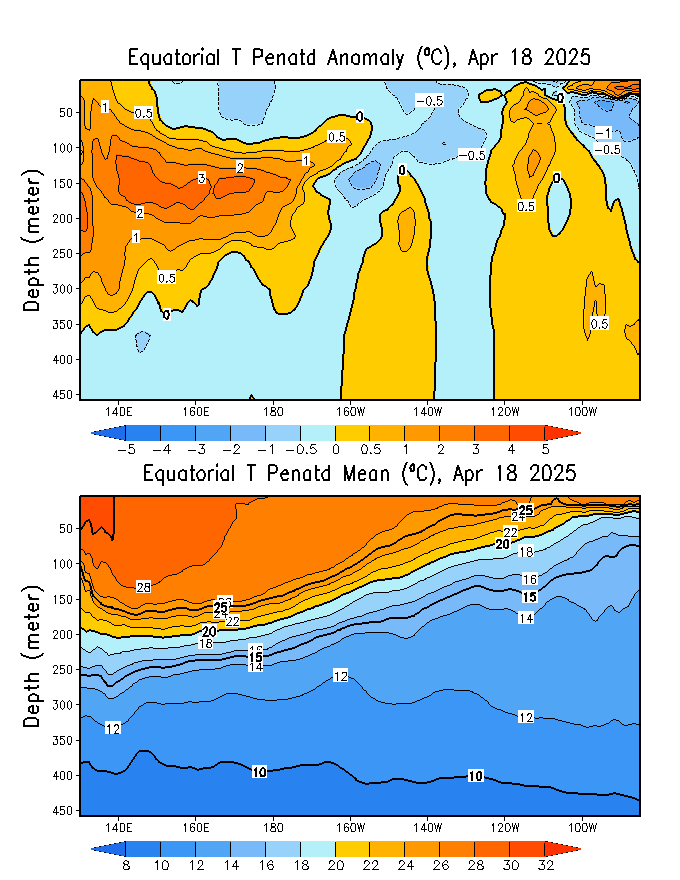 The bottom half of the graphic is not that useful in terms of tracking the progress of this Warm Event as it simply shows the thermocline between warm and cool water which pretty much looks like this as shown here during a Warm Event except now the cooler water is not making it to the surface to the east along the coast of Equator.
For my own amusement, I thought I would recalculate the ONI again as I have been doing recently. To refine my calculation I have totally changed my approach and rather than having the anomalies be the way I organized the data, I have divided the 170W to 120W ONI measuring area into five subregions and have mentally integrated what I see below and recorded that in the table I have constructed. Then I take the average of the anomalies I estimated for each of the five subregions. So now I am applying more subjectivity but it should produce a better estimate. Notice the boundary of the 1.5C plus water anomaly is now close to 170W and moving towards the East. That is why I believe the ONI will soon peak and begin to decline. But all the Meteorological Agencies in the World believe the ONI will continue higher. Could I possibly be correct? We shall see. It is not clear the extent to which the exact value of the ONI is useful in forecasting weather. There is a correlation between the strength of a Warm or Cool Event and the weather impacts. But it is not clear that the ONI or any other single index is able to be the independent variable in the forecasting model.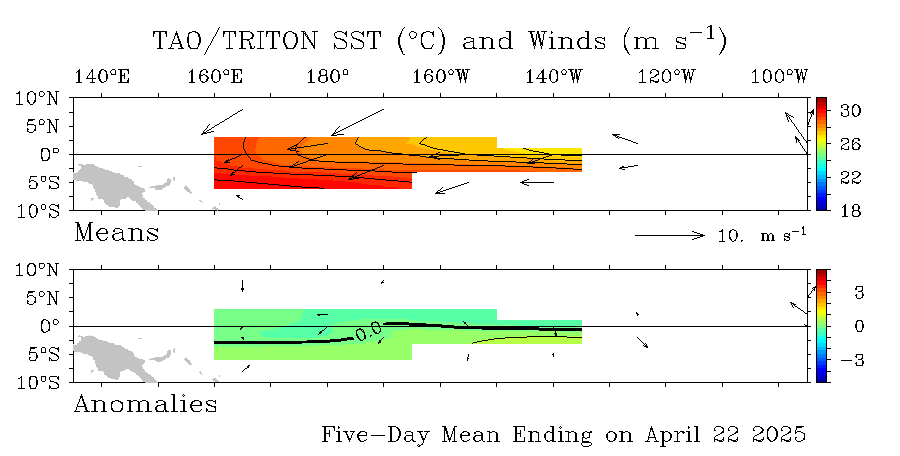 So as of Monday June 29 in the afternoon working from the June 28 TAO/TRITON report, this is what I calculated:
Calculation of ONI from TAO/TRITON Graphic

| | |
| --- | --- |
| Anomaly Segment | Estimated Anomaly |
| 170W to 160W | 1.3 |
| 160W to 150W | 1.4 |
| 150W to 140W | 1.4 |
| 140W to 130W | 1.5 |
| 130W to 120W | 1.7 |
| Total | 7.3 |
| Total divided by five subregions i.e. the ONI | (7.3)/5 = 1.46 |
My estimate of the Nino 3.4 ONI is again 1.46. NOAA has today reported the weekly ONI as again being 1.4. You can already see (in my calculation table) the gradient from West to East that has formed with the higher values in the East and the Western part of the Zone having a smaller anomaly which I believe will soon decline slightly.
Here is another way of looking at it:
.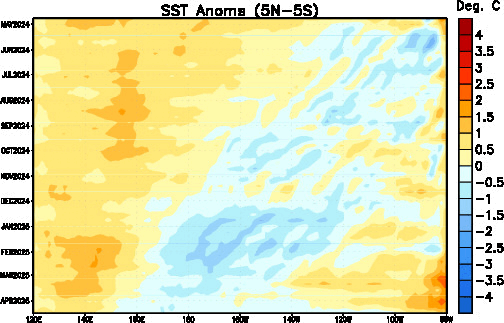 This Hovmoeller shows a lot of useful information. I could copy it into MSPaint and draw some lines on it but then it would not autoupdate so I do not wish to do that. But take a lot at 140E 160E, 165E, 175E, 120W and 90W. Remember reading from top to bottom one is reading the earlier times to the more current times. So you can see how this Warm Event started at 140E, has moved to 160E and then to 165E and lately you can see continued movement towards 175E, which it has now reached, but very slowly. You can also see that the entire Equator is warm. You can especially see the impact east of 90W where the Kelvin Wave is crashing into Ecuador. Also more warmer water has expanded towards 120 W. The eastern progress has been slower than I had anticipated. Leaving aside the SOI issue which until this week was no longer consistent with an El Nino, but has come to life perhaps just temporarily, this is clearly an El Nino type sea-surface temperature (SST) pattern right now. But to me it seems to be a pattern that will play out as it does not appear to be going to be reinforced. It may well play out more slowly that I have anticipated. But it is playing out.
You will not see the ONI decline until the warm water over at 175E has moved to 170W. Until then, the ONI could easily continue to rise but probably not by very much although some models are predicting it will peak at about 2.0. Once the warm surface water no longer extends west of 170W the ONI should begin to decline. I hesitate to offer a new estimate of when that will happen as I have not had the time to play those animations enough times to make an estimate. Plus it depends on the way the subsurface pod of warm water behaves and I do not know enough to predict how that will work its way through. The size of the deep water anomaly may have a bearing on the rate of movement to the east which is slower than what I read in the literature as being more usual. It may also impact where it rises. It has to go somewhere or mix or come to the surface and experience evaporative cooling. The MJO now appears to have some impact but probably small. We will watch the progress of this Warm Event together because I have provided the graphics that will allow us to do that.
Another Perspective.
These folks look at this from a very detailed perspective.
Recent El Nino Impacts
And now the last 30 days
I think you can see that the Northwest has gotten drier and warmer and the precipitation impact has increased in the Great Lakes area. The warm area in the East has intensified west of the Mississippi River which I think is related to Texas becoming less wet. Remember these are deviations from some standard presumably the average conditions 1981 to 2010 but I am not sure exactly what reference levels NOAA now uses as they seem to be very "flexible".All in all, none of what I see here is surprising and fits with an El Nino.
Pulling it All Together
We are in El Nino conditions now. It is probably influencing the IOD to tend towards being positive thus providing a double whammy for parts of Asia and Australia. The length and intensity of this El Nino is still not clear to me mostly in terms of whether or not it will extend into the early part of 2016. All the models except mine predict that it will. The disagreement is in terms of a couple of months but a couple of months makes a difference in terms of agriculture and other economic impacts. We may or may not have a Pacific Climate Shift as the PDO+ may be simply related to the Warm Event (and quite frankly at this point appears to be). But for now we do have PDO+. The AMO being an overturning may be more predictable so the Neutral status moving towards AMO- is probably fairly reliable but not necessarily proceeding in a straight line. So none of this is very difficult to figure out actually if you are looking at say a five-year forecast.The research on Ocean Cycles is fairly conclusive and widely available to those who seek it out. I provided a lot of information on this in prior weeks and all of that information is preserved in Part II of my report which you can get to below. It includes decade by decade predictions through 2050. Predicting a particular year is far harder. But we are beginning to speculate on the winter of 2016/201 which I believe will tend to be ENSO Neutral. One thing is fairly certain for the U.S. it will be less wet and warmer than the winter of 2015/2016 which will be quite wet and cool.
Click Here for the Global Economic Intersection Weather and Climate Report. Page II where you will find:
A more complete set of NOAA and other agency graphics (including international agencies) that auto update. So this includes both short term- and seasonal "updates". Most of the graphics will ALWAYS be up to date even if my commentary on the graphics is not. I update my commentary when it seems necessary and certainly every Monday, but some of these graphics auto update every six hours.
Economic and other Impacts of major weather events. Not sure there is any other place to obtain this information consistently other than very specialized subscription services.
Information on Climate Cycles both those which are fairly short term i.e. less than a decade in duration and multi-decadal cycles.
Economic and other Impacts of those Climate Cycles which are referred to by the IPCC as Internal Variability as opposed to secular Climate Change which is always in the same direction. Again I am not sure if there is another source for this information where it is pulled together in one place as I have.
My Editor tells me that he will show me how to create a Table of Contents for Part II to make it easier to navigate.
Click Here for Page III which deals with Global Warming.
Information on Anthropogenic Global Warming science i.e. the secular change in our climate that overlays both short-term weather and historical climate cycles as well as black swan events like volcanic eruptions. I prefer to call this Global Warming as it is the warming that triggers the other changes.
Economic and other Impacts of Global Warming. The IPCC AR5 WG2 attempts to describe and quantify these and I have some excerpts from their report. Over time I will go beyond their report as it is very deficient.
Click here for a list of Sig Silber's Weather Posts
>>>>> Scroll down to view and make comments <<<<<<
Make a Comment
Econintersect

wants your comments, data and opinion on the articles posted. You can also comment using Facebook directly using he comment block below.
---