posted on 22 June 2015
Written by Sig Silber
NOAA has issued their Seasonal Update. Not a lot of surprises but still questions of the duration of this new Warm Event. The prior 2014/2015 El Nino, which I have always labelled a faux El Nino, has been removed from their records as they adjust their prior estimates of the ONI (Oceanic Nino Index). NOAA raises the question of the chances the following winter might be a La Nina and we attempt to assess those probabilities.
This is the Regular Edition of my weekly Weather and Climate Update Report. Additional information can be found here on Page II of the Global Economic Intersection Weather and Climate Report.
Updated NOAA Seasonal Outlook
First let us look at ocean conditions as reported by NOAA. As usual I edit the NOAA discussions to combine the 30 Day and Long-Term discussions eliminating redundancy and organizing the material to fit with the graphics etc. The full discussion can be found here and here.
CURRENT ATMOSPHERIC AND OCEANIC CONDITIONS

SST ANOMALIES ACROSS THE EQUATOR ARE MORE THAN +1.0 C FROM THE SOUTH AMERICAN COAST TO AROUND LONGITUDE 160 E. ANOMALIES IN EXCESS OF +2.0 C ARE OBSERVED NEAR THE SOUTH AMERICAN COAST EXTENDING WESTWARD TOWARD NINO REGION 3. ANOMALIES IN THE NINO 3.4 REGION ARE CURRENTLY AROUND +1.3 C. OCEAN TEMPERATURES ALONG THE EQUATOR JUST UNDER THE SURFACE ARE CONSIDERABLY ABOVE AVERAGE, WITH ANOMALIES OF UP TO +6.0 C BETWEEN 50 AND 150 METERS DEPTH THROUGHOUT MUCH OF THE EASTERN PACIFIC. THE POSITIVE SUB-SURFACE HEAT ANOMALY PROVIDES A SOURCE OF WARMER-THAN-AVERAGE OCEAN WATER FOR CONTINUATION OF POSITIVE SST ANOMALIES FOR THE NEXT SEVERAL SEASONS.

THE ATMOSPHERIC TELECONNECTIONS TO THE SSTS CONTINUE TO BE ROBUST, WITH PERSISTENT ENHANCED CONVECTION OVER THE EQUATOR, NEAR AND TO THE EAST THE DATE LINE, AND SOME SUPPRESSED CONVECTION OVER THE MARITIME CONTINENT. LOW-LEVEL WESTERLY WIND ANOMALIES AT 850 HPA HAVE BEEN CONSISTENTLY OBSERVED NEAR THE ENSO SENSITIVE REGIONS SINCE MARCH [Editor's note: Seems like they have not checked recently as the wind anomalies have disappeared but may be coming back based on very recent data] WHILE ANOMALOUS EASTERLY WINDS PERSIST AT UPPER LEVELS. THESE LARGE SCALE ATMOSPHERIC PATTERNS SUGGEST THAT EL NINO IS CURRENTLY AT A MODERATE STRENGTH, THOUGH GIVEN THE LOW-VARIANCE TIME OF YEAR, THIS EVENT IS AMONG THE STRONGEST AT THIS TIME. [Editor's Note: This is a very unusual Warm Event and unexplained in many ways] ABOVE NORMAL SSTS EXTEND NORTHWARD FROM THE EQUATOR TO COVER AN EXTENSIVE AREA TO THE WEST OF NORTH AMERICA. EL NINO APPEARS TO BE CONTRIBUTING TO CLIMATE ANOMALIES OVER PARTS OF NORTH AMERICA IN THE PAST MONTH OR TWO [Editor's note: pretty much an acknowledgement that the Warm Event reported by NOAA as an El Nino during this past winter was a Faux El Nino: more on that later.] AND ARE EXPECTED TO CONTINUE TO HAVE AN INFLUENCE IN JULY.

THE EXTRA-TROPICAL PACIFIC OCEAN REMAINS CONSISTENT WITH THE POSITIVE PHASE OF THE PDO, ALTHOUGH THE MONTHLY INDEX WEAKENED IN MAY TO +1.2 AS DOCUMENTED BY THE UNIVERSITY OF WASHINGTON. THIS MAY HAVE SOME IMPACT ON CONDITIONS NEAR THE WEST COAST OF NORTH AMERICA, ESPECIALLY IN LATE SUMMER AND EARLY AUTUMN. [Editor's note: The PDO is possibly positive as a reflection of this Warm Event and may not be indicating a Pacific Climate Shift just yet. Of course I am speculating. It becomes important when attempting to look out five and ten years.]

PROGNOSTIC DISCUSSION OF SST FORECASTS

MOST DYNAMICAL MODELS FOR SSTS CONTINUE TO SUGGEST NINO 3.4 ANOMALIES WILL INCREASE AND PEAK THE LATE FALL. THE PDF CORRECTED NINO 3.4 SST ANOMALY FROM THE CFSV2 [Editor's Note: It makes me nervous when someone is talking about "corrected anomalies". I suspect that wording is a bit careless but I am not sure - it may be related to the revision of the ONI values that I will discuss later] PEAKS NEAR +1.8 C IN OND 2015. THIS AGREES WELL WITH THE CONSENSUS OF MODEL FORECASTS FOR NINO 3.4 SSTS RUN AT OTHER CENTERS, THAT ALSO SUGGEST PEAK ANOMALIES OF AROUND +2.0 C LATE IN THE YEAR. STATISTICAL FORECASTS OF NINO 3.4 ANOMALIES ARE WEAKER, BUT THE MAJORITY PREDICT ANOMALIES EXCEEDING +1.0 EXTENDING THROUGH THE FALL. THE CPC CONSOLIDATION FORECAST FOR NINO 3.4 SSTS SHOWS THE VALUE INCREASING TO AROUND +1.8 C BY NDJ 2015-2016, THEN DECREASING, BUT REMAINING ABOVE +1.0 C THROUGH JFM 2016. A CONSENSUS OF EXPERTS AT CPC AND IRI HAVE ISSUED PROBABILITIES EXCEEDING 80% FOR EL NINO CONDITIONS TO CONTINUE INTO JFM 2016.
Now let us look at the July Early Outlook and the three-month period Jul - Aug - Sep 2015.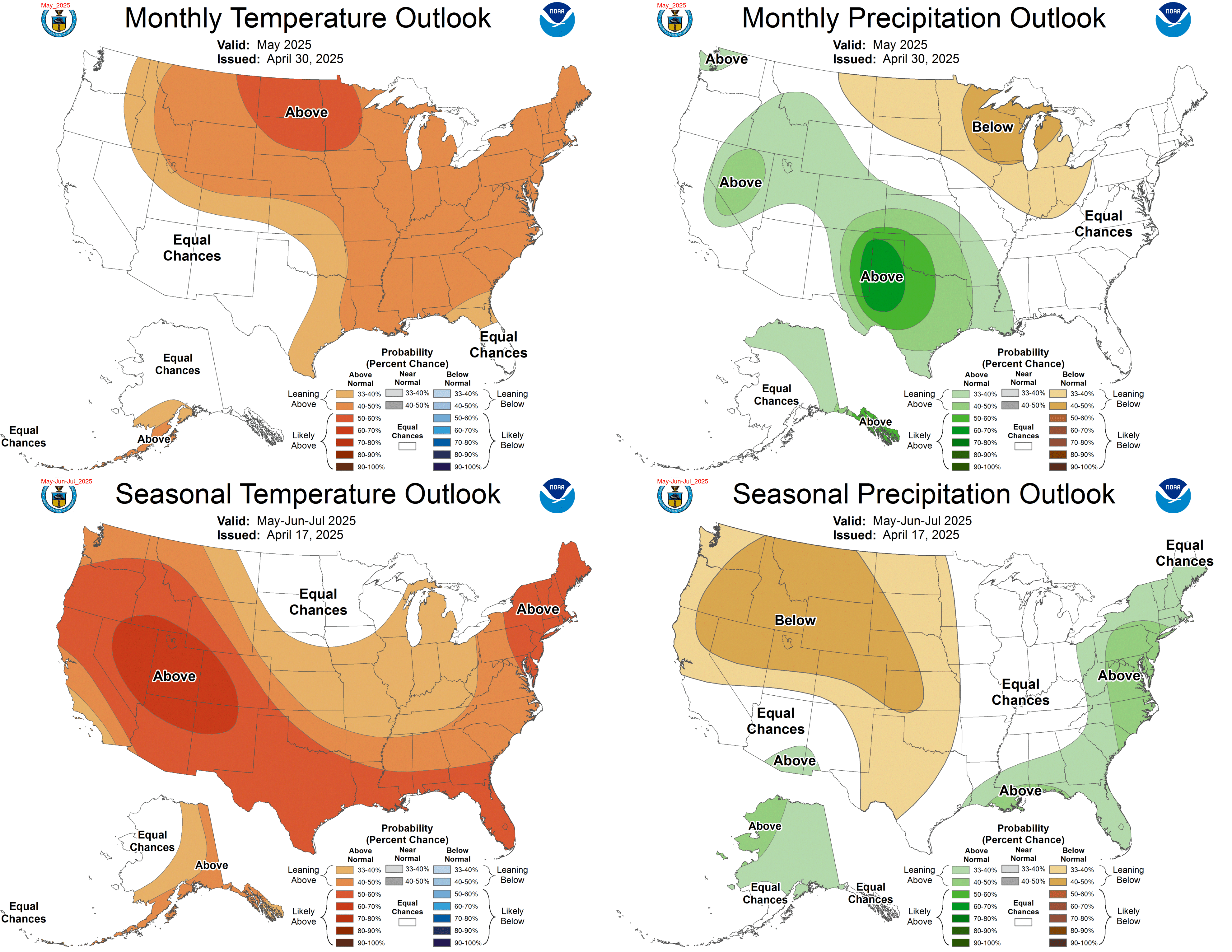 It is interesting to compare the NOAA outlook with the Japanese JAMSTEC SINTEX-F Model Outlook but understand that the NOAA maps cover Jul - Aug and Sep while the JAMSTEC maps cover Jun- Jul - Aug 2015 so they are not totally comparable. You can locate the U.S. on the JAMSTEC World Maps. With respect to temperature, NOAA is showing a tripole pattern with warmer than usual on the West Coast and Southeast and JAMSTEC is projecting cooler over a larger area but warmer over the Great Lakes and that is discussed by NOAA in their discussion below.
With respect to precipitation, JAMSTEC to some extent is projecting more widespread precipitation and a different pattern for the Southwest Monsoon favoring Arizona over New Mexico.
The Australian Queensland Bureau of Meteorology uses the SOI to make a worldwide precipitation forecast and here it is. It is interesting because it is based on just one variable: the air pressure differential between Tahiti and Darwin Australia.
You can read about it here. The Queensland Australia tool is based on a combination of the SOI level and the two-month trend in the SOI.
Back to the NOAA Discussion: First the 30 Day Discussion related to July.
DYNAMICAL MODEL FORECASTS INITIALIZED IN THE LAST FEW MONTHS HAVE SHOWN CONSIDERABLE CONSISTENCY IN THEIR PREDICTIONS FOR NORTH AMERICAN SURFACE TEMPERATURE AND PRECIPITATION. THEIR PREDICTIONS HAVE BEEN QUITE SUCCESSFUL IN SUGGESTING ELEVATED ODDS OF WET CONDITIONS IN MUCH OF WESTERN AND CENTRAL CONUS IN THE LATE SPRING. THE MODEL PREDICTIONS AGREE REASONABLY WELL WITH THE TEMPERATURE AND PRECIPITATION ANOMALIES OBSERVED IN ASSOCIATION WITH PAST EL NINOS. THUS, THE OUTLOOK FOR JULY 2015 IS BASED HEAVILY ON THE FORECAST FROM THE CFSV2, AND PROBABILITIES FROM THE MODEL CONSENSUS OF CLIMATE MODELS RUN AS PART OF THE NMME AND IMME.

THE FORECAST SUGGESTS ELEVATED CHANCES OF ABOVE-NORMAL TEMPERATURES IN THE WESTERN CONUS AND ALASKA. BELOW NORMAL TEMPERATURES ARE FAVORED IN AREAS THAT HAVE EXPERIENCED RECENT SURPLUS RAINFALL IN THE CENTRAL AND SOUTHERN PORTIONS OF THE ROCKY MOUNTAINS AND GREAT PLAINS, INCLUDING MUCH OF TEXAS. THIS AREA IS LIKELY ASSOCIATED WITH THE COOLING EFFECTS OF ABOVE AVERAGE SOIL MOISTURE, TOGETHER WITH INCREASED CHANCES FOR A CONTINUATION OF RELATIVELY WET CONDITIONS IN THE NEXT MONTH. THERE IS A FAIR CONSENSUS AMONG CLIMATE MODELS FOR ABOVE NORMAL TEMPERATURES IN THE EASTERN CONUS, HOWEVER THE CONFIDENCE IS LOW CONSIDERING THAT PAST EL NINO SUMMERS GENERALLY FAVOR COOL CONDITIONS FOR MUCH OF THE EAST AND NORTH CENTRAL CONUS. [Editors's note: This is another area where the NOAA and JAMSTEC forecasts diverge and these differences simply show the complexity of assessing El Nino impacts]. THE AREA FAVORING ABOVE NORMAL TEMPERATURES WAS RESTRICTED TO AREAS EAST OF THE APPALACHIAN MOUNTAINS WHERE THE YEAR-TO-YEAR TEMPERATURE VARIABILITY IS LOWER IN RELATION TO POSSIBLE CLIMATE SIGNALS.

THERE CONTINUES TO BE A STRONG CONSENSUS AMONG MODELS FOR ABOVE-MEDIAN PRECIPITATION AMOUNTS OVER A WIDE AREA OF THE CENTRAL AND WESTERN CONUS. SOME EARLY TROPICAL STORM ACTIVITY HAS ALREADY BEEN OBSERVED IN EARLY JUNE IN THE EASTERN PACIFIC OFF THE COAST OF MEXICO, AND HAS BEEN CONTRIBUTING TO ANOMALOUS MOISTURE IN PARTS OF THE WESTERN CONUS. MODEL FORECASTS SUGGEST A CONTINUATION OF ENHANCED CHANCES OF ABOVE MEDIAN PRECIPITATION THAT APPEARS AS A NORTHWARD EXTENSION OF A LARGE AREA OF FORECAST ABOVE MEDIAN RAINFALL IN THE TROPICAL EASTERN PACIFIC. ENSO COMPOSITES GENERALLY FAVOR A WEAK SOUTHWEST MONSOON IN THE WESTERN PART OF THE MONSOON REGION, SO THE MODEL FORECASTS FOR ABOVE MEDIAN PRECIPITATION AMOUNTS IN ARIZONA MAY DEPEND ON HIT-OR-MISS RESIDUAL MOISTURE FROM TROPICAL STORMS, AND AS SUCH MAY BE UNRELIABLE IN WESTERN REGIONS OF THE DESERT SOUTHWEST. THE CFSV2 MODEL INDICATES BELOW MEDIAN PRECIPITATION FOR SOUTH TEXAS EXTENDING INTO PARTS OF THE SOUTHEASTERN CONUS. THIS AREA SEEMS A REASONABLE EXTENSION OF DRY CONDITIONS EXPECTED OVER THE CARIBBEAN IN EL NINO SUMMERS, HOWEVER MODEL CONSENSUS IN THE EASTERN PART OF THE AREA AND IN FLORIDA WAS LOW. THERE IS ALSO SOME WEAK CONSENSUS AMONG THE NMME FOR BELOW MEDIAN PRECIPITATION AMOUNTS OVER PARTS OF THE ALASKA PANHANDLE.

And now excerpts from the three-month discussion:

TEMPERATURE

THE JUL-AUG-SEP (JAS) 2015 TEMPERATURE OUTLOOK INDICATES ENHANCED PROBABILITIES OF ABOVE NORMAL TEMPERATURES FOR ALASKA, AREAS WEST OF THE ROCKY MOUNTAINS, AND THE EASTERN SEABOARD. CHANCES FOR BELOW-NORMAL TEMPERATURES ARE ELEVATED FOR PARTS OF THE CENTRAL AND SOUTHERN PLAINS, AS WELL AS FOR PARTS OF THE FRONT RANGE AND MID-MISSISSIPPI VALLEY.

THE JAS 2015 TEMPERATURE OUTLOOK INDICATES ENHANCED PROBABILITIES OF ABOVE NORMAL TEMPERATURES FOR ALASKA, AREAS WEST OF THE ROCKY MOUNTAINS, AND THE EASTERN SEABOARD. CHANCES FOR BELOW-NORMAL TEMPERATURES ARE ELEVATED FOR PARTS OF THE CENTRAL AND SOUTHERN PLAINS, AS WELL AS FOR PARTS OF THE FRONT RANGE AND MID-MISSISSIPPI VALLEY. THE NMME, IMME, EL NINO COMPOSITES, AND FORECASTS BASED ON CONSTRUCTED ANALOGS OF BOTH GLOBAL SSTS AND SOIL MOISTURE ANOMALIES ARE IN GENERAL AGREEMENT ON THE FORECAST TEMPERATURE ANOMALY PATTERN. THERE CONTINUES TO BE SIGNIFICANT DISAGREEMENT AMONG TOOLS IN THE GREAT LAKES REGION, WITH DYNAMICAL MODELS GENERALLY FAVORING ABOVE NORMAL TEMPERATURES, WHILE STATISTICAL ENSO-BASED GUIDANCE TENDS TO LEAN COOLER DURING THE FIRST COUPLE OF LEADS. [Editors note: JAMSTEC IS TAKING THE WARM SIDE ON THIS ISSUE]

PRECIPITATION

THE JAS 2015 PRECIPITATION OUTLOOK INDICATES ENHANCED CHANCES OF ABOVE-MEDIAN PRECIPITATION AMOUNTS FOR PARTS OF THE GREAT BASIN, THE ROCKY MOUNTAINS FROM SOUTHERN MONTANA SOUTHWARD, AND THE CENTRAL AND SOUTHERN GREAT PLAINS INCLUDING PARTS OF TEXAS. BELOW-MEDIAN PRECIPITATION IS FAVORED FOR A NARROW REGION EXTENDING FROM SOUTHEASTERN TEXAS TO THE MID-ATLANTIC STATES.
The longer-term maps in the Seasonal Outlook also were updated on June 18, 2015.
Temperature Outlook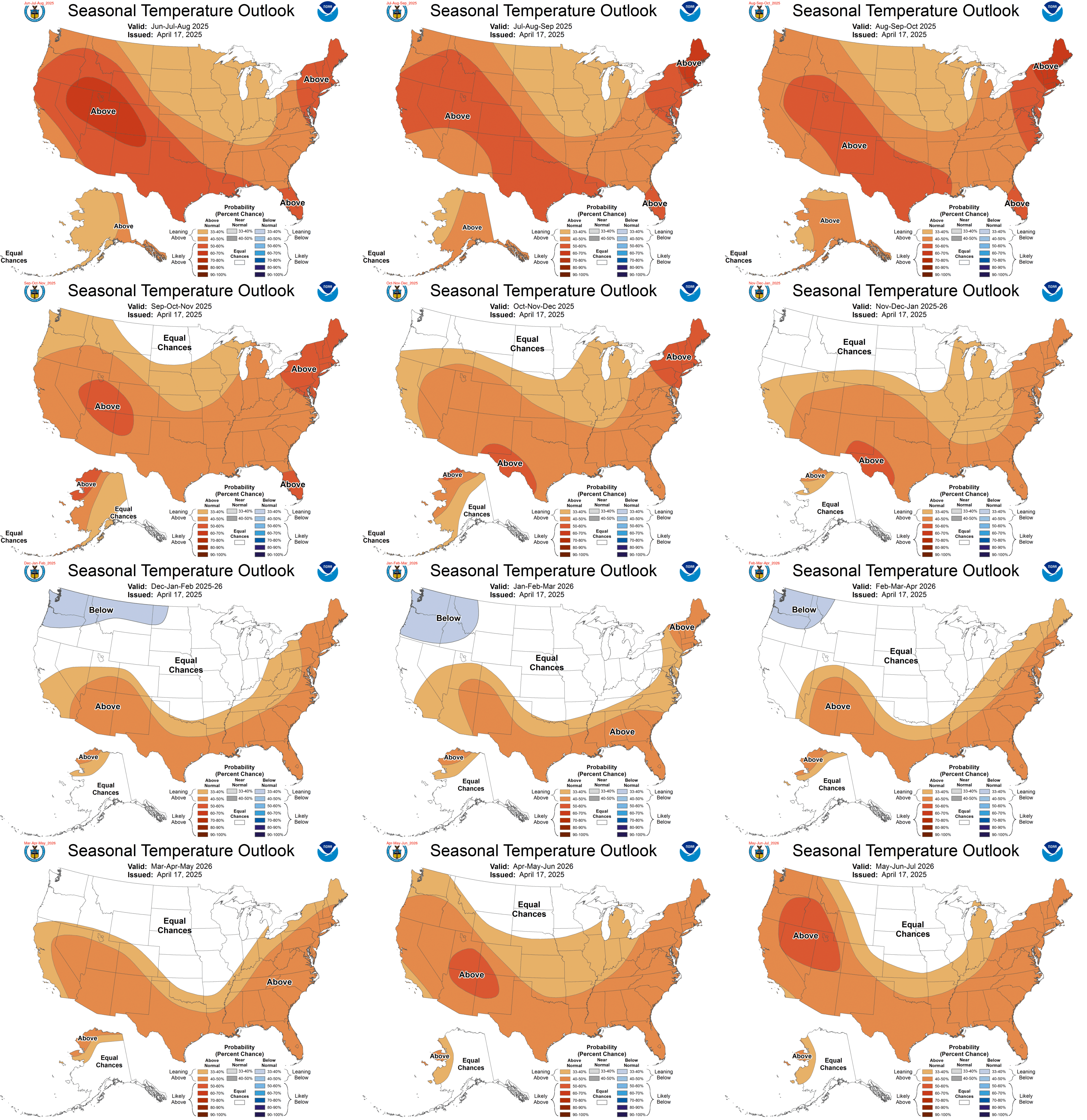 Note the change in the pattern in May - Jun - Jul 2016 which reflects NOAA's assessment of when El Nino will no longer be a factor.
The following excerpts from the NOAA discussion is very interesting as it present's NOAA's ideas of how the impacts of this El Nino will impact U.S. weather and how that sequence is impacted by the strength of the El Nino. This means that if the El Nino is stronger or weaker than anticipated, the impacts will be a bit different. That is why is important to monitor this El Nino as it strengthens and then fades away.
JAS 2015 TO JAS 2016

TEMPERATURE

TEMPERATURE ANOMALIES ARE FORECAST TO SLOWLY EVOLVE FROM THIS LATE SUMMERTIME PATTERN TO THE WINTERTIME EL NINO PATTERN OF TEMPERATURE ANOMALIES. THE ENHANCED CHANCES OF BELOW-NORMAL TEMPERATURES SHIFTS FROM THE CENTRAL PART OF THE COUNTRY TO THE SOUTH-CENTRAL CONUS, AND THEN EXPANDS TO COVER MUCH OF THE SOUTHERN CONUS BY DJF 2015-16. THE CHANCES OF ABOVE NORMAL TEMPERATURES REMAIN ELEVATED FOR MUCH OF THE WESTERN CONUS, GRADUALLY SHIFTING NORTHWARD AND EXPANDING ALONG THE NORTHERN CONUS TO THE UPPER GREAT LAKES BY DJF. THE LARGEST CHANGE FROM THE LAST FORECAST CYCLE IS THE INCREASE IN PROBABILITIES DURING WINTER. THIS IS WARRANTED NOW THAT THE PROBABILITY OF A MODERATE TO STRONG EL NINO TO CONTINUE THROUGH THE WINTER IS EXCEEDINGLY HIGH. STRONGER EVENTS ARE ASSOCIATED WITH GREATER CHANCES OF ABOVE NORMAL TEMPERATURES IN THE GREAT LAKES REGION. EL NINO CONDITIONS GENERALLY FAVOR ABOVE NORMAL TEMPERATURES FOR MUCH OF ALASKA THROUGH THE FALL AND WINTER, AND THE FORECASTS FROM THE NMME AND IMME SUGGEST GREATER CONFIDENCE IN ABOVE NORMAL TEMPERATURES THAN WOULD BE EXPECTED ON THE BASIS OF EL NINO ALONE. PROBABILITIES FOR ABOVE NORMAL TEMPERATURES ARE PARTICULARLY ELEVATED FOR NORTHERN ALASKA WHERE THE EXPECTED ANOMALOUSLY LOW ARCTIC OCEAN ICE COVER MAY HELP RAISE TEMPERATURES IN NEARBY AREAS.

THE FORECASTS INDICATE THAT SSTS IN THE NINO 3.4 REGION MAY REMAIN ELEVATED INTO LATE WINTER, SO EL NINO IMPACTS ARE EXPECTED TO EXTEND INTO THE LATE WINTER BEFORE LIKELY ENDING BY THE SPRING OF 2016. THE OUTLOOKS FOR AMJ AND MJJ 2016 SHOW A TRANSITION OF TEMPERATURES ASSOCIATED WITH EL NINO TO ANOMALIES SUGGESTED BY THE LONG TERM TRENDS. TYPICALLY ANOMALOUS SOIL MOISTURE CONDITIONS RESULTING FROM THE WINTERTIME EL NINO IMPACTS CAN RESULT IN LOCALIZED CLIMATE ANOMALIES PERSISTING INTO THE LATE SPRINGTIME IN SOME AREAS. FOR JJA AND JAS 2016, THE CPC CONSOLIDATION, WHICH EMPHASIZES TRENDS, IS MOST HEAVILY RELIED UPON. ONE ISSUE THAT SHOULD BE CONSIDERED IN FUTURE FORECAST CYCLES IS THE TENDENCY TO TRANSITION FROM STRONG EL NINO EVENTS TO LA NINA EVENTS. THIS EMPIRICAL RELATIONSHIP COULD BE USED IN FORECASTS FOR SUMMER 2016 AND BEYOND.

---

Special Note. This is very important. This Warm Event most resembles the 1982-1983 powerful El Nino which was followed in the summer by an extended period of La Nina or near La Nina conditions. This will be discussed in more detail a bit later.

---
It is not easy to compare and the JAMSTEC maps do not go out that far but it is interesting to see the similarities and differences for the six months Sep 2015 - Feb 2016 covered by the JAMSTEC forecast.
Sept - Oct - Nov 2015
Dec 2015, Jan -Feb 2016
Still cool in the U.S. but not the East Coast. Check out the difference between Eastern Siberia and Alaska as Fall changes into Winter.
Precipitation Outlook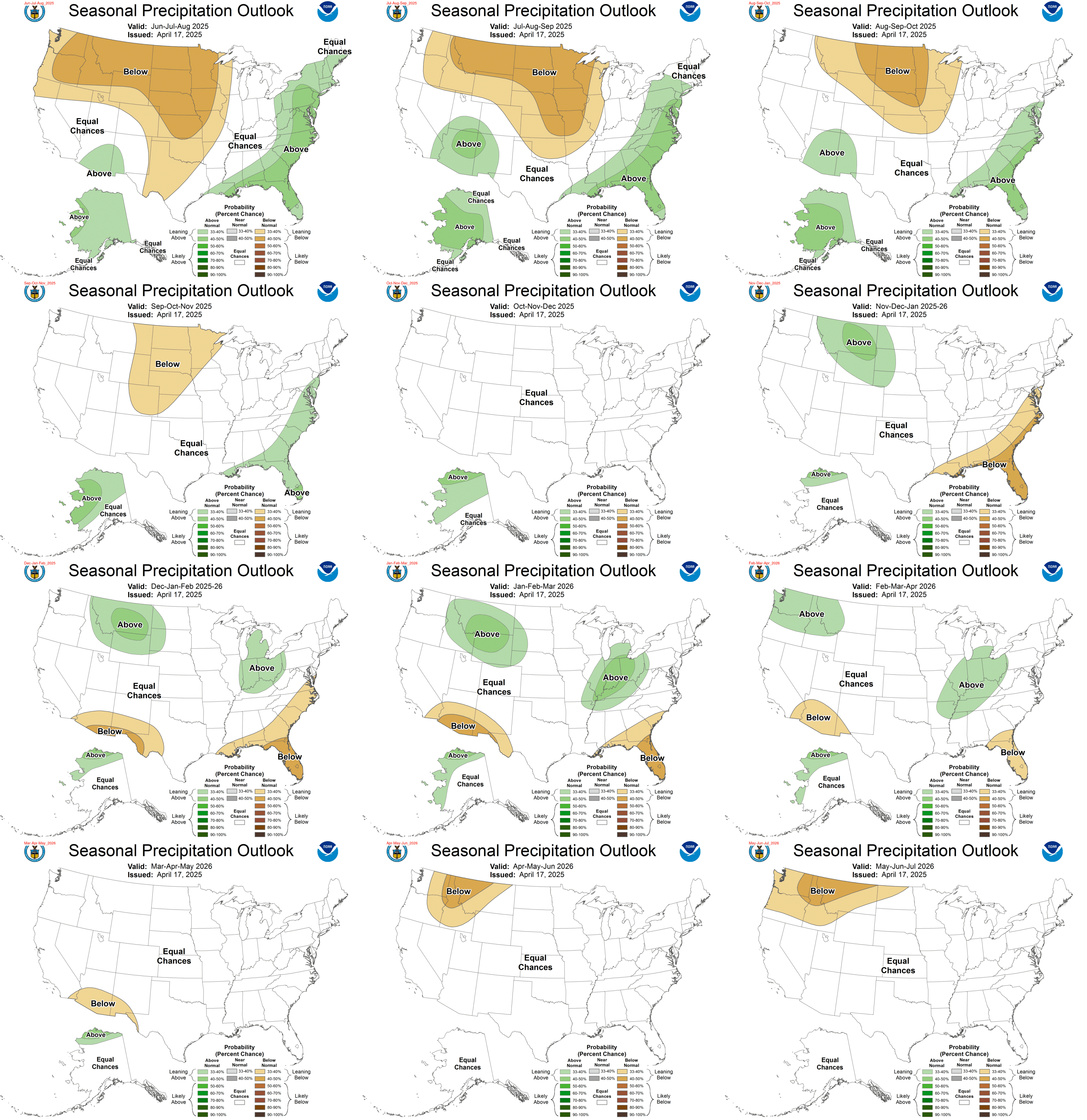 If you want larger versions of each map (temperature and precipitation) you can find them here. And each of those maps can be clicked on to further enlarge them.
Note that NOAA is seeing the impacts of El Nino ending in Apr- may - Jun 2016 which is a month or so earlier than the end of the impacts on temperature.
And here are the excerpts from the NOAA discussion:
PRECIPITATION

THERE IS GOOD AGREEMENT AMONG THE NMME, IMME, EL NINO COMPOSITES AND CONSTRUCTED ANALOGS BASED BOTH ON SSTS AND CURRENT SOIL MOISTURE CONDITIONS FOR ENHANCED CHANCES OF ABOVE MEDIAN PRECIPITATION AMOUNTS OVER MUCH OF THE CONUS, EXTENDING FROM THE INTERMOUNTAIN WEST TO THE CENTRAL AND SOUTHERN GREAT PLAINS. THE NMME AND IMME SUGGEST THAT THE CHANCES OF BELOW MEDIAN PRECIPITATION AMOUNTS ARE ELEVATED ALONG THE WESTERN GULF COAST, WHICH IS BROADLY CONSISTENT WITH ENSO. THIS REGION FAVORING BELOW MEDIAN PRECIPITATION IS EXTENDED TOWARD THE MID-ATLANTIC STATES, WHERE THERE IS A WEAK ENSO SIGNAL AND SUPPORT FROM THE LATEST CFS GUIDANCE.

THE BEST SIGNAL FOR ABOVE-MEDIAN PRECIPITATION OVER THE CENTRAL CONUS SHIFTS SOUTHWESTWARD WITH TIME, CONSISTENT WITH STATISTICAL ENSO-BASED GUIDANCE. EL NINO IMPACTS TENDS TO ELEVATE THE CHANCES OF TROPICAL MOISTURE FROM THE EASTERN PACIFIC INFLUENCING NORMALLY DRY REGIONS OF THE SOUTHWEST IN THE FALL, FAVORING ABOVE MEDIAN PRECIPITATION AMOUNTS IN THE SOUTHWEST EXTENDING TO THE SOUTHERN CALIFORNIA COAST IN ASO AND SON 2015. [Editor's note: but not in July and probably not August (since ASO is centered on Sep) which seems to be in conflict with the NOAA three-month forecast which shows EC for Southern California in Jul - Aug - Sep] THE NMME FORECASTS STILL APPEAR TOO WET THROUGH ALL LEAD TIMES AND HAVE BEEN REVISED DOWNWARD TOWARD MORE TYPICAL EL NINO IMPACTS. HOWEVER IT SHOULD BE NOTED THAT THE NMME FORECASTS FROM EARLIER IN THE SPRING APPEAR ON TARGET BASED ON RECENT PRECIPITATION OBSERVATIONS OVER MUCH OF THE ROCKY MOUNTAINS AND GREAT PLAINS.

THE FORECAST ROBUST EL NINO CONDITIONS ARE EXPECTED TO YIELD SIGNIFICANT PRECIPITATION IMPACTS FROM AUTUMN 2015 TO SPRING 2016. THUS THE CHANCES FOR ABOVE-MEDIAN PRECIPITATION ARE ELEVATED THROUGHOUT THE SOUTHERN CONUS FROM SON 2015 - FMA 2016. INCREASED CHANCES OF BELOW MEDIAN PRECIPITATION AMOUNTS ARE EXPECTED FOR THE NORTHERN ROCKIES AND PARTS OF THE INTERIOR EAST NORTH-CENTRAL CONUS FROM DJF - FMA 2015-16. GIVEN THE INCREASED CONFIDENCE IN A ROBUST ENSO EVENT THROUGH THE WINTER, PROBABILITIES HAVE BEEN INCREASED WITH RESPECT TO THE PREVIOUS OUTLOOK CYCLE FOR THE COLD SEASON. THIS INCLUDES INCREASED PROBABILITIES FAVORING ABOVE MEDIAN PRECIPITATION OVER SOUTHERN CALIFORNIA.

WITH THE STRENGTH AND CERTAINTY OF EL NINO CONDITIONS DIMINISHING IN THE EARLY PART OF 2016, THE RELIABLE SIGNALS FOR PRECIPITATION ANOMALIES VANISH BY AMJ 2016, LEADING TO EQUAL CHANCES FOR ABOVE- NEAR- AND BELOW MEDIAN PRECIPITATION AMOUNTS THROUGHOUT THE FORECAST DOMAIN FOR AMJ 2016 AND BEYOND."
And here are the JAMSTEC maps for six months of what is shown and discussed above.
Compared to the NOAA Outlook the JAMSTEC SON precipitation outlook covers a much larger part of the World than NOAA but their maps include CONUS and Alaska. For CONUS, JAMSTEC projects increased precipitation further north than NOAA and more intense on the East Coast. JAMSTEC projects increased precipitation covering a larger part of Alaska.
NOAA is still showing a dry Northern Tier and wet Southern Tier in DJF (2015 - 2016) but JAMSTEC is mostly dry except for the West Coast.
So, there is a substantial difference between the two forecasts.
Looking Ahead to the Winter of 2016/2017
Repeating from the NOAA Discussion:
"ONE ISSUE THAT SHOULD BE CONSIDERED IN FUTURE FORECAST CYCLES IS THE TENDENCY TO TRANSITION FROM STRONG EL NINO EVENTS TO LA NINA EVENTS. THIS EMPIRICAL RELATIONSHIP COULD BE USED IN FORECASTS FOR SUMMER 2016 AND BEYOND."
It is not a perfect procedure but I took a look at the ONI values for the Oct - Nov - Dec three-month period starting in 1950. I used an ONI of 0.5 or higher as an indication that it was a warm event and possibly an El Nino although it takes more than one three-month period of an ONI of 0.5 or higher to define an El Nino. Similarly, I took -0.5 or more negative to indicate La Nina conditions during that three-month period. Then I tabulated the number of times that there was a +0.5 or greater in one year followed by a -0.5 or more negative in the following year.
| | | | | | | | | | | | |
| --- | --- | --- | --- | --- | --- | --- | --- | --- | --- | --- | --- |
| Year | ONI | Year | ONI | Year | ONI | Year | ONI | Year | ONI | Year | ONI |
| 1950 | -0.7 | 1960 | 0 | 1970 | -0.9 | 1980 | 0.1 | 1990 | 0.4 | 2000 | -0.8 |
| 1951 | 0.7 | 1961 | -0.2 | 1971 | -0.9 | 1981 | -0.1 | 1991 | 1.2 | 2001 | -0.3 |
| 1952 | 0.2 | 1962 | -0.3 | 1972 | 2.0 | 1982 | 2.1 | 1992 | -0.1 | 2002 | 1.3 |
| 1952 | 0.8 | 1963 | 1.2 | 1973 | -1.9 | 1983 | -0.8 | 1993 | 0.1 | 2003 | 0.4 |
| 1954 | -0.5 | 1964 | -0.8 | 1974 | -0.7 | 1984 | -0.9 | 1994 | 0.9 | 2004 | 0.7 |
| 1955 | -1.6 | 1965 | 1.8 | 1975 | -1.5 | 1985 | -0.2 | 1995 | -1.0 | 2005 | -0.4 |
| 1956 | -0.5 | 1966 | -0.1 | 1976 | 0.8 | 1986 | 1.0 | 1996 | -0.4 | 2006 | 0.9 |
| 1957 | 1.3 | 1967 | -0.4 | 1977 | 0.8 | 1987 | 1.2 | 1997 | 2.3 | 2007 | -1.2 |
| 1958 | 0.6 | 1968 | 0.6 | 1978 | -0.1 | 1988 | -1.7 | 1998 | -1.3 | 2008 | -0.5 |
| 1959 | -0.1 | 1969 | 0.8 | 1979 | 0.5 | 1989 | -0.2 | 1999 | -1.4 | 2009 | 1.2 |
My tabulation was nine times "no" and ten times "yes". On two occasions there were two years of 0.5 or more then followed by a year with -0.5 or less. Not shown is the value for 2010 which was -1.3 which is one of the ten times that there was this year to year dramatic change. So I concluded that there is a 50% chance of a La Nina in the winter of 2016/2017 on a statistical basis alone. However my general feeling is that the winter of 2016/2017 is most likely to be ENSO Neutral.
To examine this question more carefully, I prepared the below table where I show what I know about the ten years where the ONI changed dramatically from positive to negative. I show what I know about the warm event which in most cases was an El Nino of some sort and I show the PDO and AMO with the sign/phase in the year shown followed after a comma by the sign/phase in the following year. It is not conclusive but I do not see the current pattern of PDO+ and AMO+ or Neutral represented in this table except in 1997 and probably also in 1987. I do not expect the PDO to be negative next year so that kind of invalidates the 1997 case as being predictive. 1987 was a Modoki and this now is a pretty much traditional El Nno so I do not believe the 1987 case is particularly predictive. Thus I conclude that the winter of 2016/2017 being a La Nina is less than 50%. If you knew nothing you might assign a probability of 25% for a La Nina year. Given that this winter will be an El Nino, you might assign a probability of 33% to the following year being a La Nina. It is like a box of one red, one blue and two white balls. If you draw from that box, the probability of a red ball is 25%. If you remove the blue ball because you just had an El Nino winter, the Markovian probability of a red ball increases to 33%. I think this is how Australia looks at things. But ENSO is not a four-year cycle but more like a 5 to 7 year cycle. So we could try to be more fancy but the results may not be better.
Reversal Years

| | | | |
| --- | --- | --- | --- |
| Year | Comments | PDO | AMO |
| 1953 | | -,+ | +.- |
| 1963 | Modoki Type I | -,- | -.- |
| 1969 | Modoki Type II which started in 1968 | +,- | -.- |
| 1972 | Traditional El Nino | +,- | -.- |
| 1982 | Traditional El Nino | +,+ | -.- |
| 1987 | Modoki Type1 | +,- | N.- |
| 1994 | Modoki | -,+ | -.+ |
| 1997 | Traditional El Nino | +,- | +.+ |
| 2006 | Traditional El Nino | -,- | +.+ |
| 2009 | Modoki Type II | N,- | +.+ |
I have no data on the 1953/54 El Nino and I do not know why but it appears not to have been recognized by Japan. So I do not know if we are dealing with half the events being Modokis are more than half. The reason that might be important is that a Modoki is closer to being a La Nina than a traditional/canonical El Nino as the warm water is not as far east. So it might be easier for a Modoki to convert to a La Nina except some Modokis transform into traditional El Ninos which just happened. The 2014/2015 Warm Event was probably best described as a Near Modoki Type II that has now transformed itself into a traditional but late in the season El Nino. Obviously we have more to learn.
Curiously as I was doing this exercise I noticed that the ONI for Jan - Feb - Mar 2015 is now shown as being 0.4. That is a change and different from what they were showing in the weekly ENSO Report dated June 15. My source for the full set of ONI data can be found here. If the JFM 2015 was indeed 0.4 and not the 0.5 shown in the weekly ENSO Report, then the Faux El Nino declared by NOAA in late February or early March for the 2014/2015 Winter has been erased from the historical record. It did not happen! Apparently, the JFM 2015 ONI was revised down from 0.5 to 0.4 (the SON 2014 ONI was also reduced to 0.4) but without any press coverage as far as I can tell. The weekly ENSO Report should show the latest revised information which on June 15 it did in one graphic but not the table of ONI values. That graphic was updated as shown below and you see the El Nino of 2014/2015 is no longer shown. It is helpful that this Faux El Nino is now expunged from the NOAA Record Book as this makes historical analysis more accurate. It seems to me that the rush to be the first to declare weather events has detracted from the commitment to accuracy.
Current (Now to 5 Days forward) Weather Situation:
For daily forecasts it is better to consult your local weather service or the weather service where you are traveling as these will be more specific. But I do have daily forecasts on Page II of the Report so you can always look at those as they auto-update. What I present here is information that normally is not made available via local weather forecasts and which can help you understand what some of the major drivers are for the local forecast.
First here is a national 12 hour to 60 hour forecast of weather fronts shown as an animation. Beyond 60 hours, the maps are available in Part II of the Global Economic Intersection Weather and Climate Report.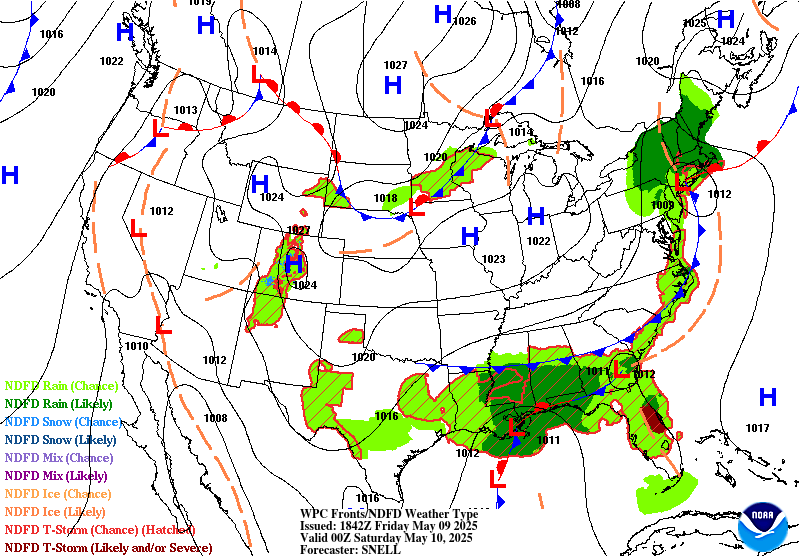 The explanation for the coding used in these maps, i.e. the full legend, can be found here.
This map is the mid-atmosphere 7-Day chart rather than the surface highs and lows and weather features. In some cases it provides a clearer less confusing picture as it shows only the major pressure gradients.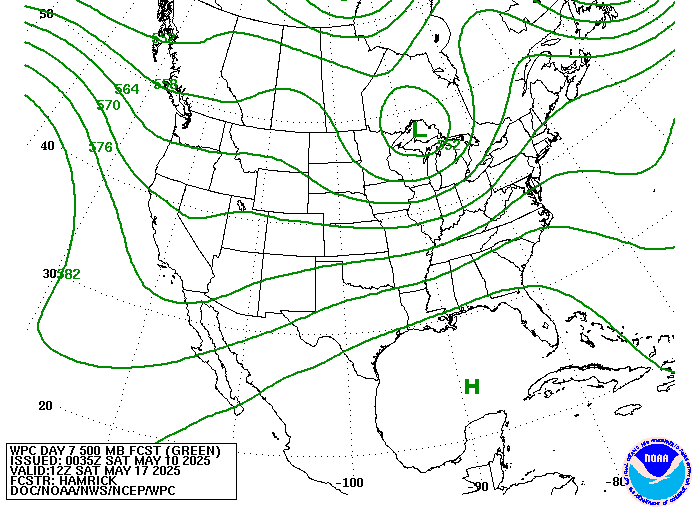 Notice the stream of moisture moving north into Texas on the extreme western edge of the influence of the Bermuda High. Some are calling this a monsoon-like pattern. Is it temporary or truly an early start to the Southwest Monsoon? I am not sure. I suspect not. There seems to be some difference of opinion between Central NOAA and in New Mexico our local NWS forecasters (also part of NOAA) who are somewhat less impressed with this feature as signaling an early start to the Southwest Monsoon.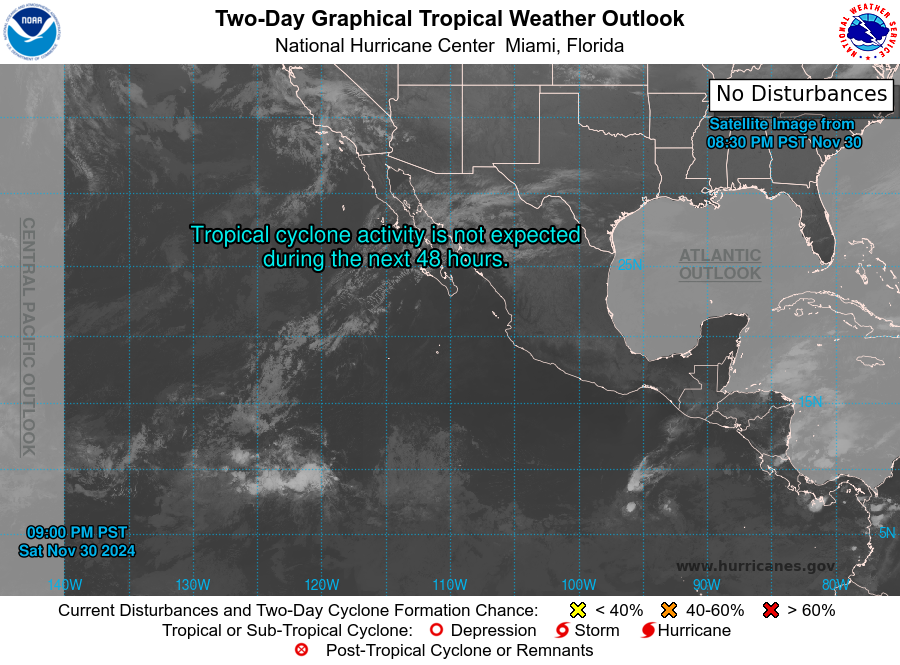 Below is another view which highlights the surface highs and the lows re air pressure on Day 3. The Aleutian Low is as I am looking at this graphic is now VERY weak and would no longer be a major factor other than with respect to Alaska and Siberia except that on some days it shifts far to the east and substantially south and in those cases has more of an impact on CONUS.
+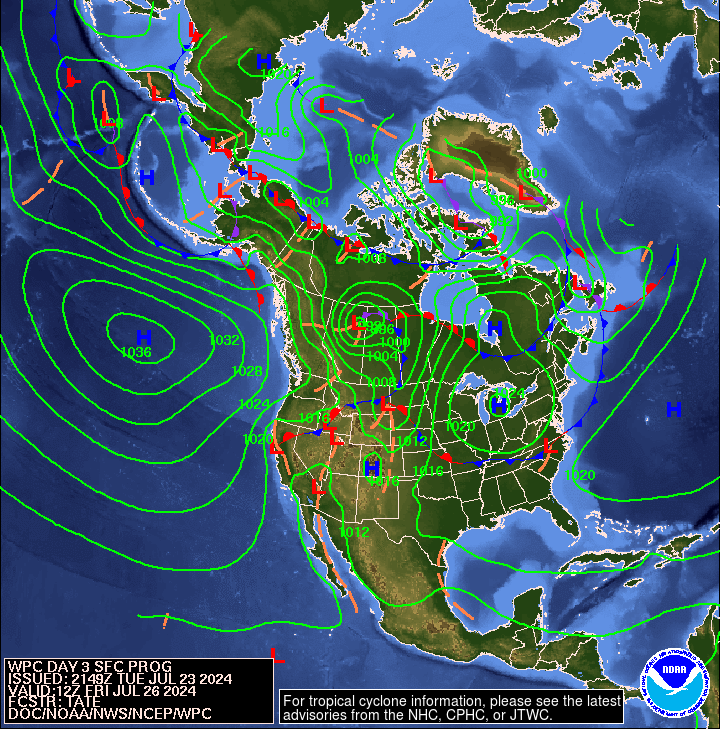 And here is Day 6: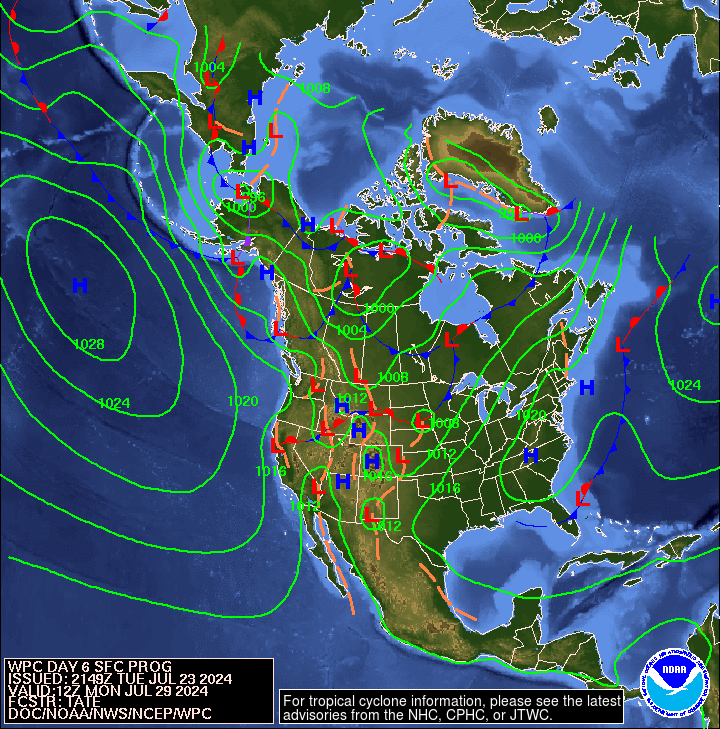 Outlook Days 6 - 14 (but only showing the 8 - 14 Day Maps)
Here is a graphic of the Early July Outlook issued June 18, 2015:
And here is the 8 - 14 Day Temperature Outlook issued today June 22, 2015. It covers the week following the current week: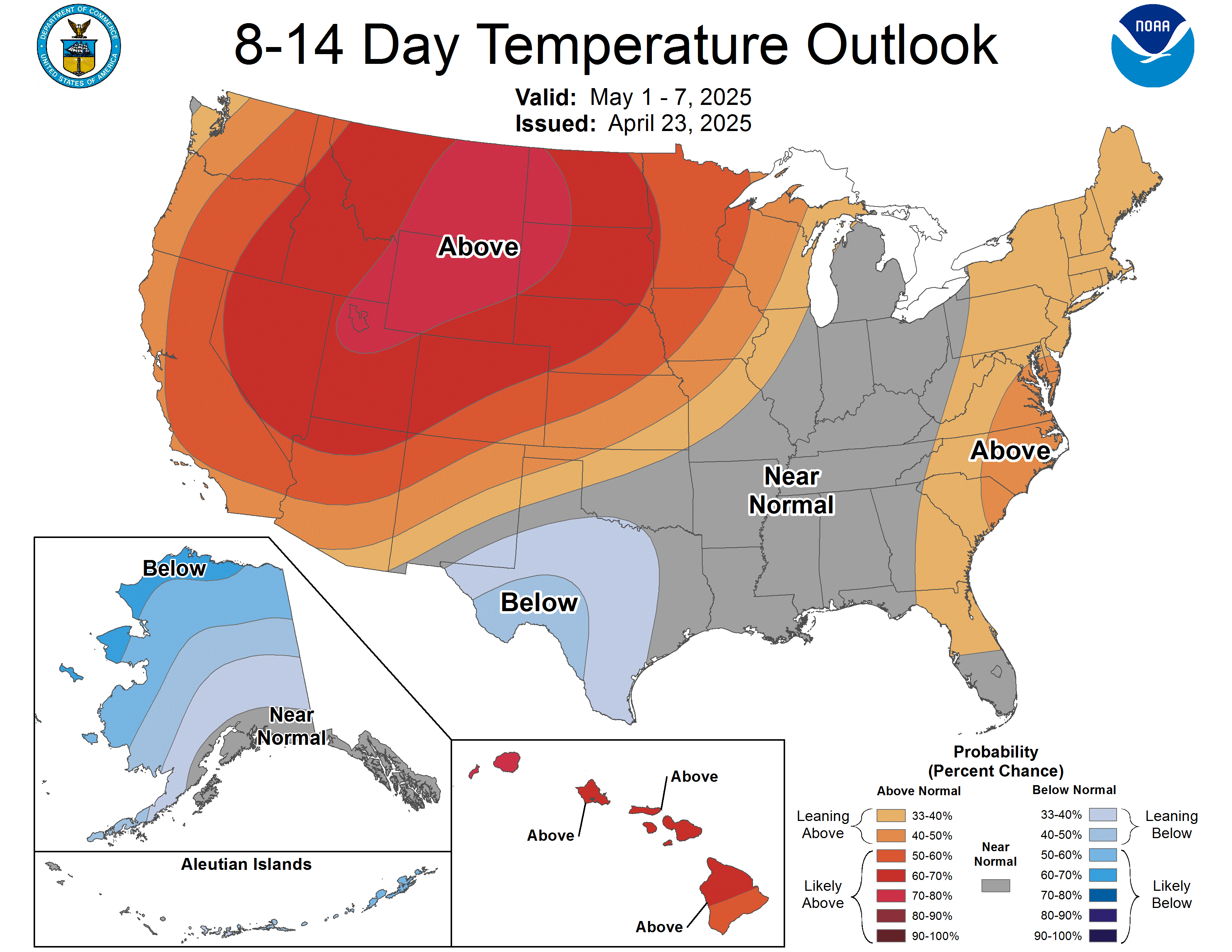 Today's Outlook is just nine days of the month and the map of the 8 to 14 day Outlook only shows seven days but it does seem to be substantially in agreement with the monthly outlook issued on June 18.
And here is the Early Outlook for July Precipitation issued on June 18, 2015:
Here is the 8 - 14 Day Precipitation Outlook issued today June 22, 2015: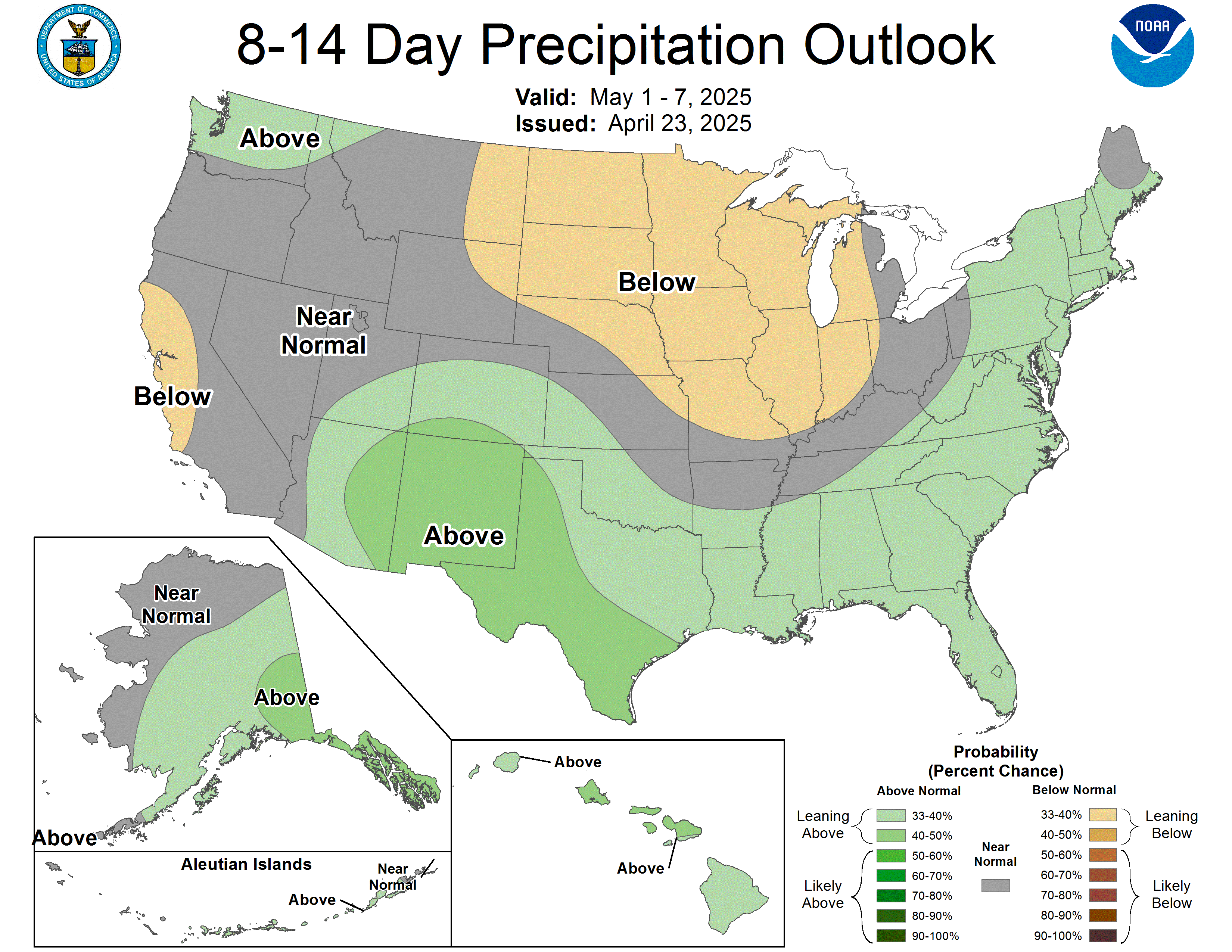 And again remember that this map shows only seven days and the full 6 - 14 Day Outlook only covers nine days. There are 31 days in July. The dry Northwest extending to Wisconsin might be a change from the prior thinking or just an early in the month situation.
Here are excerpts from the NOAA release today June 22, 2015. Note the 5 out of 5 level of confidence.
"6-10 DAY OUTLOOK FOR JUN 28 - JUL 02, 2015

TODAY'S MODEL FORECASTS ARE IN REMARKABLY GOOD AGREEMENT FOR THE SUMMERTIME. ALL MODELS AGREE ON A STRONG 500-HPA RIDGE FORECAST TO BE LOCATED OVER THE WEST COAST OF NORTH AMERICA. A DEEP FULL LATITUDE TROUGH IS FORECAST OVER THE EAST CENTRAL PART OF THE CONTINENT WITH IT'S AXIS EXTENDING FROM HUDSON BAY TO THE GULF COAST OF FLORIDA. THE SPREAD AMONG INDIVIDUAL MEMBERS IS WELL BELOW AVERAGE, LENDING CONSIDERABLE CONFIDENCE TO THE FORECAST. THE UNUSUALLY GOOD AGREEMENT EXTENDS TO ALASKA WHICH IS PREDICTED TO BE ON THE NORTHERN REACHES OF THE WESTERN RIDGE, WITH A TROUGH FORECAST OVER WESTERN ALASKA AND THE ALEUTIANS.

TEMPERATURES IN THE PACIFIC NORTHWEST ARE PREDICTED TO BE WELL ABOVE AVERAGE LEADING TO HIGH PROBABILITIES FOR ABOVE-NORMAL TEMPERATURES FROM THE NORTHERN HIGH PLAINS WESTWARD TO THE PACIFIC COAST. BELOW-NORMAL TEMPERATURES ARE HEAVILY FAVORED THROUGHOUT MOST OF THE EAST IN ASSOCIATION WITH THE TROUGH. MODEL FORECASTS SUGGEST THAT THE MEAN FRONTAL BOUNDARY MAY EXTEND AS FAR SOUTH AS THE GULF COAST, LEAVING THE FLORIDA PENINSULA ON THE WARM SIDE OF THE FRONTAL BOUNDARY AND FAVORING ABOVE-NORMAL TEMPERATURES THERE. THE UPPER REACHES OF THE PREDICTED WESTERN RIDGE EXTENDS INTO ALASKA, FAVORING ABOVE-NORMAL TEMPERATURES FOR MOST OF THE STATE. THE TEMPERATURE FORECAST FOR THE SOUTHERN ROCKY MOUNTAINS AND THE DESERT SOUTHWEST IS SOMEWHAT UNCERTAIN, DUE TO PREDICTED PRECIPITATION AND POSSIBLE ANOMALOUS EASTERLY FLOW TO THE SOUTH OF THE STRONG RIDGE.

THE STRONG TROUGH EXPECTED OVER THE EASTERN PART OF THE COUNTRY SHOULD FOCUS SHORT-WAVE ACTIVITY OVER MUCH OF THE EASTERN CONUS, ELEVATING CHANCES FOR ABOVE-MEDIAN PRECIPITATION AMOUNTS FOR A WIDE AREA FROM THE SOUTHERN ROCKIES TO THE EASTERN SEABOARD. SOUTH OF THE MEAN FRONTAL BOUNDARY NEAR-MEDIAN PRECIPITATION AMOUNTS ARE FAVORED IN SOUTHERN TEXAS, WITH NEAR TO BELOW-MEDIAN AMOUNTS FAVORED IN THE FLORIDA PENINSULA AND PARTS OF THE SOUTHEAST. BELOW-MEDIAN PRECIPITATION AMOUNTS ARE ANTICIPATED FOR PARTS OF THE NORTHERN GREAT PLAINS, THE NORTHERN ROCKIES, THE PACIFIC NORTHWEST AND THE ALASKA PANHANDLE IN ASSOCIATION WITH THE FORECAST RIDGE. THE MODELS LOOK SUSPICIOUSLY WET IN MUCH OF THE DESERT SOUTHWEST, WHERE MODEL FORECASTS ARE WEST OF THE AREA OF ENHANCED PRECIPITATION FAVORED BY TELECONNECTIONS ON A POSITIVE ANOMALY CENTER FORECAST NEAR WASHINGTON STATE. THE PROBABILITIES HAVE BEEN REVISED DOWNWARD FROM THE MODEL ESTIMATES, BUT OTHERWISE THERE IS GOOD AGREEMENT AMONG TOOLS FOR ENHANCED CHANCES OF ABOVE-MEDIAN RAINFALL FOR THE SOUTHWESTERN CONUS. SOUTHERLY FLOW ALOFT OVER WESTERN ALASKA ELEVATES CHANCES FOR ABOVE-MEDIAN PRECIPITATION THERE.

FORECAST CONFIDENCE FOR THE 6-10 DAY PERIOD: MUCH ABOVE AVERAGE, 5 OUT OF 5, DUE TO RELATIVELY GOOD AGREEMENT AMONG THE MODEL SOLUTIONS AND FORECAST TOOLS.

8-14 DAY OUTLOOK FOR JUN 30 - JUL 06, 2015

THERE ARE FEW SUBSTANTIAL CHANGES IN THE EXPECTED MEAN 500-HPA CIRCULATION BETWEEN THE 6-10 AND 8-14 DAY PERIOD. THE RIDGE AND TROUGH AXIS OF THE ANOMALOUSLY AMPLIFIED PATTERN EXPECTED FOR THE 6-10 DAY PERIOD REMAIN IN PLACE IN THE 8-14 DAY PERIOD. THE MAIN DIFFERENCE BETWEEN THE TWO PERIODS IS THE DISAPPEARANCE OF A TROUGH AT MID-LATITUDES PREDICTED TO BE OVER THE EASTERN NORTH PACIFIC IN THE 6-10 DAY PERIOD. THIS MAKES THE RIDGE OVER WESTERN NORTH AMERICA A BROADER AND SOMEWHAT WEAKER IN THE 8-14 DAY PERIOD THAN THE 6-10 DAY MEAN. THIS HAS LITTLE EFFECT ON THE EXPECTED TEMPERATURE OR PRECIPITATION ANOMALIES OVER MUCH OF THE CONUS. THE BROADER RIDGE EXPECTED IN THE 8-14 PERIOD MAY DIMINISH CHANCES FOR PRECIPITATION OVER PARTS OF ALASKA WHEN COMPARED TO THE 6-10 DAY PERIOD, LEADING TO ENHANCED CHANCES FOR BELOW-MEDIAN AMOUNTS IN EAST-CENTRAL PARTS OF THE STATE. OTHERWISE, THE TEMPERATURE AND PRECIPITATION OUTLOOK FOR THE 8-14 DAY PERIOD IS SIMILAR TO THAT OF 6-10 DAYS, WITH LOWER CONFIDENCE DUE TO THE LONGER LEAD TIME. CONFIDENCE, HOWEVER, REMAINS MUCH ABOVE AVERAGE FOR BOTH TEMPERATURE AND PRECIPITATION OUTLOOKS.

FORECAST CONFIDENCE FOR THE 8-14 DAY PERIOD IS: MUCH ABOVE AVERAGE, 5 OUT OF 5, DUE TO FAIRLY GOOD MODEL AGREEMENT."
Analogs to Current Conditions
Now let us take a detailed look at the "Analogs" which NOAA provides related to the 5 day period centered on 3 days ago and the 7 day period centered on 4 days ago. "Analog" means that the weather pattern then resembles the recent weather pattern and was used in some way to predict the 6 - 14 day Outlook.
Here are today's analogs in chronological order although this information is also available with the analog dates listed by the level of correlation. I find the chronological order easier for me to work with. There is a second set of analogs associated with the outlook but I have not been analyzing this second set of information. This first set applies to the 5 and 7 day observed pattern prior to today. The second set which I am not using relates to the forecast outlook 6 - 10 days out to similar patterns that have occurred in the past during the dates covered by the 6 - 10 Day Outlook. That may also be useful information but they put this set of analogs in the discussion with the other set available by a link so I am assuming that this set of analogs is the most meaningful.
Analog

Centered

Day

ENSO

Phase

PDO
AMO
Other Comments
1952 June 17
Neutral
-
+
1957 June 4
El Nino
+
-
Modoki
1957 June 5
El Nino
+
-
Modoki
1962 June 19
Neutral
-
Neutral
1962 June 20
Neutral
-
Neutral
1989 July 5
Neutral
Neutral
Neutral
Right after a La Nina
1990 June 4
Neutral
Neutral
Neutral
2010 June 19
La Nina
-
+
It is interesting that we are in an El Nino Condition and have only two El Nino analogs which date back to 1957. There are five ENSO Neutral analogs and one La Nina analog so it is not surprising that the 6 - 14 Day Outlook is pretty much a neutral forecast. The ocean phases associated with the analogs also do not easily yield a lot of clues. To me they suggest the Atlantic is controlling our weather even though we have a Warm Event in the Tropical Pacific. The seminal work on the impact of the PDO and AMO on U.S. climate can be found here.
You may have to squint but the drought probabilities are shown on the map and also indicated by the color coding with shades of red indicating higher than 25% of the years are drought years (25% or less of average precipitation for that area) and shades of blue indicating less than 25% of the years are drought years. Thus drought is defined as the condition that occurs 25% of the time and this ties in nicely with each of the four pairs of two phases of the AMO and PDO.
Historical Anomaly Analysis
When I see the same dates showing up often I find it interesting to consult this list.
Progress of the Warm Event
Here are the low-level wind anomalies. This graphic is not as compact as the graphic provided by the weekly NOAA ENSO Report (more white space) but this version auto-updates so you will always have the latest version of this Hovmoeller. As you can see, the wind gust of a several weeks ago at 160E is over and a subsequent less intense wind gust at 160W to 140W has also played out. There may be some activity starting in the Western Pacific that does not yet show up on this graphic.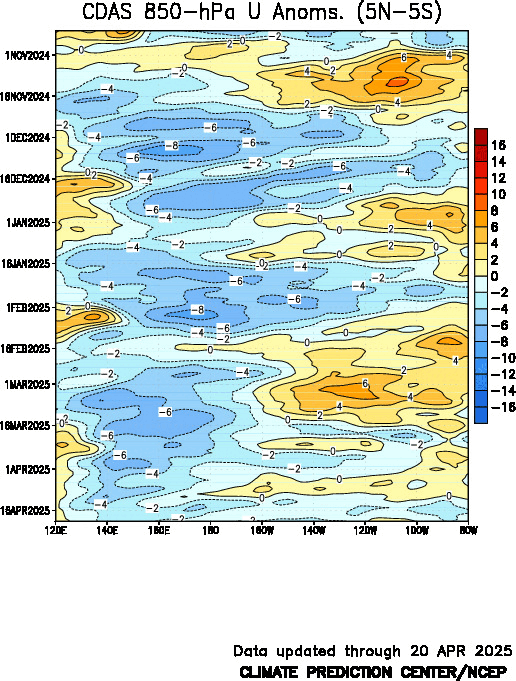 Here is another graphic that is less compact than the prettied up version published by NOAA on Mondays but which has the advantage of auto-updating. You can see how the convection pattern (really cloud tops have in May shifted to the East from a Date Line (180) Modoki pattern to a 170W to 120W Traditional/Canonical El Nino Pattern. But the signs of an El Nino are getting quite faint and are now shifting to the west which might indicate reduced impacts on CONUS.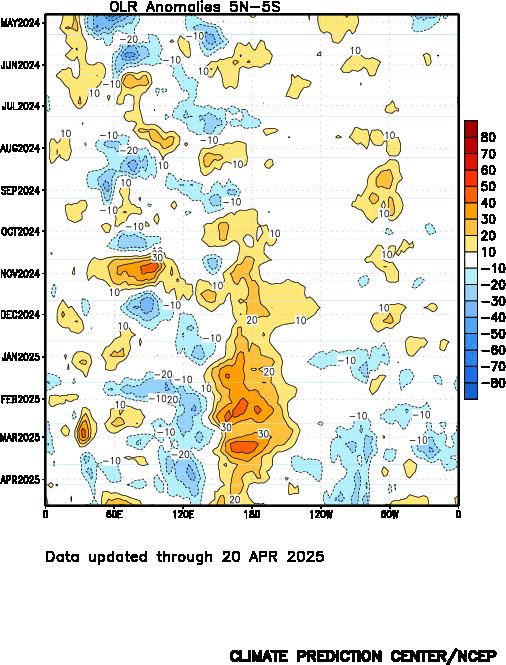 Below is the Southern Oscillation Index (SOI) reported by Queensland, Australia. The first column is the tentative daily reading, the second is the 30 day running average and the third is the 90 day average.
16 June 2015 0.7 1.53 -6.12

17 June 2015 -1.6 2.29 -5.96

18 June 2015 1.9 3.14 -5.60

19 June 2015 -16.5 2.7 -5.57

20 June 2015 -34.4 1.77 -5.88

21 June 2015 -28.6 1.23 -6.19

22 June 2015 -28.4 0.87 -6.54
This past week, for the fourth week in a row, the SOI was early in the week very negative for the development of or confirmation of the existence of an El Nino. Usually -8 is considered El Nino Conditions. Sometimes -6 is used for local forecasting in Australia. But then on June 19 the negative SOI returned at least temporarily as in the last four days. The 30 average, which is the most widely used measure, on June 22 was reported as being +0.87 which is clearly not an El Nino reading. The 90 day average also is no longer in El Nino territory at -6.54 but not far off. We may have El Nino Sea Surface Temperatures but the SOI has not been in sync except for a short period of time which I interpret as indicating that the El Nino is now in the decline phase. It may be a slow decline. Or has it simply taken a breather and now given a breath of fresh air and ready to become more intense? This continues to be a very perplexing Warm Event.
Let us now take a look at the progress of the Kevin wave which is the key to the situation. You can see below in the graphic which shows temperature along the Equator as a function of depth, both the magnitude of the anomalies and their size. You can now see where 2C (anomaly) water is impacting the area where the ONI is measured i.e. 170W to 120W. The 2C anomaly now extends to about 140W and there is a blip at about 170W and also at 150W. The subsurface warm water appears to be making its way to the surface to some extent. This will be apparent when we discuss the TAO/TRITON graphic and my crude estimation of the ONI value that that I develop from that graphic.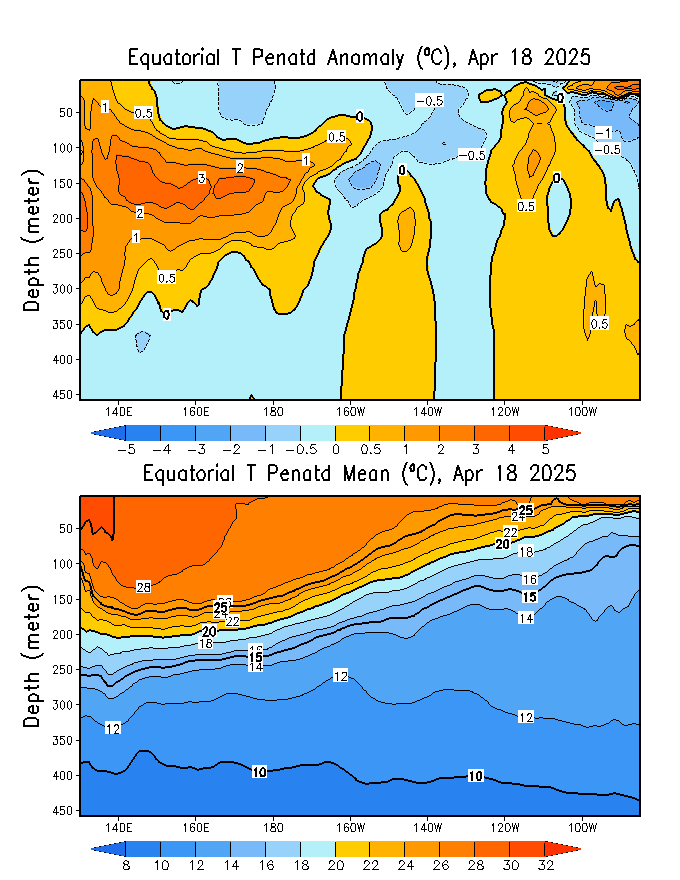 The bottom half of the graphic is not that useful in terms of tracking the progress of this Warm Event as it simply shows the thermocline between warm and cool water which pretty much looks like this as shown here during a Warm Event except now the cooler water is not making it to the surface to the east along the coast of Equator.
For my own amusement, I thought I would recalculate the ONI again as I have been doing recently. To refine my calculation I have totally changed my approach and rather than having the anomalies be the way I organized the data, I have divided the 170W to 120W ONI measuring area into five subregions and have mentally integrated what I see below and recorded that in the table I have constructed. Then I take the average of the anomalies I estimated for each of the five subregions. So now I am applying more subjectivity but it should produce a better estimate. Notice the boundary of the 1.5C plus water anomaly is now close to 170W and moving towards the East. That is why I believe the ONI will soon peak and begin to decline. But all the Meteorological Agencies in the World believe the ONI will continue higher. Could I possibly be correct? We shall see. It is not clear the extent to which the exact value of the ONI is useful in forecasting weather. There is a correlation between the strength of a Warm or Cool Event and the weather impacts. But it is not clear that the ONI or any other single index is able to be the independent variable in the forecasting model.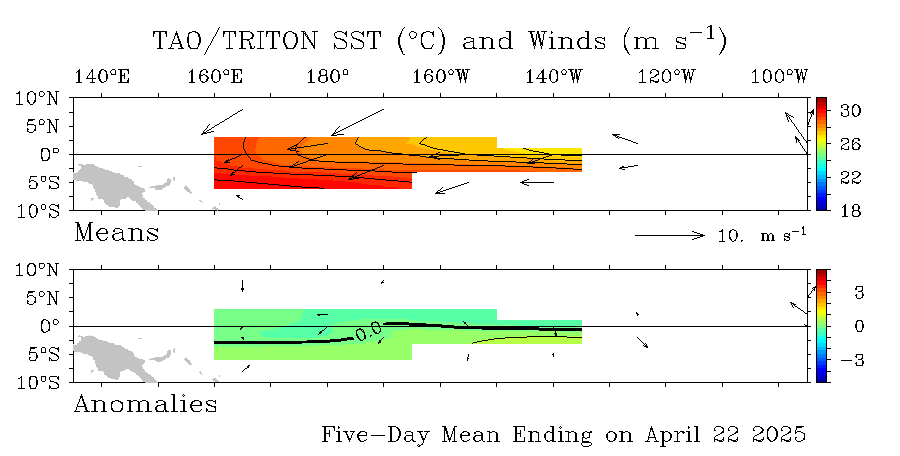 So as of Monday June 22 in the afternoon working from the June 21 TAO/TRITON report, this is what I calculated:
Calculation of ONI from TAO/TRITON Graphic

| | |
| --- | --- |
| Anomaly Segment | Estimated Anomaly |
| 170W to 160W | 1.4 |
| 160W to 150W | 1.4 |
| 150W to 140W | 1.3 |
| 140W to 130W | 1.5 |
| 130W to 120W | 1.7 |
| Total | 7.3 |
| Total divided by five subregions i.e. the ONI | (7.3)/5 = 1.46 |
My estimate of the Nino 3.4 ONI is now 1.46. NOAA has today reported the weekly ONI as being 1.4. You can already see (in my calculation table) the gradient from West to East that has formed with the higher values in the East and the Western part of the Zone having a smaller anomaly which I believe will soon decline slightly.
Here is another way of looking at it:
.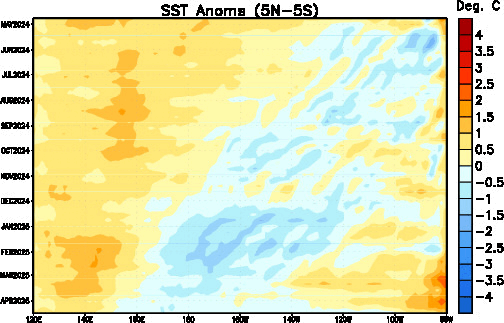 This Hovmoeller shows a lot of useful information. I could copy it into MSPaint and draw some lines on it but then it would not autoupdate so I do not wish to do that. But take a lot at 140E 160E, 165E, 175E, 120W and 90W. Remember reading from top to bottom one is reading the earlier times to the more current times. So you can see how this Warm Event started at 140E, has moved to 160E and then to 165E and lately you can see continued movement towards 175E but very slowly. You can also see that the entire Equator is warm. You can especially see the impact east of 90W where the Kelvin Wave is crashing into Ecuador. Also more warmer water has expanded towards 120 W. The eastern progress has been slower than I had anticipated. Leaving aside the SOI issue which no longer is consistent with an El Nino this is clearly an El Nino type seas surface temperature (SST) pattern right now. But to me it seems to be a pattern that will play out as it does not appear to be going to be reinforced. It may well play out more slowly that I have anticipated. But it is playing out.
You will not see the ONI decline until the warm water over at 175E has moved to 170W. Until then, the ONI could easily continue to rise but probably not by very much although some models are predicting it will peak at about 2.0. Once the warm surface water no longer extends west of 170W the ONI should begin to decline. I hesitate to offer a new estimate of when that will happen as I have not had the time to play those animations enough times to make an estimate. Plus it depends on the way the subsurface pod of warm water behaves and I do not know enough to predict how that will work its way through. The size of the deep water anomaly may have a bearing on the rate of movement to the east which is slower than what I read in the literature as being more usual. It may also impact where it rises. It has to go somewhere or mix or come to the surface and experience evaporative cooling. We will watch the progress of this Warm Event together because I have provided the graphics that will allow us to do that.
And here is one more way of looking at the situation. I like this Hovmoeller a lot but I have not been able to find a version that autoupdates. You can see the Kelvin Wave that got started in February which started this Warm Event. There have been earlier such events that proved to be not very strong. On the left you see what might be a reverse process called an upwelling wave of cooler water that NOAA refuses to recognize and so far that cooler water has not progressed very far to the East so perhaps NOAA has been correct not to call it an upwelling wave. NOAA has also clearly declared a reinforcing follow-up downwelling Kelvin Wave. So one can see why the computer models have extended the life of this El Nino through the period of time it will take for this reinforcing Kelvin Wave to clear the area where the ONI is calculated. The SOI has at least temporarily (excluding the last four days) ceased to support the development of this El Nino. So the question is no longer does this Warm Event have one more boost to carry it through this coming winter but how much of a boost will this be? Unfortunately, we can not wind this Hovmoeller forward to see what it will look like in a month. We will just have to wait and watch. .But if you look at the bottom of the Hovmoeller which represents the current situation you can see that this latest Kelvin Wave is moving to the East fairly rapidly and we will see the impact of that on declining ONI estimates fairly soon.
News from Australia
Australia has their own model which updates every two weeks.
Notice the criteria for achieving El Nino or La Nina status are different than that used by most others. And curiously, the view from Australia with respect to the development of an El Nino this year has until now been pretty much more subdued than the view from the U.S. But now everyone seems to be in sync. Also notice in the below discussion that Australia is in the Southern Hemisphere so their seasons are opposite to those in the Northern Hemisphere.
El Niño consolidates

Issued on 23 June 2015

The 2015 El Niño continues to strengthen. Central and eastern tropical Pacific Ocean sea surface temperature indices are more than 1 °C above average for the sixth consecutive week. International climate models surveyed by the Bureau of Meteorology indicate further consolidation is likely. El Niño events typically strengthen during the second half of the year, reaching full strength during late spring or early summer. It is not possible at this stage to determine how strong this El Niño will be.

El Niño is typically associated with below-average winter and spring rainfall over eastern Australia and above-average daytime temperatures over the southern half of the country during the second half of the year. The strength of an El Niño does not always determine the strength of its effects on Australia's climate. There are examples of weak El Niño events resulting in widespread drought and strong El Niño events with little impact on rainfall.

The Indian Ocean Dipole (IOD) is currently neutral. Of the five international models that provide IOD outlooks, three suggest a positive IOD is likely during the southern spring. A positive IOD is typically associated with reduced winter and spring rainfall over parts of southern and central Australia.
Pulling it All Together
We are in El Nino conditions now. It is probably influencing the IOD to tend towards being positive thus providing a double whammy for parts of Asia and Australia. The length and intensity of this El Nino is still not clear to me mostly in terms of whether or not it will extend into the early part of 2016. All the models except mine predict that it will. The disagreement is in terms of a couple of months but a couple of months makes a difference in terms of agriculture and other economic impacts. We may or may not have a Pacific Climate Shift as the PDO+ may be simply related to the Warm Event (and quite frankly at this point appears to be). But for now we do have PDO+. The AMO being an overturning may be more predictable so the Neutral status moving towards AMO- is probably fairly reliable but not necessarily proceeding in a straight line. So none of this is very difficult to figure out actually if you are looking at say a five-year forecast.The research on Ocean Cycles is fairly conclusive and widely available to those who seek it out. I provided a lot of information on this in prior weeks and all of that information is preserved in Part II of my report which you can get to below. It includes decade by decade predictions through 2050. Predicting a particular year is far harder. But we are beginning to speculate on the winter of 2016/2017. One thing is fairly certain for the U.S. it will be less wet and warmer than the winter of 2015/2016.
Click Here for the Global Economic Intersection Weather and Climate Report. Page II where you will find:
A more complete set of NOAA and other agency graphics (including international agencies) that auto update. So this includes both short term- and seasonal "updates". Most of the graphics will ALWAYS be up to date even if my commentary on the graphics is not. I update my commentary when it seems necessary and certainly every Monday, but some of these graphics auto update every six hours.
Economic and other Impacts of major weather events. Not sure there is any other place to obtain this information consistently other than very specialized subscription services.
Information on Climate Cycles both those which are fairly short term i.e. less than a decade in duration and multi-decadal cycles.
Economic and other Impacts of those Climate Cycles which are referred to by the IPCC as Internal Variability as opposed to secular Climate Change which is always in the same direction. Again I am not sure if there is another source for this information where it is pulled together in one place as I have.
My Editor tells me that he will show me how to create a Table of Contents for Part II to make it easier to navigate.
Click Here for Page III which deals with Global Warming.
Information on Anthropogenic Global Warming science i.e. the secular change in our climate that overlays both short-term weather and historical climate cycles as well as black swan events like volcanic eruptions. I prefer to call this Global Warming as it is the warming that triggers the other changes.
Economic and other Impacts of Global Warming. The IPCC AR5 WG2 attempts to describe and quantify these and I have some excerpts from their report. Over time I will go beyond their report as it is very deficient.
Click here for a list of Sig Silber's Weather Posts
>>>>> Scroll down to view and make comments <<<<<<
Make a Comment
Econintersect

wants your comments, data and opinion on the articles posted. You can also comment using Facebook directly using he comment block below.
---