posted on 13 April 2015
Written by Sig Silber
Spring still thinks it is Winter so it remains a west to east process for the most part. It has not been a smooth transition. The feature story this week is about how Global Warming actually gets implemented and some may find it of interest. El Nino remains mostly a sales pitch.
This is the Regular Edition of my weekly Weather and Climate Update Report. Additional information can be found here on Page II of the Global Economic Intersection Weather and Climate Report.
Before getting into current conditions I thought it would be useful to review this paper by Chris R. de Freitas and John D. McLean from what in the U.S. we call "Down Under". They may be on the other side of the World but when it comes to the Pacific Ocean they may have an edge on U.S. researchers. At any rate you can find the full paper here.
I am just going to present two figures (Figure 1 and Figure 3) from that article and discuss them. Notice on the Y Axis in both graphics the SOI goes from very negative numbers (more El Nino-ish) down to more positive numbers (more La Nina-ish).
Basically what this is showing is that the Mean Global Temperature (MGT) tends to track the Southern Oscillation Index (SOI). This makes sense because the SOI is a measure of how concentrated the Warm Pool in the Western Pacific is. When it is thicker but concentrated in a smaller area, the opportunity for evaporation and convection is less than when the Warm Pool is spread out and thinner but covers a larger area. This is the ENSO Cycle and the SOI is one of the two Indices that measure the state of the ENSO Cycle although NOAA tends to ignore it unless it confirms their wild ideas about what is an El Nino and what is not. Evaporation is the way ocean heat is transferred into the atmosphere. So the Tropical Pacific works like a battery absorbing heat from sunshine and periodically releasing heat.
But what you see in the above graphic is a discontinuity right after 1995 when there was a substantial increase in temperature. The Graph on the right (and please notice the slightly different scale on the Y Axis) shows that the relationship between the SOI and MGT resumed after a few years. Those few years are generally considered to be a Climate Shift in the Pacific and was triggered or at least occurred at the same time as the Mega-El Nino of 1997/1998.
I do not know if anyone has an explanation as to why this relationship that normally holds did not hold during a few years in the mid-nineties. But it provides a pretty good explanation of what is called the Hiatus in the increase in MGT. In Part II of this Report I provide a pretty convincing case that we will soon have another Climate Shift in the Pacific and perhaps that also will come with a Mega El Nino perhaps next year or perhaps without such an event. It might again result in a stepwise increase in MGT. I would suggest that attempting to figure out why the 1997/1998 was so effective at releasing stored ocean heat, would be useful. It also would be useful if NOAA learned what a Modoki was. That is important as an El Nino Modoki does not provide as much surface area for heat transfer to the atmosphere as a Traditional/Canonical El Nino.
Before I understood this mechanism, I wrote the following article. Has Global Warming Ended? Of course it has not. It cannot end while we have more energy reaching the Top of the Atmosphere (TOA) than is escaping from the Top of the Atmosphere. But the vast majority of that energy is being absorbed by our oceans and only released by the El Nino Phase of the ENSO cycle. But in 1997/1998 we had a major release. If we understood that better, we might be able to make better medium-term predictions. One suggestion for further improving the author's correlation analysis (which is based on a four-month lag between the moving average of SOI and the twelve month moving average of the MGT) is to include the PDO or IPO Index. That index may be a surrogate for the proportion of Modoki events which may be a factor in the effectiveness of El Nino to release heat and thus the usefulness of the SOI to predict the release of heat.
Here is a graphic from my earlier article with this graphic coming from this source which was compiled jointly by the Climatic Research Unit and the UK Met. Office Hadley Centre.
You can see how the change in temperature has been a staircase type of thing with major changes followed by relative stability. What the authors above have done is show the relationship with the SOI so that is the new piece of information although it is a couple of years old but not widely reported on or discussed.
Perhaps the following from the de Freitas and McLean article might help in understanding some of the important differences between an El Nino and a La Nina. It does not address the variations in El Nino and to a lesser extent La Nina related to Modoki-ish forms of those events.
"During El Niño conditions, there is a decrease in Walker Circulation, an increase in meridional Hadley Cell Circulation and intensification of subtropical highs. A more vigorous overturning of the Hadley Cell Circulation leads to an increase in heat transfer from tropical to higher latitudes in both hemispheres. In contrast, during La Niña conditions the Hadley Cell Circulation diminishes and the Walker Circulation is enhanced, with well-defined and vigorous rising and sinking branches in the western and eastern extremes of the Pacific Ocean respectively. This results in stronger than normal easterly equatorial surface winds. In later work, [researchers] found that during La Niña conditions the Hadley Cell Circulation in both hemispheres weakens. The anomalies in the strength of the Hadley Cell Circulation are also strongly and inversely correlated with the anomalies in the strength in the Walker Circulation. As meridional circulation changes, there are global teleconnections, although the physical processes causing the linkages are often unclear. Through these variations in zonal and meridional transfer and the various teleconnections, the ENSO signal is correlated with global climate variation, which in turn is reflected in global temperature."
Our Current Situation
We will be coming back to this again in a couple of different ways because it is important to understand what is going on. I thought I would again repeat this animation. IT TAKES A FEW SECONDS TO RUN SO PLEASE BE PATIENT. It shows the Warm Event along the Equator dissipating or turning into a Modoki Type II i.e. cold Eastern Pacific, warm Central Pacific (mostly west of the Date Line) and warm water off the Northwest Coast of the U.S. But is the story changing? Is the Modoki cleaning up its act and going Traditional? Watch the last several frames carefully! You can clearly see warm water off of Ecuador. The Gulf of Mexico has changed also. The warming in the Gulf of Mexico may have significant short-term significance on CONUS weather. The blue areas in the Western Pacific and off of Africa are also of interest. One can learn a lot by just observing the pattern of SST anomalies.
Progress of the Warm Event
I thought I would recalculate the ONI again as I have been doing recently. The little tick marks on the chart can be used instead of a ruler. When I print out this graphic one tick is about one centimeter. So you can use a ruler or just estimate the number (including fractions) of tick marks.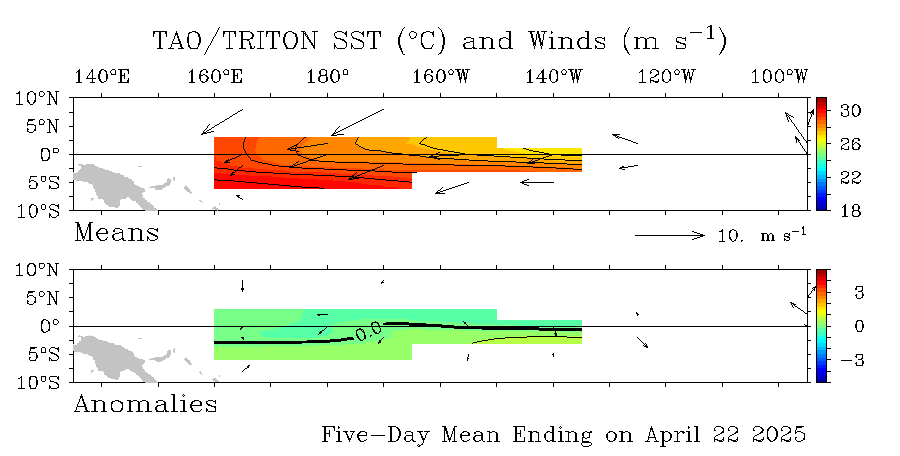 First I want to call your attention to the fact that we now have surface temperature and wind anomalies in the Eastern Pacific. The arrows east of 120W now point North. That by itself does not mean we have Southerly winds (see the upper graphic which shows the actual values not the anomalies) but the upper graphic which shows the actual, not the anomalies, confirms that we indeed have winds coming from the Southeast in the Eastern Pacific south of the Equator which is not favorable for El Nino development but not as unfavorable as pure Easterlies. Remember that 28C is what makes the weather get interesting.
Also remember there is a lag between ocean conditions and weather impacts on land. People tend to forget that it takes time for ocean conditions to propagate over land. Weather is not digital; it is analog.
So as of Monday April 13 in the afternoon working from the April 12 TAO/TRITON report, this is what I observed.
Calculation of ONI from TAO/TRITON Graphic

| | | | |
| --- | --- | --- | --- |
| Anomaly Segment | Midpoint | Length on Equator in number of five degrees of latitude (ticks) | Midpoint X Length (tempxticks) |
| -0.5C to 0C | -0.25 | 0 | 0 |
| 0C to +0.5C | +0.25 | 0 | 0 |
| +0.5C to 1.0C | +0.75 | 3 | 2.25 |
| 1.0C to 1.5C | +1.25 | 2 | 2.5 |
| | Total | 5 Ticks (or 5 centimeters) | (TempxTicks) |
| | | | 4.75/5= 0.95 C Estimated ONI |
My estimate of the Nino 3.4 ONI is now 0.95 which is a respectable value. Notice it is now warm both north of the Equator and south of the Equator. This symmetry around the Equator has however decreased a bit. I think the NOAA reading is a bit too low and my estimate is somewhat high but remember that NOAA is providing a weekly average and I am estimating a daily value. So if the ONI is rising or falling dramatically, the average will lag a daily reading but that is not the case right now. The NOAA estimate is impacted to some extent by some cooler water near 5S Latitude but I do not think that is a major factor.
The real story here however still remains Nino 4.0 where the ONI there is now reported by NOAA to be 1.2 which is consistent with an El Nino Modoki Type II. Nino 3.4 ONI is officially reported by NOAA as 0.7 but probably is a bit higher as I have calculated above. Nino 1 and 2 are in play and reported as 0.9 which is a big decline from what was reported last week. Something is clearly happening in the Equatorial Pacific. It started as a Traditional El Nino, changed to a Modoki-ish event that did not begin in the way that a Modoki usually begins, and now appears to be morphing into more of a Traditional El Nino. But in my opinion the pattern still most closely resembles a Modoki Type II. That might change.
Now this week's weekly SST Departures and the trend graphs on the right.
The below animation may provide some additional insight. The date at the top of the graphic is simply the start date of the animation. It advances by one week each week. This graphic shows the absolute temperatures not the anomalies. You can see the tendency for warm water to pool in the Western Pacific which in the extreme is La Nina Conditions. When it returns to the East you get what is called an El Nino. If the warm water is mostly near the Date Line, it is a Modoki.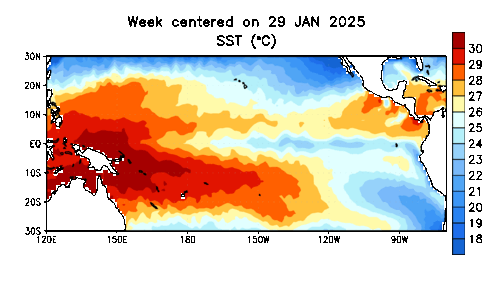 Notice the action north and south of the Equator.
Here is a total Pacific view (and again the date at the top of the graphic is the start date of the animation) which to me shows it is still a Modoki Type II. Unlike the above graphic which shows the absolute temperatures, this shows the anomalies compared to average conditions. Notice the diagonal pattern of warm temperatures which is suggestive of a Modoki Type II plus the westward extension of the warmest anomalies.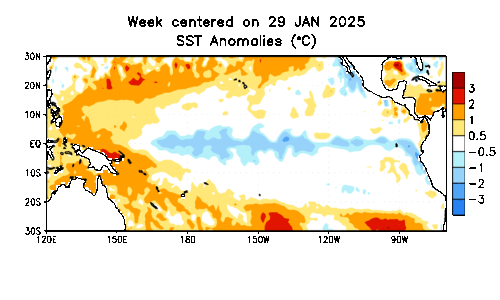 It is an active pattern that is for sure. Both animations show weekly averages. So the last frame may be current or not depending on when you view the animation.
From Japan I am awaiting their update of their Seasonal Climate Prediction using their SINTEX-F1 CGCM (27-member ensemble). I will put it on Page II when it comes out and show it here the Monday after it is updated. Actually their June - Aug Precipitation Prediction (they do not play around with words) is out, but I thought I would report it next week with the NOAA Seasonal Outlook Update. Hopefully by then the Japanese Prediction will be updated to reflect the latest run of the SINTEX model. Right now it still reflects the February 1 model runs.
Short-term Outlook -
Let us take a look at what was issued today April 13, 2015. It will auto-update every day so it will be changing day by day (and thus be up to date whenever you elect to read this report) but my comments as well as the comments of NOAA may become out of sync with the map since these comments do not auto-update.
Generally I only show the "second week" namely the 8 -14 Day Outlook. The first week (6 - 10 Day Outlook) together with much additional information on current weather patterns and near-term forecasts can be found in Part II of my report, but 8 - 14 days covers most of the 6 - 14 day period.
Here is the updated April Temperature Outlook issued on March 31, 2015
And here is the April 8 - 14 Day Temperature Outlook issued today April 13, 2015.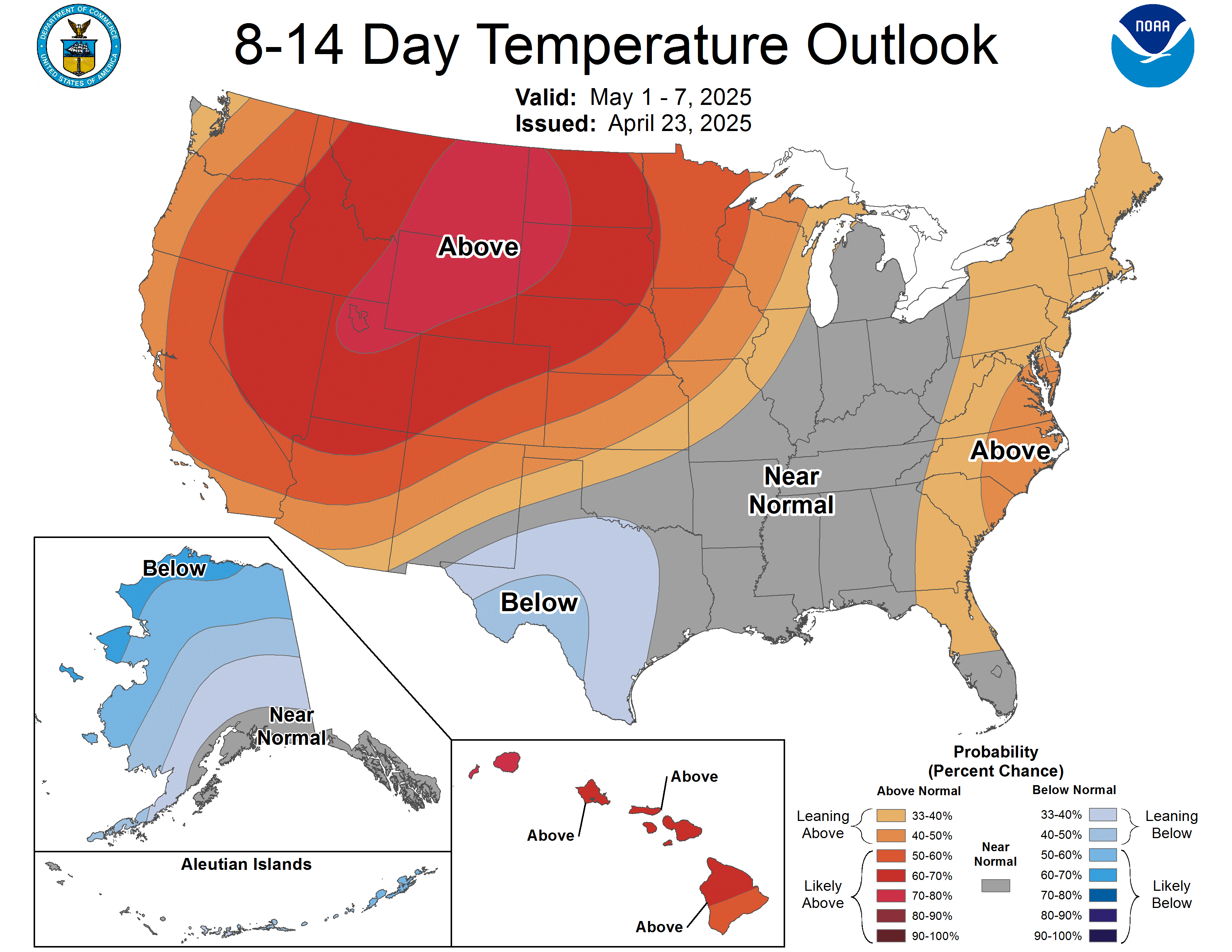 Remember that the 8 - 14 day outlook only covers 9 days not the full month and the map shown only covers seven days. But April appears to be developing in a more extreme fashion than indicated in the April Update.
Here is the updated Precipitation Outlook for April issued on March 31, 2015
Here is the 8 - 14 Day Precipitation Outlook issued today April 13, 2015.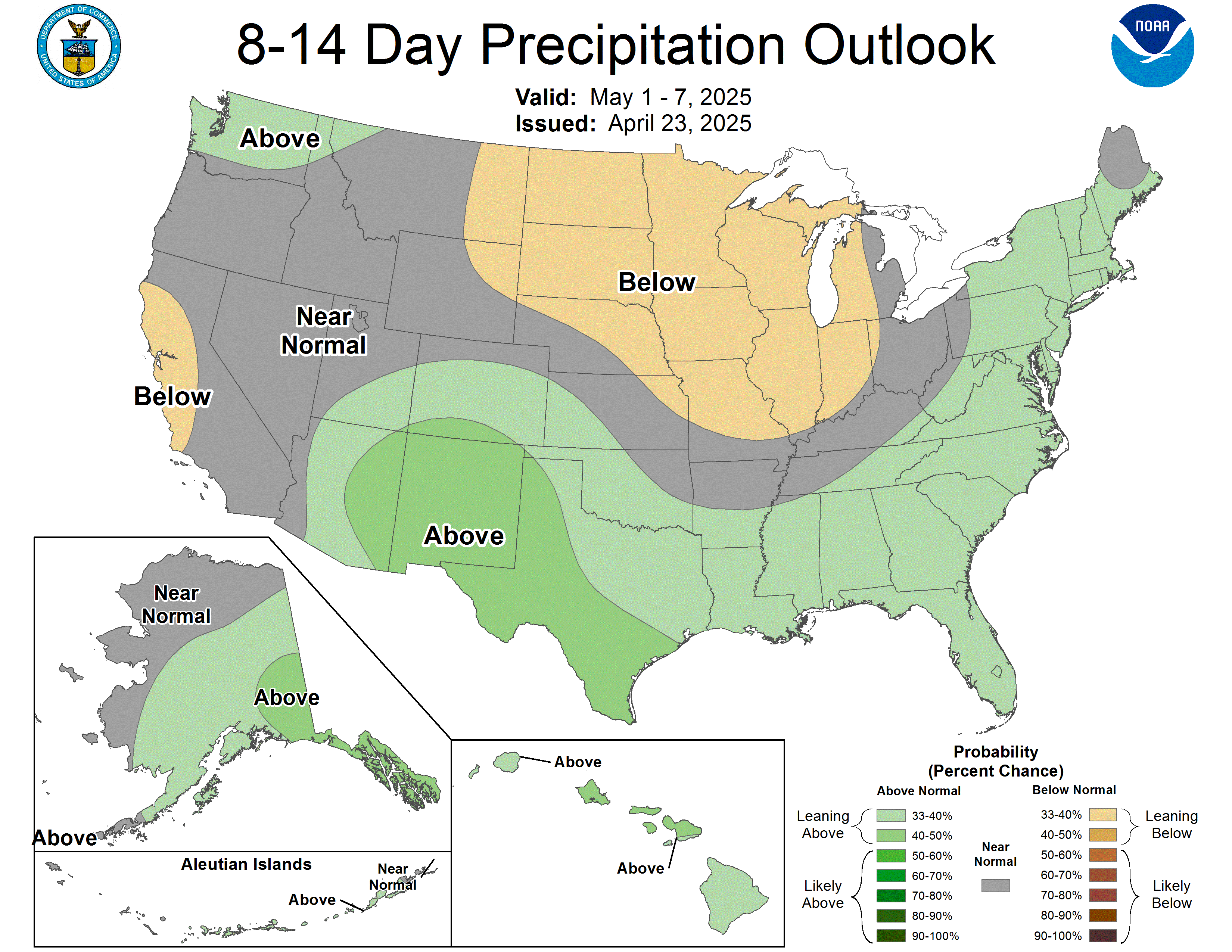 And again it seems the computers have reverted to the Outlook which preceded the March 31 Update. However last Monday this was pretty much the view for days 6 -10 and during the course of the week the extension of the precipitation into New Mexico gradually was moved into Week 2 of the Outlook. So things appear to be developing more slowly than anticipated last Monday. This week the western extension of the precipitation from what is shown in the 6 - 10 Day Outlook (available in Part II of this Report) to what is shown in the 8 - 14 Day Outlook is interesting but not well explained in the discussion below. Overall it seems like April is developing with a more extreme pattern of anomalies than shown in the April Update but again remember that this map shows only seven days and the full 6 - 14 Day Outlook only covers nine days. There are 30 days in April.
And here are excerpts from the NOAA release today April 13, 2015.
"6-10 DAY OUTLOOK FOR APR 19 - 23 2015

TODAY'S MODEL SOLUTIONS ARE IN FAIR AGREEMENT ON THE GENERAL 500-HPA FLOW PATTERN OVER NORTH AMERICA AND VICINITY. THE MODELS AGREE IN PREDICTING A TROUGH OVER THE BERING SEA AND SPLIT FLOW DOWNSTREAM OVER WESTERN NORTH AMERICA FEATURING A RIDGE IN THE NORTHERN STREAM OVER WESTERN CANADA. AGREEMENT IS RELATIVELY POOR OVER EASTERN NORTH AMERICA AS THE GFS- AND CANADIAN-BASED SOLUTIONS PREDICT A MEAN TROUGH OVER THE EAST-CENTRAL CONUS WHILE THE ECMWF-BASED SOLUTIONS FORECAST THE TROUGH FARTHER TO THE WEST OVER THE NORTHERN PLAINS. THE WESTWARD PLACEMENT OF THE FORECAST TROUGH IN THE ECMWF-BASED SOLUTIONS ALLOWS FOR RIDGING ALONG THE EAST COAST AS OPPOSED TO THE GFS AND CANADIAN SOLUTIONS, WHICH SUPPRESS THE RIDGING FARTHER TO THE EAST AND SOUTH. TODAY'S OFFICIAL 500-HPA MANUAL HEIGHT BLEND IS BASED PRIMARILY ON THE ENSEMBLE MEAN SOLUTIONS. THE GREATEST WEIGHT WAS GIVEN TO TODAY'S 0Z CANADIAN ENSEMBLE MEAN DUE, IN PART, TO CONSIDERATIONS OF RECENT SKILL AND ON ANALOG CORRELATIONS, WHICH MEASURE HOW CLOSELY THE FORECAST PATTERN MATCHES CASES THAT HAVE OCCURRED IN THE PAST.

RIDGING OVER WESTERN NORTH AMERICA AND ABOVE NORMAL 500-HPA HEIGHTS INCREASE THE CHANCES FOR ABOVE-NORMAL TEMPERATURES ACROSS MUCH OF THE WESTERN CONUS AND PARTS OF EASTERN ALASKA. BELOW NORMAL TEMPERATURES ARE FAVORED FOR MUCH OF THE CENTRAL CONUS IN ASSOCIATION WITH A MEAN TROUGH PREDICTED NEAR THE MISSISSIPPI VALLEY. ABOVE NORMAL TEMPERATURES ARE FAVORED FOR PARTS OF THE SOUTHEASTERN CONUS AHEAD OF THE PREDICTED TROUGH AXIS. CONVERSELY, THERE ARE ENHANCED PROBABILITIES FOR BELOW NORMAL TEMPERATURES FOR PARTS OF WESTERN ALASKA NEAR A TROUGH PREDICTED OVER THE BERING SEA.

ABOVE MEDIAN PRECIPITATION IS FAVORED FOR MOST OF THE EASTERN CONUS NEAR AND AHEAD OF A TROUGH PREDICTED OVER THE MISSISSIPPI VALLEY. BELOW MEDIAN PRECIPITATION AMOUNTS ARE FAVORED FOR THE NORTHWESTERN CONUS IN ASSOCIATION WITH A RIDGE PREDICTED OVER WESTERN NORTH AMERICA. THERE ARE ENHANCED PROBABILITIES OF ABOVE MEDIAN PRECIPITATION FOR ALASKA AHEAD OF A TROUGH PREDICTED OVER THE BERING SEA. ENHANCED PROBABILITIES OF ABOVE MEDIAN PRECIPITATION ARE ALSO INDICATED FOR MUCH OF THE SOUTHERN PLAINS, SOUTHERN ROCKIES AND PARTS OF THE CENTRAL ROCKIES CONSISTENT WITH PRECIPITATION ESTIMATES FROM THE GFS AND ECMWF ENSEMBLES.

FORECAST CONFIDENCE FOR THE 6-10 DAY PERIOD: AVERAGE, 3 OUT OF 5, DUE TO FAIR MODEL AGREEMENT.

8-14 DAY OUTLOOK FOR APR 21 - 27 2015

THE WEEK TWO PERIOD IS CHARACTERIZED BY LARGE MODEL SPREAD AND HIGH UNCERTAINTY ACROSS MUCH OF THE FORECAST DOMAIN. THE ENSEMBLE MEAN SOLUTIONS PREDICT TROUGHS NEAR THE BERING STRAIT AND OVER EASTERN NORTH AMERICA AND A RIDGE OVER WESTERN CANADA. THE GFS-BASED SOLUTIONS ARE THE MOST AMPLIFIED OF TODAY'S MODEL SUITE ACROSS MUCH OF THE FORECAST DOMAIN AND PREDICT NEGATIVE HEIGHT ANOMALIES OVER MUCH OF THE EASTERN CONUS AND POSITIVE HEIGHT ANOMALIES OVER MUCH OF THE WEST. IN CONTRAST, THE 0Z ECMWF ENSEMBLE MEAN AND 0Z CANADIAN ENSEMBLE MEAN FORECAST WEAKER ANOMALIES OVER MUCH OF THE CONUS. TODAY'S WEEK TWO 500-HPA MANUAL HEIGHT BLEND IS BASED PRIMARILY ON THE ENSEMBLE MEAN SOLUTIONS AND SPLIT FAIRLY EVENLY AMONG THE GFS, ECMWF, AND CANADIAN ENSEMBLES.

BELOW NORMAL TEMPERATURES ARE FAVORED FOR MUCH OF THE CENTRAL AND EASTERN CONUS IN ASSOCIATION WITH A TROUGH PREDICTED OVER EASTERN NORTH AMERICA. CONVERSELY, PREDICTED RIDGING OVER WESTERN NORTH AMERICA LEADS TO INCREASED PROBABILITIES OF ABOVE NORMAL TEMPERATURES FOR THE WESTERN QUARTER OF THE CONUS AND THE ALASKA PANHANDLE. BELOW NORMAL TEMPERATURES ARE SLIGHTLY FAVORED FOR PARTS OF WESTERN ALASKA DUE TO A TROUGH PREDICTED IN THE VICINITY. CONVERSELY, ABOVE NORMAL TEMPERATURES ARE SLIGHTLY FAVORED FOR MUCH OF THE ALEUTIANS DUE, IN PART, TO ABOVE NORMAL SSTS IN ADJACENT WATERS.

ABOVE MEDIAN PRECIPITATION IS FAVORED ALONG THE EASTERN SEABOARD AHEAD OF A MEAN TROUGH PREDICTED OVER EASTERN NORTH AMERICA. BELOW MEDIAN PRECIPITATION AMOUNTS ARE FAVORED FOR THE UPPER MISSISSIPPI VALLEY AND NORTHERN PLAINS BEHIND THE PREDICTED MEAN TROUGH AXIS. PROBABILITIES FOR BELOW MEDIAN PRECIPITATION ARE ALSO ENHANCED FOR THE NORTHWESTERN CONUS DUE TO PREDICTED RIDGING OVER WESTERN NORTH AMERICA. PROBABILITIES FOR NEAR TO ABOVE MEDIAN PRECIPITATION ARE ENHANCED FOR MUCH OF THE SOUTHERN TIER OF THE CONUS CONSISTENT WITH PRECIPITATION ESTIMATES FROM THE GFS AND ECMWF ENSEMBLES. ABOVE MEDIAN PRECIPITATION IS FAVORED FOR MUCH OF ALASKA IN ASSOCIATION WITH A TROUGH PREDICTED NEAR THE WESTERN PART OF THE STATE.

FORECAST CONFIDENCE FOR THE 8-14 DAY PERIOD IS: BELOW AVERAGE, 2 OUT OF 5, DUE TO LARGE SPREAD AMONG TODAY'S ENSEMBLE MEMBERS." [Editor's Note: The 6 - 10 Day Outlook also appears to have more uncertainty than is indicated by its 3 out of 5 Level of Confidence]
Analogs to Current Conditions
Now let us take a detailed look at the "Analogs" which NOAA provides related to the 5 day period centered on 3 days ago and the 7 day period centered on 4 days ago. "Analog" means that the weather pattern then resembles the recent weather pattern and was used in some way to predict the 6 - 14 day Outlook.
Here are today's analogs in chronological order although this information is also available with the analog dates listed by the level of correlation. I find the chronological order easier for me to work with. There is a second set of analogs associated with the outlook but I have not been analyzing this second set of information. This first set applies to the 5 and 7 day observed pattern prior to today. The second set which I am not using relates to the forecast outlook 6 - 10 days out to similar patterns that have occurred in the past during the dates covered by the 6 - 10 Day Outlook. That may also be useful information but they put this set of analogs in the discussion with the other set available by a link so I am assuming that this set of analogs is the most meaningful.
Analog

Centered

Day

ENSO

Phase

PDO
AMO
Other Comments
1952 April 21
Neutral
-
+
Right after an El Nino
1960 April 16
Neutral
Neutral
+
1960 April 18
Neutral
Neutral
+
1976 March 26
Neutral
-
-
Before the Climate Shift to PDO+
1982 April 26
Neutral
+
-
Before a very strong El Nino
1982 April 27
Neutral
+
-
Before a very strong El Nino
1985 April 16
La Nina
+
-
2001 April 26
La Nina
-
Neutral
Tail end
2003 April 7
Neutral
+
+
Right after an El Nino Modoki Type I
2005 March 29
Neutral
+
+
Right after an El Nino Modoki Type II
This week there are seven ENSO Neutral and three La Nina and zero El Nino analogs. NOAA provides me with ten but I discard the duplicates but this week there were no duplicates. The 1982 April 26 and 27 analogs are very interesting as that was a late arriving but very powerful traditional El Nino. It could tell us something about this coming winter. Of interest that particular El Nino was not associated with a Pacific Climate Shift. The Ocean Phases of the analogs this week are inconclusive as all four of the McCabe et al conditions are represented. The spread of dates of the analogs exceed a month which indicates the complexity of the onset of Spring this year.
Red is a high likelihood of drought, blue the opposite.
Back to the Current Situation:
Sometimes it is useful to take a look at the location of the Jet Stream or Jet Streams.
And sometimes the forecast is revealing. Below is the forecast out five days. You can see how it bisects the U.S. This graphic updates every six hours.
To see it in animation, click here.
This longer animation shows how the jet stream is crossing the Pacific and when it reaches the U.S. West Coast is going every which way. One can imagine that attempting to forecast this 6 - 14 days out is quite challenging and NOAA is having fits attempting to guess how this will play out over a 14 day period especially for the Southwest.
And below is another view which highlights the surface highs and the lows re air pressure on Day 3. The RRR is back to some extent but on shore and the pattern is moving storms into Canada which then drop down into CONUS and we saw that with tornado activity this past week. There is a Low Pressure System below the RRR but by Day 3 it has already moved inland. In fact I think it is already inland and passing through New Mexico.
And here is Day 6. The Aleutian Low is still surprisingly strong but not as far east and thus not having as much immediate impact on the U.S. other than Alaska. But you clearly see how storms are being directed into Canada which then impacts CONUS and you can see why California is dry. You can also see how Low-Pressure systems can sneak under that High in the Baja California area and bring some welcome precipitation to my State of New Mexico. you also can see active cold fronts which may provide late snow and frost damage.
More El Niño Discussion
The view of El Nino as a 2014/2015 event appears to be morphing into a view that it is a 2015/2016 event. But all predictions about El Nino for next winter must be tempered by what is called the Spring Prediction Barrier (SPB). Nevertheless, an El Nino this coming winter is a real possibility.
It is useful to understand where ENSO is measured.
Of most interest to NOAA is 120 W to 170 W labeled Nino 3.4 as that is where the ONI Index most often used in the U.S. for defining ENSO Events is measured. More information can be found here. In Asia they tend to pay more attention to Nino 3
And now the low-level wind anomalies.
This is not much change since last week. I believe the above graphic is current as of April 10 but today is April 13 so that leaves a bit to be desired given the last few days of the SOI. Notice the significant amount of area that two weeks ago was in shades of brown but then became blue and now to some extent has become brown again. The big westerly wind burst of more than a month ago is history but is still having its impacts but it has not been reinforced and in fact two weeks ago was reversed. It this graphic was up-to-date, I believe it would tend to look more like it did last week.
The Southern Oscillation Index (SOI) this week has been mostly in Neutral territory except for two days of very negative (El Nino-ish) readings. Today's reading of +1.7 is a Neutral reading. The SOI fluctuates based on local weather conditions in Tahiti and Darwin Australia which is why the 30 and 90 day averages are more significant than the daily values. The 30 day average of -8.4 is certainly consistent with El Nino conditions (a 30 day average of -8.0 or more negative (using the standard SOI Index) is considered to be consistent with El Nino conditions) but is close to marginal unlike the last few weeks . The 90 day average is currently -7.1 which is not sufficiently negative to be considered consistent with El Nino conditions but is close. You can always find the updated daily values and the 30 and 90 day averages here.
7 April 2015 -2.9

8 April 2015 -31.1

9 April 2015 -19.8

10 April 2015 -4.9

11 April 2015 +1.5

12 April 2015 +2.0

13 April 2015 +1.7
The Kelvin Wave graphic is very interesting this week. It is really the Upper Ocean Heat Anomaly.
We need to switch our attention to the western side of the wave and there it does appear that we see a potential upwelling phase beginning in the far Western Pacific that intense blue patch. So far NOAA is turning a blind eye to this but I expect that next week they will declare a new upwelling phase. You can also see signs of the impacts of the downwelling phase slightly diminishing along the Equator. You can measure with a ruler (or by looking at the latitude designations) the length of the Equator impacted by this Kelvin Wave and it is slightly less this week than last week. The NOAA computer model seems to have some difficulty with this but a High School Student could figure out the future value of the Nino 3.4 Index which is measured between 120W and 170W by observing the movement of the intense red in the above graphic and noticing that it has one more week to be centered in the Nino 3.4 area and then week by week the Nino 3.4 Index will decline. In two weeks the decline will be fairly obvious. How come a computer model can not figure this out? Did that model come with a money-back guarantee?
This Kelvin wave has been far more intense than I thought it would be and we see this reflected in the Nino readings. Credit the SOI up until two weeks ago. An upwelling Kelvin Wave could signal the end of this Warm Event or just a break in the action.
Since we looked at the Upper Ocean Anomalies let's also look at the Surface Anomalies.
You can see the change from last week but it is not dramatic but confirms the warm water in the Eastern Pacific. It still looks like mostly a Central Pacific or Date Line Warm Event not a Traditional/Canonical El Nino. But it clearly is different this past two weeks and the interpretation is now up for grabs. .
And finally the latest model results released by NOAA today on April 13, 2015.
There are two ways to look at this graphic assuming the projections are correct (which I do not assume). One way is that we are in an El Nino that started in Aug-Sept-Oct of 2014 and may continue through the summer and possibly into next winter. Another way is that we had a near or marginal El Nino Modoki Type II starting in Aug-Sept-Oct 2014 which has just ended and we may be starting a Traditional El Nino Event. I think the latter is a more useful approach. I say that because the weather this past winter was consistent with there not having been a Traditional El Nino Event this past winter. What the future holds remains to be seen.
The continued tendency for models to show a strengthening of this El Nino is reasonable (given the Positive nature of the PDO right now) but questionable especially the sharp rise in the Index projected for May June and July given the location of the Kelvin Wave and given the reality of what is called the Spring Prediction Barrier (SPB). If I was preparing that graphic, I would definitely have a footnote on the SPB to avoid misleading the reader. The upper left mini-graphic which is hard to see in this larger graphic without using the zoom feature available in most brousers, forecasts a Traditional El Nino conditions for May - June - July. We will see. I would be willing to bet against this model as I see at least the next few months evolving differently.
From Australia Just Released.
"Tropical Pacific Ocean primed for El Niño in 2015

Issued on 14 April 2015

The chances of El Niño occurring in 2015 have increased. Ocean temperatures in the tropical Pacific continue to be warmer than average, trade winds remain weaker than average, and all models surveyed suggest further ocean warming will occur. As a result, the ENSO Tracker has been raised to El Niño ALERT, indicating at least a 70% chance of El Niño occurring this year.

Tropical Pacific Ocean sea surface temperatures are now just shy of El Niño levels. Large areas of warmer-than-average water below the surface are likely to keep these waters warm for some time. This increases the odds of atmospheric factors coming into play, and hence further warming of the tropical Pacific Ocean.

All international climate models monitored by the Bureau indicate that El Niño thresholds will be reached or exceeded by June. However, the accuracy of model outlooks during the El Niño–Southern Oscillation (ENSO) transition period is lower than for outlooks made at other times of the year.

El Niño is often associated with below-average winter and spring rainfall over eastern Australia and above-average daytime temperatures over the southern half of Australia. However, April to June is likely to be wetter than average across much of Australia due to very warm conditions in the Indian Ocean. See the latest climate outlook."
Pulling it All Together.
There has been a short-term strengthening of this Warm Event at the wrong time of the year. It is looking a bit more like a Traditional El Nino. NOAA expresses a point of view that I can neither confirm nor contradict (I have not done the research to do either) that if this Warm Event extends through the summer, the odds of an El Nino next winter are very good. It does not seem unreasonable to me but I do not have the data to assess it. For the Spring and Fall even a real El Niño has traditionally had minimal impact on weather in the Northern Hemisphere and I have gone through that a few weeks ago and the information is in Part II of this Report. Because right now we still have more of a Modoki-ish pattern than a Traditional Pattern, I have guarded confidence in the NOAA Three-Month precipitation Outlook which will be updated this Thursday. I also have no confidence in the longer-term outlook and neither does NOAA because it depends so much on whether or not this winter is an El Nino Winter and it is too soon to tell.
The PDO is showing very high readings which could signify the beginning of a Climate Shift in the Pacific which would be very significant for World weather for two or three decades. It will take three years before we know if that has occurred. At this point I am not at all convinced that this is the time that the flipping will occur but it might or it might take a strong La Nina to signal that change. I am inclined to think the latter so I am thinking that will occur within four or five years, but we will see. I am highly confident that the PDO will become consistently positive either now or within five years. I am starting to prepare a report on the economic impacts and investment opportunities that might follow such a Climate Shift.
Click Here for the Econointersect Weather and Climate Page II where you will find:
A more complete set of NOAA and other agency graphics (including international agencies) that auto update. So this includes both short term- and seasonal "updates". Most of the graphics will ALWAYS be up to date even if my commentary on the graphics is not. I update my commentary when it seems necessary and certainly every Monday, but some of these graphics auto update every six hours.
Economic and other Impacts of major weather events. Not sure there is any other place to obtain this information consistently other than very specialized subscription services.
Information on Climate Cycles both those which are fairly short term i.e. less than a decade in duration and multi-decadal cycles.
Economic and other Impacts of those Climate Cycles which are referred to by the IPCC as Internal Variability as opposed to secular Climate Change which is always in the same direction. Again I am not sure if there is another source for this information where it is pulled together in one place as I have.
Click Here for Page III which deals with Global Warming.
Information on Anthropogenic Global Warming science i.e. the secular change in our climate that overlays both short-term weather and historical climate cycles as well as black swan events like volcanic eruptions. I prefer to call this Global Warming as it is the warming that triggers the other changes.
Economic and other Impacts of Global Warming. The IPCC AR5 WG2 attempts to describe and quantify these and I have some excerpts from their report. Over time I will go beyond their report as it is very deficient.
Click here for a list of Sig Silber's Weather Posts
>>>>> Scroll down to view and make comments <<<<<<
Make a Comment
Econintersect

wants your comments, data and opinion on the articles posted. You can also comment using Facebook directly using he comment block below.
---