posted on 09 March 2015
Written by Sig Silber
NOAA according to some in the Media has declared a weak El Nino just after NOAA on February 19 declared it is not yet an El Nino but I believe the media got confused over the statements "This is an El Nino" versus we have had at times "El Nino Conditions" versus "We have updated ENSO status to the Advisory Level" or as said by Australia "We have (re)upgraded ENSO Status to El Nino WATCH". Media who have run with a story that an El Nino has been declared are premature. This warm event may yet be declared to be an El Nino and impact next winter. But right now Spring is here and conditions in the Pacific near the Equator have not yet met the criteria for being declared to be an El Nino. We will discuss what if any the impacts would be this Spring and Summer if this near El Nino fully evolves into an El Nino.
This is my weekly Weather and Climate Update Report. Additional information can be found here on Page II of Weather and Climate Report.
All of a sudden this week we have started seeing articles like this appearing from prestigious media such as Scientific American and The New York Times.
They seem to be saying
Permanent Address: http://www.scientificamerican.com/article/el-nino-officially-declared-for-2015/ »

Climate Central: El Nino Officially Declared for 2015. The climate pattern is here but weak

March 5, 2015 |By Andrea Thompson and Climate Central

Just when everyone had pretty much written it off, the El Niño event that has been nearly a year in the offing finally emerged in February and could last through the spring and summer, the National Oceanic and Atmospheric Administration announced Thursday.

This isn't the blockbuster, 1998 repeat El Niño many anticipated when the first hints of an impending event emerged about a year ago. This El Niño has just crept across the official threshold, so it won't be a strong event.

"We're basically declaring El Niño," NOAA forecaster Michelle L'Heureux said. "It's unfortunate we can't declare a weak El Niño."

In part because of its weakness, as well as its unusual timing, the El Niño isn't expected to have much impact on U.S. weather patterns, nor bring much relief for drought-stricken California.
It is a shame the Media did not carefully read the actual report issued on March 5.
EL NIÑO/SOUTHERN OSCILLATION (ENSO) DIAGNOSTIC DISCUSSION issued by CLIMATE PREDICTION CENTER/NCEP/NWS and the International Research Institute for Climate and Society 5 March 2015

ENSO Alert System Status: El Niño Advisory

Synopsis: There is an approximately 50-60% chance that El Niño conditions will continue through Northern Hemisphere summer 2015.

During February 2015, El Niño conditions were observed as the above-average sea surface temperatures (SST) across the western and central equatorial Pacific (Fig. 1) became weakly coupled to the tropical atmosphere. The latest weekly Niño indices were +0.6oC in the Niño-3.4 region and +1.2oC in the Niño-4 region, and near zero in the Niño-3 and Niño-1+2 regions (Fig. 2) [Editor's Note: Characteristic of El Nino Modoki]. Subsurface temperature anomalies increased (Fig. 3) associated with a downwelling oceanic Kelvin wave, which was reflected in positive subsurface anomalies across most of the Pacific (Fig. 4). Consistent with weak coupling, the frequency and strength of low-level westerly wind anomalies increased over the equatorial Pacific during the last month and a half (Fig. 5). At upper-levels, anomalous easterly winds persisted across the east-central Pacific. Also, the equatorial Southern Oscillation Index (EQSOI) remained negative for two consecutive months. Convection was enhanced over the western equatorial Pacific and near average around the Date Line (Fig. 6). Overall, these features are consistent with borderline, weak El Niño conditions.

Compared to last month, several more models indicate El Niño (3-month values of the Niño-3.4 index equal to or greater than 0.5oC) will continue throughout 2015 (Fig. 7). This is supported by the recent increase in subsurface temperatures and near-term model predictions of the continuation of low-level westerly wind anomalies across parts of the equatorial Pacific. However, model forecast skill tends to be lower during the Northern Hemisphere spring, which contributes to progressively lower probabilities of El Niño through the year. In summary, there is an approximately 50-60% chance that El Niño conditions will continue through Northern Hemisphere summer 2015 (click CPC/IRI consensus forecast for the chance of each outcome).

Due to the expected weak strength, widespread or significant global impacts are not anticipated. However, certain impacts often associated with El Niño may appear in some locations during the Northern Hemisphere spring 2015.

This discussion is a consolidated effort of the National Oceanic and Atmospheric Administration (NOAA), NOAA's National Weather Service, and their funded institutions. Oceanic and atmospheric conditions are updated weekly on the Climate Prediction Center web site (El Niño/La Niña Current Conditions and Expert Discussions). Forecasts are also updated monthly in the Forecast Forum of CPC's Climate Diagnostics Bulletin. Additional perspectives and analysis are also available in an ENSO blog. The next ENSO Diagnostics Discussion is scheduled for 9 April 2015. To receive an e-mail notification when the monthly ENSO Diagnostic Discussions are released, please send an e-mail message to: ncep.list.enso-update@noaa.gov.

Climate Prediction Center National Centers for Environmental Prediction NOAA/National Weather Service College Park, MD 20740
---
My Assessment of the Situation
Contrary to what you may have read in the media (including some representing to be "scientific") there has been, according to the above announcement by parts of NOAA combined with IRI (the International Research Institute for Climate and Society at Columbia University), no declaration as yet that an El Nino has occurred in 2015. The El Nino alert status was raised.
The ONI value of 0.5 which NOAA has been reporting for the last few weeks is borderline for one of two criteria to proclaim CONDITIONS are in place for an El Nino to occur.
The other criteria is the Southern Oscillation Index and its value as a 30 day average is currently -0.4 whereas -8 is usually considered consistent with an El Nino. This is based on the Troup SOI Index. The NOAA announcement is using the EQSOI version of the SOI Index which may be better as it is based on readings directly on the Equator unlike the Troup SOI Index but the Troup Index is the one most commonly used and is updated daily so I use it. Do we have an instance here of Index Shopping? I am not aware of studies that show that one or the other is superior. The SOI measures the strength of the Easterlies which are supposed to relax during an El Nino. They have not. There are other aspects of the SOI related to Convection (formation of clouds) in parts of the Tropical Pacific. That has not happened as would be expected with an El Nino. It may have looked like this might be happening TWO WEEKS AGO. But it does not currently look that way.
Five consecutive three-month averages of CONDITIONS must occur for NOAA to declare an El Nino EXISTS. Even if El Nino Conditions existed it would be too early to properly declare that there was an El Nino. Do the journalists who have written stories that indicate that an El Nino has been declared understand that?
In the 2 March weekly GEI Weather and Climate Report, I reported that the CFS.v2 computer model was forecasting for February an ONI value that looked like about 0.7 (I had to estimate it from their graphic). NOAA has been reporting their estimate of the ONI in recent weeks as being 0.5. So it looks like the models are running a bit hot.
The view of El Nino as a 2014/2015 event may be morphing into a view that it might be a 2015/2016 event. But all predictions about El Nino for next winter must be tempered by what is called the Spring Prediction Barrier (SPB) which impacts the ability to predict the strengthening of an El Nino during this time of the year. If the models were projecting a weakening of the warm event, the SPB would not apply. But it does apply to a prediction of a strengthening of this warm event. NOAA has been responsible in how they phrase and qualify their statements but the Media appear to be uninformed of the nuances of declaring an El Nino or La Nina.
In summary, NOAA was not particular clear and it seems that certain NOAA employees may have expressed personal opinions which were not consistent with the official release. At the same time, certain Media paid more attention to those phone or email conversations than to the actual NOAA release. And it seems that NOAA has taken no action to clarify the situation or conduct workshops for the Media on how to read these releases and the criteria for declaring an El Nino. Such workshops are not unusual. I know they are a regular occurrence by the National Weather Service in the Albuquerque New Mexico Office. I want to go on record as supporting funding for NOAA to conduct such workshops for members of the Media as it is badly needed.
---
But what if?
Although no El Nino has been officially declared or if declared is frankly premature and questionable, I thought it would be useful to discuss how Spring and Summer might be impacted by the partial El Nino Conditions we have been experiencing this winter and what the impacts might be if these conditions continue through the Spring or even Summer or even get stronger. I am going to present a number of maps. One must understand that these analyses are based on the full set of historical El Nino events so these maps will tend to overstate the impacts we might expect from a weak El Nino. Also many studies do not differentiate between a Traditional El Nino and an El Nino Modoki even though those two different kinds of El Nino have different impacts and there are also at least two different kinds of El Nino Modoki.
This analysis is relevant because although we are not in an El Nino now, we are in a warm event. The Equator in the Pacific is warmer than usual especial from the Dateline West. So we are in something that is El Nino-ish. You can not be a little bit pregnant. You are either pregnant or not. But you can be in a warm event even if it does not rise to the level of meeting the criteria for being classified as an El Nino. And we should also remember that there are slight differences around the World as to the criteria for classifying a warm event as an El Nino or La Nina. The goal is to identify situations that impact weather in a predictable way. So if you are in China for example you will define El Nino in a way that it has to the extent possible predictable impacts on China. Same with Australia. These differences are slight but they make a difference in terms of which marginal warm events are classified as an El Nino. Unlike the statement in the Scientific American article, some events are classified by NOAA and others as a "Near El Nino". This warm event has been classified that way for months.
Let's get to work.
First let us take a look at the impact of an El Nino on Spring weather in the North Atlantic and Northern Europe Region.
"Delayed ENSO impact on spring precipitation over North/Atlantic European Region." Full article by Ivan Here Buick and Fred Scarfskin can be found here.
ABSTRACT The delayed impact of winter sea-surface temperature (SST) anomalies in tropical Pacific on spring precipitation over the North Atlantic/European (NATE) region is examined using both measured and modeled data for the period 1901–2002. In an AMI-type Atmospheric General Circulation Model (ACM) ensemble, the observed delayed spring precipitation response in Europe to winter ENSO-related SST anomalies is well reproduced. A series of targeted ACM/coupled GC experiments are performed to further investigate the mechanisms for this delayed influence. It is found that late winter ENSO SST anomalies lead to the well-documented Crosby wave train arching from the Pacific into the Atlantic region. A positive (negative) ENSO event leads to a quasi-barotropic trough (ridge) in the North Atlantic region. The resulting wind and cloud changes cause anomalies in the surface heat fluxes that result in negative (positive) SST anomalies in the central North Atlantic and anomalies of the opposite sign further to the south. The SST anomalies persist into spring and the atmospheric response to these anomalies is an extension of the ENSO-induced trough (ridge) into the European region, leading to enhanced (reduced) moisture flux and low-level convergence (divergence) and thus positive (negative) precipitation anomalies. Although the signal is overall relatively weak (correlation coefficients of European spring rainfall with winter ENSO SSTS of about 0.3), a proper representation of the outlined mechanism in seasonal forecasting systems may lead to improved seasonal predictions.
So what they are saying is that El Nino can lead to a wetter, cooler Spring for Northern Europe. If you read the paper you will see that there are a lot of nuances but of course the major problem is that we have not had an El Nino Winter. Nevertheless, it is reasonable to consider the increased odds, probably small, of some degree of a cooler, wetter spring in the North Atlantic/European Region.
But what if it is a Modoki and not a Traditional El Nino. This is the Abstract of an article that can be found here.
Contrasting Impacts of Two Types of ENSO on the Boreal Spring Hadley Circulation: Juan Fen and Japing Li
State Key Laboratory of Numerical Modeling for Atmospheric Sciences and Geophysical Fluid Dynamics, Institute of Atmospheric Physics, Chinese Academy of Sciences, Beijing, China
The possible influences of two types of ENSO [i.e., the canonical ENSO and ENSO Modoki (EM)] on Hadley circulation (HC) during the boreal spring are investigated during 1979–2010. El Niño events are featured with a symmetric pattern in equatorial zonal-mean sea surface temperature anomalies (SSA), with a maximum around the equator. In contrast, the zonal-mean SSA associated with El Niño Modoki events shows an asymmetric structure with a maximum around 10°N. The contrasting underlying thermal structures corresponding with ENSO and EM have opposite impacts on the simultaneous HC. In El Niño years, a symmetric anomalous meridian circulation is seen, with enhanced rising around the equator and anomalous descent at about 15°N and 20°S. In contrast, an asymmetric equatorial meridian circulation is observed for El Niño Modoki years, with anomalous ascent around 10°N and descent at about 10°S and 20°N. The contrasting meridian circulation anomalies within ENSO and EM are caused by their different meridian SSA structure. This result is theoretically explained, indicating that anomalous meridian circulation is subject to the meridian SSA gradient. Moreover, the observed results are reproduced in numerical experiments driven by anomalous warming in the eastern and central Pacific Ocean. Thus, the authors conclude that the anomalous HC linked to ENSO and EM is induced by the accompanying meridian gradient in zonal-mean SSA.
I did not have access to the full paper but I interpret the abstract to suggest that convection zones may shift five to ten degrees of latitude north. I do not understand the full implication of this but given that there are three major circulations in each hemisphere: Hadley, Ferrell, Polar each of which nominally spans 30 degrees, a shift of the Hadley Circulation by 5 to 10 degrees north, is likely to have a significant impact which I have referred to in the past as a rotation.
Not sure where they got it but I clipped the following graphic from a University of Omaha website. I like it a lot although there are many variations of this theme available. being in color, it may not print well in black and white. There are other versions which print better. But it is a very useful model for understanding how temperature gets redistributed from the Equator to the Poles. You can see how any shift in the Hadley circulation whether short term due to an El Nino Modoki or long term due to Global Warming would impact climate.
Now let us look at statistical analysis performed on recent El Nino events. Once again remember that the researchers did not differentiate between Traditional El Nino and El Nino Modoki and the analysis covers El Nino events of different strengths.
Worldwide Impacts
For these first six graphics, Winter is on the Left and Spring and Summer are on the right.
First we will look at the mid-atmosphere I'm geopolitical height anomalies as this provides a good way of determining weather patterns.
There is quite a bit of change from Nov - Mar impacts to May - Sep impacts and these are anomalies relative to 1981 - 2010 climatology so it does not simply reflect the seasonal change. Less land area is impacted in the Spring and Summer than in the Winter. In general it appears to be mostly a muting of impact in the Northern Hemisphere but in the North Atlantic it is the opposite impact which we have discussed earlier as a delayed telecommuting between the Pacific and the Atlantic during a warm event in the Pacific. There appears to be an enhancement of impact in the Southern Hemisphere which is not at all strange as Spring and Summer in the Northern Hemisphere is Fall and Winter in the Southern Hemisphere and El Nino is primarily a Fall and Winter event. Australia seems to be an exception.
Next we will look at Temperature Anomalies.
It looks like the Poles see the most variation of anomalies between Winter and Spring/Summer which again is simply the reality that the seasons are reversed in the Southern Hemisphere as compared to the Northern Hemisphere. In general the impacts of El Nino are muted in the Spring and Summer in the Northern Hemisphere. But there is a tendency for the Northern Hemisphere to be slightly cooler during an El Nino Spring and Summer. Although we will look at the U.S. in more detail you can see the slight impact on the U.S. here. I will be coming back to that later.
Next we will look at precipitation.
And again the impacts are muted in the Spring and Summer except along the Equator. I was surprised by the very low level of impact in the Nov - Mar graphic on the left for the U.S. More on that later.
Focus on U.S. Impacts
Now we will zero in on the U.S. and consider impacts with higher resolution graphics.
The major impact for CONUS appears to be somewhat lower 500m geopolitical heights in the Southwest. On the other hand British Columbia seems to have the opposite occur. And there is a tendency towards lower pressure in the North Atlantic which we discussed earlier in this week's report.
Now we will look at temperature.
The major impact appears to be in the North Central states which might be a decree cooler in the Spring and Summer during El Nino Conditions. There appears to be a rather small area in Southern Nevada and Southern California that might be one degree warmer. I was perplexed at first when I noticed that the graphic on the right does not appear to agree with the worldwide graphic presented earlier. But then I realized that the earlier graphic was based on anomalies relative to 1981 - 2010 and this graphic uses 1971 - 2000 as the base climatology. This convinces me that the impacts of the Pacific (PDO) and Atlantic (AMO) may in Spring and Summer overwhelm the impacts of El Nino.
Now let us take a look at precipitation.
This is the most interesting of the graphics, a bit wetter in the Center of CONUS and quite a bit drier on parts of the East Coast. But none of this shows up in the earlier worldwide graphic. Again it seems to me that the base climatology which is different in the worldwide graphics (all of this information comes from the same website) overwhelms the impact of El Nino especially in Spring and Summer. An increase of five inches of precipitation in a small area in the Mid-west and a decrease of five inches of precipitation in coastal Alabama may seem like a large impact but even if valid it applies to two to four climate divisions i.e. a very small area. Most of the impacts shown for the center of the U.S. in this graphic are of one inch magnitude wetter or two inches of magnitude drier and summer especially tends to be wet in that part of the U.S.. So I am not sure that these anomalies are meaningful. This of course raises the question of why NOAA thought it was useful to even raise the question of whether this warm event might ultimately be declared an El Nino when the impacts on Spring and Summer are minimal at best.
El Nino versus La Nina in the Spring and Summer
Now let us shift our approach and compare El Nino Spring and Summer Impacts to La Nina Spring and Summer Impacts. These are likely to be larger as we are comparing what should be two opposite impacts in many cases. In these two graphics, El Nino is on the left and La Nina is on the right.
First we can look at temperature.
At first glance there are no surprises here. With El Nino the West is a bit cooler and with La Nina the Plains States and Great Lakes extending into the Northeast is a bit warmer. The information on El Nino should be consistent with what was shown earlier and is consistent with the worldwide graphic which uses the same base climatology.
Now we look at precipitation.
And here surprisingly we see little impact of El Nino but La Nina is clearly slightly drier for much of the Eastern part of CONUS. That was a little bit of a surprise but suggests the delayed impact of La Nina in the following season further east similar to how El Nino might telecom impacts further east on a delayed basis as described in one of the papers I reviewed earlier in this report.
You can find some interesting graphics here that differentiate between weak, moderate and strong El Nino. It also has separated out Spring impacts for Spring and Summer combined as I have done above.It is a private website so I can not just lift their graphics so I have provided you with a link to Jan Null's website which is called Golden Gate Weather Services.
General Conclusion: El Nino is not a factor in the U.S. in the Spring or Summer and NOAA and some in the Media have wasted a lot of people's time.
Short-term Outlook - Returning to computer models rather than the statistical analysis of Spring and Summer El Nino where the information available appears to have minimal significance, let us shift gears and discuss what was issued today March 9, 2015. It will auto-update every day so it will be changing day by day (and thus be up to date whenever you elect to read this report) but my comments as well as the comments of NOAA may become out of sync with the map since these comments do not auto-update.
Generally I only show the "second week" namely the 8 -14 Day Outlook. The first week (6 - 10 Day Outlook) together with much additional information on current weather patterns and near-term forecasts can be found in Part II of my report, but 8 - 14 days covers most of the 6 - 14 day period.
Here is the updated March Temperature Outlook issued February 28, 2015.
And here is the 8 - 14 Day Temperature Outlook issued today March 9, 2015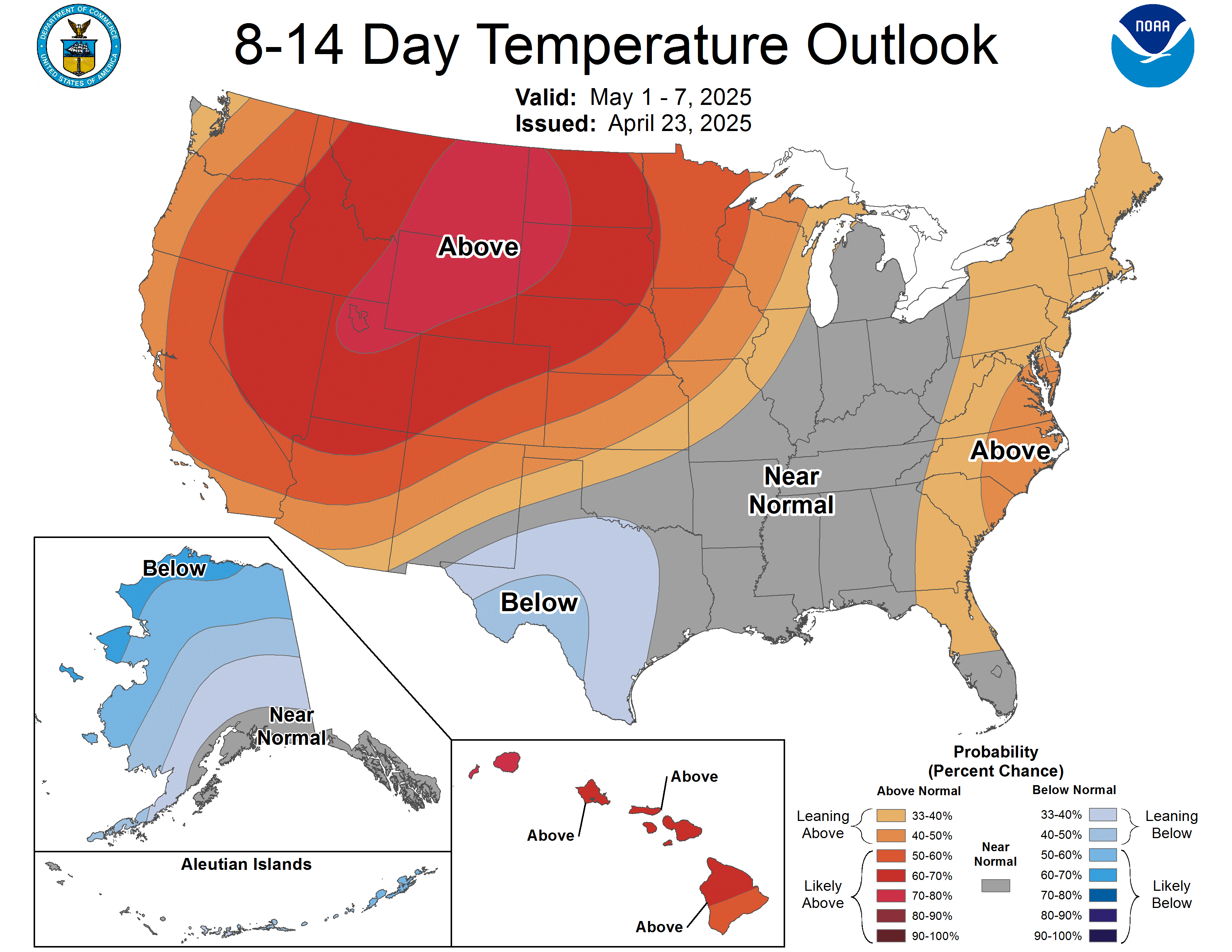 The Temperature Outlook for the middle of March is fairly consistent with the Monthly Outlook.
Here is the updated Precipitation Outlook for March issued on February 28, 2015.
And here is the 8 - 14 Day Precipitation Outlook issued today March 9, 2015.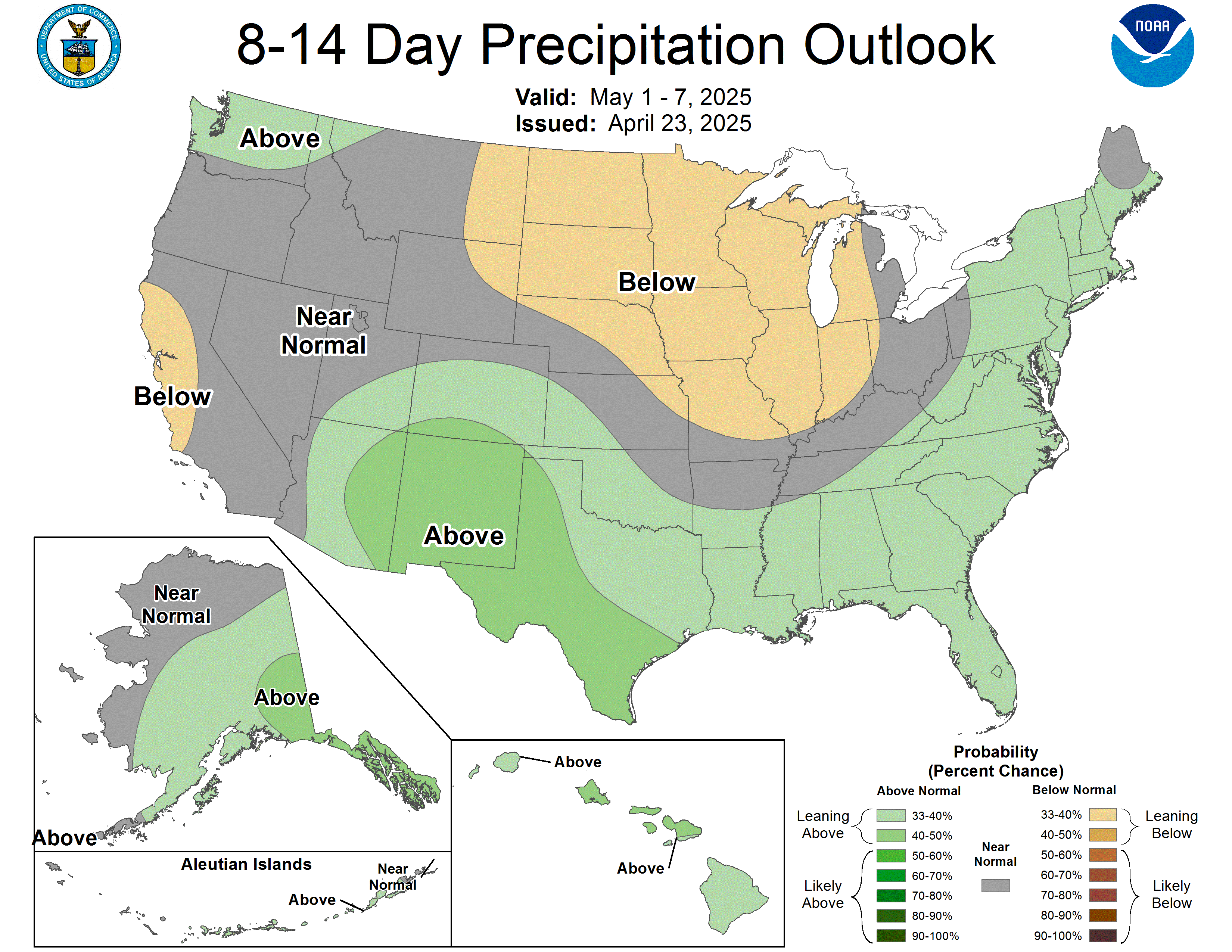 ;
The Precipitation Outlook for the middle of March is consistent with the Monthly Outlook. The one discrepancy appears to be related to the Central part of the U.S. and remember the above map only reflects one week of the month.
Here are excerpts from the NOAA release today March 9, 2015.
"6-10 DAY OUTLOOK FOR MAR 15 - 19 2015

TODAY'S MODEL SOLUTIONS ARE IN FAIRLY GOOD AGREEMENT ON THE 500-HP CIRCULATION PATTERN FORECAST FOR THE 6-10 DAY PERIOD. TROUGHS ARE PREDICTED OVER THE ALEUTIANS AND NEAR THE CANADIAN ATLANTIC PROVINCES WHILE RIDGING IS FORECAST TO DOMINATE MUCH OF WESTERN NORTH AMERICA. A SOUTHERN STREAM TROUGH IS PREDICTED NEAR THE SOUTHWESTERN CONUS BY MANY ENSEMBLE MEMBERS. HOWEVER, MODEL SPREAD AND UNCERTAINTY IS HIGH WITH THIS FEATURE. TODAY'S MANUAL 500-HP HEIGHT BLEND IS COMPOSED PRIMARILY OF THE ENSEMBLE MEAN SOLUTIONS AND BASED LARGELY ON CONSIDERATIONS OF RECENT SKILL AND ON ANALOG CORRELATIONS, WHICH MEASURE HOW CLOSELY THE MODEL SOLUTIONS RESEMBLE CASES THAT HAVE OCCURRED IN THE PAST.

ENHANCED PROBABILITIES OF ABOVE-NORMAL TEMPERATURES ARE PREDICTED OVER THE WESTERN AND NORTH-CENTRAL CONUS AS WELL AS THE ALASKA PANHANDLE DUE TO PREDICTED RIDGING AND ASSOCIATED POSITIVE 500-HP HEIGHT ANOMALIES. NEAR-NORMAL TEMPERATURES ARE FORECAST FOR MUCH OF THE EASTERN SEABOARD BEHIND A FRONTAL BOUNDARY PREDICTED EARLY IN THE PERIOD. BELOW-NORMAL TEMPERATURES ARE FAVORED FOR PARTS OF SOUTHERN TEXAS CONSISTENT WITH GOES REFERENCES GUIDANCE AND BIAS CORRECTED TEMPERATURES FROM THE EC ENSEMBLE MEMBERS. THERE ARE ENHANCED PROBABILITIES OF BELOW-NORMAL TEMPERATURES FOR PARTS OF WESTERN ALASKA IN ASSOCIATION WITH A TROUGH PREDICTED IN THE VICINITY. CONVERSELY, ABOVE-NORMAL TEMPERATURES ARE FAVORED FOR PARTS OF FLORIDA CONSISTENT WITH 2 METER TEMPERATURE ESTIMATES FROM THE GOES AND EC ENSEMBLE MEMBERS.

ABOVE-MEDIAN PRECIPITATION IS LIKELY FOR MUCH OF ALASKA AHEAD OF A TROUGH PREDICTED OVER THE ALEUTIANS. ABOVE-MEDIAN PRECIPITATION IS ALSO FAVORED FOR MUCH OF THE INTERMOUNTAIN WEST AND GREAT BASIN CONSISTENT WITH PRECIPITATION ESTIMATES FROM THE GOES AND EC ENSEMBLE MEMBERS. THERE ARE ENHANCED PROBABILITIES OF BELOW-MEDIAN PRECIPITATION FOR THE EAST-CENTRAL CONUS IN ASSOCIATED WITH PREDICTED SURFACE HIGH PRESSURE. NEAR- TO ABOVE-MEDIAN PRECIPITATION IS FAVORED FOR PARTS OF THE SOUTHEASTERN CONUS DUE TO A PREDICTED FRONTAL BOUNDARY EARLY IN THE PERIOD.

FORECAST CONFIDENCE FOR THE 6-10 DAY PERIOD: ABOVE AVERAGE, 4 OUT OF 5, DUE TO FAIRLY GOOD AGREEMENT

8-14 DAY OUTLOOK FOR MAR 17 - 23 2015

MODEL PREDICTIONS OF THE 500-HP HEIGHT PATTERN FOR THE WEEK-2 PERIOD ARE IN FAIR AGREEMENT OVER NORTH AMERICA. A TROUGH IS PREDICTED OVER THE ALEUTIANS AND A RIDGE IS PREDICTED TO STRENGTHEN DOWNSTREAM OVER NORTHWESTERN CANADA. FARTHER TO THE EAST, A TROUGH IS FORECAST OVER THE NORTHEASTERN CONUS. MOSTLY LOW-AMPLITUDE FLOW IS FORECAST ACROSS THE SOUTHERN TIER OF THE CONUS. ENSEMBLE SPREAD IS MODERATELY HIGH, PARTICULARLY OVER PARTS OF WESTERN NORTH AMERICA, DUE TO THE POTENTIAL FOR SHORTWAVE ENERGY TO AFFECT PARTS OF THE REGION DURING THIS TIME PERIOD. TODAY'S MANUAL WEEK TWO 500-HP HEIGHT BLEND IS COMPOSED PRIMARILY OF THE ENSEMBLE MEAN SOLUTIONS BASED LARGELY ON CONSIDERATIONS OF RECENT SKILL.

ABOVE-NORMAL TEMPERATURES ARE FAVORED FOR ALASKA AND THE WESTERN CONUS IN ASSOCIATION WITH FORECAST RIDGING. THERE ARE ENHANCED PROBABILITIES OF BELOW-NORMAL TEMPERATURES FOR THE NORTHEASTERN CONUS DUE TO A PREDICTED TROUGH. BELOW-NORMAL TEMPERATURES ARE ALSO FAVORED FOR MUCH OF SOUTHERN TEXAS CONSISTENT WITH AES GUIDANCE, BIAS CORRECTED TEMPERATURES FROM THE EC ENSEMBLES, AND ANALOGS FROM ALL OF TODAY'S ENSEMBLE MEAN SOLUTIONS.

ABOVE-MEDIAN PRECIPITATION IS FAVORED FOR MUCH OF ALASKA AHEAD OF A TROUGH PREDICTED OVER THE ALEUTIANS. ABOVE-MEDIAN PRECIPITATION IS ALSO FAVORED FOR MUCH OF THE CENTRAL AND SOUTHERN ROCKIES, GREAT BASIN, AS WELL AS PARTS OF THE SOUTHEASTERN CONUS CONSISTENT WITH PRECIPITATION ESTIMATES FROM THE GOES AND EC ENSEMBLE MEMBERS. CONVERSELY, BELOW-MEDIAN PRECIPITATION PROBABILITIES ARE ENHANCED FOR THE GREAT LAKES REGION DUE TO SUBSIDENCE BEHIND A MEAN TROUGH PREDICTED OVER THE NORTHEASTERN CONUS.

FORECAST CONFIDENCE FOR THE 8-14 DAY PERIOD IS: AVERAGE, 3 OUT OF 5, DUE TO FAIRLY GOOD AGREEMENT AMONG THE ENSEMBLE MEAN SOLUTIONS OFFSET BY MODERATELY HIGH ENSEMBLE SPREAD, PARTICULARITY OVER WESTERN NORTH AMERICA."
Analogs to Current Conditions
Now let us take a detailed look at the "Analogs" which NOAA provides related to the 5 day period centered on 3 days ago and the 7 day period centered on 4 days ago. "Analog" means that the weather pattern then resembles the recent weather pattern and was used in some way to predict the 6 - 14 day Outlook.
Here are today's analogs in chronological order although this information is also available with the analog dates listed by the level of correlation. I find the chronological order easier for me to work with. There is a second set of analogs associated with the outlook but I have not been analyzing this second set of information. This first set applies to the 5 and 7 day observed pattern prior to today. The second set which I am not using relates to the forecast outlook 6 - 10 days out to similar patterns that have occurred in the past during the dates covered by the 6 - 10 Day Outlook. That may also be useful information but they put this set of analogs in the discussion with the other set available by a link so I am assuming that this set of analogs is the most meaningful.
Analog

Centered

Day

ENSO

Phase

PDO
AMO
Other Comments
1953 March 6
El Nino
-
+
Start of long, weak El Nino
1967 March 6
Neutral
-
-
1976 March 12
La Nina
-
-
Tail end prior to Climate Shift
1976 March 13
La Nina
-
-
Tail end prior to Climate Shift
1978 March 16
El Nino
Neutral
-
Tail end of questionable El Nino
1978 March 18
El Nino
Neutral
-
Tail end of questionable El Nino
1990 February 21
Neutral
-
-
1990 February 26
Neutral
-
-
1990 February 27
Neutral
-
-
2006 February 21
La Nina
+
+
This is a to a large extent similar to last week. There are only three El Nino analogs. The other analogs are ENSO Neutral or La Nina. I do not know what to make of the fact that the analogs associated with ENSO events are at the beginning or end of those events. The dates of the analogs are all over the place from February 12 to March 18 perhaps signifying a variety of historical conditions spanning early and late transitions to Spring. I am very curious about the 1976 and 1978 analogs as they are respectively before and after a major Climate Shift in the Pacific from PDO Negative to PDO Positive. The Ocean Phases continue to be primarily PDO Negative and AMO Negative and over a multiple-year period such conditions are highly correlated with Condition B in the below graphic.
Focusing on Condition B, red is a high likelihood of drought, blue the opposite. So the ocean conditions in the analogs would suggest perhaps a different geographic pattern of wetter and drier than climatology, but the above graphic relates mostly to winter and we are in a transition period.
Back to the Current Situation:
Sometimes it is useful to take a look at the location of the Jet Stream or Jet Streams.
And sometimes the forecast is revealing. Below is the forecast out five days. You can see a shift taking place in the pattern for later this week especially in terms of the southern branch of the Jet Stream. This makes forecasting for the western part of CONUS tricky.
To see it in animation, click here.
This longer animation shows how the jet stream is crossing the Pacific and when it reaches the U.S. West Coast is going every which way. One can imagine that attempting to forecast this 6 - 14 days out is quite challenging.
And below is another view which highlights the surface highs and the lows re air pressure on Day 3. You can see how the counter-clockwise Aleutian Low is split into two lows and both are fairly strong (for a low that means the air pressure has decreased). A vestige of the RRR is still there but you no longer see the tightly wound isobars indicating a strong High (or Low).
And here is Day 6. The Aleutian Low is forecast to further strengthen but we no longer see the RRR off the West Coast. Instead the door is now open for Pacific moisture to move inland but this has not yet shown up in the NOAA forecasts.
I interpret a lot of the above as moving towards a more Spring-like pattern that will manifest itself moving from west to east to the great relief of the East Coast although they may have one more shot at cold air to deal with.
El Niño Discussion
The view of El Nino as a 2014/2015 event may be morphing into a view that it is a 2015/2016 event. But all predictions about El Nino for next winter must be tempered by what is called the Spring Prediction Barrier (SPB).
Some reports that I have not previously discussed are available from Japan and Australia.
The Japanese view of ENSO.
Unfortunately, the forecast from Japan does not update frequently and this report is a little more than two weeks old at this point in time. Here is the commentary that goes with the graphic.
"February 19, 2015

ENSO forecast: The SINTEX-F model prediction and present observations show that an "El Niño Modoki"condition prevails in the tropical Pacific. As per the model predictions the warmer than normal SST anomalies are expected to continue in the central Pacific through the boreal summer.

Indian Ocean forecast: A basin-wide warming will continue to develop in the Indian Ocean in response to the tropical Pacific warm condition at least until the boreal spring. The model predictions suggest the development of a positive Indian Ocean Dipole event in boreal summer and fall [Editor's Note: the Australian POAMA forecasting model is not forecasting this to happen]. However, its uncertainty remains high as a large spread is seen in the prediction plumes.

Regional forecast: In this boreal spring, as a seasonally averaged view, most parts of Africa, Northern Russia, India, Southeast Asia, Australia, South America, and Canada will experience a warmer-than-normal condition.

On the other hand, Europe, Southern Russia, U.S., and the Far East (including Japan) will experience a colder-than-normal condition.

The seasonally averaged rainfall forecast in this boreal spring shows that most parts of Southeast Asia, Australia, and Northern Brazil will experience a drier-than-normal condition. This may be partly related to a persistence of the tropical Pacific warm condition like El Niño Modoki.

A wetter-than-normal condition is expected to continue in U.S., particularly the western U.S., through the boreal spring partly due to a warmer-than-normal SST associated with a persistence of the "California Niño" and associated ocean-atmosphere interactions and dynamics along the western coasts of North America.
Notice that Japan continues to describe this year's warm event as a Modoki. Also notice the wide spread of the model forecasts for the rest of 2015.
Australia has their own proprietary model which updates every two weeks.
Notice the criteria for achieving El Nino or La Nina status are different than that used by most others. And curiously, the view from Australia with respect to the development of an El Nino this year has until now been pretty much more subdued than the view from the U.S.
Renewed warming in the tropical Pacific Ocean

Issued on 3 March 2015

The Bureau's ENSO Tracker has been upgraded to El Niño WATCH. This is due to a combination of warmer-than-average temperatures in the tropical Pacific Ocean and models showing that further warming is likely in coming months. El Niño WATCH indicates about a 50% chance of El Niño forming in 2015.

The central to western regions of the tropical Pacific Ocean have warmed by 0.2 °C to 0.3 °C over the past fortnight, while monthly sub-surface temperatures were more than 2 °C above average over a large area for February. This is largely the result of weakened trade winds and tropical surface currents in recent weeks. Weakened trade winds are forecast to continue, and this may induce further warming.

All international models surveyed by the Bureau indicate that central tropical Pacific sea surface temperatures (SSTs) are likely to remain warmer than average, but within the neutral range, until at least May. By mid-year, six of the eight models indicate SSTs will exceed El Niño thresholds. However, accuracy of forecasts made at this time are lower than those at other times of the year, and hence some caution should be exercised.

El Niño is often associated with below-average winter–spring rainfall over eastern Australia and above-average daytime temperatures over the southern half of Australia.

Next update expected on 17 March 2015
Although they did not mention it by name the above discussion is referring to the Indian Ocean Dipole or IOD so I thought would include the latest model results by Australia re the IOD. The Australian Bureau of Meteorology has their own proprietary model (POAMA) for forecasting the IOD.
The fact that Australia is not forecasting either a negative or positive IOD is significant as there tends to be some correlation between ENSO and the IOD. This is explained in Part II of this Report.
It is useful to understand where ENSO is measured.
Of most interest to NOAA is 120 W to 170 W labeled Nino 3.4 as that is where the ONI Index is measured. More information can be found here.
And now the low-level wind anomalies.
This shows quite a bit of change from last week. Notice the brown area between 160E and the Date Line. That indicates weaker than usual Easterlies and actually a westerly gust similar to that which occurred two or three weeks ago but now further west. But you also see more clearly the blue area that now extends all the way to the Date Line indicating stronger Easterlies. The Southern Oscillation Index (SOI) this week started off being clearly consistent with ENSO Neutral. Today's reading of -22.2 is the second day in a row that favors the development of an El Nino. The SOI fluctuates based on local weather conditions in Tahiti and Darwin Australia which is why the 30 and 90 day average are more significant than the daily values. The 30 day average of -0.38 is certainly not consistent with El Nino conditions (a 30 day average of -8.0 or more negative (using the standard SOI Index) is considered to be consistent with El Nino conditions). The 90 day average is currently -5.83 which also is not sufficiently negative to be considered consistent with El Nino conditions. You can always find the updated daily values and the 30 and 90 day averages here.
3 March 2015 +7.6

4 March 2015 +4.5

5 March 2015 -3.8

6 March 2015 -2.7

7 March 2015 -5.7

8 March 2015 -22.5

9 March 2015 -22.2
I thought I would also show what I call the Kelvin Wave graphic again this week. It is really the Upper Ocean Heat Anomaly.
You can easily see that the this Kelvin Wave has continued its progression eastward. Remember the bottom of the graphic is the current readings and as you look up you see basically day by day the historical progression of these waves. If you look out by 170 E you see the very slow playing out of this downwelling process and perhaps way out there at 140E there may be the start (in blue) of the next upwelling cooling phase. As I said last week that is just a guess at this point but in a couple of weeks it will be clearer one way or another. I probably should have said may be clearer as the data this week sheds no additional light on that subject. What counts is the shades of red. last week it looked to me like the strongest part of this Kelvin Wave was starting to play out. This week I do not see that. But you can see that the tail end is moving east but slowly. Overall it does look marginally warmer and that is what is getting the models excited but usually people are smarter than models and there is nothing here yet to signify that this will lead to a reinforcing feedback loop but it might.
Remember that part of the Tropical Pacific is unusually warm this year to begin with so it does not take much to register as a positive anomaly since an anomaly is the combination of the variation in the background level and the deviation caused by any new impetus. But what is most important is the cold area over to the East which is what makes this a Modoki rather than a traditional El Nino. We still have upwelling of cold water off of Ecuador so they see no sign of an El Nino. And fishing there is most likely not negatively impacted by an El Nino. So there is no traditional El Nino this winter but we have a warm event which could easily become a full-fledged El Nino Modoki and could eventually morph into a traditional El Nino but I do not think that is likely although many of the models are predicting that will happen. I think it is model error but we will see.
Since we looked at the Upper Ocean Anomalies let's also look at the Surface Anomalies which I have not been reporting on lately.
Again you read from the bottom up or at least the bottom shows the most recent readings and moving up you see earlier readings. I did not present this chart last week. But the entire history is there. Rather than just look at last week perhaps it is more useful to look at two weeks of history. And you can see more slightly warm water moving over to almost 140W and you can see some cooler water moving from the east over towards 120W. So we see warming and cooling going on and to me it looks like a Modoki but fairly weak as of yet. Some call this a Central Pacific El Nino but not everyone agrees on the terminology.
And finally the latest model results released by NOAA on March 9, 2015. This is probably the most important graphic re this week's discussion.
The caption says it all. The CFS.v2 ensemble mean predicts Nino 3.4 SST anomalies to be near or greater than 0.5C through Sept, Oct, Nov 2015. You can read from this graphic the SON value which appears to be just about 0.5. Moving ahead to the fifth consecutive three-month average you see Jan, Feb, March. Oh My Gosh. It is not there! I guess it is because March has not happened yet. That is why we are in a holding pattern because the fifth consecutive three-month average is not yet available. Two months are in.
This graphic is a modified version of the graphic that appears on Page II of this Report. It is modified by NOAA to be consistent with the maps on the right which can be found here. Those maps have been processed to adjust for the observed skill of the models. I probably could do a better job with triangles but just by eyeballing this chart it looks like it is showing an ONI reading of about 0.7 forecast through the Spring but with an upward trend. I believe that NOAA has again reported a weekly ONI of 0.5. so that February on this chart might me a hair high. If they said 0.6 I would be buying it as I have only seen perhaps two weekly values for February so it could easily have come in as 0.6 for the month but 0.7 seems a hair high.
But now is not the time to nitpick. It is showing higher ONI values going into the summer. That may turn out to be correct but given the Spring Prediction Barrier I would think that NOAA might have wanted to put a footnote on that in the graphic. Notice that according to this model even if the ONI was our only criteria, it would still be too early to declare an El Nino. Is SON 0.5 or higher? Do we know what the ONI for JFM will turn out to be at this point of time i.e. March 9?
If the SSTA in NINO 3.4 was your only criteria, the recent readings released by NOAA of 0.5 for the ONI would be considered as marginal (and that would be in the strictest use of the term marginal since greater than or equal to 0.5 is the criteria) El Nino conditions but the other factors have not fallen into place. And this model does not attempt to classify the type of El Nino which is very important in terms of weather impacts. Notice the model is forecasting higher ONI levels as we move into the summer. It is difficult to read the maps to the right but the upper left map is the forecast for March/April/May and it looks more like a Modoki Type II than a traditional El Nino to me. The further-out maps do look like an El Nino. Are we going to have a traditional El Nino next year?
Below is another graphic that confirms that we are not in a traditional El Nino but perhaps a borderline El Nino Modoki. The top graphic shows surface temperatures and wind direction and speed conditions 10 degrees north to 10 degrees south of the Equator and this is one of the most up to date sources of information available. The bottom graphic shows anomalies.The bottom graphic shows the deviation from average conditions. You can see many things in this graphic. First of all in the second of this pair of graphics which is the anomalies, you can see the pockets of warm water which are in some cases greater than 1C above average and in other cases below 0.5C above average conditions. West of 170W in the Nino 4 area you have warm water on the Equator which is consistent with a Modoki Type II. It is moving East and may be what the computer models are noticing. Looking between 170W and 120W on the Equator, you see a large area where the anomaly is under 0.5C. And you also see an area above 0.5C and even a small area above 1C which is increasing in size possibly explaining the CFS.v2 model results. But this is mostly due to the current Kelvin Wave and is temporary. Presumably the computer models are assuming this current Kelvin wave will trigger a feedback loop leading to an ever strengthening El Nino. That is not very realistic. In the Nino 1+2 Area over by Ecuador, one can see a positive anomaly i.e.colder water. This area of colder water has expanded both above and below the equator. That does not figure in to the ONI calculation but determines the type of El Nino that we have and the impact it has on weather. To have a strong El Nino that has a significant impact on weather, you need temperatures there in excess of 28C. In the upper part of the below graphic it looks like the water temperature off of Ecuador is about 26C. The analysis of the wind anomalies in the Eastern Pacific (the second of this two-image graphic) generally points strongly (long arrows) to the west which is the opposite of what you would expect with a traditional El Nino. Not shown here but the warm water off the Northwest Coast of the U.S. is also consistent with a Modoki Type II.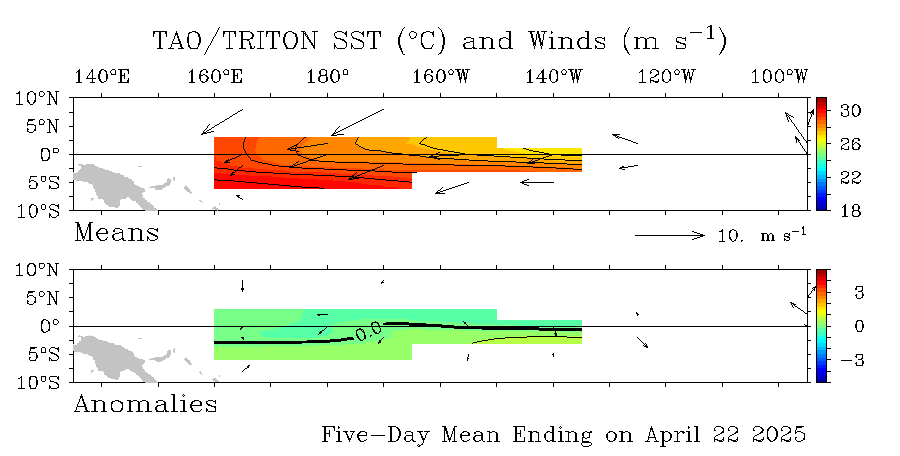 Pulling it All Together. .
So this certainly continues to look to me like a warm event that is not a full-fledged El Nino and is not a traditional El Nino. So the expected impacts are different than the expected impacts from a traditional El Nino. Whatever this pattern is, it is not very different from ENSO Neutral. I am still thinking the Japanese sized this up from the start and that this is really more like a Modoki than a traditional El Nino and that weather patterns are shifted some number of degrees further west (or possibly rotated) than would be the case for a traditional El Nino which is why the weather where I live is more typical of a La Nina than an El Nino. This is characteristic of an El Nino Modoki in the U.S. Southwest. The increased frequency of Modokis has been the case since the PDO went into its Negative Phase in 1998/1999 which is why a possible change to PDO Positive is so very important. Where I live it would end the drought but of course it would initiate drought elsewhere. An extensive discussion of the PDO is found here in Part II of this report.
I do not see a traditional El Nino of any significant strength likely to happen this winter (which is essentially over) although a "near" El Nino appeared in January to be making its presence known to a limited extent but mainly outside of the U.S. That no longer appears to be the case for March. It remains a complicated situation mostly because of the at least temporary shift of the configuration of the Pacific with respect to the location of warm and cold water to a configuration which is called PDO Positive (+) combined with the Blocking Ridge off the West Coast.
I have felt for some time that an El Nino Watch for next year might be in order as there remains a lot of warm water in the Warm Pool but usually it takes a few years for that to built up sufficiently for another warm event to get under way. ENSO Neutral is where some of the models were headed and I suspected that they had it correct for next winter. But now many of the models have recently been predicting a continuation or strengthening of this warm event. And if the PDO has indeed switched to its Positive Phase we should expect a powerful El Nino soon. It could be next winter. At this point, those who are making predictions need to take a deep breath and calm down. March is not a good time to predict ENSO for the following winter.
Click Here for the Econointersect Weather and Climate Page II where you will find:
A more complete set of NOAA and other agency graphics (including international agencies) that auto update. So this includes both short term- and seasonal "updates". Most of the graphics will ALWAYS be up to date even if my commentary on the graphics is not. I update my commentary when it seems necessary and certainly every Monday, but some of these graphics auto update every six hours.
Economic and other Impacts of major weather events. Not sure there is any other place to obtain this information consistently other than very specialized subscription services.
Information on Climate Cycles both those which are fairly short term i.e. less than a decade in duration and multi-decadal cycles.
Economic and other Impacts of those Climate Cycles which are referred to by the IPCC as Internal Variability as opposed to secular Climate Change which is always in the same direction. Again I am not sure if there is another source for this information where it is pulled together in one place as I have.
Click Here for Page III which deals with Global Warming.
Information on Anthropogenic Global Warming science i.e. the secular change in our climate that overlays both short-term weather and historical climate cycles as well as black swan events like volcanic eruptions. I prefer to call this Global Warming as it is the warming that triggers the other changes.
Economic and other Impacts of Global Warming. The IPCC AR5 WG2 attempts to describe and quantify these and I have some excerpts from their report. Over time I will go beyond their report as it is very deficient.
Click here for a list of Sig Silber's Weather Posts
>>>>> Scroll down to view and make comments <<<<<<
Make a Comment
Econintersect

wants your comments, data and opinion on the articles posted. You can also comment using Facebook directly using he comment block below.
---